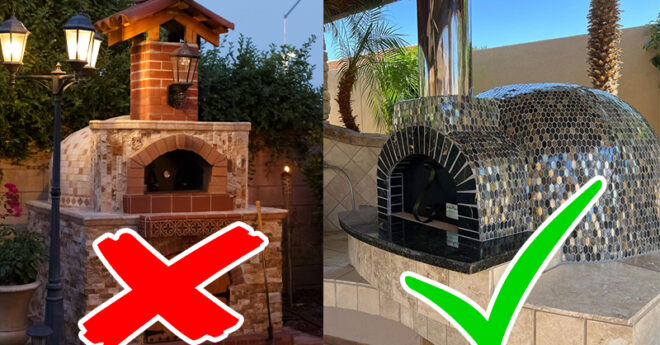 10 Problems to Avoid When Installing a Residential Wood Fired Oven
Dec 20, 2022
Posted by cecebeauchamp
Installing a Forno Bravo wood fired oven is always exciting. Once it's installed and ready to go, there's just one thing left to do…fire it up, cure it, and get cooking! But like all design projects and home installations, there are pitfalls and problems that are worth dodging with awareness and planning. 
Here are 10 problems to avoid when installing a wood fired oven. 
1: Unsuitable Location or Too Little Room
Wood fired pizza ovens are sturdy, sizable structures, and you'll need to make absolutely sure you have the space to fit them in your desired location. If you're interested in a larger, 44" cooking area of the largest Vesuvio or Toscana ovens, then check, double-check, and triple-check that you have the space to accommodate it! If not, then there are plenty of other options to choose, like the much smaller Primavera and Napolino. 
Another consideration is making sure there's room for prep and storage. While obsessing over whether you've got enough room to fit the oven, don't forget that you'll need room to prepare your pizza and other wood fired dishes. Different chefs have different spatial requirements – if you need or want space to express your culinary passion, or get your guests into the pizza prep action, then this is well worth considering when deciding on your pizza oven placement.
Last, but never least, it's a good idea to work out where you're going to store logs to fuel your oven. It's often convenient to store logs right underneath the oven. 
2: Site Access and Preparation 
As well as having sufficient room to fit the pizza oven, it's also crucial to make sure that the oven can be transported to its installation location. This is less of an issue if you're building a pizza oven in-situ, which might be the case with our modular home kits or DIY kits.
For ready-made ovens, you'll likely need a forklift, manual lift, or bobcat access through an outside gate or door. (The size of the required lift depends on the size of the oven.) Smaller ovens and kits can be transported through the house, but it's important to measure up any doorways or gates prior to making a decision. Steep hills, slippery surfaces, or non-weight-bearing walkways can also pose problems for site access, but many folks with these challenges decided to just use a crane to lift the oven right over the house and set it down in place. (The cost and complexity of this option is often less than you expect and can solve several issues at once.)
When Designing Your Outdoor Kitchen…
Don't rush ahead to build the outdoor kitchen and surrounding area before installing your pizza oven on its prepared, reinforced base.

Here are 3 examples of when this can pose an issue:
The pergola or roof is installed first, making it very difficult to lower or move the pizza oven into place. 
The design of the outdoor kitchen makes it difficult to access the site, or there's limited room to maneuver your installation tools. 
Flooring is laid prior to moving the pizza oven into place. The weight of driving a forklift over the new flooring can destroy it, leaving no easy way to install the pizza oven. 
Always consider how you'll move your pizza oven into place before rushing ahead with outdoor kitchen design execution. 
3: Poor Ventilation or Not Adhering to the Venting Code
Pizza ovens produce smoke and fumes by their nature. While this isn't an issue for pizza ovens that are installed outdoors with no cover or obstruction, pizza ovens that are installed inside, or in semi-outdoor, or covered locations will need special attention paid to proper ventilation. 
There are 4 main options here: 
Outdoor installation with no overhead obstructions within 10 ft: Requires just a single wall, basic stove pipe. 
Outdoor installation/semi-outdoor with overhead obstructions: We recommend using a UL103HT double wall chimney pipe that conforms to the "3-2-10 rule."
Indoor installation – direct vent approved: Requires a UL103HT double wall chimney pipe or type B grease duct common in residential and commercial applications, with possible makeup air required.
Indoor installation: Type 1 Hood required. This is more common in commercial applications, and again, makeup air may be required.
Warning: Site conditions and local code requirements can vary. We suggest you check with your local permitting office before finalizing your venting plan for any indoor or commercial installations.
4: Avoiding Fire Hazards, Unapproved Hoods, and Chimney Caps
Pizza ovens, if not properly installed and maintained, can present a fire hazard in a variety of ways due to grease-laden vapors, creosote build-up, open sparks, and high heat. You need to ensure the venting solution follows some simple guidelines, such as following the 3-2-10 rule, providing proper clearances to combustibles within 10 feet, and should never include open vents below a roof structure.
In a similar vein, avoid adding decorations or features to the venting or chimney system that are made with combustible materials, as these can also pose a fire hazard. 
Below is an example of an unapproved venting hood made from wood – it looks great, but if it gets too hot, then it could burst into flames, especially in the drier summer months. Keep vents and hoods totally unobstructed and clear. 
5: Weak Support Structures or Flooring
It's important to bear in mind that pizza ovens are heavy, especially in the case of larger models with large cooking surfaces.  As such, they require a strong countertop placed on a sturdy and totally flat surface. Surfaces susceptible to movement, e.g. turf, are generally unsuitable. 
Customers who want to place pizza ovens on wooden or composite decking will have to check to make sure the decking can handle the weight of the pizza oven. This isn't typically a problem, especially with smaller to mid-sized units – but even our largest countertop pizza ovens have been installed on decking without any issue. NOTE: Wood decking has fire-clearance criteria detailed in the owner's manual that need to be followed.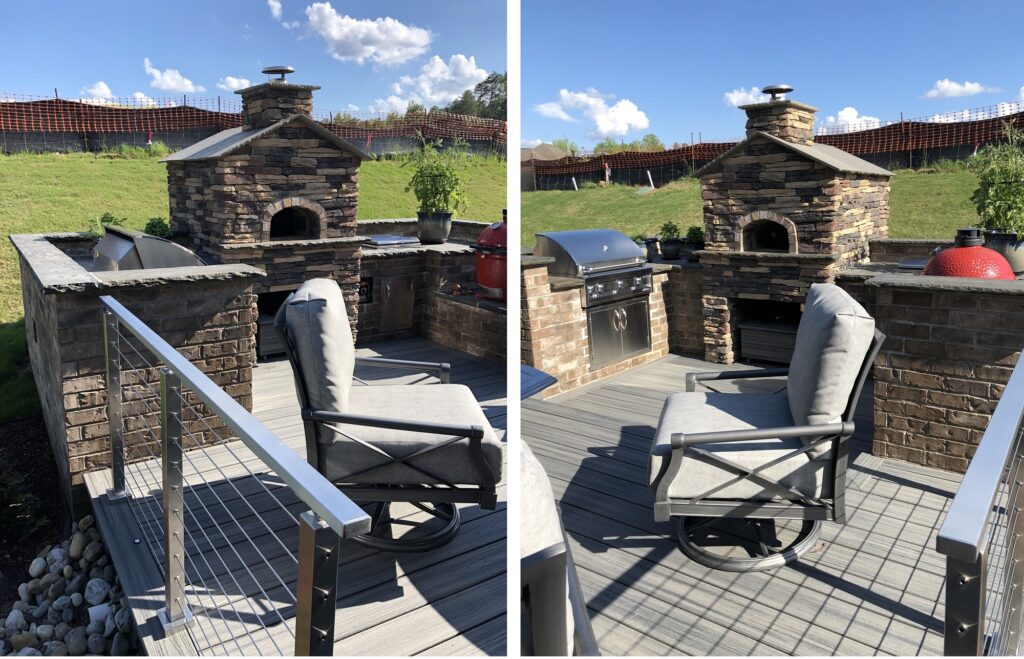 Note: This deck is made with composite planks (fire-resistant). It is also reinforced on the end to support the weight of a Casa2G80 oven kit, as well as the other kitchen elements.Consideration here extends to the countertop itself. The supporting structure for the pizza oven needs to be strong and durable and should be weather-resistant so it doesn't weaken over time. Concrete and stone are generally better choices than wood. 
Our Cucina Pizza Stands are super-strong, steel, modular stands designed and built for our modular home kits. They can be finished with a variety of materials, and are well worth considering if you want a pizza stand that looks great and is guaranteed to handle the weight, but are less work than building a cinderblock stand. 
6: Rushing the Curing Process
Curing your pizza oven is absolutely crucial to its functionality and longevity, and rushing the curing process is potentially disastrous. 
The natural materials used to construct pizza ovens initially contain a high volume of moisture that has to be slowly baked out of the refractory material. This strengthens the dome and ensures full heat retention. Curing is a slow process – treat it like a ritual! Enjoy the curing process and nurture your pizza oven safely through to the other side. It is a 7-day investment in a product that can last generations!
Follow our curing guide to cure your pizza oven properly. Alternately, Forno Bravo also offers a popular pre-cured option on our fully assembled units.
7: Placing an Outdoor Pizza Oven Too Close to the House
If you're placing a pizza oven outside and only require basic venting, then that's all good, but smoke emitted through your pizza oven's chimney could easily billow toward your house, or someone else's!
It's important to bear in mind that pizza ovens can send out a fair amount of smoke over the course of an entire day or evening, particularly if it's hot and breezy, or your wood isn't fully dried and cured. In the summer when windows and doors are wide open, this could pose an annoying issue for both you and those near you. 
Make sure you can maintain a decent distance from your home if you're installing an oven outside with standard basic venting. 
Choosing a location that is too close to the neighbors might not be too sociable. Try and choose a neutral location with plenty of space that is unobstructed, and be sure to invite them over to share the pizza sometimes too. Well-fed neighbors equal happy neighbors! 
8: Choosing a Damp or Wet Location 
Forno Bravo pizza ovens are extremely durable and weatherproof, but choosing a damp or wet spot for your pizza oven is still generally a bad idea. An example might be placing the pizza oven directly under a large tree canopy (also a clearance-to-combustible issue,) or near roof guttering. 
While rain, snow, and other precipitation shouldn't pose any real danger, high-pressure or persistent water flow is quite destructive and will damage a pizza oven or its foundation over time. However, do keep the oven door firmly in place when not in use to keep moisture out of the chamber. Also, double-check your level when installing the oven. The rear of the oven should never be lower than the oven mouth, again, to help keep moisture from entering the chamber during weather events.
If possible, choose a dry spot that receives a good daily dose of sunshine. This also ensures that the pizza oven will dry quickly if it does get wet. Additionally, some owners prefer to cover the oven with an optional canvas or water-resistant fabric cover when they are not using it, especially during the winter. If your oven has a tile finish, be sure to re-seal the grout seasonally to keep it in its best condition long term.
9: Hiring Contractors Who Ignore the Installation Protocols
Contractors and other third-party installers may not have experience in installing wood or gas fired ovens, particularly not pizza oven kits. If your contractors don't know what they're doing, they are more likely to make mistakes when installing the oven and may not follow proper installation protocol. 
In some situations, our customers even had to start over because their chosen contractors failed to fit or build their oven properly. Choose your contractors carefully to avoid catastrophic errors! 
Forno Bravo provides comprehensive installation instructions which must be followed. The instructions can be found in the owner's manual, as well as demonstrated in video and written blog formats. Make your expectations clear to your contractors from the start, as well as forwarding them these links. (Most contractors with mid-level to good masonry skills+ actually enjoy installing our ovens and go on to recommend them to future clients!)
10: Not Practicing Before Hosting Parties
While not strictly a problem for installing your pizza oven, it's highly recommended that you get plenty of cooking practice before you invite everyone over for a party! 
Our larger pizza ovens can handle many, many pizzas – up to 100 an hour, depending on the size of the pizzas and the size of the oven! That's tough for one person to handle, especially without ample experience in the art of wood fired cooking. You will also want to try out a few different dough recipes to find the one that you like the most in terms of taste, hydration, and handling characteristics.
Pro Tip: If you are going to cook pizza in volume, follow the method the experts use, and have one person dedicated to minding the oven and someone else (or many someones if the guests help too) prepping and serving the finished pies. The pizzaiolo will develop a rhythm for placing, turning, and doming the pizza, and should stay focused on that one job for best overall results and consistency.
Get some practice before you invite the neighborhood over, and make sure you enlist some extra hands! 
Forno Bravo Pizza Ovens and Kits
Forno Bravo is a leading supplier of top-of-the-line pizza ovens and we've got something for everyone!
Our modular home kits are ideal for those that want a flexible, customizable pizza oven that slots right into their unique space. The Forno Bravo team will help you choose and coordinate custom options like indoor venting packages, ensuring that your installation runs smoothly, safely, and without any of the problems we've listed here. 
If you want to get up and running as quickly as possible, our fully-assembled pizza ovens offer readymade solutions for those looking to get started in wood fired cooking with the minimum of fuss or hassle, but with a beautiful hand-crafted oven that matches their choice of colors, patterns, size, and style.
Let us know if we can help! Click here for a catalog or quote today.