Kissed By Fire: Wood Oven Recipes From Wine Country
When author Brigit Binns agreed to create wood fired recipes for our Community Cookbook in the Fall of 2015 using our Bella Grande 36 pizza oven, we were very excited. Brigit has authored many best selling cookbooks and has been a long-time consultant to major companies including Williams-Sonoma and Weber Grills.
After Brigit had provided many fantastic recipes–wood-fired dishes and pizzas alike–for our Community Cookbook, we asked her if she would be interested in consolidating them into an eBook format. She not only agreed, but decided to update all her existing Community Cookbook recipes and add 21 brand new recipes which are only available in this exclusive cookbook, Kissed By Fire (with a total of 39 recipes).
The stunning result is a professionally photographed and beautifully written cookbook; we guarantee your mouth will water even before you even have a chance to try the first recipe.
Click Here to Download Amazon Kindle Version For $9.99
---
What's Inside?
Five tasty chapters featuring 39 Recipes in total, each one with at least one stunning photograph.
Forward by Peter Reinhart
Introduction to Fire Management: An Art, Not a Science
Chapter 1: Building Blocks – It's All About the Crust!
Chapter 2: Brunch, Starters & Sides – Multiple Courses From One Fire
Chapter 3: Pizzas, Pies, and Flat- breads – Is It Pizza or Flatbread?
Chapter 4: Main Courses – Know Your Oven!
Chapter 5: Desserts – Kissed By Fire
---
About Cookbook Author Brigit Binns
Brigit Binns is the nationally- known author or co-author of 29 best-selling cookbooks, many of them for Williams- Sonoma. Her most recent cookbook, Sunset's Eating Up the West Coast: The Best Restaurants, Road Trips and Recipes from California to Washington, celebrates the incredible culinary diversity of America's Left Coast. Brigit also created the early cult blog Roadfoodie, a drive- eat-drink-think travelogue which the Huffington Post called "One of the Best Food and Wine Websites."
She and her husband, actor and Star Trek alum Casey Biggs (aka the viral YouTube sensation "Paso Wine Man") host a popular series of cooking classes—plus offer stylish shelter to wine country visitors in two luxury vacation rental suites—at Refugio, their culinary retreat in Paso Robles. Brigit's hands-on "Artisan Pizza" classes, held twice or three times yearly, tend to sell out quickly!

For as long as I can remember, live fire has carried a seductive fascination for me; cooking with fire has aroused my culinary passions for well over a decade.
— Brigit Binns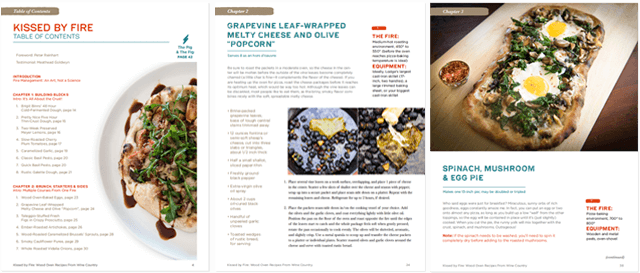 Testimonial from Meathead
"Cooking with logs may be an ancient technique but Brigit Binns has made it cutting edge. She really understands how to tame wood fires, she is incredibly creative, and is a true genius at flavor combinations. 'Kissed by Fire' is also big, bold, and delicious."
MEATHEAD GOLDWYN,
Barbecue Whisperer and author of "Meathead, The Science of Great Barbecue and Grilling" and editor of AmazingRibs.com

Foreword by Peter Reinhart (excerpt)
"Cooking is an act of transformation; its a magical activity of science and craft that crosses into a kind of alchemy. By alchemy, I refer to the ancient notion that dross lead could be transmuted into gold if we just knew the secret process…..In the following pages you will see on display brilliant manifestations of this art, brought to you through the gift of fire and from the gifted hands of Brigit Binns, who knows how to use this fire to craft beautiful and delicious transformations. In the process, she will also show how you can easily step into this role of what I have metaphorically called the alchemist, but what you will know more properly as the cook."
Peter Reinhart,
Chef, Culinary Professor, Editor in Chief of Pizza Quest and Author of American Pie and other best selling books.
Click Here to Download Amazon Kindle Version For $9.99
P.S. Thank you so much for supporting the Forno Bravo community! It was such an incredible team effort putting this wonderful eBook together and we know you will simply love it! Cheers! 🙂