Napolino Outdoor Pizza Oven Starts at $4750.
The Napolino pizza oven series is a Naples-style fully assembled oven designed for backyard baking. This beautiful and innovative pizza oven features the traditional center vent and beautifully tiled enclosure found in pizzerias in Naples (and around the world), all in an oven sized for home pizza making, baking, and roasting. The name Napolino, an affectionate, diminutive version of Napoli, says it all.
Made from the Giardino outdoor wood burning pizza oven core, the Napolino wood fired pizza oven provides the industry's fastest heat-up times (20 minutes) and excellent heat retention. This makes it easy to cook authentic wood fired pizzas in under 2 minutes.
The Napolino ovens feature a beautifully tiled enclosure sealed for outdoor use, along with an optional stand that is powder coated to be weather-proof, rust-proof, and attractive. These beautiful wood fired pizza ovens can be custom tiled just for you.
Check out our Custom Tiled Pizza Oven Photo Gallery.
Napolino Outdoor Pizza Oven Specifications:
Two sizes: 24" and 28" cooking surfaces; both with a 7″ oven landing;
You can bake 1 to 2 pizzas at a time, or up to 30 per hour;
Outdoor use only, but can be installed under a patio cover using a double wall chimney;
Outdoor wood burning pizza oven, no gas or charcoal;
Easy delivery using a lift gate — no forklift required.
Napolino Outdoor Pizza Oven Includes:
Complete oven assembly;
Hand-tiled enclosure;
Steel stand or Countertop based on model;
Steel door with a built-in thermometer;
Stovepipe and chimney cap;
Custom colors and tiling available.
How Tile Customization Works
Our tiled ovens are handcrafted in Castroville, CA to your specifications. We offer a large selection of standard patterns and tile colors to choose from, as well as an extended line of glass tile colors, and optional letters/logos are available for an additional charge. Our skilled designers can also create a price quote for custom designs and materials to bring your unique vision to life.
The Process:
BROWSE our Tile Customization Guide to see our tile colors, patterns, and custom upgrade options.
PICK your colors and pattern, or jot down your ideas on the blank template at the end of the guide to discuss with a sales team member; decide if you would like any optional add ons (Monograms, words, logos, or designs.)
ORDERING your oven:

If you order using our Online Store – A team member will contact you within 1 business day to confirm your desired design, as well as discuss any of your modifications, or
You can also contact our sales team here, or call us at 1(800) 407-5119 or +1(408) 317-0124 (outside of the U.S.) for ordering assistance. If you would like to venture outside of our standard options and add-ons, please call for a custom quote.
Optional for Napolino Outdoor Pizza Ovens:
Napolino Core Technologies:
We make the oven dome using a 38% alumina (81% alumina and silica) refractory material cast in a two-sided, vibrated form—a higher quality process than many competitor home pizza ovens.
The oven floor is made using large 12" x 12" commercial-grade (2,700psi compressed and 2,650ºF kiln-fired) firebrick floor tiles—superior to any other home pizza ovens.
Ultra-premium insulation, both in quality and thickness, for outstanding heat retention. Each pizza oven includes a minimum of 3" of high-tech ceramic blanket dome insulation and 2" of ceramic board floor insulation — eliminating the need for old-fashioned and inefficient vermiculite or Perlite-based insulating concrete.
The oven has a mono-block dome and integral vent design with zero seams. This is why the Napolino ovens have excellent heat retention and cooking performance, and much better durability than other small outdoor pizza ovens.
Naples-style center-vent that re-uses heat from the oven and distributes it above the dome. This leads to the best heat retention of any of our commercial pizza ovens. The Napoli recovery time leads the industry! See the graphic below: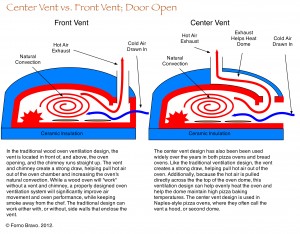 Receiving Your Napolino
This video shows how our new crates make it incredibly easy to receive and move your Napolino with a stand into position.
Countertop Napolino pizza ovens need to be lifted off the pallet and placed manually on your hearth or countertop.
Napolino Outdoor Pizza Oven Summary:
The Napolino pizza oven series features a traditional Naples-style ventilation system, where hot air exhausted from the oven is routed back over the oven dome, and then vented through a vertical stainless steel chimney pipe in the center of the oven. This ventilation method helps evenly and efficiently heat the oven dome, as well as help the oven maintain the high temperatures required for baking Pizza Napoletana.
The Napolino outdoor wood burning pizza oven is the right choice for homeowners who have limited space, but want a high-end, custom-made, authentic Italian style pizza oven. Capable of baking up to 30 pizzas per hour, it can feed all families and most parties.
Competitively priced and made in the USA, the Napolino outdoor pizza oven is a great value.
| | | | | | |
| --- | --- | --- | --- | --- | --- |
| Napolino60 Outdoor Pizza Oven – Wood Fired | Cooking Surface: 24" x 31" | Area (sq. in.): 452 | Heat Up (min): 20 | Pizzas (10"): 1 | $4,750 - $5,150 |
| Napolino70 Outdoor Pizza Oven | Cooking Surface: 28" x 35" | Area (sq. in.): 615 | Heat Up (min): 20 | Pizzas (10"): 2 | $4,950 - $5,350 |
Prices and Ordering
All ovens include the oven, door and thermometer.
Drawings
Data Sheets
Installation Support