Vesuvio Home Pizza Oven Starts at $6950.
The Vesuvio pizza oven is a Naples-style fully assembled pizza oven featuring a beautiful traditional hand tiled exterior. These innovative residential pizza ovens for sale feature a traditional center vent system where hot air exhausted from the oven is routed back over the oven dome and then vented through a stainless-steel chimney pipe in the center of the dome. This ventilation method evenly and efficiently heats the oven dome and maintains the high temperatures required for baking Pizza Napoletana.
The Vesuvio is our signature home pizza oven and features an intricate, hand-tiled enclosure that will hold up in any climate. Made from our Casa home pizza oven core, these ovens feature fast heat up times and the best heat retention available in the industry. This helps you bake the perfect pizza, hearth bread, roasts, and grilled meats. The Vesuvio pizza ovens are available as certified gas and wood fired pizza ovens for outdoor kitchens. They are also ETL certified to UL standards for indoor use as a wood fired pizza oven.
Vesuvio Home Pizza Oven Specifications:
Four sizes: 32", 36″, 40″, and 44" cooking surfaces; all with an 8″ oven landing;
You can bake 5 pizzas at a time, or up to 100 per hour;
ETL certified to UL standards+ for indoor installation as a wood fired pizza oven;
ETL certified to UL standards+ wood or gas pizza oven for outdoor installation, no charcoal.
Vesuvio Home Pizza Oven Includes:
Complete oven assembly;
Countertop or metal stand options available;
Center-vent with steel stove pipe;
Steel door with a built-in thermometer.
Optional Drago P1+ Outdoor Gas Burner Kit Includes:
Liquid Propane – 51,000 BTUs; Natural Gas – 38,000 BTUs;
Flame control system with pilot, low, and high flame settings;
Stainless steel guard to protect burner;
Remote thermocouple with wire and gauge;
Gas leak detector.
Learn more about our home gas pizza oven option, click here.
Optional for Vesuvio Home Pizza Ovens:
The Vesuvio Core Technologies:
2" oven dome produced using a proprietary 142 pcf density, 8,230 psi strength refractory material with poly-fibers for additional strength not found in brick or clay ovens.  All manufactured in our Castroville, CA factory using a two-sided, vibrated mold casting process.
NSF-4 certified 2″ oven floor is constructed using large 18"x18"x2" ultra-premium (2,700psi compressed and 2,650ºF kiln-fired) baking tiles with Cordierite — for superior thermal shock resistance and durability, and for great pizza baking.
Ultra-premium insulation, both in quality and thickness, for outstanding heat retention. Each pizza oven includes a minimum of 3" of high-tech ceramic blanket dome insulation and 2" of ceramic board floor insulation — eliminating the need for old-fashioned and inefficient vermiculite or Perlite-based insulating concrete.
An interlocking dome design with a mono-block vent — and with fewer, tighter seams, the Vesuvio home pizza oven offers outstanding heat retention, cooking performance, and durability.
The gas-fired version of the Vesuvio pizza oven provides a pizza baking experience that accurately replicates a true wood fire. The Vesuvio pizza oven can operate in both gas-only and gas/wood modes.
Naples-style center vent that re-uses heat from the oven and distributes it above the dome. This leads to the best heat retention of any of our residential pizza ovens. The Vesuvio recovery time leads the industry! See the graphic below: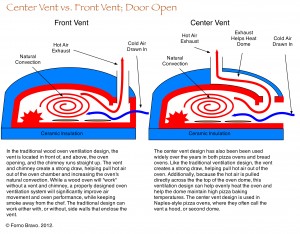 Installed in 5 minutes Like All of Our Assembled Pizza Ovens with Stands:
This video applies to all Vesuvio pizza ovens that come with a stand. Countertop models of the Vesuvio pizza oven will need to be lifted off the two-tiered pallet and placed on your hearth or countertop using a forklift or crane.
How Tile Customization Works
Our tiled ovens are handcrafted in Castroville, CA to your specifications. We offer a large selection of standard patterns and tile colors to choose from, as well as an extended line of glass tile colors, and optional letters/logos are available for an additional charge. Our skilled designers can also create a price quote for custom designs and materials to bring your unique vision to life.
The Process:
BROWSE our Tile Customization Guide to see our tile colors, patterns, and custom upgrade options.
PICK your colors and pattern, or jot down your ideas on the blank template at the end of the guide to discuss with a sales team member; decide if you would like any optional add ons (Monograms, words, logos, or designs.)
ORDERING your oven:

If you order using our Online Store – A team member will contact you within 1 business day to confirm your desired design, as well as discuss any of your modifications, or
You can also contact our sales team here or call us at 1(800) 407-5119 or +1(408) 317-0124 (outside of the U.S.) for ordering assistance. If you would like to venture outside of our standard options and add-ons, please call for a custom quote.
Vesuvio pizza ovens are ETL-Intertek certified to the following standards in the United States and Canada for indoor and outdoor installation using wood fuels:  UL737-2011, UL2162-2014, ULC/ORD 2162-2013, ULC S627-2000, and NSF/ANSI-4-2007. Gas models are additionally certified to ANSI Z21.58-2018 and CSA 1.6-2018 standards in the USA and Canada for outdoor installation only.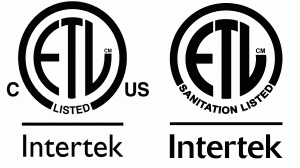 | | | | | | |
| --- | --- | --- | --- | --- | --- |
| Vesuvio80 Home Pizza Oven – Gas or Wood Fired | Cooking Surface: 32" x 40" | Area (sq. in.): 804 | Heat Up (min): 30 | Pizzas (10"): 2 | $6,950 - $9,645 |
| Vesuvio90 Home Pizza Oven – Gas or Wood | Cooking Surface: 36" x 44" | Area (sq. in.): 1017 | Heat Up (min): 40 | Pizzas (10"): 3 | $7,450 - $10,145 |
| Vesuvio100 Home Pizza Oven – Gas or Wood | Cooking Surface: 40" x 48" | Area (sq. in.): 1256 | Heat Up (min): 45 | Pizzas (10"): 4 | $7,950 - $10,645 |
| Vesuvio110 Home Pizza Oven – Gas or Wood | Cooking Surface: 44" x 52" | Area (sq. in.): 1520 | Heat Up (min): 50 | Pizzas (10"): 5 | $8,450 - $11,145 |
Prices and Ordering
All ovens include the oven, door and thermometer.
Drawings
Data Sheets
Installation Support