Forno Bravo produces the world's finest pizza ovens.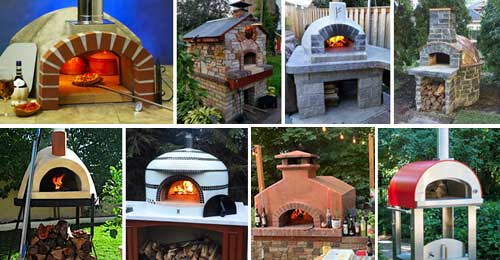 Whether you are looking for a do-it-yourself brick oven, a modular pizza oven kit for your outdoor kitchen, a wood oven ETL Certified to the highest standards to install in your home, or a fully assembled pizza oven, we have a wood or gas fired pizza oven for your family.
Forno Bravo offers the most diverse refractory, stainless steel, and brick oven products available in the market. Forno Bravo is committed to helping you make the right choice for your outdoor kitchen.
Made in the USA in our facilities in Colorado and California, Forno Bravo has shipped tens of thousands of ovens around the world.
Modular pizza oven kit for indoor or outdoor kitchens
Forno Bravo's modular pizza oven kits are designed using our own proprietary refractory formula and high-quality ceramic fiber insulation. These ovens are 100% manufactured in our factory in Castroville, California. Ideal for those families who want to install their own oven design in a few days instead of months, and still have the very best wood fired pizza oven to bake in.
Forno Bravo offers four "families" of modular pizza oven kits:
Our modular oven kits can be installed on a masonry hearth, Forno Bravo Cucina Stand, or other non-combustible countertop. Anyone with a reasonable level of trade skills can install a Forno Bravo pizza oven kit in as little as two days. We offer installation drawings, manuals, videos, and a large photo gallery for inspiration, all available from our tech resources page. Or contact our tech support team with any questions you might have
Available in our online store, Forno Bravo modular pizza oven kits generally ship in as little as the next business day!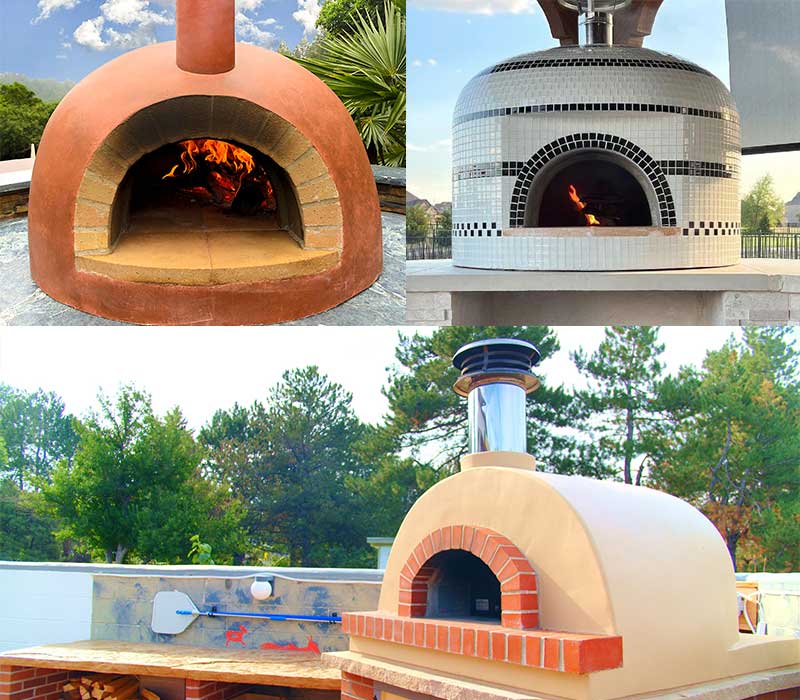 A fully assembled pizza oven for those who just want to bake
Forno Bravo offers the widest selection of fully assembled pizza ovens in the marketplace.  Every fully assembled oven is made from a modular pizza oven kit which has been dry mixed, wet mixed, and assembled by our team of masons.  And if you don't see an oven you like, we offer many custom options. It never hurts to challenge our team with a new idea to make your dream pizza oven.
Like our Giardino and Casa modular oven kits, our fully assembled Forno Bravo residential pizza ovens range in size from 24" all the way up to 44" cooking surfaces. We offer three different finishing styles:  steel, stucco, and tiled.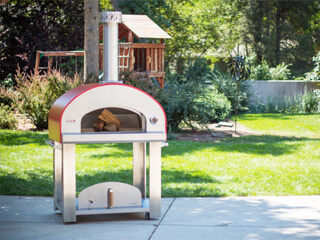 With a durable stainless steel exterior, 28" – 40" ceramic cooking floor, and portable cart or countertop models, the Bella is the quick-heating, wood fired alternative for your backyard.
The Forno Bravo Difference
All our fully assembled pizza ovens are available in our online store, can be customized upon request, and we now offer a pre-cure service for those who want to get baking the day after their oven arrives. Why Forno Bravo?
Made in the USA for full quality control;
Models that are ETL-Intertek certified to UL standards;
Advanced proprietary refractory formula and ceramic fiber insulation for fast heating and fuel-efficient baking;
True artisan craftsmanship for a durable, personalized showpiece;
Largest online community of wood fired enthusiasts for support, encouragement, and delicious recipes.
The Perfect Pizza Oven For You
No matter your preference – kit or assembled, big or small, rustic or sleek, portable or integrated, your Forno Bravo Residential Pizza Oven is built to last. Featuring unmatched, industry-leading quality and community-tested longevity, our ovens have proven themselves over time and through the experience of thousands of satisfied owners. We offer the largest range of sizes and styles to meet your specific goals, and can tailor any oven to match your individual specs. Give us a challenge and we'll work together with you to bring your vision to life.
Kits or Fully Assembled Options
Custom colors, patterns, tiles, and branding available;
Wide variety of choices in standard colors, finishes, oven thicknesses, and sizes;
Different body styles, footprints, and oven bases to match your space;
Flexible fuel options – Wood fired, natural gas or propane available; outdoor and indoor models to meet your cooking and entertaining needs.
Do it yourself brick oven – Pompeii Oven kit
Forno Bravo was made famous by doing the unheard of – teaching our customers how to build their very own authentic Italian Pompeii brick oven without ever giving us a single penny!  Why offer free brick oven plans? Forno Bravo started as a brick oven project by our founder while living in Italy, who then wanted to share the beauty of wood fired cooking with the world.  The result?  The Pompeii brick oven plans and the birth of the world's largest online Forum for wood fired enthusiasts with over 26,000 registered users sharing their projects, photos, and advice.
His labor of love led to a deep understanding of all the key characteristics necessary to build the perfect wood fired oven.  Our Pompeii brick oven plans are available in our online store for a "pick your own price;" you can pay ZERO or $1,000,000 dollars for them.  We sell many of the materials specified by Forno Bravo to provide the best performance for baking authentic Vera Pizza Napoletana in our online store. For example, we offer ceramic fiber insulation, venting, high-temperature mortar, and other supplies to help you build your very own brick oven. These supplies are kept in stock and ship in as little as three business days.
So again, why free plans?   Simply put, we would rather you have a wood fired oven built on your own, than no oven at all.  But a Pompeii brick oven build is a labor of love, requiring some robust masonry skills. We suggest you visit our online Forum before embarking on this project for the best results.  You can read more about building your own Pompeii brick oven by clicking here.  Or visit our photo gallery for inspiration with over 1,000 photos of Forno Bravo residential pizza ovens.