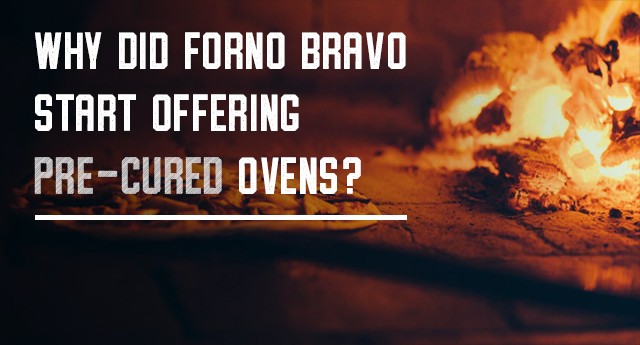 Why Did Forno Bravo Start Offering Pre-Cured Ovens?
Sep 28, 2016
Posted by Forno Bravo
All refractory ovens, whether commercial grade refractory pizza ovens like Forno Bravo, or hand crafted brick ovens like those imported from Italy or made by masons require curing.
Why?
Because these types of ovens are made with "manufacturing water" that needs to be baked out of the dome slowwwly to strengthen the pizza oven and get it ready for cooking.
This curing process takes a lot of time, usually between 5 to 7 days of gradually increasing small fires over 6 hour periods. As the temperature increases, the heat penetration deepens in the dome allowing water to turn to steam and release upwards. Too hot too fast, than the water tries to escape too fast and cracks the oven.
Because Forno Bravo controls its own commercial refractory material and does all its casting in its Salinas, CA factory, we don't face the same risks as competitors who import their ovens at high expense from Italy, Spain, France and other countries. Therefore, we can pre-cure our assembled ovens as a value added service for our customers.
NOTE: modular pizza oven kits are different because curing after the complete structure is done is usually best so as not to damage your exterior facade by getting the oven to full temperature too fast.
What prompted Forno Bravo to begin offering curing services?
As Forno Bravo began developing its' home gas pizza oven, our team which included Matt (Operations Manager), Anthony (Foreman), Jose (Product Development Manager) and Tim (COO) the team (we can't remember whose idea it was first!), came up with the idea to create a test jig to pre-cure the ovens before sending the prototypes to Intertek (UL) for testing.
After successfully testing the setup, and with some minor adjustments, we decided to set up a curing assembly line for our customers. We knew the customers would be excited to not have to deal with it themselves (except those hard core DIY pizza lovers!).
What are the benefits to pre-cured pizza ovens by Forno Bravo?
Risk, if we cure it for you, you can't break it by doing it incorrectly. An incorrectly cured oven, or one that isn't cured will crack. While hairline cracks are normal in any refractory material over time, large cracks cause heat loss and effect oven performance.
Time savings and getting right to the fun. If we pre-cure your pizza oven, then when you receive it, you only have to start one fire and get it hot enough to burn off any moisture that might have happened during shipping. Instead of a 30 hour cure over 5 days, it is a couple hours the day you receive your pizza oven and you are ready to cook.
Disadvantages – a little more cost upfront and learning how to build and control temperature in your pizza oven is always a good thing.
How does it work?
Depending on the model pizza oven, the price will range between $300 and $500 to pre-cure the pizza oven. Customer just needs to request this at the time the assembled pizza oven is ordered. Having the oven pre-cured usually doesn't affect lead time, as we keep stock of both pre-cured and raw domes in stock year round.
Once the customer receives their oven, they simply have to set a fire above 500 degrees to burn moisture and any possible organisms that grew during the shipping process. This usually takes 4 hours (instead of 30!) and you are ready to make pizza, or whatever else strikes your fancy from our Community Cookbook and the guest Chef Panel.