Primavera Outdoor Pizza Oven Starts at $2995!
The Primavera outdoor pizza oven is Forno Bravo's most popular fully assembled outdoor pizza oven.  It is small enough to fit in almost any outdoor kitchen. Plus it is easy to install, so you can take it with you when you move. An affordable pizza oven that will last a lifetime.
Made from the Giardino outdoor pizza oven kit, the Primavera provides the industry's fastest heat-up times (20 minutes) and excellent heat retention. This makes it easy to cook authentic wood fired pizzas in under 2 minutes.
The Primavera oven comes in a beautiful, handcrafted stucco, igloo shape, available as a countertop pizza oven or complete with a decorative metal stand. It is now available in 6 colors to match your personal taste and décor! If you follow Pizza Quest, this is the oven Peter Reinhart uses at his home.
Specifications:
Two sizes: 24" and 28" cooking surfaces; both with a 6″ oven landing;
You can bake 1 to 2 pizzas at a time, up to 30 per hour;
Outdoor oven only, but can be installed under a patio cover using a double wall chimney;
Wood fired pizza oven, no gas or charcoal.
Easy delivery using a lift gate — no forklift required;
Check out our Primavera Outdoor Pizza Oven Photo Gallery.
Include:
Complete pizza oven assembly with igloo shape;
Stucco finish in Mediterranean Yellow, Terracotta Red, or 5 additional standard colors;
Countertop or decorative metal stand.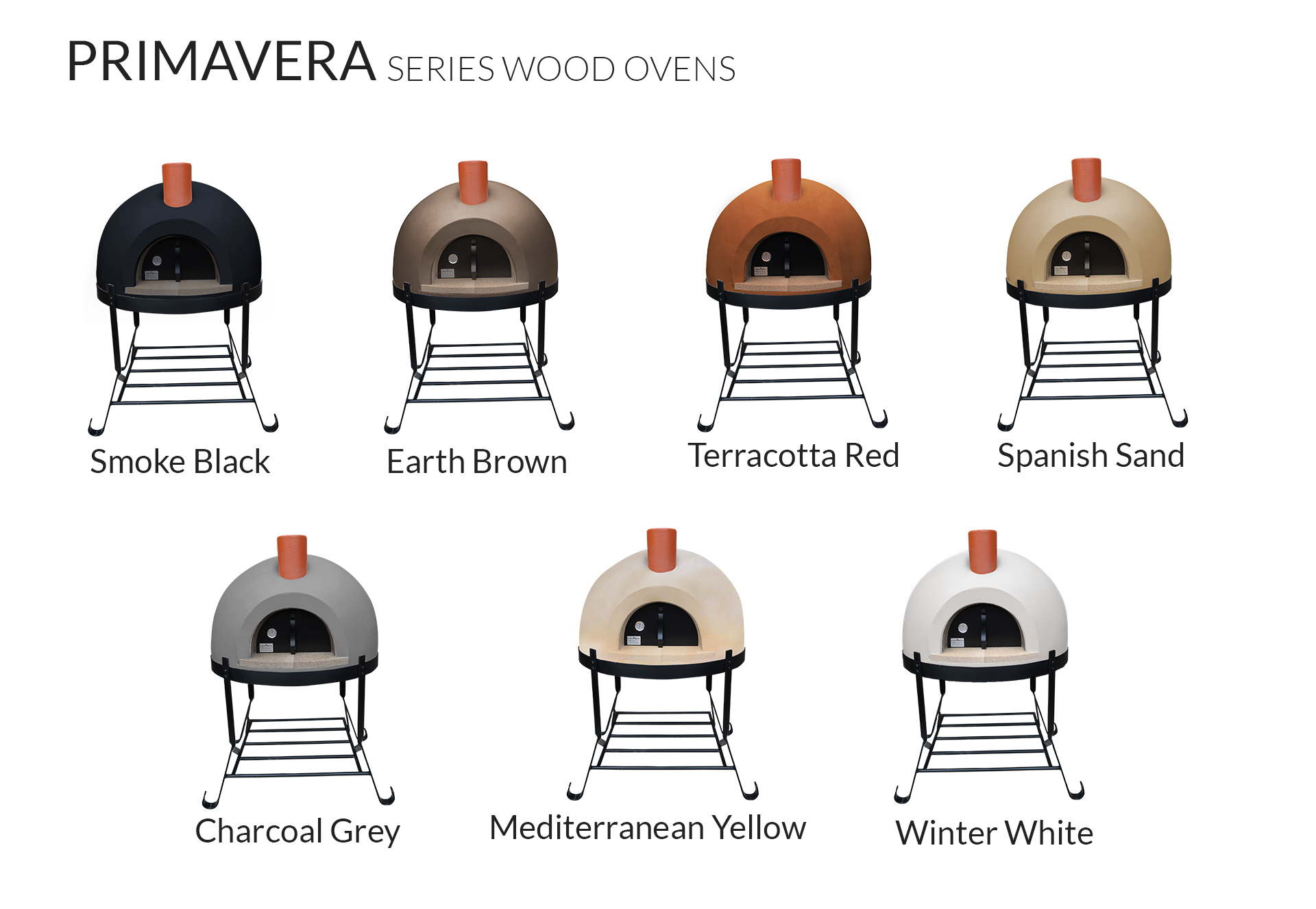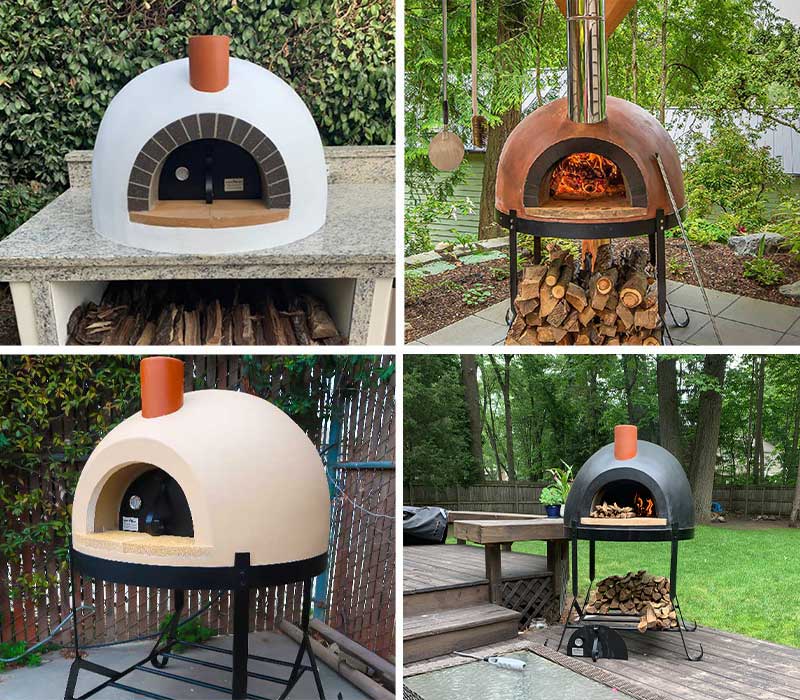 Optional Items:
Pre-cure option so you can bake pizza starting day one!
Waterproof cover to protect your pizza oven;
Custom work like color, brick arch…challenge our team of artisans!
Primavera Core Technologies:
We make the oven dome using a 38% alumina (81% alumina and silica) refractory material cast in a two-sided, vibrated form—a higher quality process than many competitor home pizza ovens.
The oven floor is made using large 12"x12" commercial-grade (2,700psi compressed and 2650ºF kiln-fired) firebrick floor tiles—superior to any other home pizza ovens.
Ultra-premium insulation, both in quality and thickness, for outstanding heat retention. Each pizza oven includes a minimum of 3" of high-tech ceramic blanket dome insulation and 2" of ceramic board floor insulation — eliminating the need for old-fashioned and inefficient vermiculite or Perlite-based insulating concrete.
The oven has a monoblock dome and integral vent design for strength and longevity. With zero seams, Primavera ovens have excellent heat retention and cooking performance, and much better durability than other small outdoor pizza ovens.
Receiving Your Primavera
This video applies to all Primavera ovens that come with a stand.
Countertop Primavera home pizza ovens would need to be lifted off the pallet and placed manually on your hearth or countertop.
Summary:
The Primavera pizza oven is affordable, capable of baking 1 to 2 pizzas at a time, and can entertain a family gathering of up to 30 people in under an hour. Elegantly formed and finished, it is a work of art, handcrafted in our Castroville, CA facility. Make better pizzas than you can have delivered!
Peter Reinhart, Charlotte, NC
"I'm in love with my Primavera pizza oven. Why? Because it was easy to install (no frame building required–for me that was essential because I'm not good in that area), it's so easy to fire up, it heats quickly, and holds the heat way longer than I thought it would (hours later, it was still at 350 degrees), and — and this is more important than you might imagine — it looks so cool! Not only do my friends experience immediate oven envy, but when they taste the food that comes out of it, they jot down the website and start calculating where they plan to put theirs. The learning curve for cooking is very fast–I had my pizzas and focaccias figured out by the second pie and my oven roasted meats and vegetables were a quick study. The neighbors keep asking when we're firing up again, which makes us very popular in the neighborhood."
| | | | | | |
| --- | --- | --- | --- | --- | --- |
| Primavera60 outdoor pizza oven | Cooking Surface: 24" x 31" | Area (sq. in.): 452 | Heat Up (min): 20 | Pizzas (10"): 1 | $2,995 - $3,395 |
| Primavera70 outdoor pizza oven | Cooking Surface: 28" x 35" | Area (sq. in.): 615 | Heat Up (min): 20 | Pizzas (10"): 2 | $3,195 - $3,595 |
Prices and Ordering
All ovens include the oven, door and thermometer.
Drawings
Data Sheets
Installation Support