Forno Bravo is ETL Certified in US and Canada to UL/ULC Standards
Forno Bravo residential pizza oven and commercial pizza oven products are Intertek-ETL listed in the United States and Canada and conform to several standards, including UL/ULC, ANSI, CSA, and NSF-4.
Our ETL-certified commercial wood fired pizza ovens and commercial gas fired pizza ovens for indoor and outdoor applications include the Professionale, Modena2G, Roma, and Napoli series ovens.
Our residential ETL certifications cover the modular pizza oven kit, and by extension, the fully assembled pizza oven versions of their respective modular ovens.  Certified products include the Casa2G, Premio2G, Toscana, and Vesuvio series ovens.  Please note, our residential ovens are certified for wood fired use in outdoor and indoor applications, as well as for gas fired use in outdoor applications only.
See Our Residential Oven Listings: Forno Bravo Models Casa2G and Premio2G Residential Solid Fuel & Gas Pizza Ovens
See Our Commercial Oven Listings: Forno Bravo Models Modena2G, Napoli, Roma, and Professionale Commercial Solid Fuel and Gas Pizza Ovens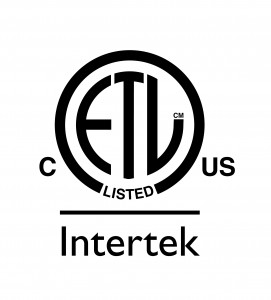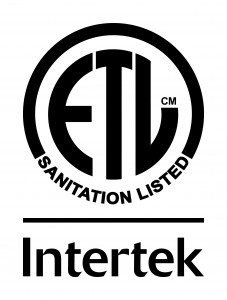 Browse ETL Listings to UL specifications at Intertek specDIRECT – Company: Forno Bravo, LLC.
Summary of Standards
UL 737 standard covers residential wood stoves and fireplaces. UL 2162 and ULC ORD 2162 (for Canada) are the standards for commercial wood fired baking ovens (refractory type.) If a building inspector will be approving your installation, be sure to use an oven that is certified to both UL 737 and UL 2162 standards.
ANSI Z21.58 and CSA 1.6 standards both cover outdoor cooking appliances (residential.) ANSI Z83.11 and CSA 1.8 standards both cover product safety for commercial gas cooking appliances.  NSF Std 4 covers health and sanitation issues for restaurants. Finally, ULC S627 regulates space heaters using solid fuel (wood) in Canada.
The Professionale, Roma, Modena2G, and Napoli ovens are approved for restaurant installation with either a compliant direct connect chimney flue, or with a Type 1 Hood.
Below is the list of Forno Bravo ovens that are covered by our certifications to the following standards:
RESIDENTIAL
Certified to ANSI Z21.58-2018, CSA 1.6-2018, UL 737-2011, UL 2162-2014, NSF Std 4-2016, ULC S627-2000, and ULC/ORD 2162-2013, and for Wood Fired Ovens and Gas Fired Ovens for Home Use in the United States and Canada.
(Note: Residential gas fired ovens are certified for outdoor installation only. Wood fuels are certified for use in both indoor and outdoor installations.)
Casa2G Modular Oven Kits
Casa2G80
Casa2G90
Casa2G100
Casa2G110
Toscana Assembled Ovens*
Toscana80
Toscana90
Toscana100
Toscana110
Vesuvio Assembled Ovens*
Vesuvio80
Vesuvio90
Vesuvio100
Vesuvio110
Premio2G Modular Oven Kits
Premio2G100
Premio2G110
Premio2G120
*The Toscana and Vesuvio oven models are factory-finished ovens utilizing the Casa2G refractory oven core. They are certified by extension, based on the test results and engineering review for the Casa2G core.
COMMERCIAL
Certified to ANSI Z83.11-2016, CSA 1.8-2016, UL737-2011, UL2162-2014, ULC/ORD 2162-2013, NSF Std 4-2016 and ULC S627-2000 for Wood Fired Ovens and Gas Fired Ovens for Restaurant Use in the United States and Canada
(Note: Our commercial ovens are certified for use with both wood and gas fuels in both indoor and outdoor installations.)
Professionale Series
Professionale 110 Wood Kit
Professionale 110 Gas Oven Kit
Professionale 120 Wood Oven Kit
Professionale 120 Gas Oven Kit
Professionale 110 Assembled Wood
Professionale 110 Assembled Gas
Professionale 120 Assembled Wood
Professionale 120 Assembled Gas
Roma Series
Roma 110 Assembled Wood
Roma 110 Assembled Gas
Roma 120 Assembled Wood
Roma 120 Assembled Gas
Modena Series
Modena 120 Wood Oven Kit
Modena 120 Gas Oven Kit
Modena 140 Wood Oven Kit
Modena 140 Gas Oven Kit
Modena 160 Wood Oven Kit
Modena 160 Gas Oven Kit
Modena 180 Wood Oven Kit
Modena 180 Gas Oven Kit
Modena 120 Assembled Wood
Modena 120 Assembled Gas
Modena 140 Assembled Wood
Modena 140 Assembled Gas
Modena 160 Assembled Wood
Modena 160 Assembled Gas
Modena 180 Assembled Wood
Modena 180 Assembled Gas
Napoli Series
Napoli 120 Assembled Wood
Napoli 120 Assembled Gas
Napoli 140 Assembled Wood
Napoli 140 Assembled Gas