Forno Bravo has more home pizza oven kits for indoor or outdoor kitchens than anyone.
Whether you want a modular pizza oven kit with the flexibility to have your own "look", an authentic Italian brick oven, or the plans to handcraft your very own brick pizza oven, Forno Bravo has what you want.  
For more general information about our residential products, visit our home pizza oven page.

What makes a Forno Bravo pizza oven kit the best?
Unlike the old-fashioned red "clay" or "terracotta" ovens, our residential pizza ovens are constructed from Commercial-Grade Refractory and Insulating Materials. Every Forno Bravo oven heats up faster, reaches higher temperatures, holds heat longer, and is more durable than other residential pizza oven kits available.
Every Forno Bravo refractory pizza oven dome is made in our Castroville, California facility. Unlike some competitors, we control every aspect of the oven dome manufacturing process down to the granule component level. No generic pre-mix concrete wet cast in the US and passed off as commercial grade refractory, no cheap imports or heavy import costs.
We give you more for your money than our competitors. Each pizza oven kit includes the oven dome, cooking floor, integral vent, floor and dome insulation, stove pipe, mortar, oven door, and thermometer.
Our technical support team will coordinate custom options like indoor venting packages with you to ensure everything is done correctly. It isn't just about making the sale, we want to walk with you on your journey and make sure you enjoy your pizza oven.
Our Resources section of the website has complete installation instructions and Auto-CAD drawings of the oven, hearth, and pad to make it easy for you or your contractor to do it correctly. We offer a full photo and video gallery showing you all the key parts of installing your pizza oven kit.
We offer many optional items to add value or make your installation easier, like our Cucina stand that replaces a masonry hearth, or a decorative brick arch.
Click here for a quick installation animation of how the pizza oven kit goes together.
Casa indoor or outdoor pizza oven kits.
The Casa series pizza oven kit is our best seller. These ovens have an interlocking dome design that holds the heat better than oven designs that use a "butt" joint.  Available in 32", 36", 40", and 44" cooking surfaces the Casa series pizza ovens can support as many as 100 pizzas an hour.
The Casa series pizza oven kits are ETL certified to UL standards as wood fired ovens in indoor or outdoor kitchens. They are also listed to UL standards for gas fired, or combination wood/gas ovens in outdoor kitchens. The Casa oven is extremely flexible, affordable, and can be put together in as little as two to five days depending on your design.
These pizza ovens are used to make our Toscana and Vesuvio series of fully assembled pizza ovens.
Giardino outdoor pizza oven kits.
The Giardino series is a line of small, do it yourself (DIY) pizza oven kits that require a minimal amount of masonry skill.  Fully customizable, these one-piece pizza oven domes come in 24" and 28" cooking surfaces and can accommodate up to 30 pizzas per hour.  
The Giardino pizza oven kits are only recommended for outdoor kitchens.  They can be installed in a covered patio or screen porch when using a UL103 HT-rated chimney.  Available as a wood fired oven only.
These pizza oven kits are used to make our Primavera, and Napolino series of fully assembled outdoor pizza ovens.
Premio indoor or outdoor pizza oven kits.
The Premio series modular pizza oven kit is our premium residential pizza oven featuring a thicker and heavier dome, thicker insulation (top and bottom), and an insulated oven door. These muscular ovens offer professional wood fired cooking and baking at home. Available in 40″, 44″, and 48″ cooking surfaces, they can bake over 100 pizzas per hour.
The Premio series pizza oven kits are ETL certified to UL standards for indoor or outdoor kitchens. The Premio is popular with professional chefs, bakers, and caterers who want a commercial-grade pizza oven for their home or mobile pizza trailer. The Premio oven kit is available with options for multiple types of fuel – wood, gas, or a wood/gas combination.    
Pompeii DIY brick oven.
The Pompeii brick oven kits started as a DIY pizza oven project in Italy by our founder.  After building his own authentic Italian brick oven, he wrote the Pompeii brick oven plans and released them to the world for free.  
Using many of the same dimensions and suggested materials that are found in our refractory pizza oven kits, the Pompeii brick oven plans offer you the flexibility to build your own pizza oven completely from scratch.  Not for the faint of heart, building a pizza oven from scratch without a Forno Bravo oven kit is a substantial project. We recommend you read about the Pompeii oven build process, get our free eBook of plans, and check out the Forum for assistance, and to see examples from all over the world.  
To learn the history of pizza ovens, click here.
Still not sure about a pizza oven kit?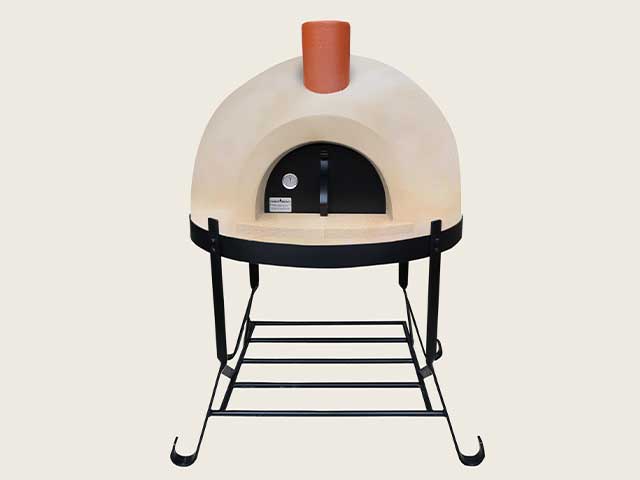 If a Forno Bravo pizza oven kit or DIY pizza oven seems like too big a project, you can always buy a
fully assembled pizza oven
from us. We even offer custom finishes.
We host a pizza oven gallery with thousands of pictures to give you or your designer ideas on how your pizza oven can look.  
Interested in finishing the pizza oven yourself, but don't want to mess with the masonry hearth and stand?  We offer a Cucina stand that bolts together in about an hour, and only requires a 1 5/8" hearth with 3/8″ rebar to support the oven.  This will save you days of construction time.
Visit our online Forum with over 26,000 users worldwide discussing pizza ovens, sharing photos and answering questions.