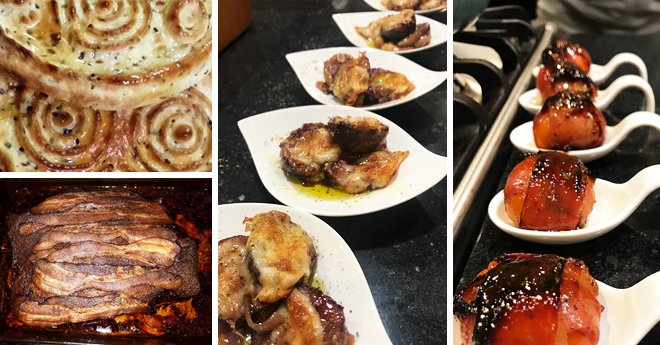 2018 Summer Recipe Contest Voting and Round Two Entries
Sep 10, 2018
Posted by Forno Bravo
The submission period of our 2018 Summer Recipe Contest has officially ended and it's time to test some recipes and cast your vote. We are thrilled with all of the recipes that came in! They run the gamut from main dishes and appetizers to bread and dessert. There are samples of cuisine and ingredients from many places – North America, South America, Europe, Africa, and the Middle East. Wood Fired cooking spans the centuries and the globe; our 2018 contest entries do as well!
We hope you have tried some of last month's entries and we can't wait for you to check out the remaining dishes that are listed below.
Voting
All votes are due by Wednesday, October 3rd, 2018. We ask that you submit only one ballot per person to keep the playing field level. (Invite your friends and family to vote too. Let's get the word out!) Help the winner take home a beautiful glazed Spanish terracotta pot and lid ($50 value,) while you enjoy the fruits of their recipe.
Vote Now
(The form only takes about 10 seconds to complete! Vote now!)
Round Two Entries to Try
We had 5 top-notch recipes come in for Round Two for you to try (in addition to the 3 excellent recipes from Round One.) Scroll down to find the new entries:
Fire Roasted Spanish Figs – Submitted by John O'Neil: A delightful appetizer that uses sauteed Texas Blue Giant Figs and several kinds of Spanish cheese that are melted in the wood fired oven for a delicious, complex flavor profile. Try Recipe >>
Maple Dry-Rub Brisket Tortillas – Submitted by Karsten Nordenhof: A recipe for beef brisket that is dry-rubbed with several spices and draped with maple bacon, then slow cooked in the wood fired oven for several hours. It emerges moist and tender to be sliced or shredded and served in tortillas with the toppings of your choice. Try Recipe >>
Date-Stuffed Peppadew® Peppers – Submitted by John O'Neil: A spicy, bite-sized pepper filled soft cheese and dates, wrapped in sliced ham, then basted and baked in a hot wood fired oven. This original appetizer hits all of the notes!  Try Recipe >>
Eid Bread (aka Wooden Mold Bread) – Submitted by Ahmad Zeabi: A special holiday bread from Syria that is flavored with roasted, nutty seeds and rich olive oil, accented with patterns from a wooden mold, and then topped with anything from yogurt to meats to jam!  Try Recipe >>
Wood-Fired Peach Caprese Salad – Submitted by John O'Neil: If you like grilled peaches or caprese salad, you will love this fresh summer take on a traditional Italian appetizer. Marinated mozzarella pearls, fresh basil,  Peruvian sweet peppers, and perfect peaches… Oh my! Try Recipe >>
Remember — Voting for your favorite recipe is now open! It only takes a few seconds. 
Vote Now Below!