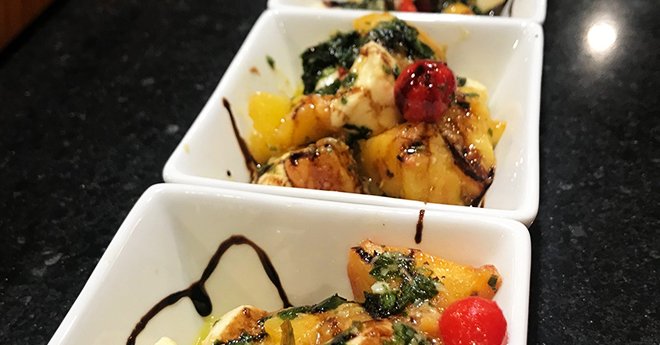 Wood-Fired Peach Caprese Salad
Sep 06, 2018
Posted by guestchef
Print
This recipe was submitted by Chef John O'Neil of Dallas, Texas. His fresh take on a traditional Caprese salad is sure to be a hit!
He shares:
"My wife loves peaches in season, especially Texas peaches. Using wood-fired peaches in this Caprese salad instead of tomatoes is a fresh, summery change. The Bella wood fired oven gives a nice char flavor to the peaches to season up the salad, and the sweet and sour peppers provide just a hint of heat. Yum!"
What a great side dish or appetizer to pair with a pizza party menu on a weekend afternoon.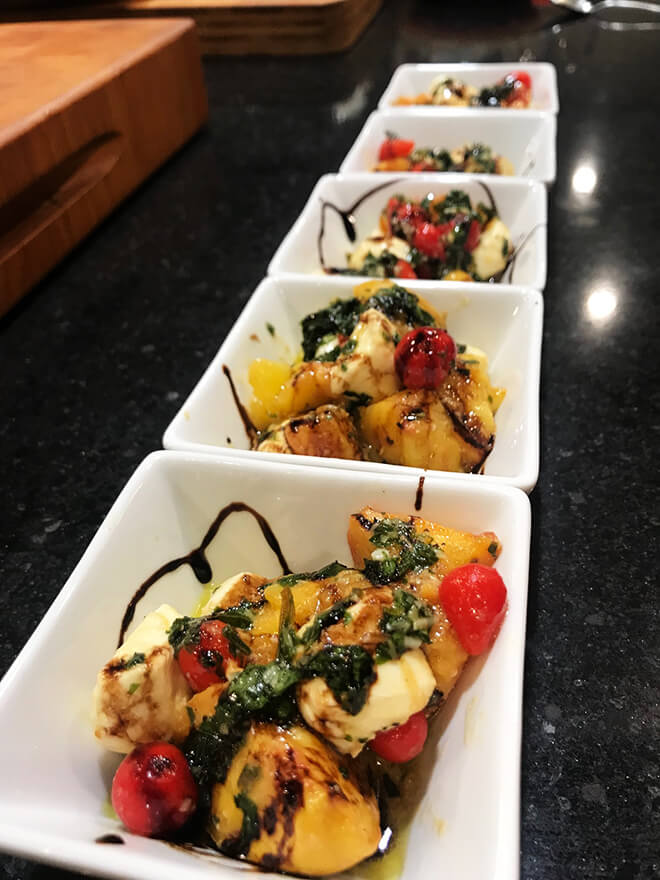 Wood-Fired Peach Caprese Salad
A fresh, summery take on a traditional Caprese salad. Wood-fired peaches and Peruvian sweet peppers add a whole new twist to a classic dish.
Ingredients
1 each Large Peach - Firm and not too ripe (wash and leave skin on)
Vegetable Spray
4.3 ounce jar Sweety Drop Peruvian sweet peppers - drained and reserve juice
18 ounce package Bel Gioiosio Mozzarella pearls
½ Cup fresh basil leaves - julienne sliced very thin
1 tsp Kosher Salt
½ tsp Fresh ground black pepper
¼ Cup extra virgin olive oil - plus extra oil for drizzle (I prefer a grassy flavored olive oil like Arbequina or Kalamata)
Aged Balsamic Vinegar - for drizzle
Instructions
Place a grill pan in your wood-fired oven about 6-8 inches from the coals to get it very hot.

In a bowl, mix olive oil, Mozzarella cheese balls, basil, salt, and pepper into a medium sized mixing bowl and gently mix well to blend the flavors. Set aside to marinate.

Slice peach in half and slice each half into four equal wedges.

Take grill pan out of the oven and spray with cooking spray. Place peach wedges in the grill pan and put the pan back in the very hot wood-fired oven for 2 minutes. Take the pan out, turn the peach wedges over, spraying with cooking spray while turning, and then fire the peaches for 2 more minutes.

Remove the charred peaches from the oven and pan and refrigerate them to cool. Once cooled, slice peaches crossways into three or four pieces and add to the bowl with the cheese. Be careful not to stir too hard, so you don't crush the peaches.

Spoon into serving bowls and finish with a light drizzle of olive oil and balsamic on each serving.
Notes
The reserved juice from the Sweety Drop Peruvian Sweet Peppers is not used in this recipe, but you will want to hang on to it to use at another time. It can be stored in the freezer for up to 6 months or refrigerated for 3-4 weeks. Since the juice has the perfect mix of sweet and vinegary, it is a great boost to any number of recipes — especially as an addition to a marinade or to make into a vinaigrette!