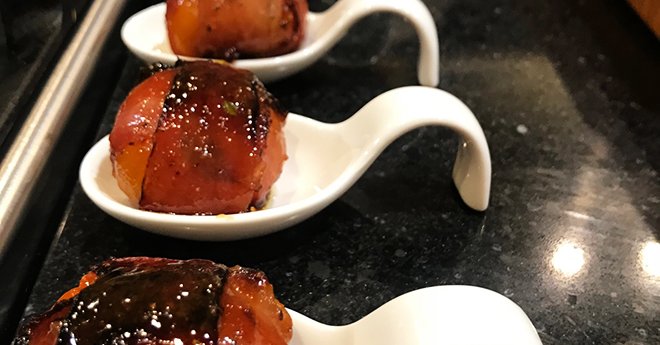 Date-Stuffed Peppadew® Peppers
Sep 06, 2018
Posted by guestchef
Print
We love having creative recipes in our Community Cookbook! So many of the best ones start with talented professional chefs and home chefs asking, "What if I…?"  Following is one of those recipes for you to enjoy.  Thanks, Chef John!
"This is one of my family's favorite dishes to make when we fire the oven. It is a little spicy, a little sweet, and a little savory. It hits all of the senses! I adapted this recipe from a dish we had at a restaurant in Denver where dates are stuffed with farmers cheese, wrapped in ham, and drizzled with honey. Being from Texas, we like things spicy. So, I thought, 'What if I put that date thing in a blender and stuff it in a pepper?' Turned out to be one of the best things I've created!"
~Chef John O'Neil, Dallas, TX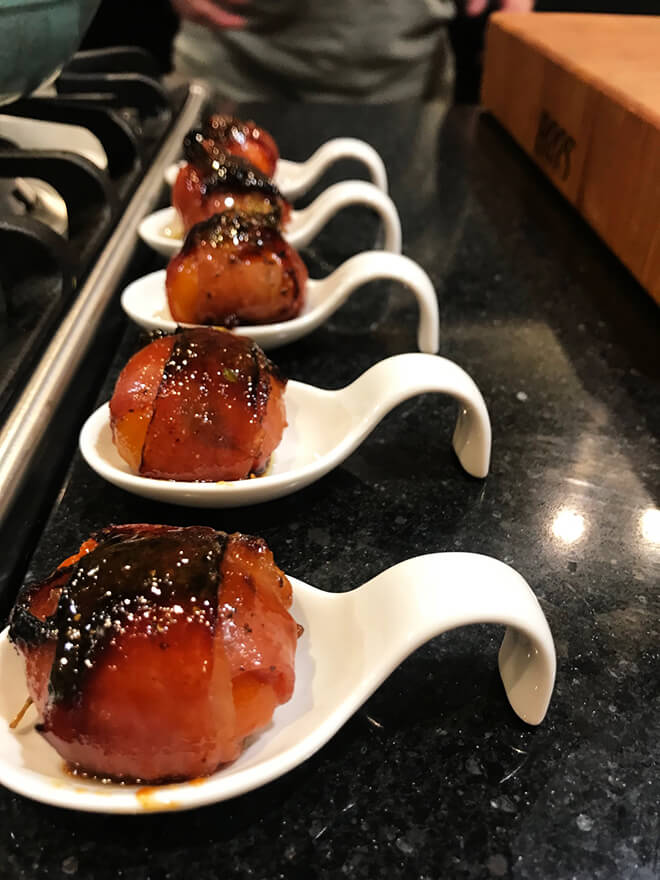 Date-Stuffed Peppadew® Peppers
A little spicy, a little sweet, and a little savory bite of heaven -- experience stuffed Peppadew® Peppers wrapped in ham, cooked in a wood fired oven and drizzled with honey! Yum!
Ingredients
15-20 each medium-sized Peppadew® Piquante Peppers - about ¾" to 1" in diameter, drain and reserve liquid
½ Cup soft fresh farmer's cheese (ricotta works well also in a pinch)
1 Tbsp Reserved liquid from the peppers
2 Tbsp Dark Honey - plus additional for drizzle
5 each Pitted Medjool Dates
½ lbs Thinly-sliced ham (my favorite is Niman Ranch Applewood smoked uncured ham)
2 Tbsp rosemary - Rough chopped
2 Tbsp thyme - Rough Chopped
fresh ground pepper
olive oil - For the skillet
Instructions
Place a 10-inch cast-iron skillet in the wood fired oven for about five minutes to heat up, then remove it. Coat the pan with olive oil.

Place the cheese, dates, dark honey, and the reserved pepper liquid in a food processor and purée until smooth and creamy.

Transfer date mixture to a pastry bag, or a 1-gallon Ziploc bag with a quarter-inch of one corner cut off with a scissors. Pipe the cheese mixture into each Peppadew, just enough to barely fill it. Fill all peppers and set aside.

Slice ham into thirds longways in even strips about 1" wide. Roll one strip of ham around each pepper one way, then turn it 90 degrees, and roll a second piece of ham around each pepper the opposite way. Use only enough ham to roll around each pepper once per turn.

Place each pepper in the oiled skillet with the ham-seam down.

Drizzle the 3 tablespoons of honey over the top of the peppers, then sprinkle on the chopped herbs and black pepper.

Heat your wood fired oven to 650° to 750°F (like when you are cooking pizza.) Place the skillet of peppers in the wood fired oven 6 to 8 inches away from the coals for about 7 to 8 minutes. Baste peppers with juice, then rotate 180° for another 7 to 8 minutes. Rotate the pan again to make sure the peppers are evenly cooked. Continue to baste periodically to keep the peppers moist.

Remove the skillet from the oven and baste again. Let cool for 5 to 10 minutes.

When you are ready to serve, baste the rolled peppers with the pan juices one last time and place them onto the serving plate.
Notes
Whole Peppadew® Sweet Piquante Peppers come from South Africa's northern province of Limpopo. The brand entered the South African market in the early 2000's and then exploded, internationally. They are sold in jars at specialty grocers and online, and are available in mild and hot varieties.