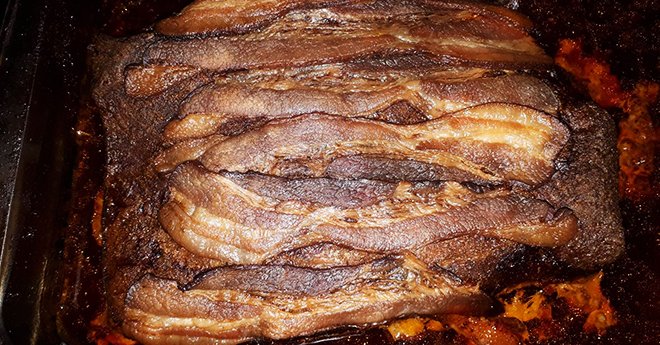 Maple Dry-Rub Brisket Tortillas
Sep 06, 2018
Posted by guestchef
Print
Karsten Nordenhof, Wood Fired Community Member and guest home chef, submitted a fun Mexican-American style recipe for our 2018 Summer Recipe Contest.
She reports:
"After building our Pompeii oven last year, what began as a culinary journey to explore the unlimited options of a wood fired oven, is now a Sunday family tradition. It's been lots of fun cooking again! After one visit to our favorite Mexican restaurant, I got inspired to try tortillas stuffed with beef brisket that was baked in our wood fired oven. It worked great!"
Learn more about the techniques and temperature used in residual heat cooking in the Forno Bravo cooking resource guide pages.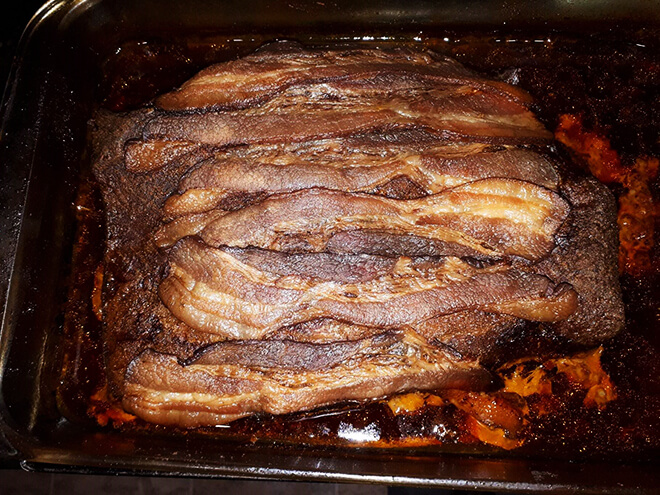 Maple Dry-Rub Brisket Tortillas
Wood fired, slow cooked, beef brisket served in tortillas. An easy and delicious main course for any Mexican-style feast!
Ingredients
Meat
5 lbs Beef Brisket
6-8 Slices Thick-Sliced Maple Bacon - Good quality. Used to cover the brisket.
Spice Rub
1 Tbsp paprika
2 tsp Chipotle Chili Powder
1 tsp black pepper
1 tsp Onion Powder
2 tsp garlic powder
1 tsp salt
1/2 tsp cumin
1/4 tsp Cayenne Pepper (This is still mild)
Instructions
Brisket Dry-Rub Treatment
The day before cooking, rinse the brisket and then dry it off with paper towels.

Mix all rub ingredients together in a small bowl and rub all over brisket.

I didn't have a large enough cast iron or terracotta pan, so I used a 9 x 12 pyrex pan. This will work, but you will need to watch your oven temperature if you are using this option. Cover the roast and let it rest overnight.

Optional: If you have some extra time, you can also start the fantastic No-Knead Bread Recipe in Forno Bravo's Hearth Bread downloads, or in this case, I started a sourdough bread. (See the links for these bread recipes in the Recipe Notes below.)
Baking your Brisket
Fire up the oven the next morning (love this part!) to about 700°F, or pretty darn hot. The dome should be white with all of the black burned off. Move your fire to the side and let the temperature drop a bit. Stop adding firewood at this point. (Note: How long you will need to keep adding wood depends on how good your oven retains heat.)

Cover the brisket with the bacon and cover the dish with foil. The bacon adds lots of flavor and helps keeps the meat moist. (I had to place the brisket on a baking sheet as far away from the hot oven floor as possible because of the pyrex dish. If you are using a cast iron or terracotta pan, this is not an issue.)

You can also bake the unrelated bread at the same time when the oven's floor temperature drops to about 550° F. It will be an awesome 2nd breakfast 🙂

Let the brisket cook under the foil for the first 4 hours or so. Remove the foil for the last 2-3 hours, which will then brown the top nicely. The cooking surface was still around 220°F by the time I removed the brisket. The meat turned out super tender and flavorful!

Serve in white corn tortillas with homemade pico de gallo and guacamole, Mexican rice, plus whatever other side dishes you enjoy to make this a feast.