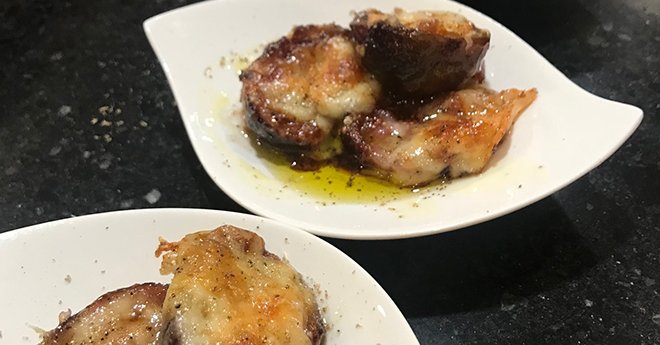 Fire Roasted Spanish Figs
Sep 06, 2018
Posted by guestchef
Print
This recipe from Chef John O'Neil uses Texas Blue Giant Figs and several delightful specialty cheeses.
He writes: I love using Spanish cheeses for this dish because it feels and tastes like we are basking in the sun in Spain! The Mahon Mitica, Cordobes Mitica, and Tronchon all melt nicely, which makes them the perfect blend for slicing over the top of the figs. The Tronchon cheese is an aged cheese made from cow, sheep, and goat's milk. It was even mentioned in the book, Don Quixote! The Mahon Curado is sharper in flavor than the others, which is why it is good to grate over the top of the dish.
Enjoy the complex layering of flavors and textures in this dish! It is a great start to any special meal!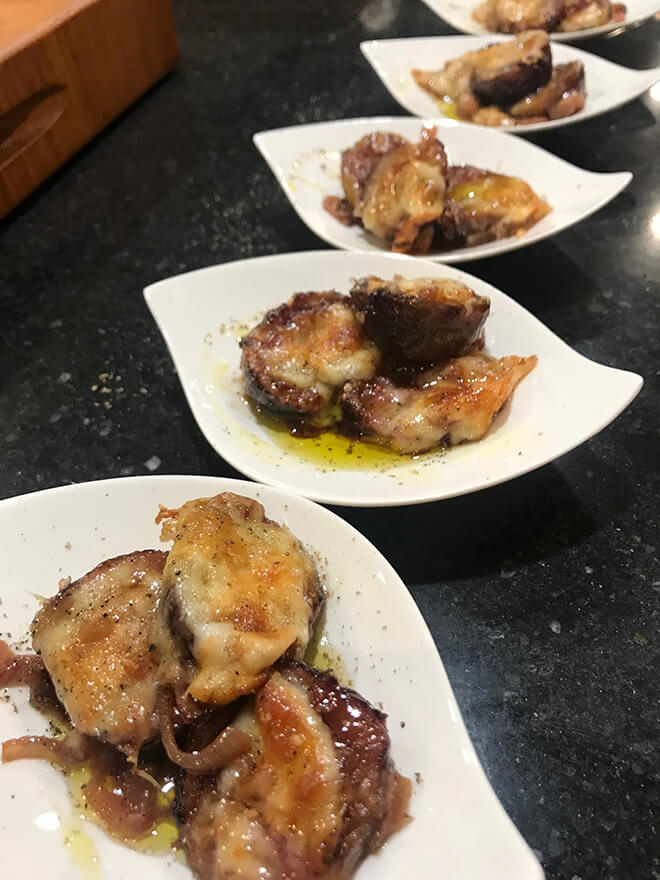 Fire Roasted Spanish Figs
An appetizer featuring cooked, sweet figs with a crispy crust and delicious layers of wood-fired melted Spanish cheese. The dish presents a complex flavor and texture profile that is both familiar, yet exotic. A perfect starter for dinner parties that will get your guests talking!
Ingredients
10 each Texas Blue Giant figs (similar to the Celeste varietal)
2 each large shallots - Sliced thin
3 Tbsp olive oil
2 Tbsp Whole Butter
2 Tbsp honey
2 Tbsp Fresh thyme - Chopped
2 Tbsp Frsh Rosemary - Chopped
½ Cup Pinot Grigio (or another dry-sweet white wine)
pinch Salt and pepper
Instructions
Slice figs in half and sprinkle a little salt on the cut side.

Pour olive oil into 10" cast-iron pan on the stove and heat oil on medium-high.

Add figs to oil cut side down and cook until a nice brown crust forms, about 3-4 Minutes.

Remove figs from the pan and set aside with the flat side up so the crust stays crispy.

Add shallots, butter, and a pinch of salt and pepper to the skillet and oil. Sauté until caramelized and golden brown, about 10 minutes.

Add the wine to deglaze the pan and reduce liquid by half.

Turn off heat to stove. Add figs back to the pan arranging them cut side up.

Grate the Mahon Curado into a separate container and set aside. Slice the remaining cheeses fairly thin and in 1" squares (so each fig gets enough cheese). Layer cheeses on figs equally starting with Mahon Mitica, Cordobes Mitica, and finally the Tronchon on top. This places the cheeses on the figs in order of how they melt. Sprinkle the grated Mahon Curado over the entire pan.

Put the pan in your wood fire oven at roughly 500°F to 600°F, at least 8 inches from the fire/coals for 10 minutes, then turn 180° for 5 more minutes. At this point, the cheese should be evenly cooked (brown and bubbly) -- almost like French onion soup. If needed, leave in for another 5 minutes to get the right consistency, but don't let it burn.

Remove from oven and place the pan on a hot pad. Sprinkle with chopped fresh herbs and drizzle with the honey.

Serve each fig with a little of the caramelized shallots.
Notes
Spanish cheese can be found at many specialty meat and cheese shops, or grocers like Whole Foods who carry a wild selection of cheese from various countries. It can now be found online as well (though the quantities available may be larger than you need for a single event.) Texas Figs generally come into season in July and August. They are best picked just as they start to soften.