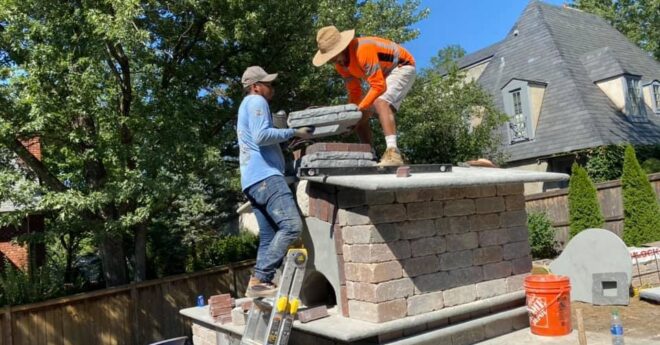 How to Find Masons For Your Outdoor Kitchen Project
Feb 09, 2023
Posted by Forno Bravo
When our customers opt to build their own DIY brick pizza oven or use one of our Forno Bravo modular pizza oven kits, they often choose to work with masonry professionals to help with installation and finishing. Even when our customers buy a fully-assembled pizza oven, masons will frequently be hired to help build the full outdoor kitchen, or the stone countertop or base where the oven is placed. 
While the overwhelming majority of home outdoor kitchen projects are completed successfully, we see a small portion of setbacks related to poor-quality masonry work, or failure to follow our installation guidelines. 
This is a guide to avoiding masonry issues and finding the best masons for your project. 
1: Have a Clear Plan
First and foremost, you need to approach masons and bricklayers with a clear plan in mind. There's no good in just saying 'we want this there, and this there', etc. 
Many masons will work with a landscape architect who can draw diagrams for your project. When complex designs are required, this is nearly always the best path forward. If you just want to create a simple patio with a reinforced countertop for your pizza oven, you might not need to go down this route, but you'll still need have a clear plan for your desired design and materials. 
You'll also need to consider your options, such as the type of patio flooring material you want (e.g. stone tiles, ceramic tiles, marble), the stone you want to build your countertop out of (e.g. slate or granite), and any extra features, like a wood storage area, food prep areas, or other appliances. 
Always have a clear plan in mind, even for simple projects. 
Landscape contractors often work with masons and can create professional architectural drawings for you. Some even provide digital 3D plans that you can experience in virtual reality!
Know and communicate your budget. This is critical so that time isn't wasted designing a champagne build on a beer budget. Both fancy and simple are beautiful, but you need to have your plan match your available funds.
Consider your material choices and colors; the mason may need to source the stone, which can take extra time.
Look at our pizza oven design page for data sheets and drawings to assist you and your architect or designer. 
2: How to Find a Good Mason

There are many ways to find qualified masons and contractors. Some list their businesses with various services and have websites, Facebook, and Instagram pages detailing their work, while others are old-school, one-man-shop craftsmen who build their businesses strictly by word-of-mouth referrals. The list below details various ways to find masons in each category.
High Tech Searches
Google, Bing, and other search engines can provide instant results for landscape designers and masons in your area. Online searches of services, such as Angi.com (formerly Angie's List) and the Better Business Bureau can offer vetted contractor links.
Think of online searches as a first step in your process. It is the modern-day "Yellow Pages" to help you get started. But because anyone can put up a snazzy webpage with borrowed photos, you will always want to take the second step of vetting the company through other channels to confirm its legitimacy (reviews, checking with previous clients, BBB, etc.) before signing a contract with them.
Look for a Professional Trade Group 
Reach out to professional trade groups for leads. Depending on the finish you are looking for, groups such as the Plasterers and Cement Masons Local Union, Laborers International Union, Bricklayers and Allied Craftworkers Local Union, Builders Associations, trade schools, etc. can help. These groups may have branches and referrals available in your area.
Do be aware that you need to follow local labor laws for your project.
Contractors should be licensed, bonded, and insured to protect both you and them.
Permits will probably be required for most projects. An experienced contractor or mason can help guide you through this process.
Word of Mouth
Word of mouth is an ancient and respected method of finding masons and other contractors, and because it is a person-to-person connection, it is often more reliable. Simply look around for work you like in your neighborhood, city, or county (especially newer work,) and then try knocking on the door and asking who did the project is another way to get started.
Many quality contractors stay busy via recommendations, so you'd be missing a trick by not seeing if anyone in your area can help. 
Personal Referrals
The world can actually be a very small, interconnected place.  You never know – one of your neighbors may be good friends with, or related to a landscaper or mason.
Ask neighbors, friends, co-workers, and family for recommendations.
Post a request on your local Facebook group, NextDoor, or even a WhatsApp group, if there is one.
Check with realtors and local home builders. They often have masons they work with and trust.
Cautionary notes: While you might get a discount rate through these connections, don't assume you will always get a "Bro-deal." A good craftsperson is worth their wage and it is how they make their living! Also, remember the contract you make is with the contractor, not the person who referred them; don't let it wreck a friendship if something doesn't work out perfectly with the project. However, if you love the contractor you find, do pay it forward, and share their name with others! 
Look for a Strong Local Reputation
Quality contractors stick around and build long-term reputations. A strong local reputation is an excellent sign that the contractor maintains a consistent track record. 
You may also be able to find examples of work in your neighborhood, county, etc, which will help provide inspiration as to what you can do with your own project.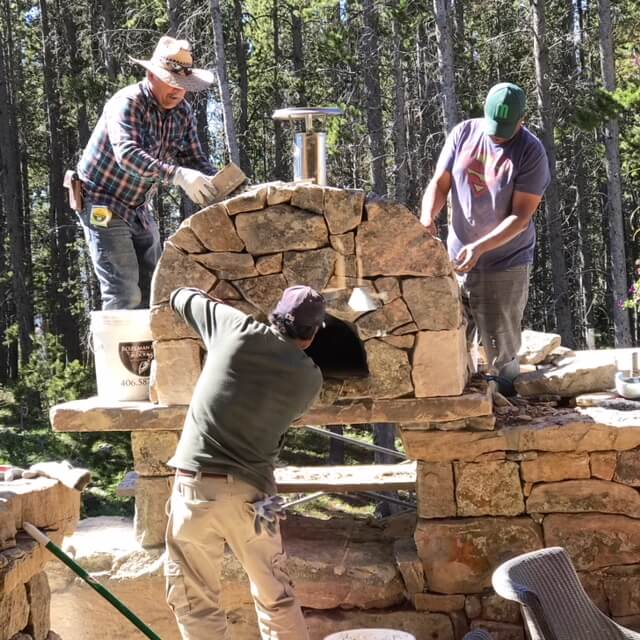 Installing the native rock facing after insulating the oven
Look for a Portfolio of Recent Work
A portfolio is a must-have, but a portfolio of recent work is even better. 
Recent work shows that the contractors are still committed to projects in and around your area, that they're available for contact, and have local knowledge and connections to other relevant professionals, if required.
Look for Experience with Outdoor Kitchens
Kitchens can include some unique elements and options, so experience in building outdoor kitchens is a massive bonus.
Many masons and landscape contractors will have pre-existing experience in building outdoor areas, including outdoor kitchens. They may even have a dedicated portfolio of outdoor kitchen projects. 
Most masons are willing to go "mild to wild" and will build to the aesthetic you like – it is generally only time, cost, and space that limit what you can do. However, make sure that your contractor's capabilities match your expectations before you start the project.

Note: You will pay more for an experienced artist than for a simple installation. Both can be beautiful in their way, but make sure your expectations match your budget in advance.
Look for Experience with Building Pizza Ovens
It might seem like a long shot, but some contractors may have experience in building pizza ovens already, which is a double bonus. If they've already installed a Forno Bravo oven, then that's a triple bonus!

Note: To make it easier for new oven builders and masons, we offer video tutorial support on how to assemble our oven kits, along with detailed directions in the owner's manual.
Some masons are a little hesitant doing their first oven, but frequently, they enjoy the experience so much, that they go on to become dealers for us, and promote wood fired cooking to their other clients as well!

Fitting BBQs and external fireplaces will also provide some related experience. If the contractor has built an outside grill or BBQ with a venting system or gas installation, for example, then that is a major benefit when it comes to installing a pizza oven.
Look for Reviews
Look for reviews on Houzz, Google, Yelp, Trustpilot, and other consumer review sites, like the Better Business Bureau, or Chamber of Commerce.
— However, to be fair to the mason, always read reviews with a grain of salt. Not every client is ideal or honest in their appraisals, and sometimes staff turnover in a company can make old reviews no longer relevant.
Landscape contractors usually have a testimonials section on their website too.
Check out our Community Forum. You may be able to find guidance on contractors in your local area, and tips on a variety of building topics there.
3: Negotiate Quotes
Once you have a shortlist of potential contractors, you'll need to request consultations and start receiving quotes. This is a good time to prepare the documents and installation guides for your Forno Bravo oven, which we'll cover in the next section. 
Inform your contractor that they'll be installing a pizza oven as part of the project. Only then can they properly price and plan the job, and produce complete architectural drawings, where applicable. 
Always look closely at all quotes, especially the cheapest one, before making your selection, and never agree to work without being absolutely clear on the contractor's commitments to the project. It's your responsibility to inform them of everything they need to know to price the job up correctly – doing so will help you avoid any hidden surprises! 
Be open about your plans to install a pizza oven in your outdoor kitchen. 
An in-person consultation is a must-have. 
Ensure you provide all the resources required for the contractor to plan and price the job, including installation guides (see below).
Agree to a timeline for the job.  
4: Ensure That the Contractor Understands the Pizza Oven's Installation Guide
All of our pizza ovens come with in-depth installation manuals and technical guidelines. When it comes to installing a modular home oven, such as the Casa2G and Premio, you'll find in-depth installation instructions in the pizza oven resource library and Product Series pages on the website. These must be followed for a proper installation. 
Head here to find our resources section. For installation instructions, scroll down to the "Installation and Operation Manuals" section. We also offer videos of how to install and finish a stucco oven for step-by-step help.
Here are direct links to our residential pizza oven guides:
Some examples of guidelines that contractors must adhere to include:
Not placing any combustible building materials in close or immediate proximity to the pizza oven,
Properly insulating under the floor with the provided ceramic board insulation,
Installing the dome using a high-temperature refractory mortar (included with the kit) and
Insulating the exterior of the dome with three or four layers of ceramic insulation blankets (also provided with the kit.) 
The foundation must be excavated and leveled perfectly, as many of the pizza ovens are very heavy and require a reinforced, solid, flat base. The foundation and hearth are very important to the overall functionality of the oven.
While installing our modular ovens is relatively straightforward for anyone with a decent level of masonry skill, it is still absolutely critical that contractors follow our guidance, and that this is made clear from the start. If they have questions, our technical support team is available by phone and email to help.
If the mason doesn't quote the job inclusive of installing the oven, then they may rush the job, take shortcuts, or outright refuse to install the oven, so it's very important that everyone is on the same page prior to committing. 
5: Chimney and Venting Instructions
If your oven is placed inside, or is partially covered by a pergola, porch cover, or other overhead construction, you will need to consider your venting plan. Compliant venting is a requirement for safe indoor or undercover installations. Proper distance to the house or any other structures and combustible materials must also be considered.
Forno Bravo provides three in-depth guides for venting and chimney installation:
The first guide is for straightforward outdoor installations that require just a chimney. This information is also included in our modular pizza oven kit installation guides. 
The second and third guides are for indoor or covered installations that require either a double-wall chimney pipe venting system or a Type 1 hood. When this type of venting is required, it's crucial that you discuss it with your contractor beforehand, and allow them to check the relevant information and specifications prior to committing to the project. They may need to contact specialist installers with knowledge of venting systems. Again, the Tech Support Team is available to answer any questions! 
6: Troubleshooting Your Outdoor Kitchen Project
There are several avoidable problems that some of our customers have run into. Keep these potential challenges in mind, and share them with your contractors. 
Unsuitable location or too little room
Site access, preparation, and order of work
Poor ventilation or not adhering to the venting codes for your municipality
Weak support structures or flooring
Rushing the curing process
Placing an outside pizza oven too close to the house or combustible materials
Choosing a damp or wet location
Paying for the entire project in advance
Note: Site access will dictate the best installation method and the project work order. Choosing a suitable location is critical to your oven's performance and your cooking and entertaining enjoyment. Ensuring that the base and flooring are adequate to support the oven is also critical to the success and long-term durability of the project. 
Most reputable contractors will have you pay some money upfront for materials. Depending on the scope of the project, they may have an interim payment due when a  certain percentage of the project is complete. Traditionally, if payment for the whole project is required in advance, a substantial retainer should be kept in a 3rd party holding account until the final project is accepted and any punch list items are addressed. It is important to be very clear on the terms in advance, and comfortable with the contract.
Reminder, the vast majority of projects are successful without any issues whatsoever. Choosing excellent contractors and working with them to plan the project will lower the likelihood of encountering any of the above challenges – and you'll be firing up your pizza oven in no time!
7: Advice for Our Fully-Assembled Ovens
Our fully-assembled ovens are easier to install than a kit, and usually just need to be lowered onto the base or stand, which we can provide. However, depending on the size and weight, you may still want to hire a mason to build a suitable foundation, including properly leveling and reinforcing the floor.
The oven base can also be finished in stucco, stone, brick, tiles, or all sorts of other, non-combustible materials for a fantastic, integrated look!
Forno Bravo's Pizza Ovens
There are two main routes to owning a Forno Bravo pizza oven:
Our modular home oven kits, ideal for those that want to incorporate a Forno Bravo pizza oven into a new or re-designed indoor or outdoor kitchen, or may have access issues and need to transport the oven in smaller pieces.
Our ready-made assembled ovens, ideal for those who want to get a pizza oven up and running quickly in any space. We offer both standard and custom colors, finishes, and designs so that your oven compliments your home and taste. Factory pre-curing services are available for an even faster setup!
Whichever you choose, you're in safe hands with Forno Bravo. Once your pizza oven is installed, and you've fired it up for the first time, you won't look back!
If you have any further questions about the information in this guide, or need help with your project, please contact us here and we'll be in touch.