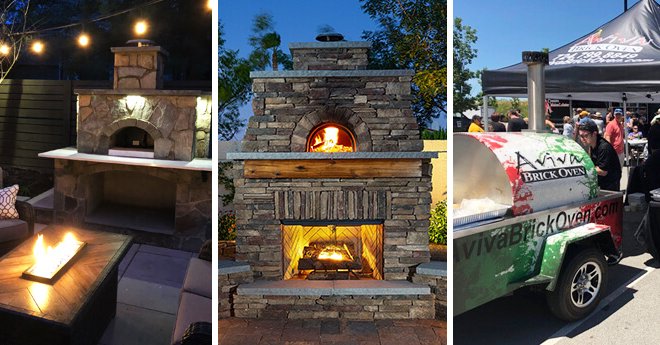 More from the Family Photo Album — Customer Spotlights
Sep 10, 2018
Posted by Forno Bravo
Last month, we had so much fun creating a Family Photo Album of customer ovens, testimonials, and stories that we decided to do it again and spotlight even more owners. We really are blessed to have so many passionate folks to choose from! If you would like to share photos and your story with us and the larger wood fired community, just use our easy Share Tool here.
This time, we are going to highlight both Commercial and Residential customers, since Forno Bravo ovens are used in both settings. So let's get started on our pizza oven journey through several backyards, restaurants, and concessionaires.
Giardino70 Modular Kit and Fireplace – Coordinated Rock Design – Jim and Lori D. – Las Vegas, NV
Jim Decker is a talented, professional photographer in Las Vegas, NV. He and his wife, Lori love spending time in their completely re-landscaped backyard space. They selected an artistic masonry design to coordinate with the retaining wall/seating area and other landscaping elements. The stone enclosure of the Giardino70 Pizza Oven and fireplace combo blend in perfectly! What a great way to enjoy a warm Las Vegas evening — creating delicious pizza and relaxing in front of a crackling fire.   Learn More About the Giardino>>
Professionale110 Trailer Edition – Food Truck – Chris W. of Mangia Macrina's Wood Fired Pizza – New Hartford, NY
Chris Woodbeck of Mangia Macrina's Wood Fired Pizza purchased a Professionale110 Trailer Edition Pizza Oven and started their food truck 6 years ago. Chris posted, "This oven crate should have come with a warning, "Caution, life-changing once opened." It has been quite a journey for their whole crew. They timed their enterprise perfectly and have ridden the wave of food truck popularity ever since. They lovingly call their oven "Little Blue" and opted to keep the metal throat and hood exposed for a more industrial look. This oven really delivers the goods to their customers, winning "Top Three" people's choice awards for both the pizza and food truck categories in New Hartford, NY.
The food truck business was so successful in growing their brand, that in the fall of 2016, they also opened a brick and mortar location. Keep up the great work, guys!  Learn More About the Professionale TE>>
Tiled Modena140 Oven Kit – Restaurant – Azad and Sophia T. of La Cucina di Sophia – Soap Lake, WA
La Cucina di Sophia is a brand new restaurant that just opened in Soap Lake, WA, a small resort town in Central Washington State. Proprietors, Azad and Sophia Tarikian, once owned a restaurant in their homeland of Brazil. Since making a corporate move to America 15 years ago, they have been waiting and watching for the perfect place to open another restaurant that matched their vision of serving wood fired pizza, along with a fusion of Italian and Brazilian food. They found the space they were looking for in Soap Lake.
Due to access issues, they selected a Modena140 modular oven kit instead of a fully assembled oven, and then had it custom tiled in-house to serve as a showpiece in their open kitchen concept.
When asked why they selected a Forno Bravo oven, Azad said, "I have been aware of Forno Bravo ever since we were in Brazil. I like how they cook. After researching all of the options, I decided that I didn't need to pay more for an imported Italian oven and its name, but that might not be as good as a Forno." He has been thrilled with the way the oven has performed in the new restaurant and they have already had to make adjustments to the counter layout and dough storage space to keep up with demand. Congratulations on your business!   Learn More About the Modena>>
Premio44 – Backyard Entertaining Area – Rick C. – Fairfax, VA
The Premio is a residential, gas or wood fired oven for the professional-level chef. With extra dome thickness and insulation, it is a beast for quick recovery times and holding its heat for hours! We love how Rick had the oven lit and integrated it into a full-scale entertaining area, perfect for afternoon visiting or summer evening dinner parties.
Rick shared with us, "We had a mason build this gem in the spring, The pizzas are amazing, but steaks on a Tuscan grill in the front of the oven are the absolute best! Our oven holds temps for 50 hours, hot enough for multiple meals and a great breakfast!"   Learn More About the Premio>>
Bella Ultra40 Mobile Pizza Trailer – Catering — Aviva Brick Oven — Warrendale, PA
Aviva Brick Oven is a sit-down restaurant in Warrendale, PA. In 2018, they expanded their business to add a mobile pizza oven arm for events and catering. They connected with Forno Bravo at the Las Vegas International Pizza Expo and loved our demo unit; a Bella Ultra40 stainless steel wood fired pizza oven, mounted on a lightweight and maneuverable trailer. The oven is made in the USA and the trailer is made by our partner, Outdoor Pizza Ovens of Canada.
This unit is 3M wrapped with a fun, modern design inspired by the colors of the Italian flag. By adding their logo and contact information to the wrap, it serves Aviva Brick Oven as a rolling billboard for marketing and promotion of their business, as well as a way to make delicious wood fired pizzas at any location. They have been using it successfully all summer for food booths at large events and mobile catering for private parties.   Learn More About the Bella Mobile Pizza Oven Trailer>>
Considering getting a Forno Bravo Pizza Oven for your home or business?
Try our easy Selection Wizard to explore all of our great oven options and find the one that matches your needs the best!