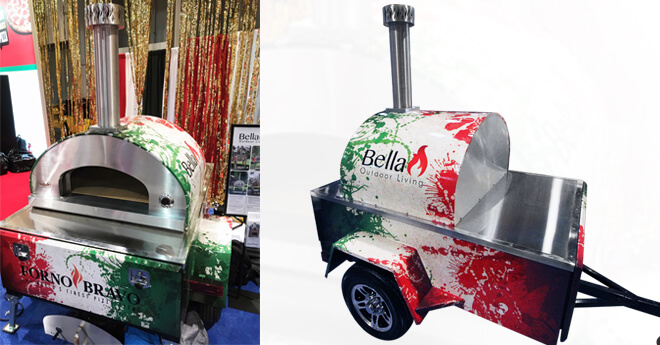 Bella Mobile Pizza Oven Trailer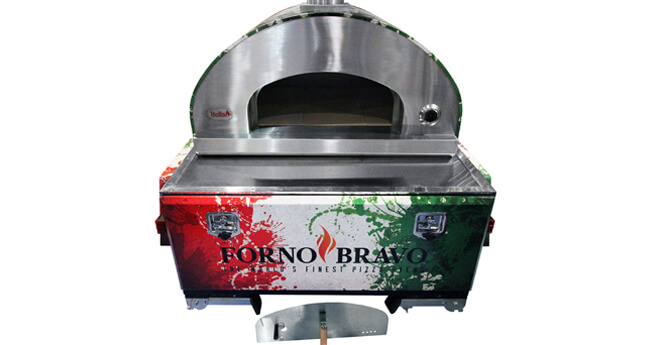 Bella Mobile Pizza Oven Trailer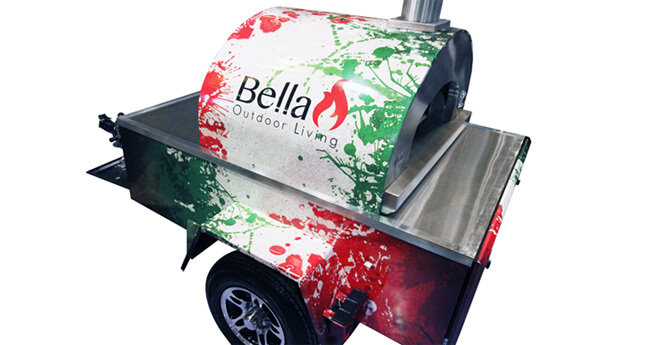 Bella Mobile Pizza Oven Trailer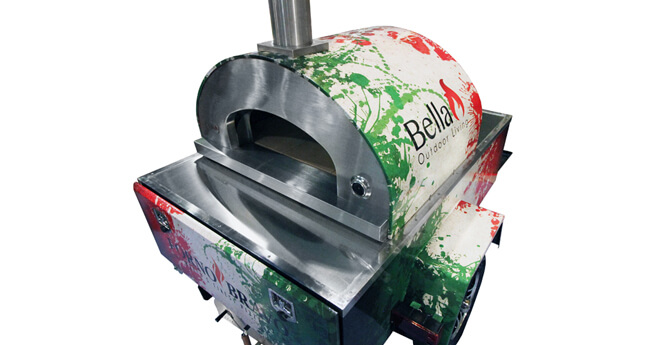 Bella Mobile Pizza Oven Trailer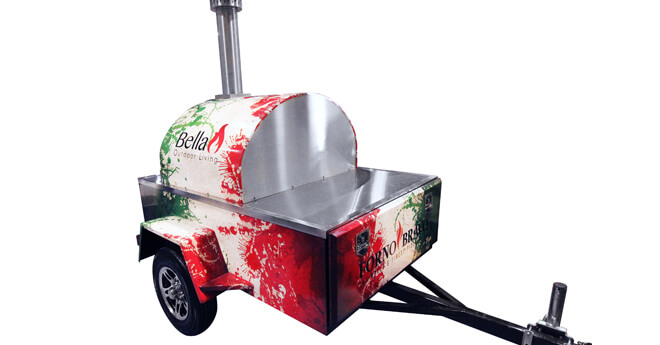 Bella Mobile Pizza Oven Trailer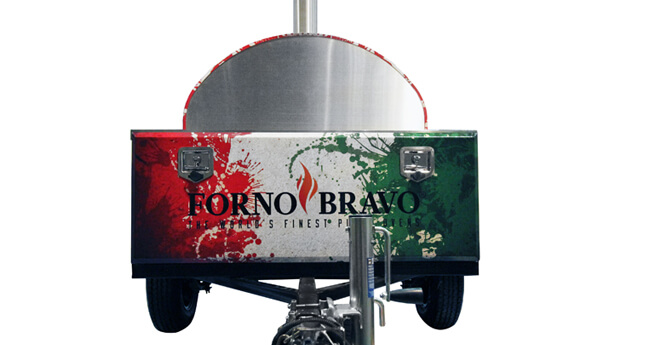 Bella Mobile Pizza Oven Trailer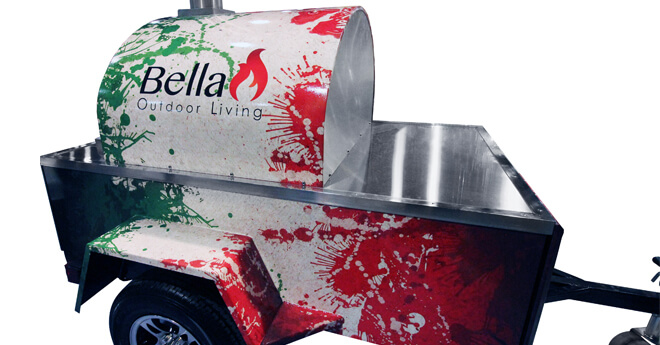 Bella Mobile Pizza Oven Trailer
Bella Mobile Pizza Oven Trailer
The Bella Mobile Pizza Oven Trailer is a lightweight, single-axle trailer with a mounted stainless steel wood fired pizza oven.  Capable of baking five (5) to six (6) 10″ pizzas at a time, this traveling pizza oven trailer is ideal for caterers, party rental companies, and tailgaters.
Using the Bella Ultra40 stainless steel pizza oven, this mobile pizza oven trailer has fast heat up times and is capable of reaching 800+ degrees in a little as 15 minutes. Ideal for caterers wanting to bake 70 to 100 personal pizzas per hour.
With a dry weight of 1,078 Lbs. on a 2,200 Lb. axle, this versatile traveling pizza oven trailer is solidly built, easily towed, and can be positioned by a single person.
Bella Pizza Oven Baking Overview:
Cooking surface 40″ x 28″ with stainless steel landing;
You can bake up to five (5) to six (6)  10″ pizzas at a time or up to 100 per hour;
Capable of baking pizzas at 800 degrees;
Outdoor use only;
Wood fired pizza oven, no gas or charcoal;
Made in the USA.
Click here to learn more about the Bella Stainless Steel Pizza Oven.
Bella Mobile Pizza Oven Trailer Overview:
Single axle trailer rated to 2,200 Lbs;
Dry weight of 1,078 Lbs, capable of 1,100 Lbs of storage;
Two lockable storage compartments for wood and supplies;

Rear Storage (oven mouth end): 46″ wide x 16″ high x 18″ deep
Front Storage (hitch end): 46″ wide x 16″ high x 58″ deep.  This larger area is divided into 2 sections – an interior wood storage compartment (40″ x 16″ x 58″) and an interior tool caddy beside it (8″ x 16″ x 58″)

Standard 2″ ball hitch;
13″ Tires with standard rims (Upgraded rims are also available);
Leaf spring suspension;
304 Stainless steel deck surface and food preparation area;
Dimensions:

Length (Tongue to Rear) 10′ 2″; Length of the Trailer Body (excluding tongue): 6′; Trailer Width (Including Fenders): 5′ 6″;
Height of the Trailer Deck: 3′; With Bella Ultra40 Pizza Oven (excluding chimney): 4′ 11.6″; Total Height of the Trailer & Oven with Chimney: 10′ 2.6″

Note:  Supplemental brakes are not included on this lightweight unit (not required);
Made in Canada.
Bella Mobile Pizza Oven Trailer Combination Includes:
Stainless steel traveling pizza oven with 40″ x 28″ cooking surface;
High-grade ceramic baking surface;
Stainless steel oven door;
Integrated thermometer;
Removable stainless steel stove pipe with flue;
Single axle trailer with two lockable storage compartments (one is divided);
Standard Red or Black finish on trailer sides and oven enclosure;
3M Wrap compatible for custom branding of both the trailer and oven enclosure!
Bella Mobile Pizza Oven and Trailer Core Technologies:
Solid weld dome construction which reduces heat distortion and warping common in cheaper bolt together designs;
304 stainless steel material on all oven dome, landing, and flue parts, allowing your oven to last for years in the wettest of climates;
Ultra-premium insulation, both in quality and thickness, for outstanding heat retention. Each travelling pizza oven includes a minimum of 2" of high-tech ceramic blanket dome insulation and 2" of ceramic board floor insulation;
High-grade ceramic floor designed specifically for this type of oven. Unlike firebrick baking stones which require a brick oven dome with enough thermal mass to stay hot, these floors heat up faster, have a quick recovery time, and allow you to bake pizzas faster than competitor steel ovens;
Powder coated enclosure with hammer tone finish, more rugged than cheaper imports with high-gloss finishes that wear in the sun;
Lightweight, but sturdy single-axle trailer easily pulled by a small car (i.e. Kia Soul or Subaru Impreza,) a light-duty truck, or even a golf cart (on flat surfaces);
Even with 1,100 Lbs lockable storage capacity, it can still be positioned by a single person;
Integrated 304 stainless steel countertop (prep) area.
For Inquiries
The Bella Mobile Pizza Oven Trailer is offered in cooperation with our Canadian distributor, Outdoor Pizza Ovens.  If you are in Canada, please contact Outdoor Pizza Ovens for information on this product. For customers in the U.S. and other countries, contact the Forno Bravo support team directly for questions and assistance with ordering.
Let us help you get your pizza business rolling!
Mobile pizza oven financing.
Forno Bravo works with QuickSpark financial services to provide small cap financing options at competitive rates. To learn more and apply, click here. All information shared with QuickSpark is confidential and Forno Bravo is not privy to your financial background.