Download our Pompeii DIY Plan to get your build started.
Download Pompeii DIY Plans
History of Brick Oven Pizza
Brick oven pizza, while rapidly growing in popularity, has been around for quite some time. Contrary to the popular belief that pizza originated in Italy, history indicates that the first pizza-like bread started in ancient Egypt, though not what we would consider "pizza" today.
The ancient Egyptians were some of the first bread makers, and wood fired ovens were used to bake this tasty bread; as a matter of fact, wood fired ovens were adopted by many ancient Mediterranean civilizations, because it was the only means of baking bread. In addition to bread, it became quickly apparent that other foods could be baked with a wood fired oven, like roast meats, cakes, pastries, and of course, brick oven pizza.
Brick oven pizza has a distinct taste that can only be transferrable through the use of a wood fired pizza oven. There are endless benefits to owning a brick pizza oven; not only are they efficient, they are also an economical alternative to standard, conventional ovens, as you can cook multiple pizzas at once, and often prepare your brick oven pizza quicker. The end result is phenomenal. The smoky flavor, crunchy pizza toppings, and fluffy crust of brick oven pizza basically make it incomparable to other types of pizza. Of course, there's no doubt that the brick oven is responsible for this! The difference between brick oven pizza and traditional oven pizza is truly self-evident, even in just one bite.
Benefits of Brick Oven Pizza
1. Higher Cooking Temperature
Because heat exudes from the wood fire, it quickly spreads throughout the pizza oven, where the brick walls absorb these high temperatures. This heat radiates across the dome very evenly allowing for an ideal, continuous cooking temperature. Once the fire is well established, continue to feed it with more wood, and then proceed to wait approximately 20 minutes. After this wait period you'll see a spot at the top center of the oven dome change to a clear or white color, growing in size. This "whitening" means that the dome has reached its desired cooking temperature – roughly 700ºF
2. Faster Cooking Time
Because of the extreme heat stored in the dense wall space, the outdoor pizza oven is designed to cook pizzas very quickly. In fact, depending on the size of your brick oven pizza, in some cases, it only takes 2-3 minutes for the pizza to cook. This is economical if you need to cook a lot of pizzas for a large gathering! With the brick oven's rapid cook time, many pizzas can be made in a short amount of time, ensuring the pizza never becomes soggy.
3. Perfect Crust
Due to the high temperatures of the pizza oven, and the radiant heat that bounces off the inside walls, the outside of the pizza crisps perfectly and fast! This, in turn, rids the pizza of any possible moisture that could develop in the dough, preventing an unpleasant soggy base of the pizza. You'll be delighted with the outcome; tasty brick oven pizza, with a crust that is flavorful and fluffy, but also soft and chewy.
3. Unique Flavor
Brick oven pizza is the only type of pizza that gives off that addictive, smoky taste that cannot be reproduced in the kitchen oven. The high temperature forms additional flavors that cannot be achieved through standard slow cooking. Keep in mind that because high heat destroys the natural flavor of olive oil, authentic brick oven pizza typically doesn't include olive oil as an ingredient in the dough or sauce; rather it's used to drizzle over the prepared pizza, just before serving.
4. Crispy Toppings
Warm crisp pepper, onion, pepperoni, and any other favorite topping really make or break a pizza! The extreme heat and constant airflow produced in a brick pizza oven closes in and cooks the pizza toppings thoroughly and evenly. The toppings of your brick oven pizza will be significantly crispier (and tastier) than those regular pizzas cooked in a standard oven. This rapid cooking method allows the vitamins and other nutrients in the vegetables to remain absorbed in the pizza. Furthermore, unlike baked cheese in a traditional kitchen oven that often becomes overcooked or undercooked; the cheese on your brick oven pizza will never burn. Expect an appealing color, texture, and smoky flavor.
3 Residential outdoor pizza oven kits:
Wood fired, brick oven pizza can be baked using a commercial pizza oven or a residential pizza oven. At Forno Bravo, we offer various oven options outdoor pizza ovens to select from.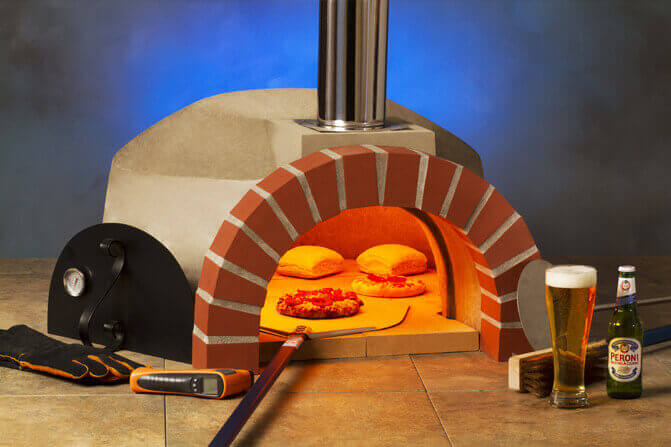 A variety of small, easy-to-assemble, and entirely customizable outdoor pizza ovens. These are the least expensive ovens on the market today. Available in 24″ and 28″ sizes.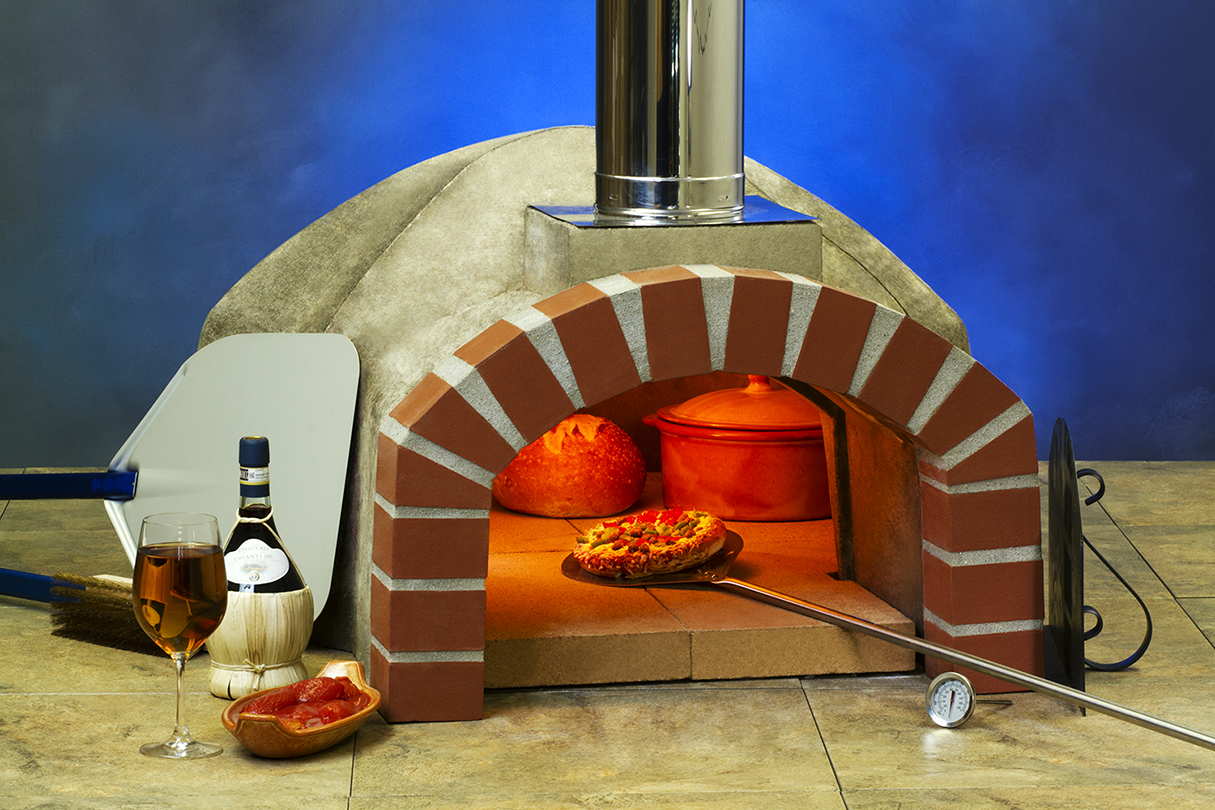 This is our most popular residential oven because it's designed to fit effortlessly into any indoor or outdoor kitchen style and decor. It is the "perfect wood-fired oven engine." Comes in 32″, 36″, 40″ and 44″ sizes.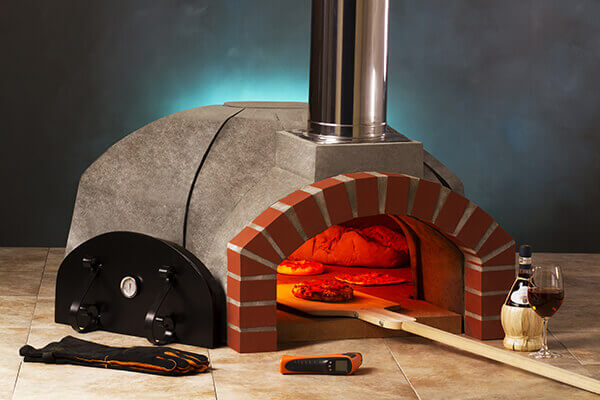 A family of premium residential ovens that are built with a thicker and heavier dome, thicker insulation (top and bottom) and an oven door that is fully insulated. These durable outdoor pizza ovens provide you with professional wood-fired cooking and baking in your very own home. Select from 40″, 44″ and 48″ sizes.
4 Residential Fully Assembled Outdoor Ovens: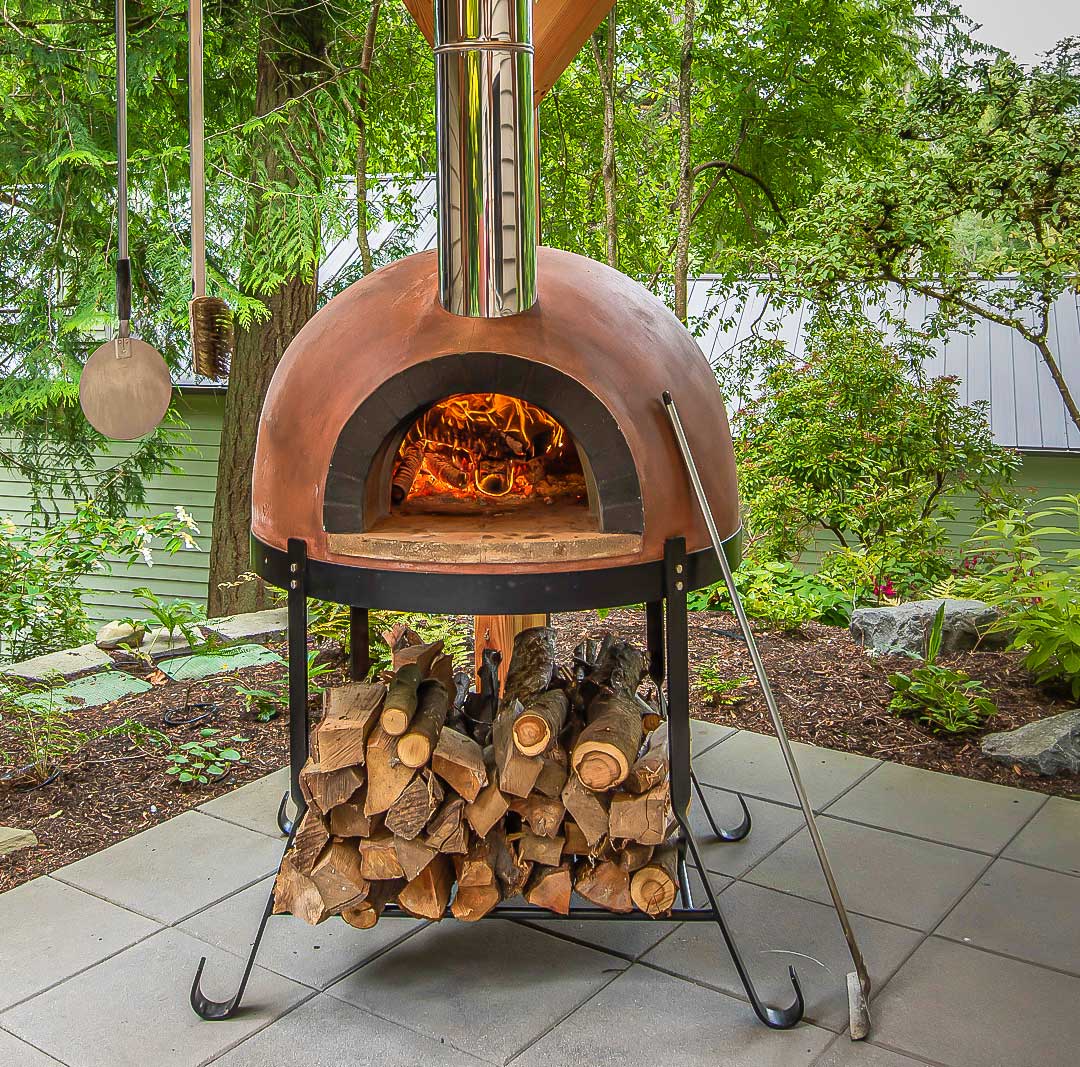 Small, light pizza ovens that may sit on most patios, require little installation—and bake delicious 90-second Vera Pizza Napoletana.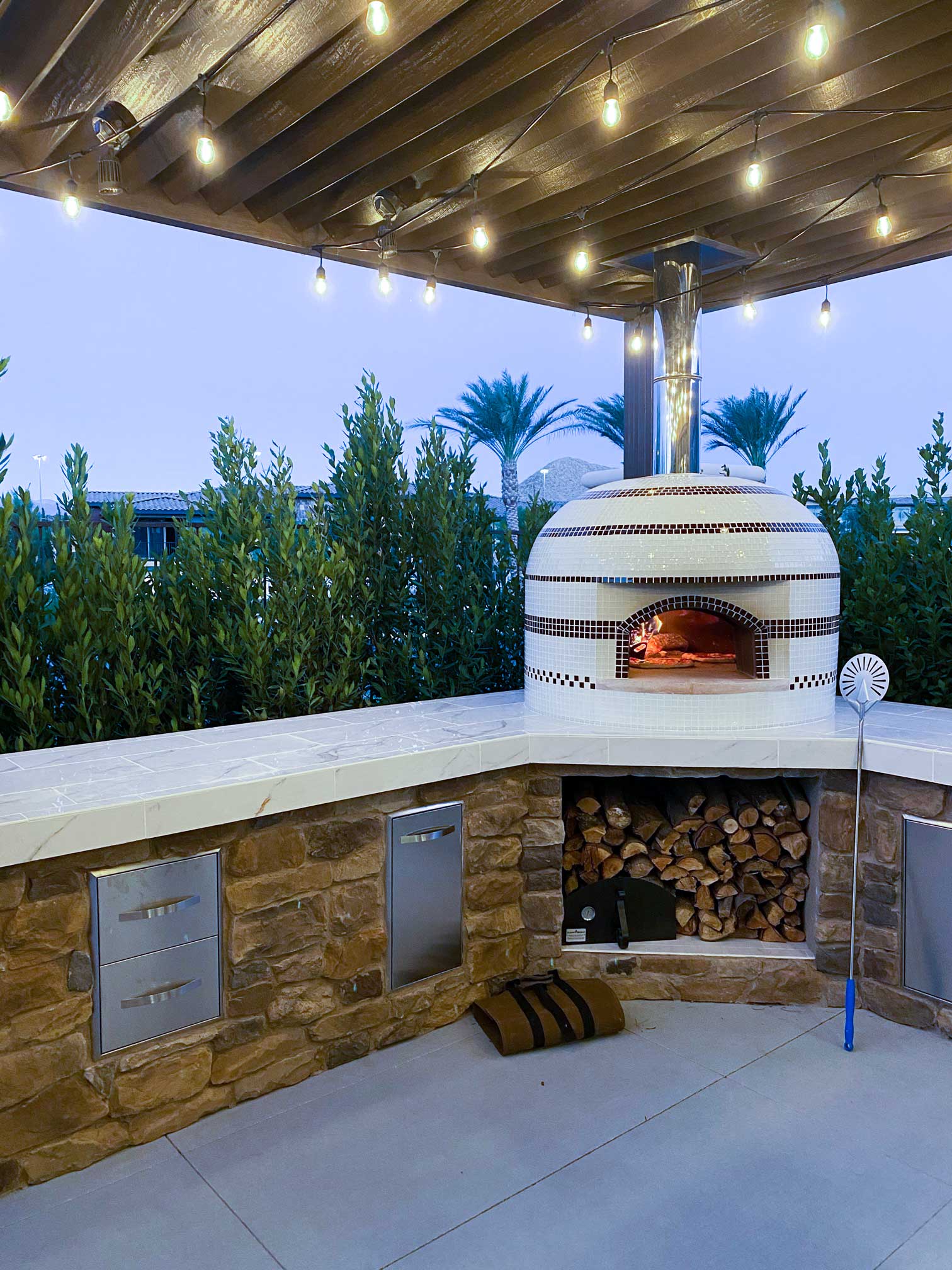 A Naples-style outdoor pizza oven that's designed with an attractive tiled enclosure and center vent — ideal for your backyard.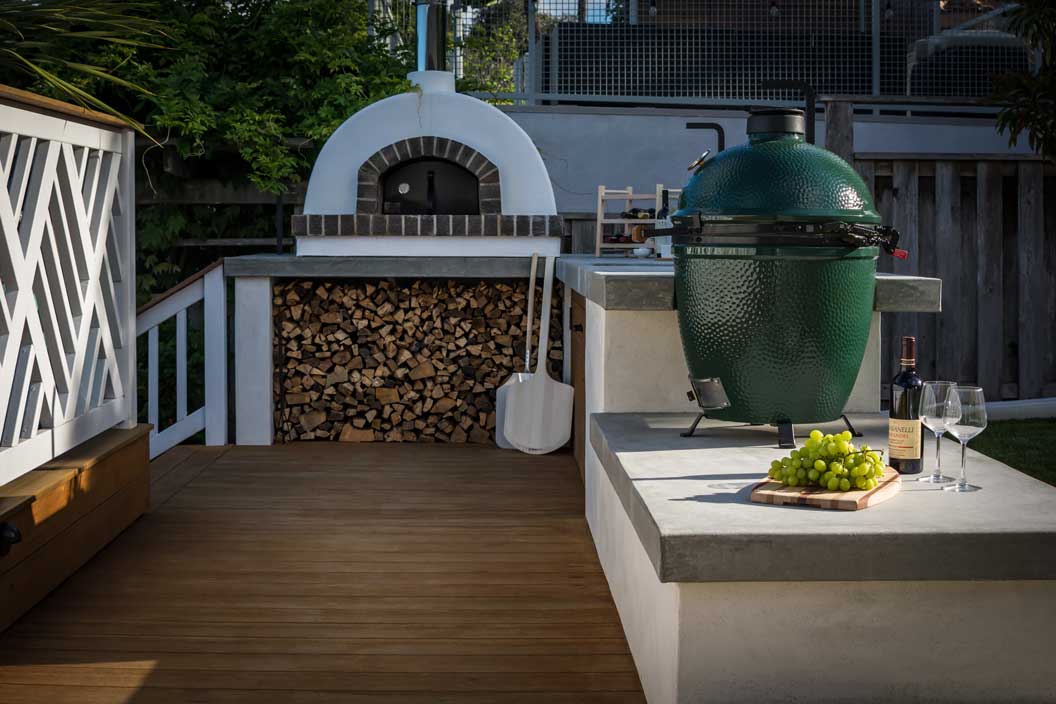 A group of larger, professional-grade outdoor pizza ovens based on the Forno Bravo Casa2G modular ovens.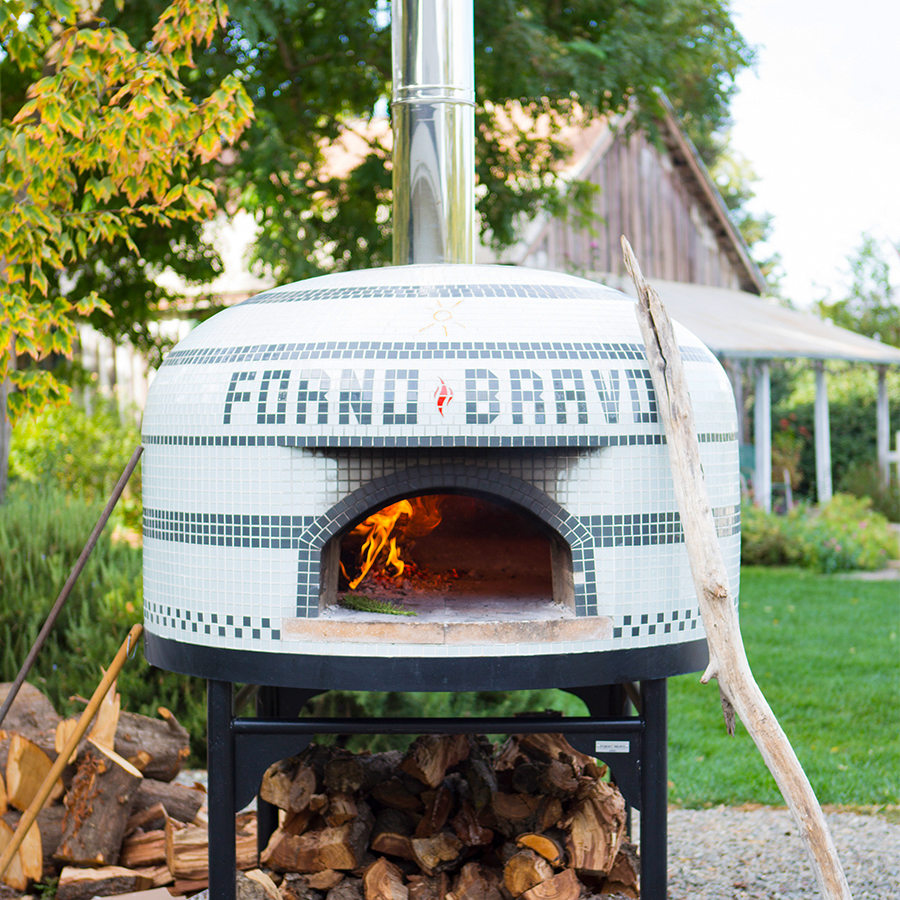 A Naples-style assembled pizza oven with a traditional center vent system, which assists in even and efficient heating required for baking pizza – designed for backyard baking.
2 Commercial Oven Kits: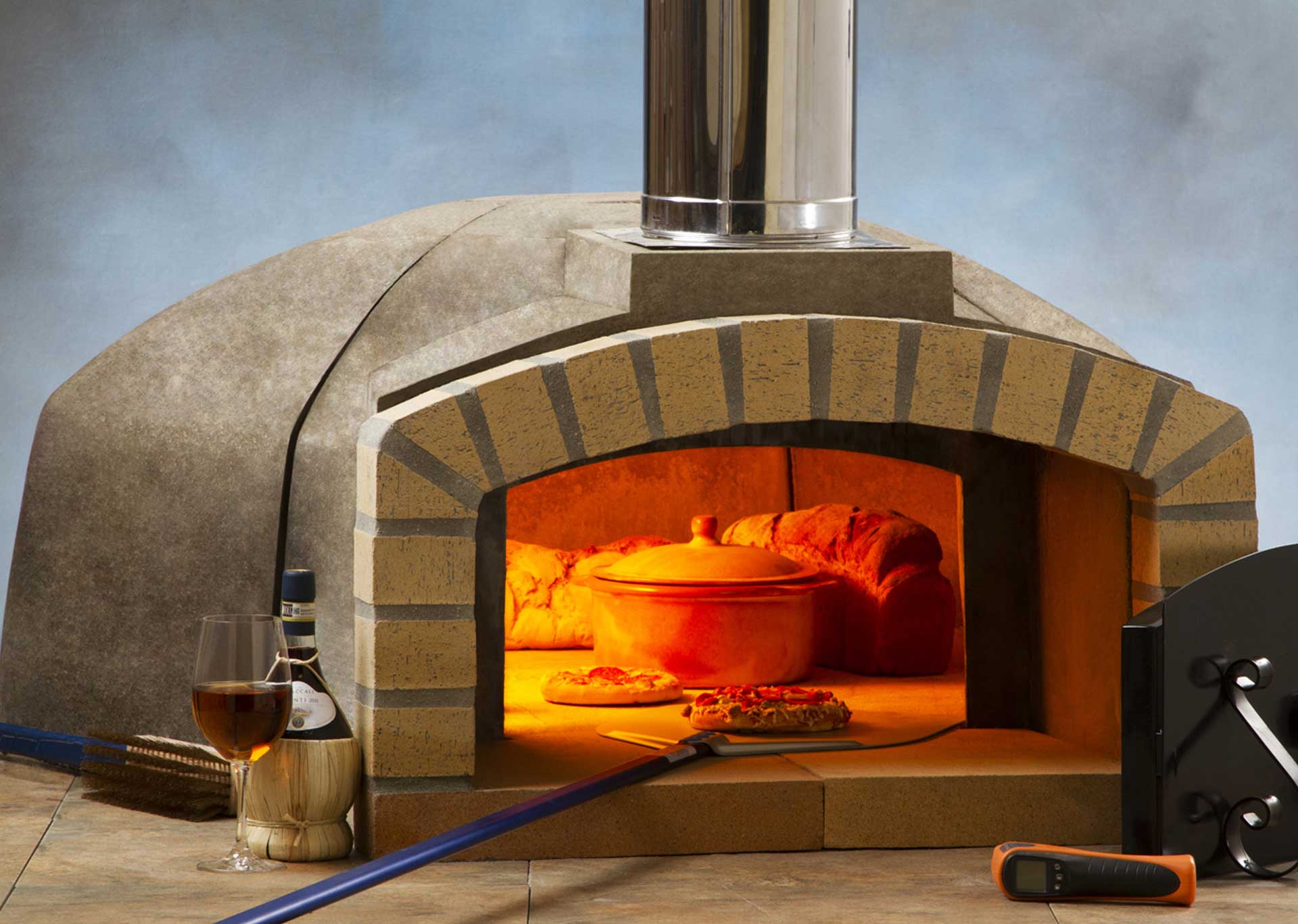 A family of smaller oven kits built for restaurants in search of a wood or gas-fired oven to compliment their other cooking devices.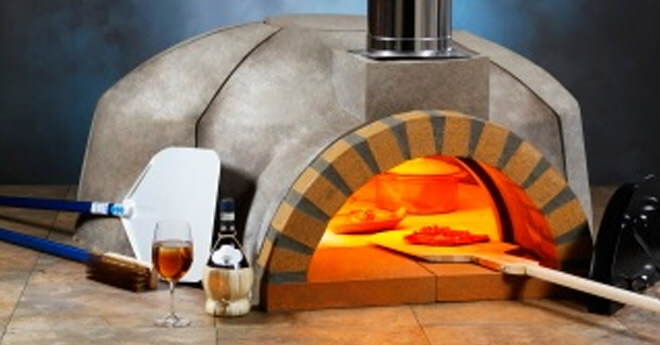 A family of ultra-premium oven kits intended for high volume, high throughput pizzerias and restaurants looking to feature an Italian style oven.
4 Commercial Fully Assembled Ovens
A family of ultra-premium ovens made for high volume, high throughput pizzerias and restaurants looking to adopt an Italian style oven.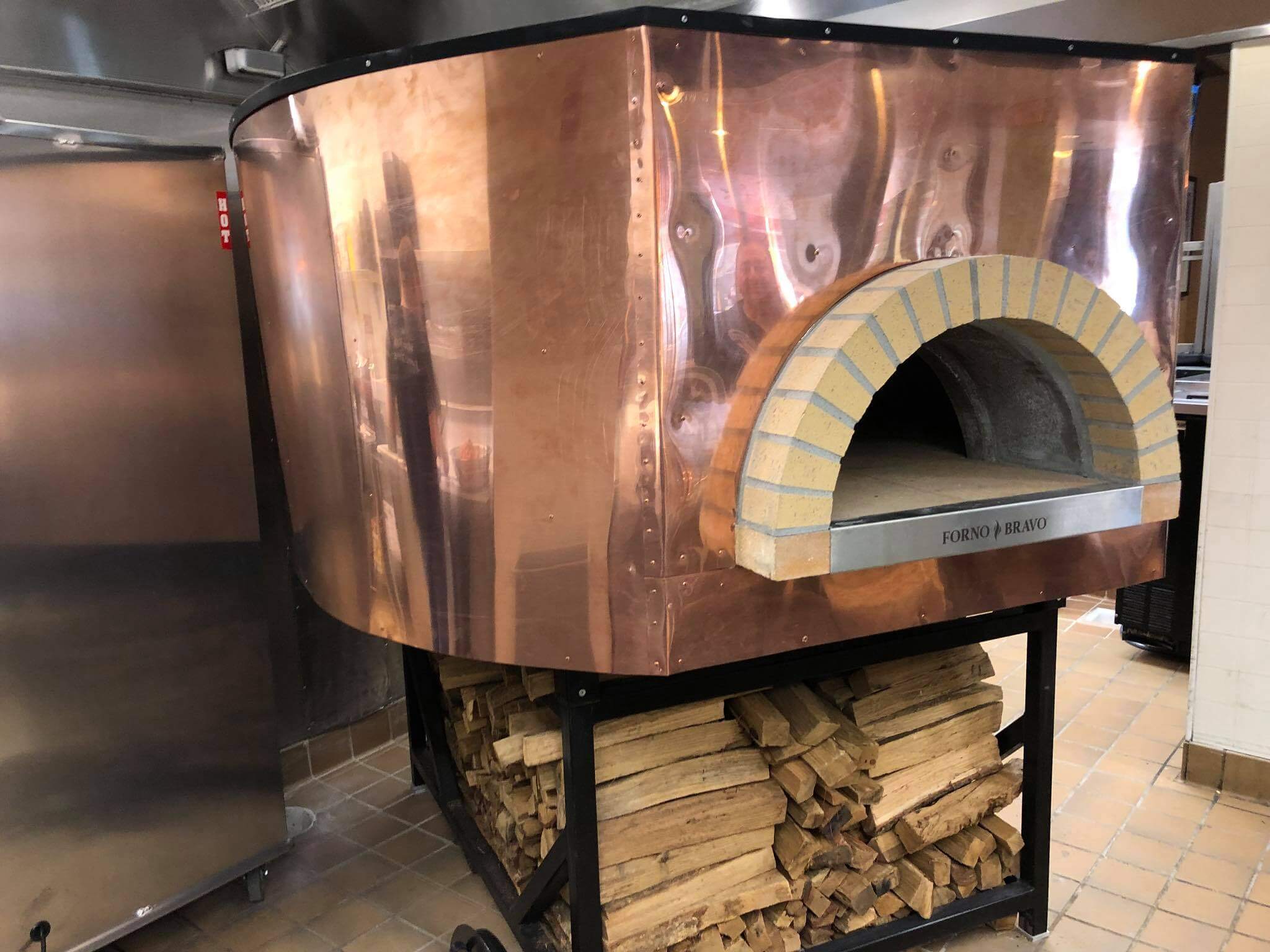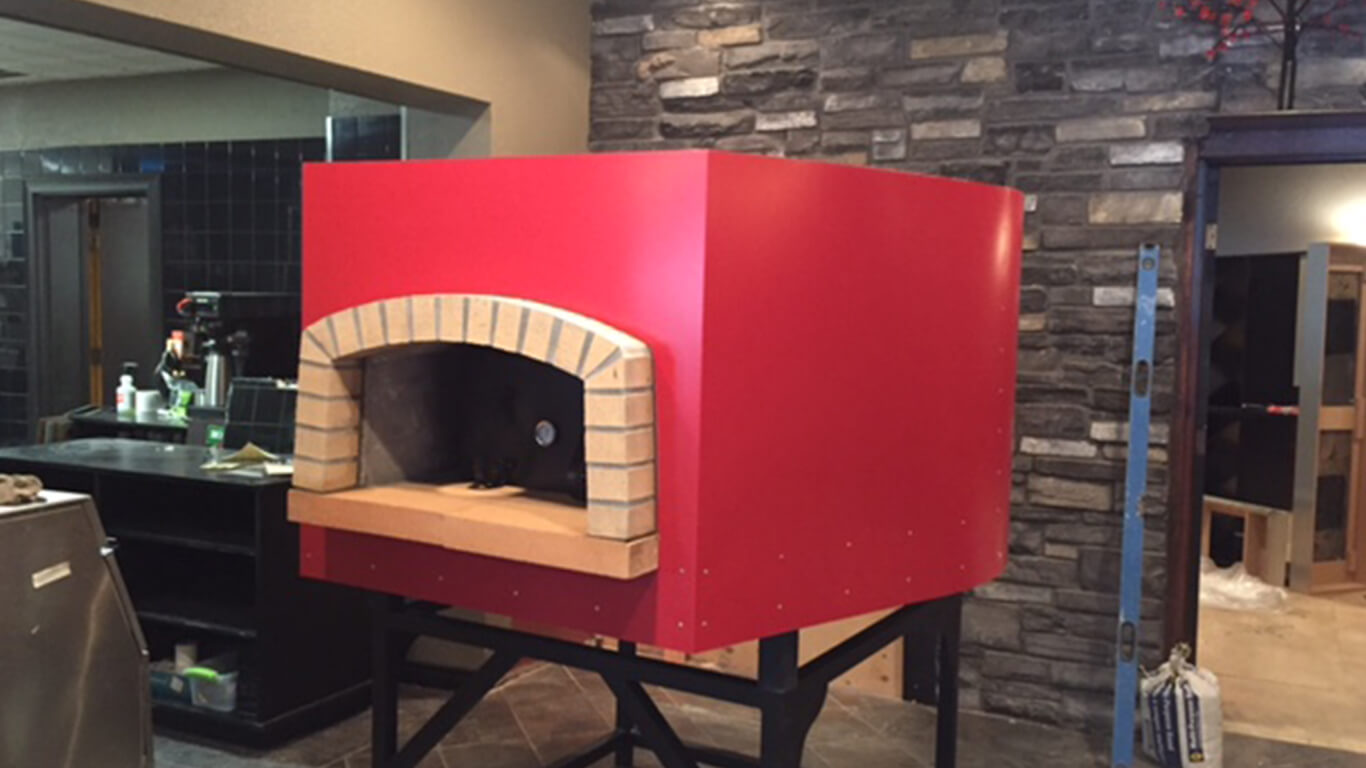 A family of smaller commercial ovens intended for restaurants who are interested in a wood or gas-fired oven to compliment their other cooking equipment.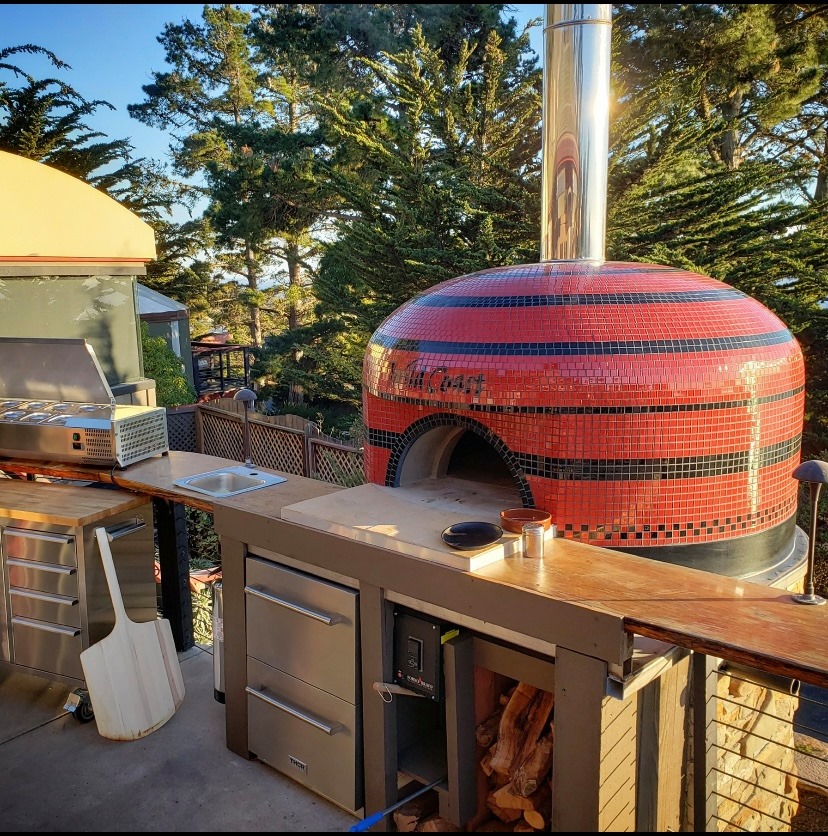 A family of traditional Naples-style ovens based on the Modena2G OK (oven kit) that are designed with a center oven vent and unique tiled Igloo enclosure. Perfect for a VPN or Pizza Napoletana restaurant.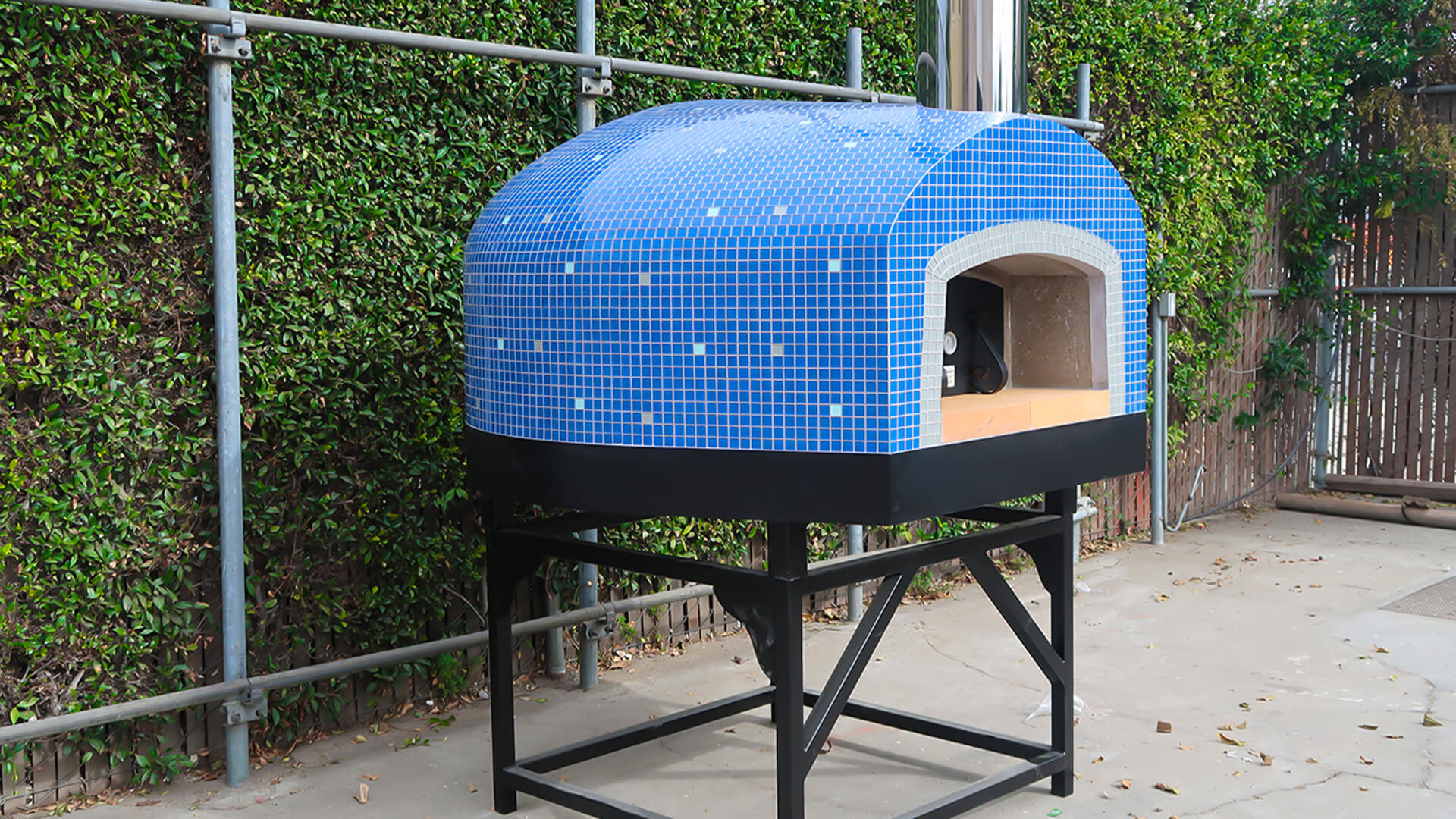 A family of indoor/outdoor, transportable pizza ovens based on the Professionale OK (oven kit). These are built for restaurants and professional food service industries who are seeking an attractive, traditional stucco or custom tiled enclosure.
I want to make my own brick oven pizza. Where can I purchase One?
Start Shopping