Napoli Commercial Pizza Oven Starts at $16,450.
The Napoli commercial pizza oven is ETL certified to UL standards for indoor and outdoor installation. It is a mid- to large-sized, fully assembled commercial pizza oven designed for restaurants, pizzerias, cafes, caterers, and vineyards looking for a gas or wood fired pizza oven to complement other cooking equipment.
The Napoli is made from our Modena pizza oven core. Ideal for mid- to large-sized pizzerias that want an oven capable of baking up to 200 – 10″ pizzas per hour. Its Naples-style, center-vent design provides the best heat retention of any of our industrial pizza ovens.
It's designed in the traditional Naples style. This tiled, Igloo shape pizza oven features a specialized vent that pulls hot air back over the oven dome and up through the top and center of the oven enclosure for better heat retention.
Truly stunning, the Napoli commercial pizza oven will be the centerpiece of any pizzeria or restaurant. We can custom tile the Napoli pizza oven to suit your business décor. Check out some of the unique ovens we have done for other customers by clicking here to see our gallery.
Completely assembled into a metal tray and stand, the Napoli commercial wood fired pizza oven can be installed in minutes with a forklift.
Napoli Commercial Pizza Oven Overview:
Two sizes: 48″ and 56″ cooking surfaces, both with 10″ landings;
You can bake up to 10 – 10″ pizzas at a time; up to 200 per hour;
Capable of exceeding 900°F temperatures;
Gas and Wood fuel available, no charcoal;
ETL certified to UL standards for indoor or outdoor installation.
Napoli Commercial Pizza Oven Includes:
Complete commercial pizza oven assembly with steel tray;
Assembled black metal stand that installs in minutes;
Double wall insulated door with a built-in thermometer;
UL-rated anchor plate, double wall chimney pipe, and cap;
Optional 100,000 BTU, modulating gas burner upgrade for indoor installation;
Optional custom colors and logo tiling;
Optional countertop versions for those who want to build out a custom hearth.
Like all Forno Bravo commercial pizza ovens, the Napoli Series pizza ovens are designed with optimal proportions, including the perfect Oven Dome Height and Oven Opening Size for baking serious Vera Pizza Napoletana.
Optional Items Sold Separately:
Double wall UL-compliant chimney flue extensions;
Type 1 Hood (when required);
Pizza oven tools;
Pre-cure services.
Gas Pizza Oven Option for Indoor Installations Includes:
100,000 BTU self-modulating burner with its own air supply for greater power and fuel efficiency;
Electronic control module with ignitor;
iHeat display with programmable temperature control;
Thermocouple temperature probe;
Stylish, stainless steel guard to protect the burner;
Mounting bracket for control box.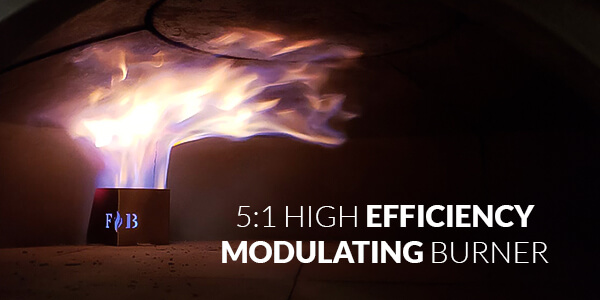 All Napoli ovens can be vented multiple ways, including directly with a connected UL-compliant chimney system or grease duct vent, or indirectly with a Type 1 Hood, ETL certified to UL standards.
Napoli Commercial Pizza Oven Advanced Technologies:
4" oven dome produced using a proprietary 142 pcf density, 8,230 psi strength refractory material with poly-fibers for additional strength not found in brick or clay ovens.  All manufactured in our Castroville, CA factory using a two-sided, vibrated mold casting process. It is a remarkably hard and durable material designed to provide many years of 24/7 operation.
2.5″ oven floor is constructed using large 18"x18"x21⁄2" ultra-premium (2,700psi compressed and 2,650ºF kiln-fired) baking tiles with Cordierite — for superior thermal shock resistance and durability, and for great pizza baking. NSF-4 compliant.
Ultra-premium insulation, both in quality and thickness, for outstanding heat retention. Each pizza oven includes a minimum of 4" (side) to 6" (top) of high-tech ceramic blanket dome insulation and 4" of ceramic board floor insulation — eliminating the need for old-fashioned and inefficient vermiculite or Perlite-based insulating concrete.
An interlocking dome design with a mono-block vent — and with fewer, tighter seams, the Napoli commercial pizza oven offers outstanding heat retention, cooking performance, and durability.
The gas-fired version of the Napoli ovens provides a high-heat, high-throughput, pizza baking experience that accurately replicates a true wood fire. The Napoli gas commercial pizza ovens can operate in both gas-only and gas/wood modes in indoor installation. The burner's self-modulating flame uses from 20,000 – 100,000 BTUs to save fuel and money, while maintaining the chef's desired temperature setting, and providing fast recharge rates during the busiest rushes!
Naples-style center vent that re-uses heat from the oven and distributes it above the dome. This leads to the best heat retention of any of our industrial pizza ovens. The Napoli recovery time leads the industry! See the graphic below: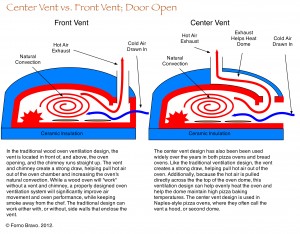 How Tile Customization Works
Our tiled ovens are handcrafted in Castroville, CA to your specifications. We offer a large selection of standard patterns and tile colors to choose from, as well as an extended line of glass tile colors, and optional letters/logos that are available for an additional charge. Our skilled designers can also create a price quote for custom designs and materials to bring your unique vision to life.
The Process:
BROWSE our Tile Customization Guide to see our tile colors, patterns and custom upgrade options.
PICK your colors and pattern, or jot down your ideas on the blank template at the end of the guide to discuss with a sales team member; decide if you would like any optional add-ons (Monograms, words, logos, or designs.)
ORDERING your oven:

If you order using our Online Store – A team member contact you within 1 business day to confirm your desired design, as well as discuss any of your modifications, or
you can also Contact our sales team here or call us at 1(800) 407-5119 or +1(408) 317-0124 (outside of the U.S.) for ordering assistance. If you would like to venture outside of our standard options and add-ons, please call for a custom quote.
Installed in 5 minutes Like All of Our Assembled Commercial Pizza Ovens:
This video applies to all Napoli ovens that come with a stand. Countertop models of the Napoli pizza oven will need to be lifted off the two-tiered pallet and placed on your hearth or countertop using a forklift or crane.
Napoli ovens are ETL-Intertek certified to UL737, UL2162, NSF/ANSI-4, ANSI Z83.11 / CSA-1.8, ULC S627, and ULC/ORD 2162 standards for Wood Fired Ovens and Gas Fired Ovens for Restaurant Use in the United States and Canada.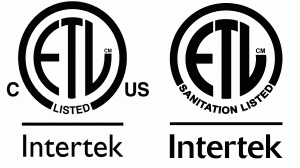 | | | | | | |
| --- | --- | --- | --- | --- | --- |
| Napoli120 Commercial Pizza Oven – 48″ Wood or Gas | Cooking Surface: 48" x 56" | Area (sq. in.): 1,872 | Heat Up (min): 80 | Pizzas (10"): 6-7 | $16,450 - $19,950 |
| Napoli140 Commercial Pizza Oven – 56″ Wood or Gas | Cooking Surface: 56" x 60" | Area (sq. in.): 2,592 | Heat Up (min): 90 | Pizzas (10"): 8-10 | $17,950 - $21,450 |
Prices and Ordering
All ovens include the oven, door and thermometer.
Drawings
Data Sheets
Installation Support