Professionale FA Commercial Pizza Oven Starts at $9,950.
The Professionale FA commercial pizza oven is ETL certified to UL standards for indoor or outdoor use, but we only recommend the decorative metal surround for indoor installations. It is a small to mid-size fully assembled professional series pizza oven designed for restaurants, pizzerias, cafes, caterers, and vineyards looking for a gas or wood fired pizza oven to complement other cooking equipment.
The Professionale  FA pizza oven is made from our Professionale pizza oven core. Ideal for small to mid-sized pizzerias that want an oven capable of baking up to 140 – 10″ pizzas per hour. Excellent heat retention with quick recovery times, this pizza oven suits restaurant owners who want a quality pizza oven at a reasonable price.
It's decorative red metal exterior holds up well indoors and can showcase the oven. It is ideal for kitchens that do not need the oven to be a focal point, but are more concerned with price. If you really want a showpiece oven, consider our Roma or Napoli commercial pizza ovens. Completely assembled into a metal tray and stand, the Professionale FA pizza oven can be installed in minutes with a forklift.
Professionale FA Commercial Pizza Oven Overview:
Two sizes: 44″ and 48″ cooking surfaces, both with 10″ landings;
You can bake up to 7 – 10″ pizzas at a time; or up to 140 per hour;
Capable of exceeding 900°F temperatures;
Gas and Wood fuel available, no charcoal;
ETL certified to UL standards for indoor or outdoor installation.
Professionale FA Commercial Pizza Oven Includes:
Complete commercial pizza oven assembly with steel tray;
Assembled black metal stand that installs in minutes;
Double wall insulated door with a built-in thermometer;
Decorative brick arch;
Optional 100,000 BTU, modulating gas burner upgrade for indoor installations.
Like all Forno Bravo commercial pizza ovens, the Professionale FA commercial pizza ovens are designed with optimal proportions, including the perfect Oven Dome Height and Oven Opening Size for baking serious Vera Pizza Napoletana.
Optional Items Sold Separately:
Double wall UL-compliant chimney anchor plate, flue, and cap;
Type 1 Hood (when required);
Pizza oven tools;
Pre-cure services.
Gas Pizza Oven Option for Indoor Installations Includes:
100,000 BTU self-modulating burner with its own air supply for greater power and fuel efficiency;
Electronic control module with ignitor;
Omega display with programmable temperature control;
Thermocouple temperature probe;
Stylish, stainless steel guard to protect the burner;
Mounting bracket for control box.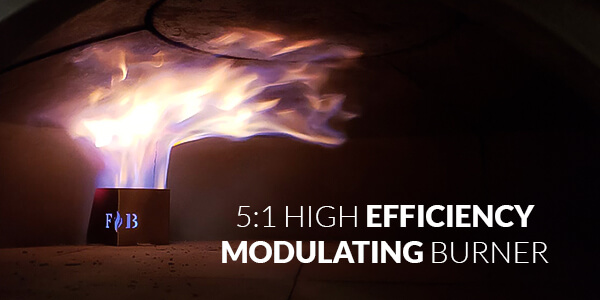 Professionale FA Commercial Pizza Oven Advanced Technologies:
3" oven dome produced using a proprietary 142 pcf density, 8,230 psi strength refractory material with poly-fibers for additional strength not found in brick or clay ovens.  All manufactured in our Castroville, CA factory using a two-sided, vibrated mold casting process. It is a remarkably hard and durable material designed to provide many years of 24/7 operation.
2.5″ oven floor is constructed using large 18"x18"x21⁄2" ultra-premium (2,700psi compressed and 2,650ºF kiln-fired) baking tiles with Cordierite — for superior thermal shock resistance and durability, and for great pizza baking. Certified NSF-4 compliant.
Ultra-premium insulation, both in quality and thickness, for outstanding heat retention. Each Professionale series pizza oven includes a minimum of 4" (side) to 6" (top) of high-tech ceramic blanket dome insulation and 4" of ceramic board floor insulation — eliminating the need for old-fashioned and inefficient vermiculite or Perlite-based insulating concrete.
An interlocking dome design with a mono-block vent — and with fewer, tighter seams, the Professionale FA pizza oven offers outstanding heat retention, cooking performance, and durability.
The gas fired version of the Professionale FA pizza oven provides a high-heat, high-throughput, pizza baking experience that accurately replicates a true wood fire. The Professionale FA gas commercial pizza oven can operate in both gas-only and gas/wood modes. The burner's self-modulating flame uses from 20,000 – 100,000 BTUs to save fuel and money, while maintaining the chef's desired temperature setting, and providing fast recharge rates during the busiest rushes!
All Professionale FA ovens can be vented multiple ways, including directly with a connected approved UL-compliant chimney system or grease duct vent, or indirectly with a Type 1 Hood, ETL certified to UL standards.
Professionale FA Commercial Pizza Oven Assembly Video:
Professionale ovens are ETL-Intertek certified to UL737, UL2162, NSF/ANSI-4, ANSI Z83.11 / CSA-1.8, ULC S627, and ULC/ORD 2162 standards for Wood Fired Ovens and Gas Fired Ovens for Restaurant Use in the United States and Canada.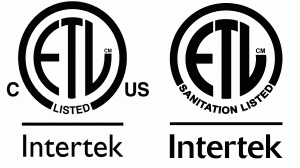 | | | | | | |
| --- | --- | --- | --- | --- | --- |
| Professionale110 FA Commercial Pizza Oven – Wood or Gas | Cooking Surface: 44" x 54" | Area (sq. in.): 1397 | Heat Up (min): 60 | Pizzas (10"): 5-6 | $9,950 - $13,450 |
| Professionale120 FA Commercial Pizza Oven – Wood or Gas | Cooking Surface: 48" x 59" | Area (sq. in.): 1937 | Heat Up (min): 75 | Pizzas (10"): 6-7 | $10,950 - $14,450 |
Prices and Ordering
All ovens include the oven, door and thermometer.
Data Sheets
Installation Support