Casa Home Pizza Oven Kits Start at $2695.
The Casa2G pizza oven kits are mid-sized, modular pizza oven kits sold by Forno Bravo. The Casa home pizza gas or wood fired oven kit makes it easy to install an authentic, custom home pizza oven— even if you are a novice. We make the oven using the industry's highest-quality refractory and insulating materials. The Casa2G pizza oven kit provides fast heat up times and enough cooking space to entertain large parties.
Forno Bravo uses the Casa2G oven kit to make our popular Toscana and Vesuvio pizza ovens. The Casa gas or wood fired pizza oven kits heat up in as little as 30 minutes. This helps you bake the perfect pizza, hearth bread, roasts, and grilled meats. The Casa ovens are safe and reliable. They are ETL certified to UL standards and available as gas and wood fired pizza ovens for outdoor kitchens. They are also certified for indoor use as a wood fired pizza oven.
Take a look at the Casa Photo Gallery.
Casa Home Pizza Oven Kit:
Four sizes: 32″, 36″, 40″, and 44″ cooking surfaces; both with an 8″ oven landing;
You can bake 5 pizzas at a time, or up to 100 per hour;
ETL certified to UL standards+ for indoor installation as a wood fired pizza oven;
Wood or gas pizza oven ETL certified to UL standards+  for outdoor installation, no charcoal;
Easy delivery using a lift gate — no forklift required.
Casa Home Pizza Oven Kit Includes:
2″ oven dome using commercial grade refractory with integral vent landing;
Firebrick 2″ cooking floor that is NSF-4 certified for use with food;
3″ ceramic fiber insulation blanket for oven dome;
2″ ceramic fiber insulation board under oven dome;
High temperature mortar;
Steel door with a built-in thermometer;
Single wall stainless steel stove pipe and chimney cap.
Optional Drago P1+ Outdoor Gas Burner Kit Includes:
Liquid Propane – 51,000 BTUs; Natural Gas – 38,000 BTUs;
Flame control system with pilot, low and high flame settings;
Stainless steel guard to protect burner;
Remote thermocouple with wire and gauge;
Gas leak detector.
Click here for the Gas Burner Operation Video.
Optional for Casa Home Pizza Oven Kits:

Casa Five Core Technologies:
2" oven dome produced using a proprietary 142 pcf density, 8,230 psi strength refractory material with poly-fibers for additional strength not found in brick or clay ovens.  All manufactured in our Castroville, California factory using a two-sided, vibrated mold casting process.
NSF-4 certified 2″ oven floor is constructed using large 18"x18"x2" ultra-premium (2,700psi compressed and 2,650ºF kiln-fired) baking tiles with Cordierite — for superior thermal shock resistance and durability, and for great pizza baking.
Ultra-premium insulation, both in quality and thickness, for outstanding heat retention. Each pizza oven includes a minimum of 3" of high-tech ceramic blanket dome insulation and 2" of ceramic board floor insulation — eliminating the need for old-fashioned and inefficient vermiculite or Perlite-based insulating concrete.
An interlocking dome design with a mono-block vent — and with fewer, tighter seams, the Casa home pizza oven offers outstanding heat retention, cooking performance, and durability.
The gas-fired version of the Casa home pizza oven provides a pizza baking experience that accurately replicates a true wood fire. The Casa2G home pizza oven can operate in both gas-only and gas/wood modes.
Like all Forno Bravo pizza ovens, the Casa home pizza oven kits are designed with optimal proportions, including the perfect Oven Dome Height and Oven Opening Size for baking serious Vera Pizza Napoletana.
Casa Home Pizza Oven Kit Summary:
Each Casa home pizza oven kit provides everything you need to install your pizza oven. You just provide the stand and stucco (or another decorative facade). Read The Anatomy of the Perfect Pizza Oven to see why the Casa Series pizza oven kit is so special.
If your installation requires a longer chimney, the Casa ovens can be fitted with an adapter. We recommend single wall stainless steel chimney pipe for open outdoor kitchens. Or a UL103 HT-rated double wall chimney system if you are going through a patio cover or pergola. Ask our technical support to work up a venting quote if you need one.
The Casa ovens are easily installed using either an on site-built concrete block stand, or a Cucina Modular Oven Stand.
The Casa2G oven series has been tested extensively for safety and quality by third-party specialists.
Casa2G modular pizza ovens are certified by ETL-Intertek to the following standards in the United States and Canada for indoor and outdoor installation using wood fuels:  UL737-2011, UL2162-2014, ULC/ORD 2162-2013, ULC S627-2000, and NSF/ANSI-4-2007. Gas models are additionally certified to ANSI Z21.58-2018 and CSA 1.6-2018 standards in the USA and Canada for outdoor installation only.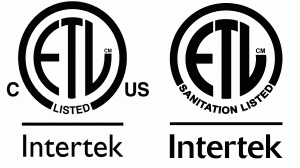 | | | | | | |
| --- | --- | --- | --- | --- | --- |
| Casa80 Home Pizza Oven Kit – Gas or Wood | Cooking Surface: 32" x 40" | Area (sq. in.): 804 | Heat Up (min): 30 | Pizzas (10"): 1-2 | $2,695 - $4,690 |
| Casa90 Home Pizza Oven Kit – Gas or Wood | Cooking Surface: 36" x 44" | Area (sq. in.): 1017 | Heat Up (min): 40 | Pizzas (10"): 2-3 | $2,895 - $4,890 |
| Casa100 Home Pizza Oven Kit – Gas or Wood | Cooking Surface: 40" x 48" | Area (sq. in.): 1256 | Heat Up (min): 45 | Pizzas (10"): 3-4 | $3,295 - $5,290 |
| Casa110 Home Pizza Oven Kit – Gas or Wood | Cooking Surface: 44" x 52" | Area (sq. in.): 1520 | Heat Up (min): 50 | Pizzas (10"): 4-5 | $3,495 - $5,490 |
Prices and Ordering
All ovens include the oven, door and thermometer.