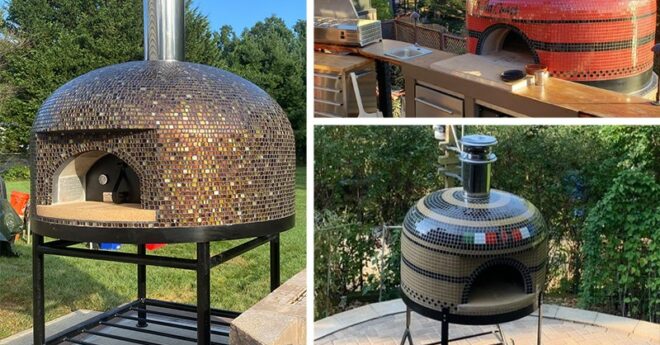 Terrific Trio of Tiled Ovens
Dec 05, 2022
Posted by Forno Bravo
Tile oven finishes come in many styles, patterns, and colors. Most are made using glass tiles because they reflect the light in the most beautiful way, and are easy to clean. They also hold up well to nature's external environmental factors and to the wood-fired oven's internal heat.
Below you will find a terrific trio of tiled ovens commissioned by Jason Scarfi, Ken Lavenz, and John Handy at the Treebones Resort. They are all unique with custom elements, and universal appeal.
Jason Scarfi – Vesuvio 110
Jason's Vesuvio 110 wood fired pizza oven features an upgraded glass tile pattern. It is called Jewel Tide (Amber Wave) and is finished with black grout. It is stunning! This tile is so interesting, that no accent color patterns were needed. It stands proudly on its own. Jason shared,
"We just got our Vesuvio 110 delivered a little over two weeks ago and we patiently waited for our contractors to place it in its spot in our new backyard kitchen. This picture is the first fire lit to start the curing process. The craftsmanship is exceptional and will be quite the conversational piece at our bbqs. We look forward to making delicious pizzas and so much more!"
Ken Lavenz – Napolino 70
Tiled in Amber Gold glass tiles, with Black Coffee accents, and grey grout, the Lavenz's Napolino 70 also features the stylized colors of the Italian flag and a Forno Bravo flame. Ken and his wife worked closely with our designers to bring their custom logo from conception to execution. The flag represents the Italian concept of Viaggio or "The Journey," the learning and pizza-baking exploration and philosophy they embrace in life.
The Lavenzs had a challenging installation location with limited side access to the backyard. Solution? They used a crane to go right over the top of the house! It worked like a charm.
Treebones Resort – Napoli 120 with Gas Burner
The Treebones Resort in Big Sur, CA ordered a Napoli 120 pizza oven for their property. It features Candy Apple Red primary tiles, Black Coffee accent colors, and black grout. To sum up their location, they chose to add a custom logo that says "Wild Coast," and when storms roll in, it really can get wild out there!
We also love their unique installation job that takes advantage of the hillside to move the body of the oven outside of the serving zone, allowing more space for cooking and for guests to watch the show.
While this is a wood & gas-fired commercial oven that is ideal for large events, its center venting system is very similar in style and shape to the residentially-sized Vesuvio oven. These striking colors and patterns work very well with both models.
Interested in getting a custom quote for your own incredible tiled pizza oven? Contact our team today!