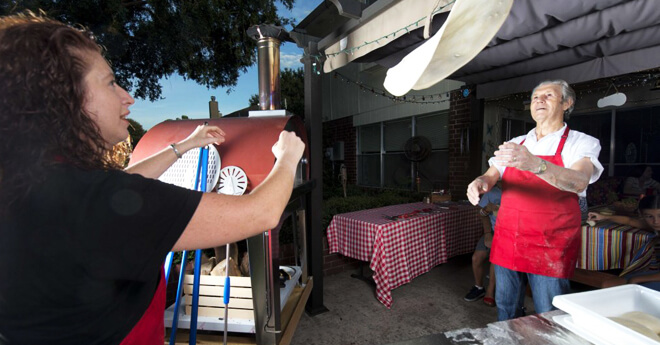 Restaurateur Spotlight – Father and Daughter Duo Thrive at Giannina's Pizza and Catering
May 30, 2019
Posted by Forno Bravo
Born in Sicily, and raised on his grandparents' farm and vineyard, Salvatore Cicciarella grew up surrounded by hard work, good food, and strong family ties. At 77, with over 50 years in pizzerias and restaurants, he still shares those values with his daughter, Giovanna (Gio), as they work side by side in their business, Giannina's Pizza and Catering. Salvatore makes the dough daily and Gio is the pizzaiolo and owner. Now starting their 4th year, and with an artisan, wood fired Forno Bravo Napoli oven at the heart of the kitchen, their restaurant is going strong! 
A Family Journey of Food
Giovanna began her culinary training at a young age. She remembers learning to "fly" pizza at nine years old, and also standing on a case of tomatoes to reach the oven at her dad's restaurant. Salvatore also remembers leaning to cook from his father (also a cook) and his grandparents. He and his cousins would even make their own sun-dried tomatoes on the roof of his cousin's home overlooking the Mediterranean Sea, pairing them with the rich, deep green olive oils of the region. When Gio and her dad started their catering business, and later the restaurant as well, their goal was to bring the Italian culture of fresh flavors, and hospitality through food to the small community of Cypress, TX, just outside of Houston. They constantly encourage their staff to "take care of people like they are coming to your home."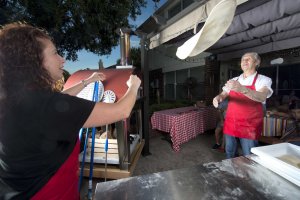 Team Work!
Favorite Dishes and Dough Tips
As a young man, Salvatore was a sailor on cargo ships around the world, and later was a Maître D' on a cruise line, honing the people skills that would continue to serve him throughout his life. He eventually settled in Brooklyn, NY, where he began making New York-style pizza. He later moved to Houston, TX and helped open a chain of pizzerias in this style, becoming a well-loved figure the community for his hard work and kind spirit. When asked about his favorite dishes that they serve at Giannina's, he said that he has enjoyed adding many more authentic Italian elements to their menu, since cooking on the Forno Bravo wood fired oven reminds him of his old-school cooking roots. Sicilians in general use fresher ingredients, fresh herbs, and lighter flavors. In that theme, they have added pizzas with prosciutto and arugula (Gio's favorite,) and others with ricotta, wood fired (roasted) sausage, and Italian parsley. They also offer a dish called 'Pasta Gianna,' with the fresh vegetables sautéed in garlic oil and sun-dried tomatoes that their customers love.
One of the highlights of the restaurant is their pizza dough, handmade daily by Salvatore. He uses a cold fermentation method that requires 10 hours in the refrigerator to develop, and then another 1-2 hours of resting time. He loves the quality this gives the dough — no "fast and quick" method that disrespects the food for this master!  His recipe has changed a bit over time, and now includes a combination of flours, including some semolina flour for a crunchy texture, and nice color and aromas. He especially enjoys connecting with friends and customers, pleasing people, and watching them savor the healthy food that he and the team create.  Truly a family affair, his wife, Francesca, has worked along side him for the last 36 years, daily helping with food preparation. Gio's brother, Angelo, also a pizzaiolo, helps during the busy times, and trains beginner staff.
Business Challenges and Triumphs
When Gio and Salvatore started Giannina's, they had no idea that Hurricane Harvey was right around the corner. The storm knocked the Houston area on its tail and it took several years for the city to recover. These were pretty lean years for all businesses, including Giannina's, but through very hard work and focused efforts, they survived and came out stronger on the other side.
Finding the right staff is always a challenge in wood-fired, artisan cooking, and Giovanna has now trained and mentored several pizzaoli to work the oven, the way her dad trained her. Making sure that everyone's individual styles are able to produce a consistent product for customers is an on-going effort. However, being able to source organic and regional ingredients more easily is a benefit of the current restaurant industry. For example they love to order organic mozzarella di bufala from Naples to use on their pizza. Paying attention to details like this is part of what has helped their cooking stand out in a crowded industry!
They also enjoy the catering side of the business. They use a portable, steel, wood fired oven for home parties and festivals that is from Italy, but is very similar to Forno Bravo's Bella steel ovens. Catering allows them to stretch their culinary creativity, as well as tap into Giovanna's love of teaching from her pre-restaurant time in education, and Salvatore's love of mentoring anyone who wants to learn.
Finally, when we asked what was the best part working together, both father and daughter agreed, that it was, well, working together! Giovanna honors her dad's determination, patience, and endurance. Salvatore loves his daughter's initiative, courage, and their complimentary; they have the same goals, work ethic, and love of people, and it shines through to anyone who meets them.
At Forno Bravo, we wish this power-house duo all the best in their business, and are happy to partner with them to provide a great, reliable wood fired oven for their restaurant as they bring a true taste of Italy to Southern Texas!