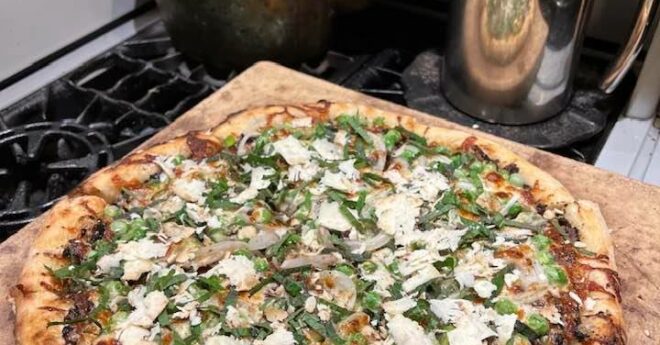 Innovative Pizza Topping Combos by Chef Higgins – Part 2
Apr 27, 2023
Posted by Forno Bravo
Last month, we featured the home pizza creations of Chef Greg Higgins, James Beard award winner, and head chef at Higgins restaurant in Portland, OR. The response was so good, and he has so many marvelous topping combinations to choose from, that we decided to keep going!
All of the pizzas in today's showcase are either fully vegetarian, or include seafood as the primary protein. However, you will quickly learn that vegetarian does not equal boring! (You can always add different proteins to the menu or customize these combinations to your personal preference if you wish. No pizza police will come to get you.) So, read on for more ideas to stretch your concept of what can go onto a truly great pizza in "Innovative Pizza Topping Combos – Part 2."
(*Be sure to check out Innovative Pizza Topping Combinations – Part 1 to watch our 2 short interviews with Chef Greg about his cooking style and ingredient choices. You can also learn about his culinary philosophy, and view several additional pizza topping combinations that he and his wife have developed for their home wood fired oven in Part 1 of this blog series.)
Spicy Pie for Cool Nights
Key Ingredients: Spinach, Scamorza Cheese, Red Thumb Fingerling Potatoes, Leeks, & Paper Lantern Chilies
Notes:
Scamorza is a smooth, milky, semi-soft white cheese with a texture comparable to that of a firm, dry Mozzarella. Scamorza is made in both Italy and the USA. Scamorza has excellent melting qualities, and can be substituted for Mozzarella to add variety to a pizza's flavor profile.
Red Thumb Fingerling Potatoes are small in size (6 – 7 cm.) They have a pink, swirled interior. When cooked, they are creamy with an earthy, buttery flavor. Slice them thin for quick cooking.
Red Paper Lantern Chilies are a habanero-type pepper that packs a significant punch! They are hotter than a common orange habanero, with a sweet, smoky flavor. Originally from Peru, they require a short growing season, making them perfect for northern, or higher-elevation climates.
This pizza pairs well with a white sauce or a drizzle of garlic-infused olive oil below the spinach layer.
A Change of Pace with a Spring Peas-za
Key Ingredients: Fresh Shell Peas, Spring Onions, Tapenade, Belper Knolle Cheese, & Mint Garnish
Notes:
Peas on a pie? What?? Why not! Cooked crisp-tender, they had a nice texture and are a fun color/flavor pop.
Made in Switzerland, Belper Knolle Cheese is extremely hard. It is typically served in small shavings, or grated, much as a truffle or Parmesan would be. Very unique, the curd is drained, seasoned with salt and garlic, and rolled in crushed black pepper. It is then dried and fermented in a cave for a minimum of 3 months to yield an almost cream-like initial mouthfeel and taste, prior to the full force of the spices kicking in. Herbal, garlicky notes run rampant!
Tapenade is an olive spread hailing from the Provence region in France. It's bold, zippy, briny, and salty, made from a combination of olives, garlic, capers, and olive oil. You can also add lemon juice, parsley, and anchovies.
Mint: Be sure to julienne cut your mint very fine, as it can be a strong flavor note. Also, add it after baking as a garnish so that it doesn't burn.
Going for the Green
Key Ingredients: Artichokes, Asparagus, Chilies, Mild Shredded Cheese (type of your choice,) & Saag Paneer
Notes:
Saag Paneer is the base layer on this pizza. It is basically, the Indian version of creamed spinach. You can also use arugula or kale, or even dandelion or mustard greens. In it, leafy greens (saag) are smothered with butter or ghee, and chunks of fresh cheese (paneer). It is simple "farmer food", but incredibly delicious!
Cut the asparagus on the bias, or even in half lengthwise to keep the pieces small and the same thickness for even, quick cooking (see photo below.)
The chilies can be almost a garnish, depending on the level of spice you are looking for. Their heat will lift the whole flavor profile and give it pop.
Dungeness Crab – Two Ways
Key ingredients – Option A: "Simple comfort" – Dungeness Crab, Habaneros, Mozzarella Cheese, & Tomato Marinara
Key Ingredients – Option B: "International variety" – Dungeness Crab, Vindaloo Kuri Squash, Onions, Serrano Chilis, & Scamorza Cheese
Notes:
Crab: Get the freshest, or fastest, flash-frozen crab you can lay your hands on for the smoothest, richest taste and texture.
Red Kuri Squash is a small, orange winter squash, with a nutty flavor. It can be peeled, seeded, and cubed (or sliced) and then pre-roasted or sauteed with Indian Vindaloo spices (like mustard, cumin, turmeric, and cayenne pepper) for a unique tasting pizza.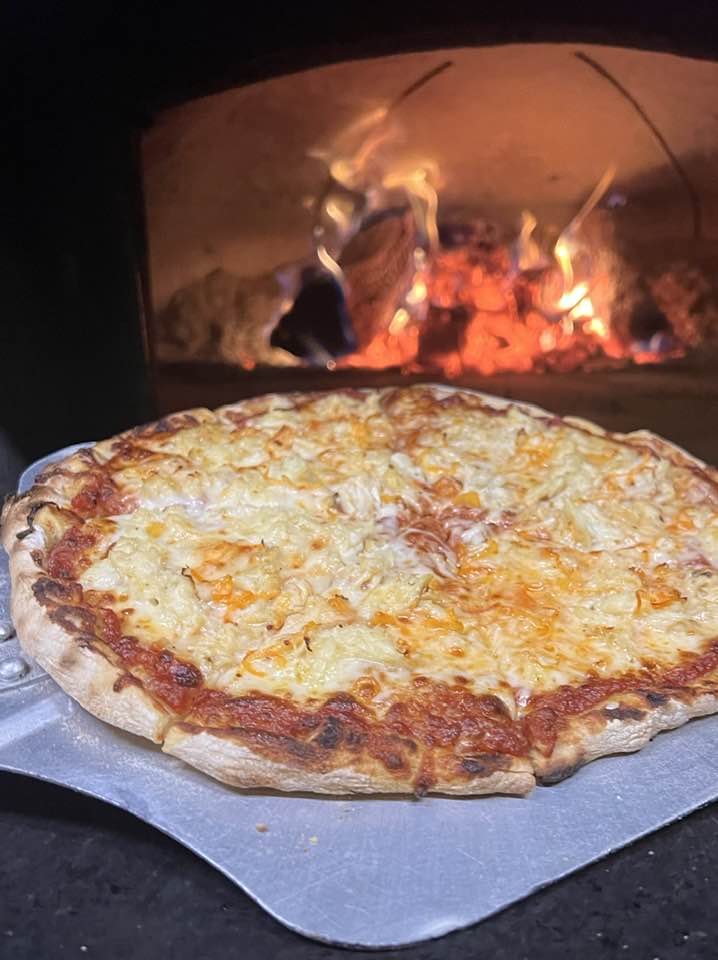 Simple comfort food from the land and sea. (Option A)
"Leave the Tongue Tingling" Pizza Combination
Key Ingredients: Meyer Lemons, Jigsaw Chilies, Anchovies, & Olives
Notes:
Jigsaw Chilies are a gourmet, superhot variety with bursting unique flavors of smoky sweetness. Warning: a little goes a LONG way!
Anchovies add a saltiness that offsets the heat from the chilies, but if you are not a fan of the fish, you could substitute with pre-cooked chicken breast strips, or another protein.
The thin, Meyer Lemon slices and juice provide the sweetness and acidity in this combination, while the olives add texture and dimension to the pizza topping combination.
Final Thoughts
Want to see more topping combinations? Follow Chef Greg on his Instagram or Facebook pages, and continue to be inspired by his fresh, locally grown ingredients, interesting imported items, and pallette-stretching mixes.
You can also learn more about his Forno Bravo wood fired oven, and even buy an oven kit of your own! Casa2G and Premio2G kits