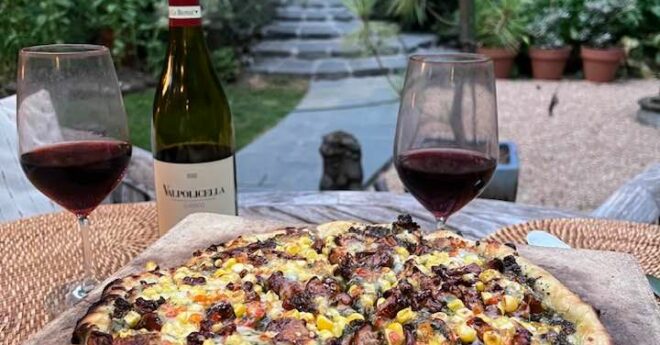 Innovative Pizza Topping Combinations
Mar 29, 2023
Posted by Forno Bravo
Meet Chef Greg Higgin, head chef, co-owner, and the master creative force at Higgins restaurant in Portland, Oregon. In this blog, we will explore the extremely unique topping combinations Greg and his wife have developed for their weekly home pizza baking sessions in their Forno Bravo modular pizza oven. Delicious and creative, they are sure to challenge your pantry and palette.
Greg won the  2002 James Beard award as Best Chef Northwest, and it certainly shows in his creations. We have been following Greg's marvelous creations for several years on his Instagram and Facebook pages, and decided to share them with you as well!
Check out our short interviews with Chef Greg as he describes his process of developing these innovative combinations, and then see examples of his wild and crazy home pizzas below so you can try them yourself! We're sure you will discover several ingredients that are new to you (they were new to us!) and definitely in combinations that you might not have thought of before.
Interview with Chef Greg – Part 1
Interview with Chef Greg – Part 2
Greg's Food Philosophy
Chef Greg especially loves cooking seasonally and fresh. He primarily uses ingredients from his vegetable and herb gardens, his on-site greenhouse, 30 fruit trees, and the sea to craft these vegetarian or pescatarian (seafood) pizzas that his wife prefers. Since his restaurant features several charcuterie items and freshly butchered and prepared menu items, he will occasionally make a meat pizza for himself as well.
Both Chef Greg and his wife did part of their culinary training in Europe (France, Spain, Germany), and they often carry forward several of the international flavors and ingredients they learned to love abroad to the cooking they do for themselves. They have found local import stores where they can get the specialty cheeses they use, and the spices and oils have been gathered for their pantry over the years.
When crafting their pizza, Greg shared that they think about what key ingredient is coming into season, and then build the rest of the pie's flavor profile around that item. Add in a beautifully paired glass of wine, and fresh air on the patio, and it makes for a lovely day-off meal away from the restaurant. (Plus, his oven stays hot for 2-3 days, so he can make bread, desserts, and other items with very little fuss afterward!)
Pizza Topping Ideas
Most people make their pesto with a basil base, but when fresh springtime nettles are growing in the greenhouse, they can make a delicious substitute!
Key ingredients: Walnut nettle pesto, green garlic, freshly-shredded hard cheese
This pizza is a bit of a Gaelic twist on tarte flambée. (Note: Finnan Haddie is a cold-smoked haddock common in Scottland, and Dill Labneh is a Lebanese/middle eastern yogurt-based dip.)
Key Ingredients: Finnan Haddie, fingerling potatoes, green garlic, dill labneh, and Meyer lemons
The next pizza includes Dungeness crab, fresh from the Pacific Ocean as the high point. While fresh crab meat can be a little mellow, the pepper confit really kicks it up a notch
Key Ingredients: Dungeness crab, scamorza, pepper confit, and purée
A true vegetarian delight — the mushrooms and green sauce are smooth, the goat cheese is robust, and the chilies bring on the spice! (Note: don't wash your mushrooms, just brush them off and slice or chop.)
Key Ingredients: Chanterelle pins, sauce vert, Brabander goat Gouda, and Buena Mulata chilies
Before and after views on this pizza. FYI, a "confiture" is French for a thick jam. Not all jam needs to be made with fruit. This one is made with onions and tomatoes. Because it is condensed, it is extra flavorful and a little goes a long way!
Key Ingredients: Roasted eggplant, Buena Mulata chilies, feta, tomato-onion confiture, and basil garnish
This is one of the rarer meat pizzas to come from Chef Greg's oven. The sausage is made locally to keep with his theme of fresh ingredients for the win! He considers it a work in progress.
Key Ingredients: Napoletana salami, a sassy sauce, and shredded cheese accents
A commenter once asked Chef Greg what drives his ingredient choice. His response was, "What I have on hand." In this case, it was left-over smoked pork loin…but then the creativity really got going!  (Note: créme frâiche is similar to sour creme, but with a smooth, mild taste. It is easy to make at home with cream and buttermilk, or creme and lime juice.)
Key ingredients: Potatoes, leeks, habaneros, smoked pork loin, créme frâiche, and Gruyere cheese
To see more great topping ideas, be sure to check out Chef Greg's social media pages (linked above,) or come back next month for another set of innovative pizza topping combinations in the April Wood Fired Newsletter! Happy baking!