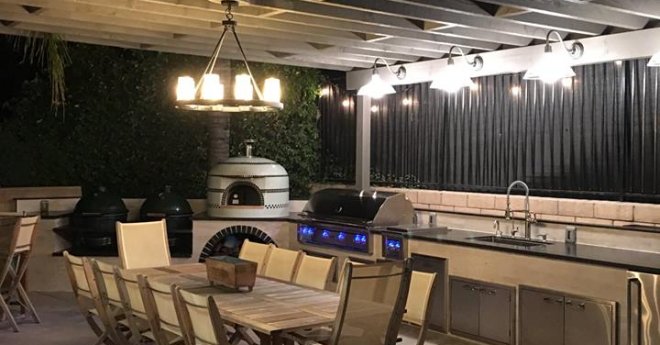 Helpful Hints for Planning Your New Pizza Oven Build
Apr 29, 2019
Posted by Forno Bravo
For many people, a pizza oven is a big investment of time and resources that will provide their family or company with years of delicious food and happy memories. At Forno Bravo, we want to make the planning and building process as seamless as possible. With 1,000s of customers using our ovens, we have a rich history of helping folks find and build the right oven. The following checklists will help you get started with your successful build, whether it is your first time, or one of several projects you've completed.
Getting Started
The easiest and best place to start your pizza oven journey is with our Selection Wizard. This tool will walk you through a series of choices that will help you feel comfortable with your options and narrow your search down to the perfect Forno Bravo oven for your application and space (kits or Fully Assembled). Since the quality of all of our ovens is top notch, and the prices for each oven style are very competitive in their market, we firmly believe that there is no "right oven," only the right oven for you!
Instead of recreating the Wizard, this blog will focus on other aspects of the build or installation process to consider to help make your pizza oven experience run smoothly. Depending on your oven choice and placement, not all of these elements will apply to your situation. Please feel free to pick and choose the ideas that are helpful for you to maximize the safety, utility, and beauty of your indoor or outdoor kitchen and your Forno Bravo pizza oven.
A final introductory note — if you are unsure about anything, we encourage our customers to utilize professional support or reach out to us with any questions. Our #1 goal is to provide a long lasting oven that is absolutely perfect for your needs, so a little time investment up front to make sure your plans meet local codes and requirements works best.
Foundations – Planning Where to Place Your Oven
Countertop or Steel Stand – When choosing a Pizza Oven, fully assembled on a steel stand often time offers the quickest outdoor install. Kits and countertop ovens require a bit more planning, but do offer a bit more room for kitchen customizations. The remaining bulleted items in this section are relevant to either option you choose.
Kitchen Design — Efficient kitchen designs are traditionally based on a triangle of elements: the refrigerator, oven, and sink should form three points of a triangle, with no leg of the triangle measuring more than 10′ feet. Movement within the triangle should be unobstructed by structures like cabinets or a kitchen island. For pizza ovens, a prep counter or temporary ingredient layout area can take the place of the refrigerator in many outdoor settings, and a dish collection area or serving area can replace the sink, but you will still want to be able to move freely between these three locations for the optimal pizza creation and cooking.
Piping and Utilities — If you are running gas, water, or electricity to an outdoor kitchen, be aware that the shorter the run, the lower the cost. If water pipes are involved, they will need to be winterized as well (insulated and able to be drained.)
Smoke Management and Venting  —Do consider your neighbors when planning your oven placement. Generally, avoid putting an oven right against a property line to ensure oven smoke is a non-issue. For indoor installations, wood fired ovens have special needs in terms of venting and drafts. Indoor installations have UL requirements for their chimneys and air flow. (UL requires a double wall chimney pipe if your flue goes through a canopy or cover, among other requirements.)
Weather — Water is the bane of outdoor masonry, so protection from the elements and the angle of your oven are considerations as well. Basically, you want to keep water out of the oven for the best long-term durability. But sunshine is also a factor to remember. A little shade for you and your guests will go a long way to making everyone more comfortable. Placing your oven on the north-facing side of your home will be much more pleasant than putting it on the sunnier south and west-facing sides.
Floor and Oven Support — You may need to consult a mason or structural engineer to ensure that your support structure can handle the weight of your oven. This is especially important with our larger residential and commercial ovens. Will cold weather impact the stability of your slab? Is a second-story floor rated for the weight in an upstairs bar or bistro? All important things to check in advance. If your masonry skills are marginal, you may want to hire a contractor to construct your counter, or maybe purchase a steel Cucina Stand from Forno Bravo to create a solid foundation that is easy to customize.
Leave Room to Grow — Building your oven is often just a first step. As your masonry and cooking skills grow, you may want to expand your outdoor kitchen to include more components, or your entertaining area to accommodate more people, or more seasons. It's good to consider future growth in your placement. Note—we only include this point as fair warning, since we hear about it from so many customers! It's a fun "problem" to have.
Oven Arrival and Installation Day
Access — When selecting your oven, consider access. If you have a small gate or entryway to your home, yard, or business, a kit or knockdown oven is your best choice. These can be brought in through standard doors with a team of 2-3 strong people and assembled in place. For larger, fully assembled ovens, a bobcat, forklift, or crane is required, and installation can be done through a large opening, or over the top of a wall or building. For smaller ovens, you can use the side of the crate as a temporary ramp to bring the oven across the grass with a pallet jack or similar equipment.
Delivery — All ovens and kits weighing less than 2,000 lbs will be delivered curbside with a lift gate. Ovens over 2,000 lbs will need to have a forklift (or equivalent) on hand to unloaded them from the truck. You will be alerted by Forno Bravo a day before the oven leaves our factory with the shipping details. Once the oven arrives locally, the freight company will call the number on your invoice to schedule a delivery time. Delivery must be within 3 days of the oven arriving to avoid extra storage charges.
Protection —  If you need to wait for a bit before installing your oven, be sure to store it out of the elements (especially kits). DO NOT get the insulation and mortar wet, as water will affect their performance.
Team Support — It is often helpful to have some extra hands available when uncrating and installing your oven. You can hire contractors (professional installers) or use friends and family, but the process goes more smoothly and is more fun with extra hands to lift and eyes to watch. As mentioned above, plan your install and placement in advance. With most of the bigger ovens, you will only want to move them once!
Commercial Considerations
Focus — When planning a commercial kitchen, consider the role you want your oven to play. Will your oven be a behind the scenes work horse, or a front-and-center show stopper and marketing tool? Will you have a wood storage area? What is your plan for air flow and venting mechanics? Is the area between the prep space, oven mouth, and pizza finishing zone free of cross traffic? (Maintaining an "open zone" improves ergonomics, efficiency, and safety for your staff, as well as reducing food waste.) These are all important questions to ask in advance so that you select the right Forno Bravo oven for your restaurant.
Permits — Get your requests for permits in early for your oven/kitchen build, so that you know the local regulations for your area, and get your place held in the inspection queue. (Example, will a type 1 hood be required, or just direct venting? Or are you meeting the distances to combustible materials?, etc.) Our customers have reported to us that permitting can take a bit more time than new restaurant owners expect, so we encourage you to not leave it until the last minute!
UL Certifications — Forno Bravo's ovens are all tested by an independent third party and hold many different certifications in the US and Canada testifying to the safety and durability of our ovens. Not all inspectors are experienced with wood and gas fired pizza ovens, and they may have extra questions. We offer a page on the website listing and explaining all of our certifications, can supply you a general letter to help satisfy inspectors, and have tech support available by phone and email as well.
Menu Planning — Think beyond just pizza. A Forno Bravo oven is incredibly flexible. It can be used to make your own bread, prepare ingredients before service using just residual heat (i.e. roasted veggies and meats or par-baking), or to create fast and fancy appetizers and desserts that are photo-ready for Instagram (which equals more free marketing.) The options are endless, and we are happy to provide ideas, or put you in contact with one of our consultant chefs who can help you develop your wood fired menu as well.
Additional Resources
Following, are links to helpful articles and areas of the website that deal with the above topics in more detail. As always, our customer support team is available Monday — Friday  to help answer any questions.
For more on outdoor kitchen design from HGTV, Click Here
For tips and photos on receiving your oven, Click Here, and for installing it on a counter top, Click Here
For help building your base from scratch, Click Here for a series of pages about building block stands, or Learn More about the prefabricated, steel Cucina Stand.