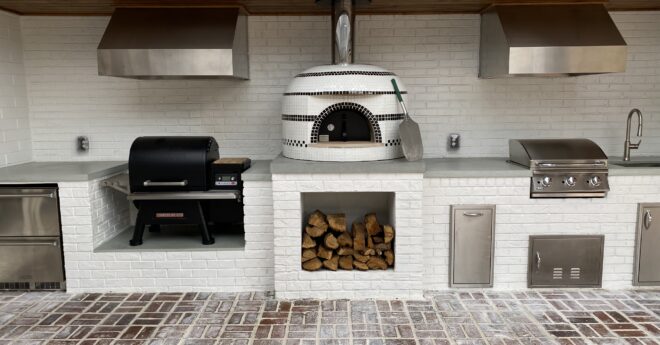 43 Outdoor Kitchen Ideas With A Wood Fired Pizza Oven
Mar 08, 2022
Posted by Forno Bravo
Wood and gas fired pizza ovens are the perfect addition to outdoor kitchens. There's no better way to take your outdoor kitchen or entertaining area to a new level.
We have compiled an enormous list of 43 outdoor kitchen ideas that feature our residential pizza ovens in some stunning and inspired outdoor kitchen designs. We hope to showcase the many ways in which our customers integrate our class-leading pizza ovens into their outdoor kitchens.
Of course, all of these designs have at least one thing in common – year-round access to fresh and authentic wood fired cuisine! What style would you love to have at your home?
1 – Semi-Enclosed Pizza Oven With Bench
This semi-enclosed setup looks exquisite. Everything looks superb, from the marble fascia of the over to the integrated wood storage and sculpted bench. A truly glorious outdoor space, but with plenty of privacy too. We're proud to have it showcase one of our oven kits. 
2 – Bar Style In-Wall Pizza Oven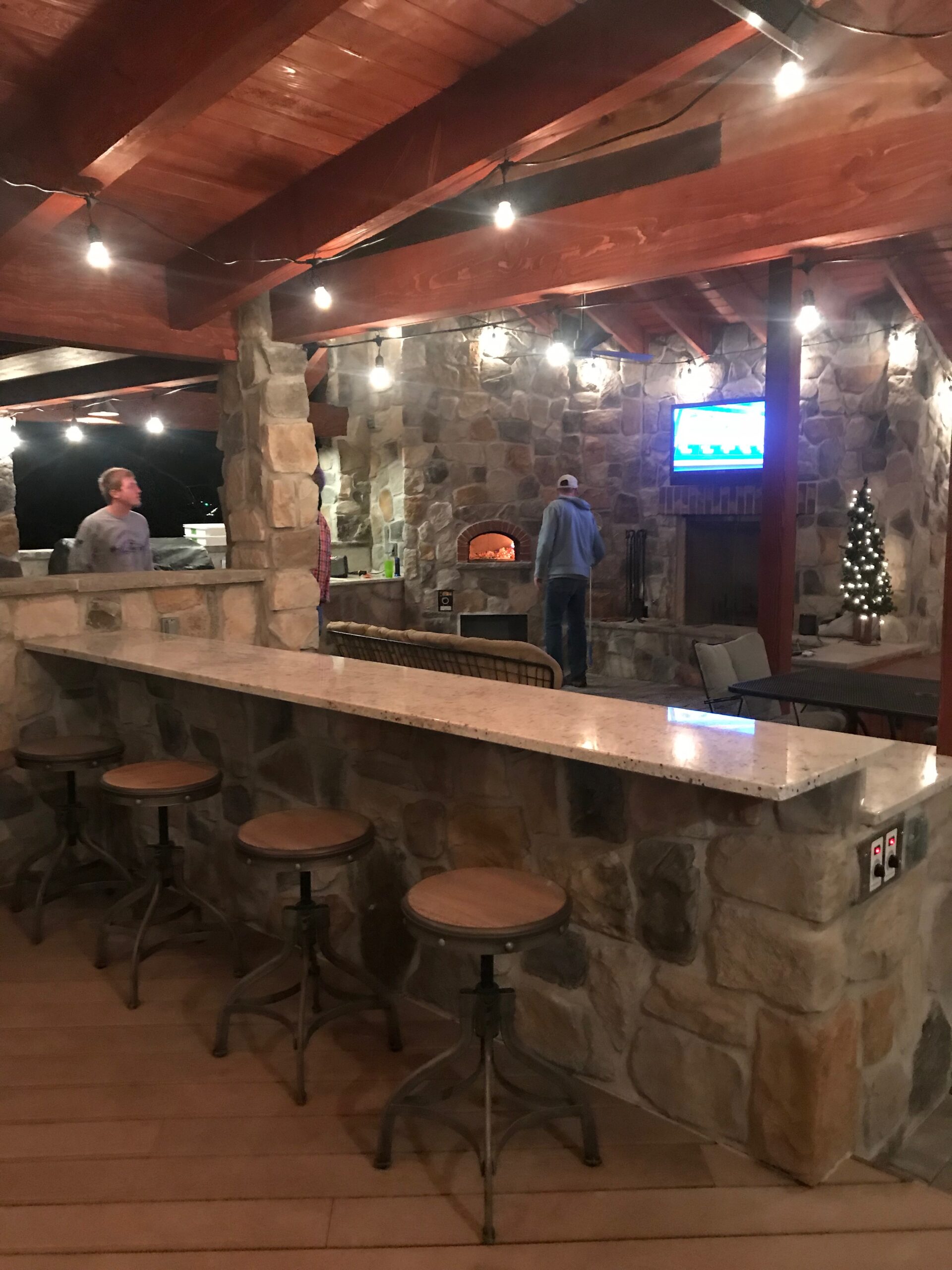 This bar-style outdoor space is awesome and combines a Forno Bravo oven with a TV,  4-seater table, and cafe-style worktop. In-wall installations save room and look great without taking up too much space. 
3 – Outdoor Granite and Marble Kitchen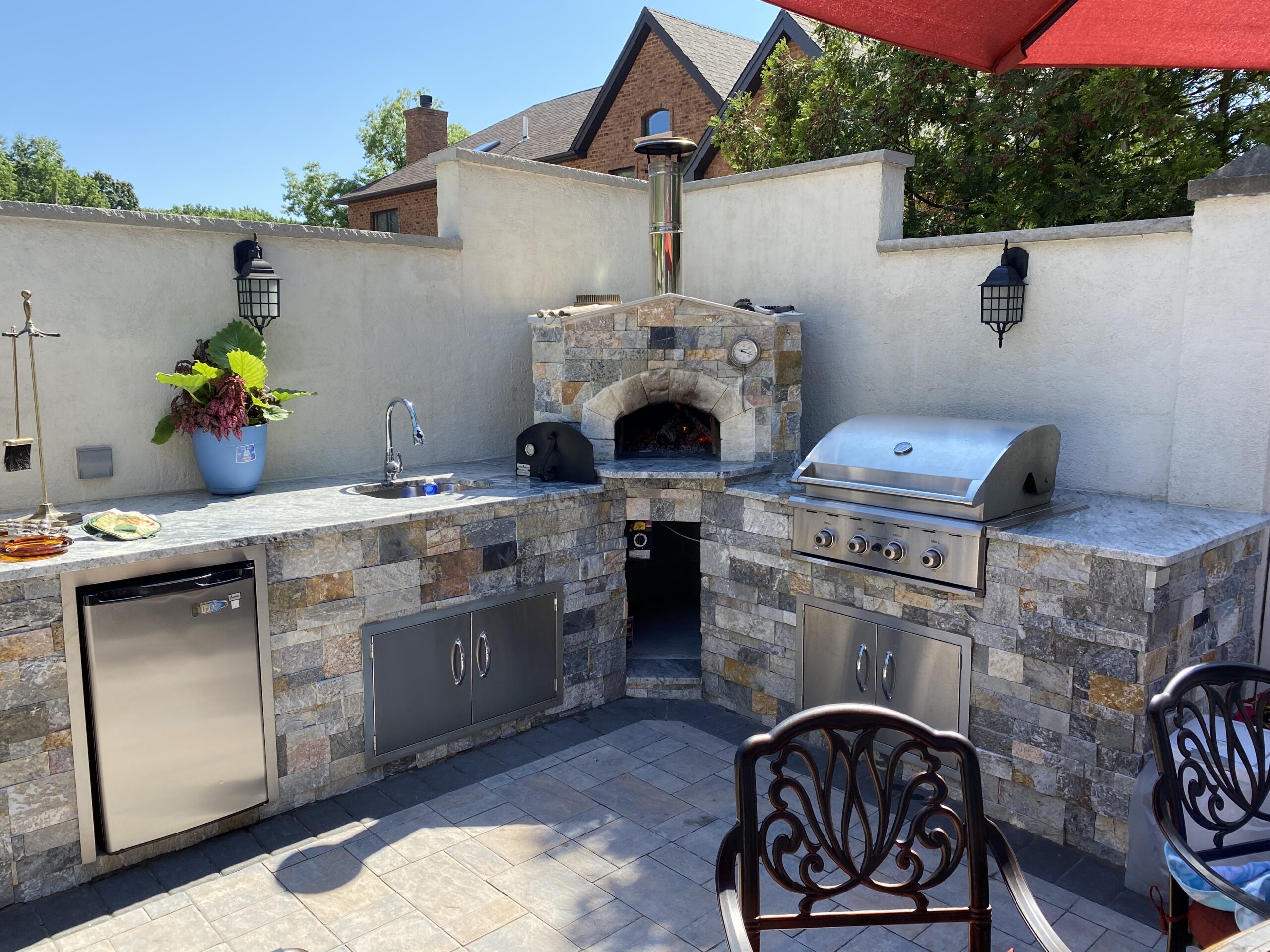 This outdoor kitchen is well-made from granite and marble. The natural stones look great and are exceptionally hard-wearing, with our modular Premio at the center of the design. A superb-looking outdoor kitchen with all of the features to make prep work a breeze! 
4 – Front-Facing, Rustic, Walled Outdoor Kitchen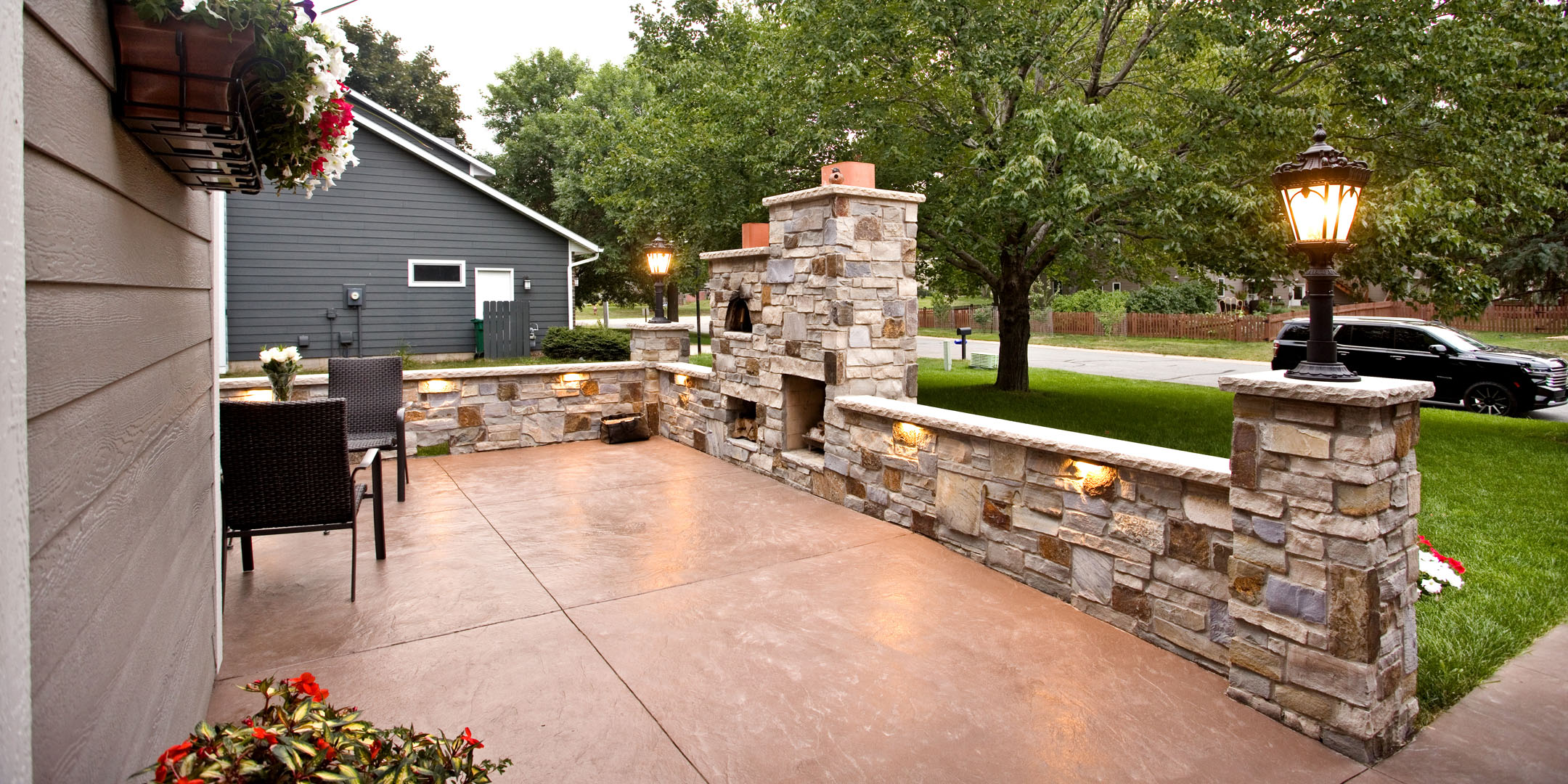 This front-facing outdoor kitchen is stunningly well-designed with natural stone. The oven enclosure itself looks superb with a convenient wood store. Summer days out in this outdoor kitchen must be happy days!
5 – Outdoor Garden Space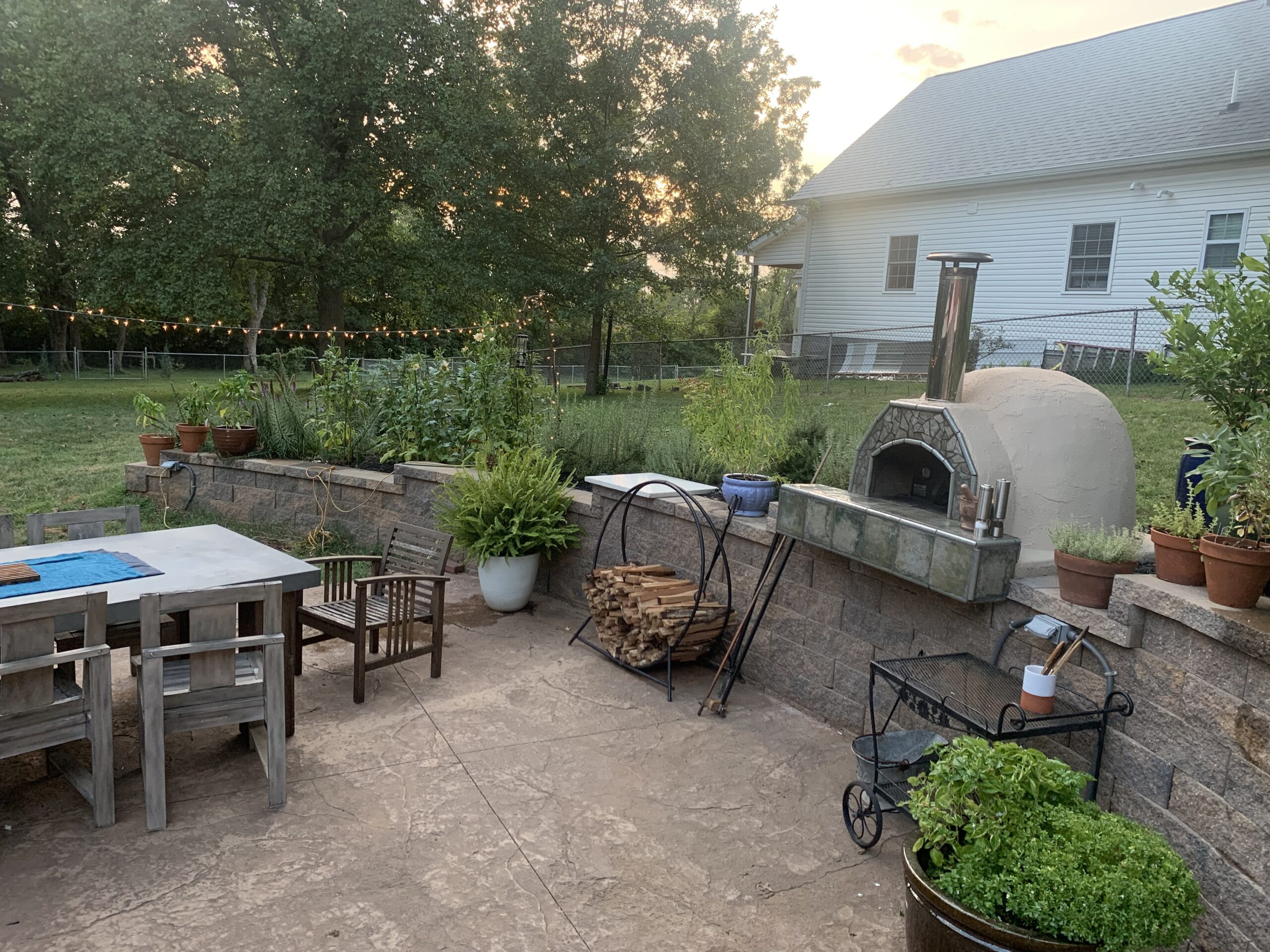 This lovely enclosed garden space looks green and luscious, so it's great that the pizza oven blends in somewhat with its natural stucco exterior and stone fascia. Forno Bravo is a big fan of rustic designs, so we love how this Premio oven kit integrates seamlessly with this patio space. 
6 – Outdoor Bench Pizza Oven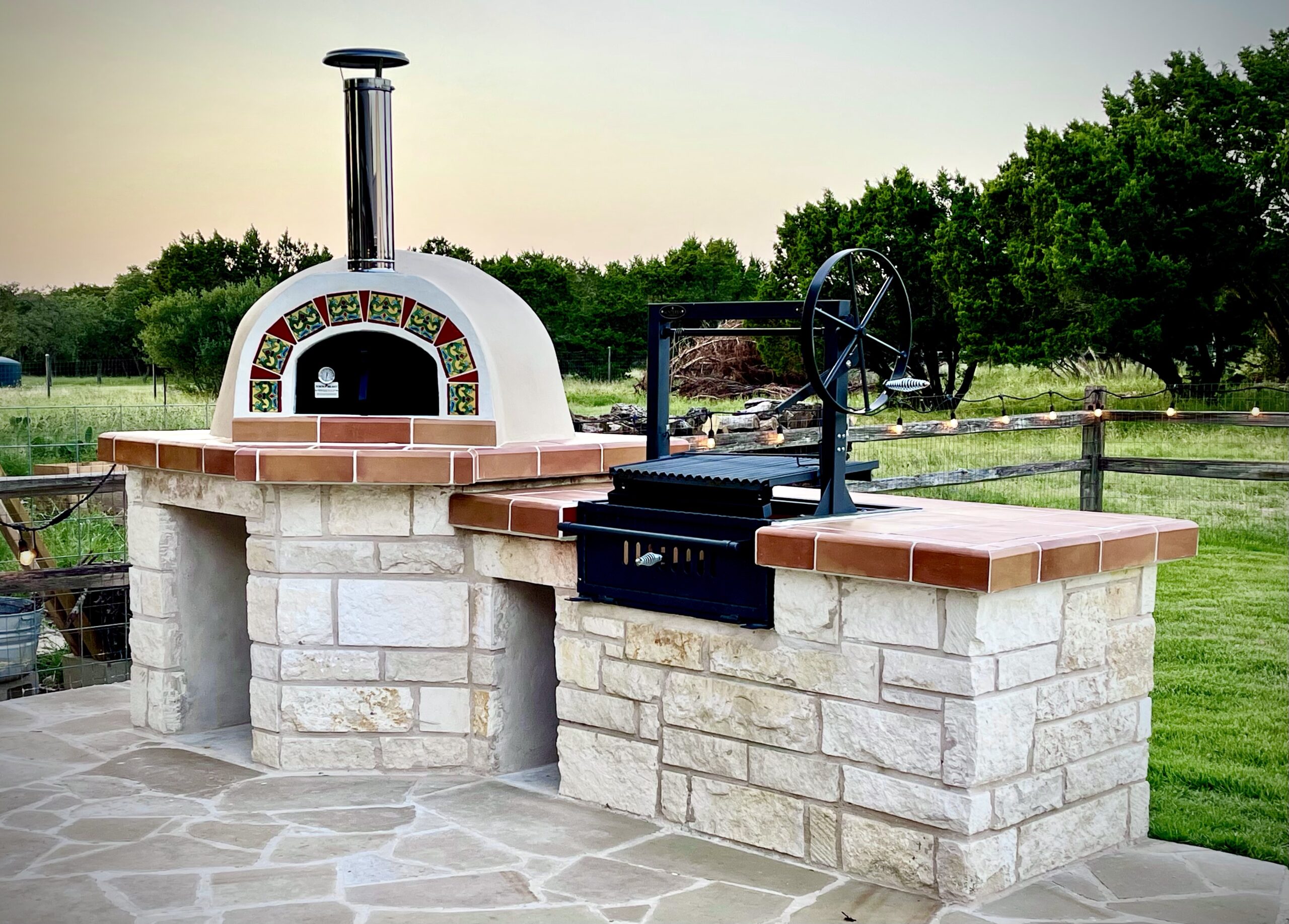 This compact setup looks beautiful with its white-domed pizza oven with custom, artistic tile detailing. The Argentinian grill makes a nice cooking-tool complement to the space as well.
7 – Sand Outdoor Kitchen With Mosaic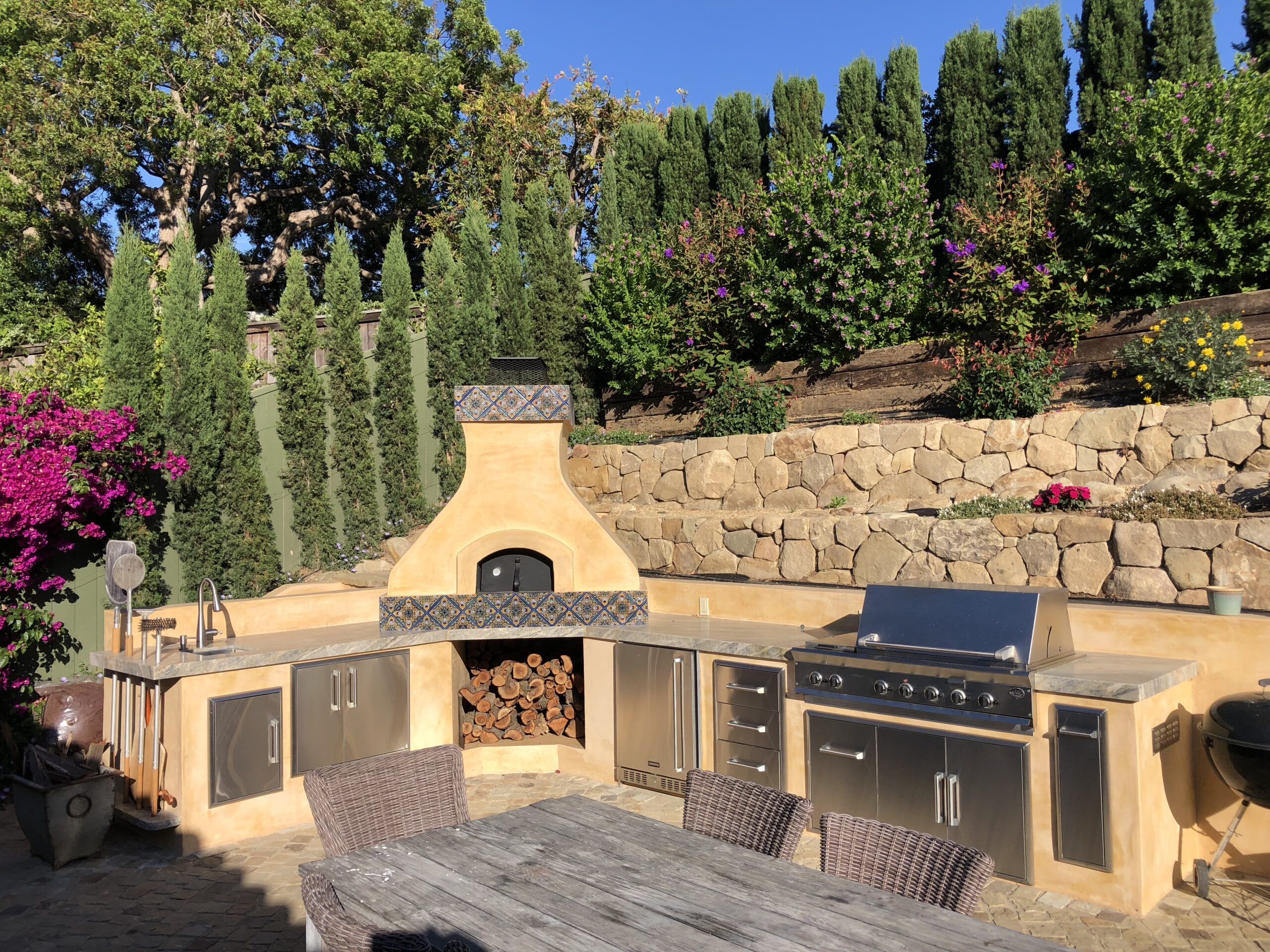 This outdoor kitchen looks hot, bathed in sunlight. The sand-colored kitchen area fits the space's overall aesthetic, and the subtle mosaic detail provides a touch of rustic class. The worktop space is generous, too – perfect for big meets and parties!
8 – Outdoor Classic Brick Oven
This is an excellent example of a large, classic brick outdoor installation that looks strong and sturdy. It's complete with a well-made roof that will protect it from adverse weather. The under-roof lighting is an awesome touch too. (This oven also features a gas burner to make heating and cooking super easy on days you don't want to go wood fired.)
9 – Slate Stacked Outside Oven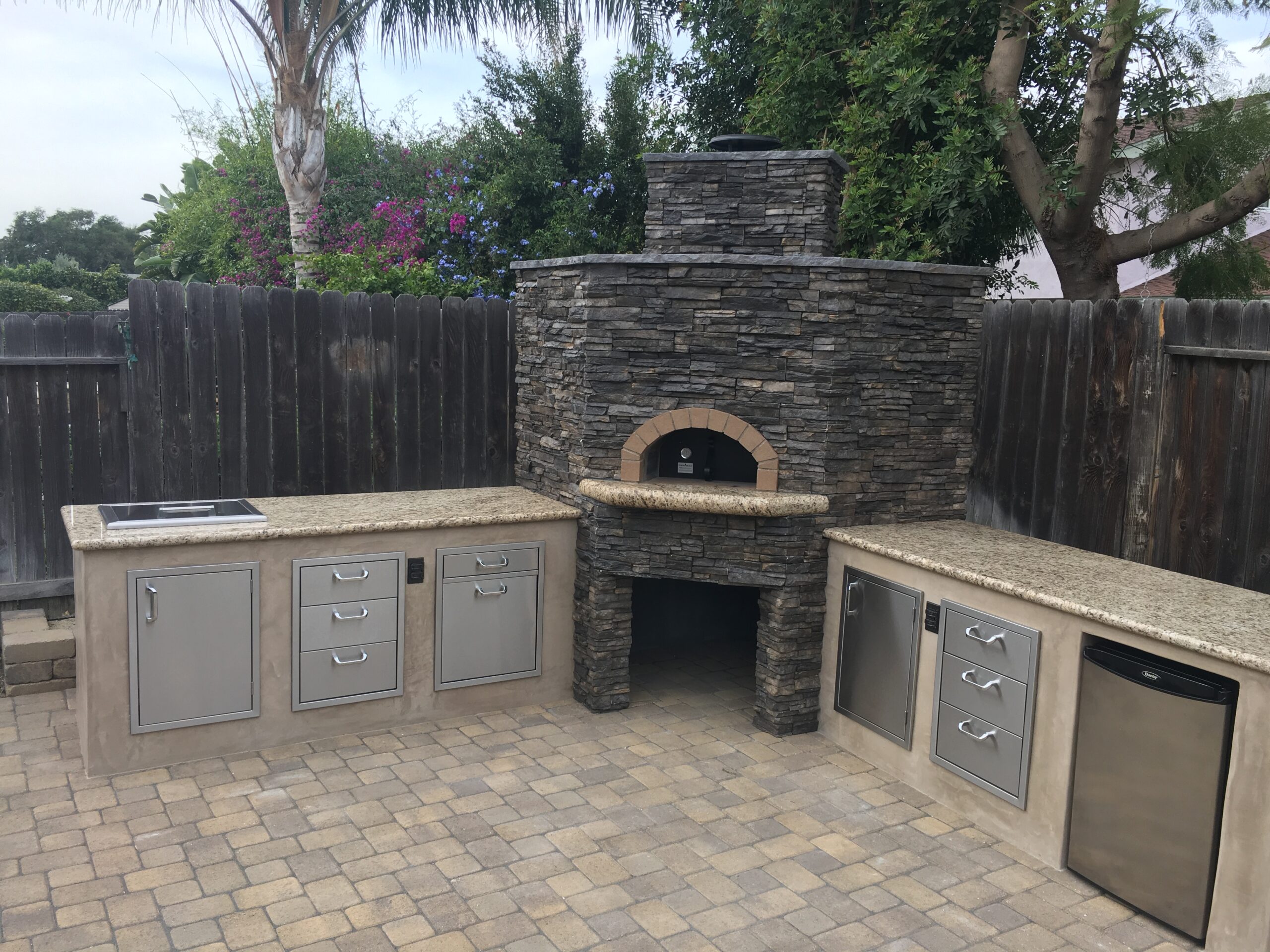 With a finish made from large slate slabs, this natural-looking outdoor pizza oven has a generous log storage area and fits nicely in the corner of this outdoor kitchen. It is quite a statement.
10 – Compact Countertop Oven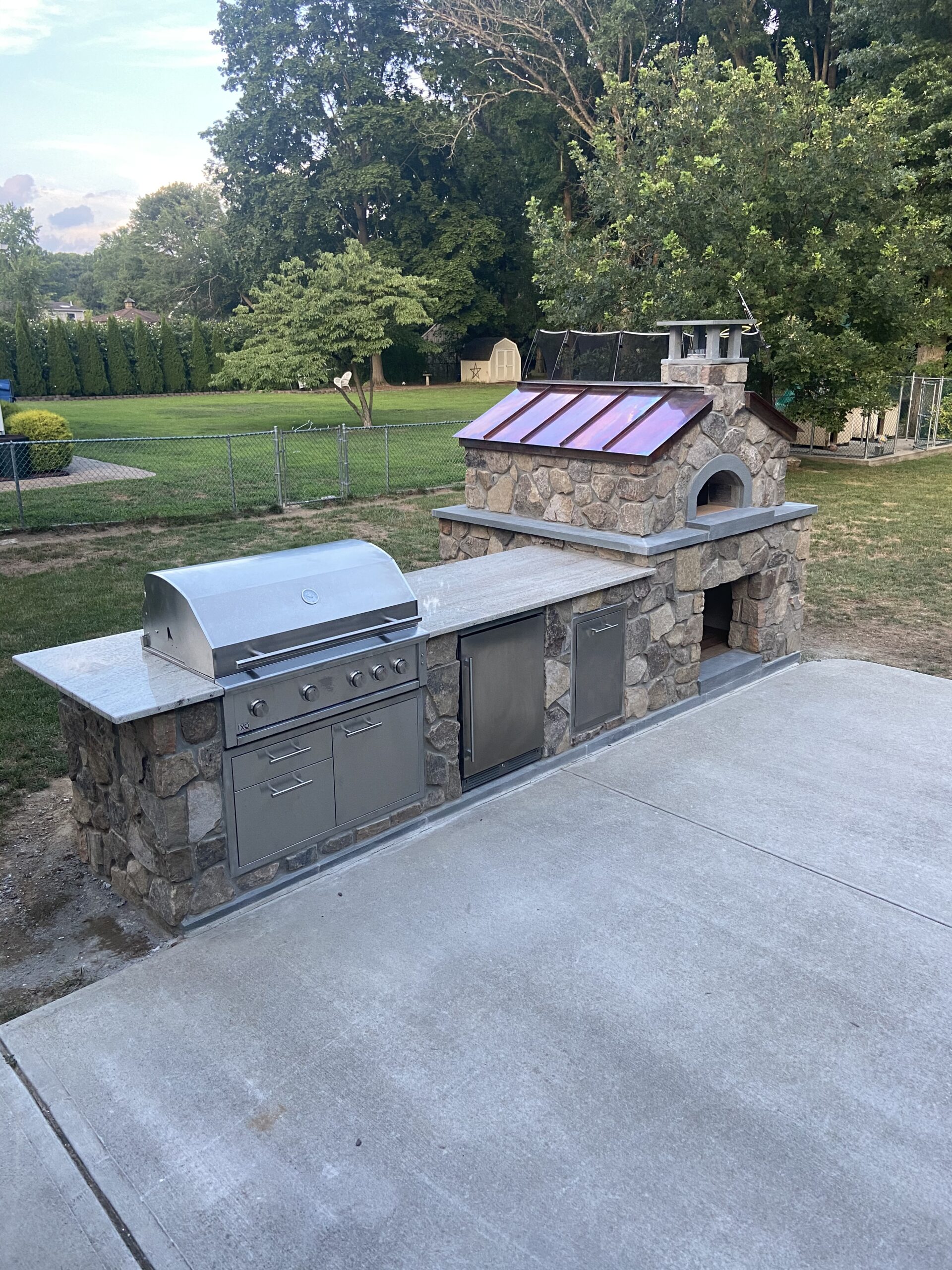 This compact pizza oven sits well on this outdoor kitchen setup. The natural stone design looks great, and the enclosed oven with a purpose-made metal roof is well-protected from the elements. 
11 – Natural Stone Stacked Oven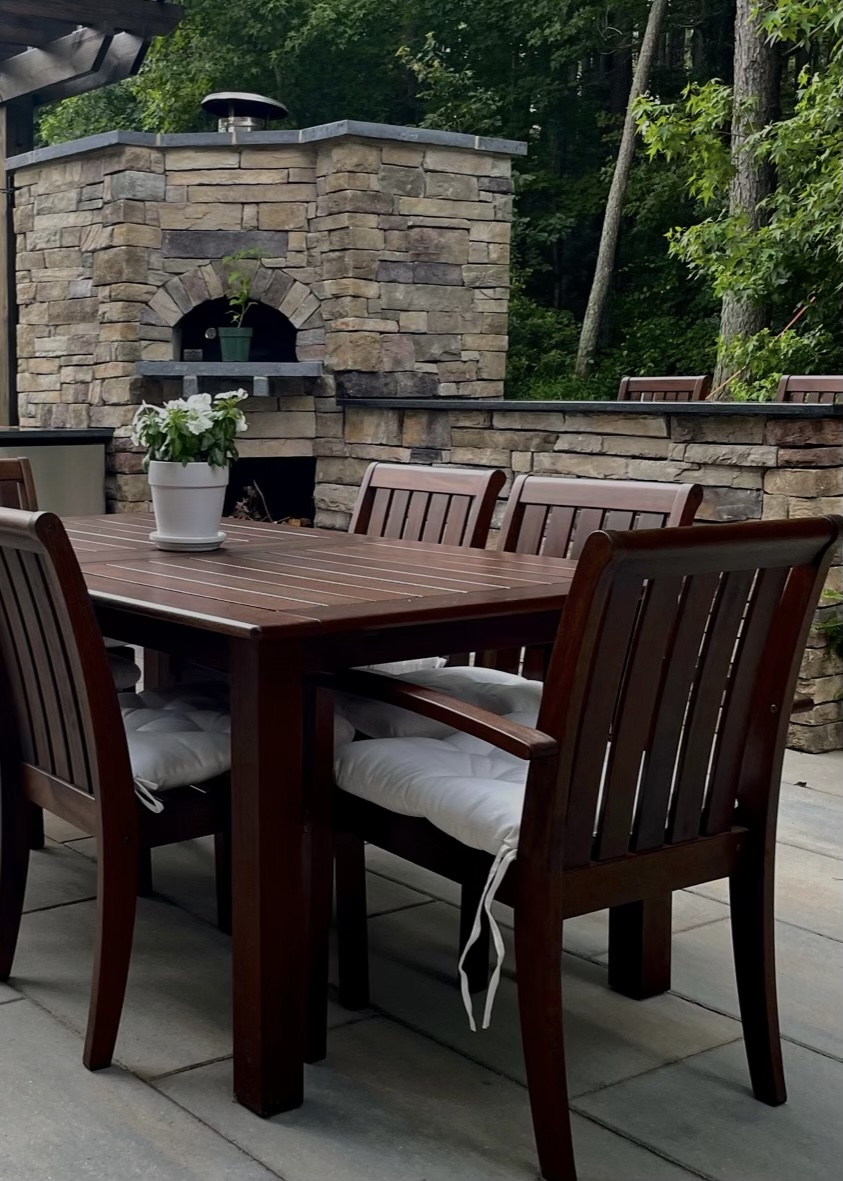 Another durable, modular oven design made with natural stone that integrates with a home kitchen. These corner designs take advantage of the disused corner space of an L-shaped kitchen countertop. 
12 – Stunning Tiled Outdoor Pizza Oven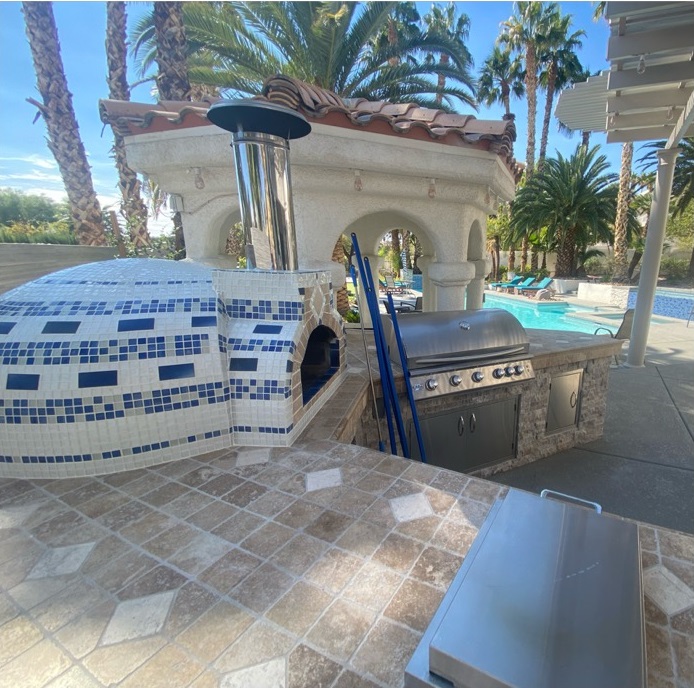 This tropical mosaic design provides a slice of Santorini sun combined with Napolese wood fired cooking! The white dome contrasts nicely with the bright blue tiles. The entire oven is placed on top of a tiled base in this impressive setting. A stunning oven in a stunning location! 
13 – Rustic Oven With Roof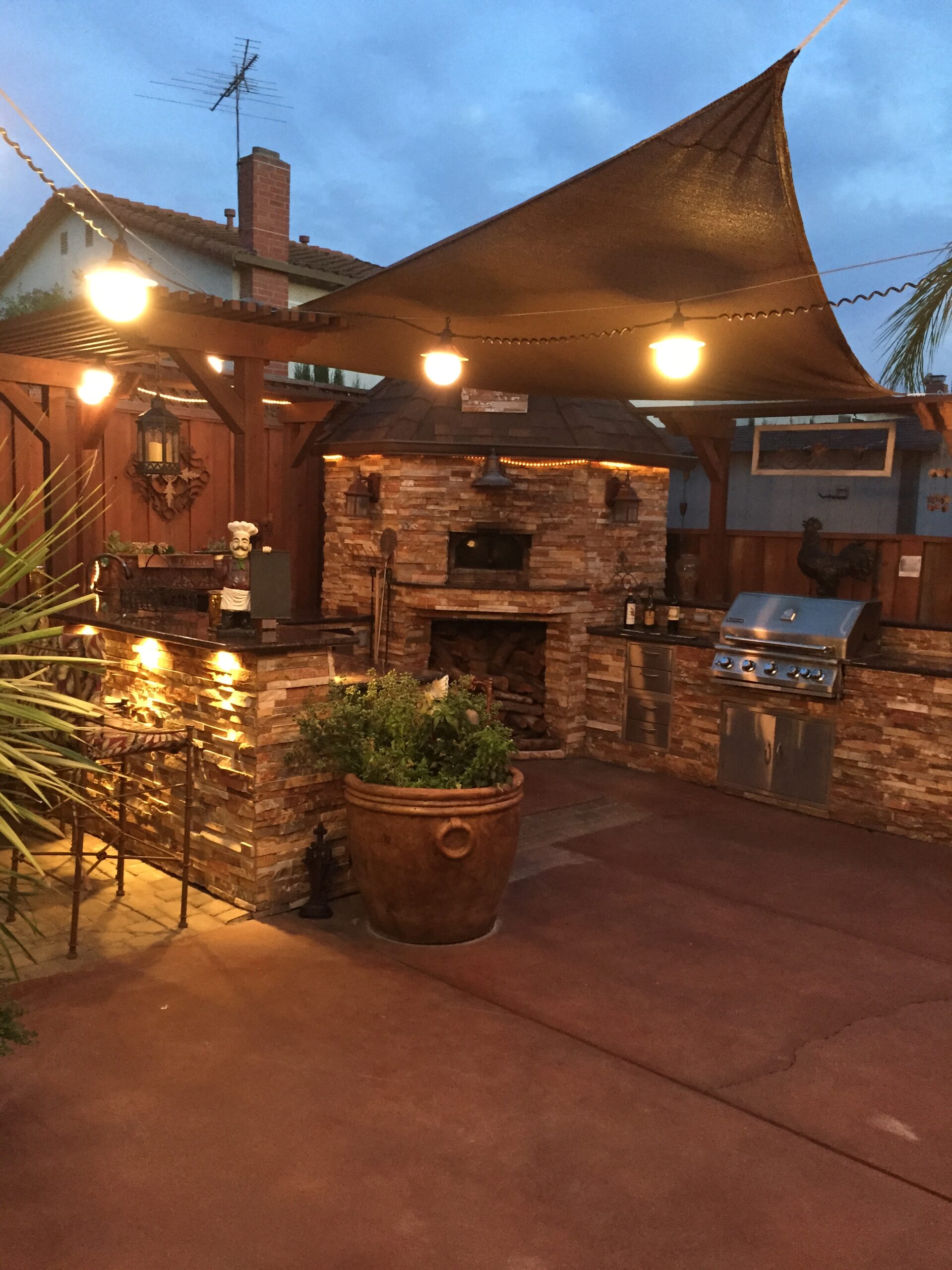 We love this rustic, house-style design complete with its own tiled roof and lanterns. This outdoor oven is really well protected from the elements, and it has a generous wood store to boot. Those lights probably come in handy on dark nights all year round.
14 – Large Light Stone Oven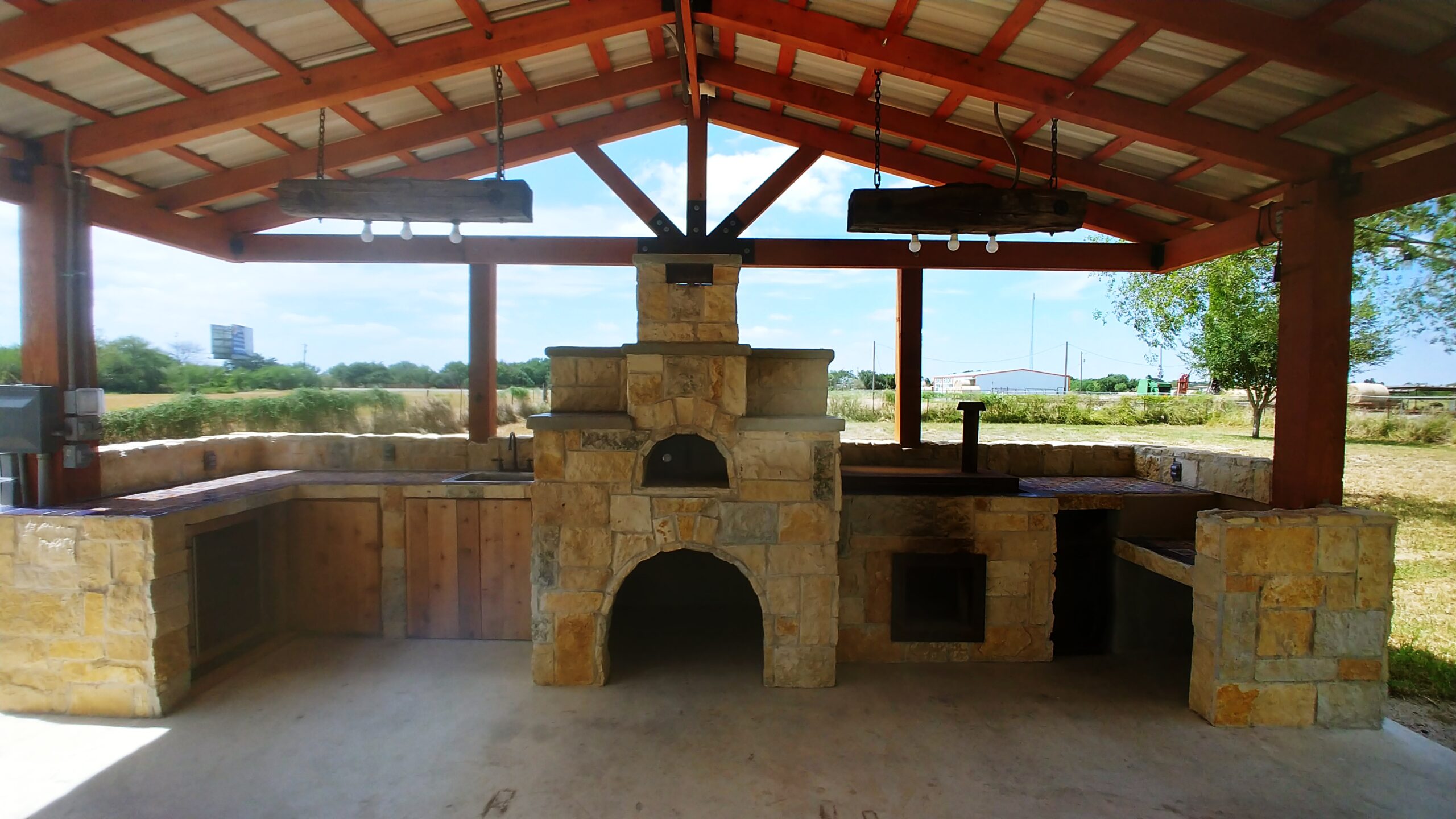 This huge, covered, outdoor space is complete with a centrally-placed Forno Bravo modular oven. This outdoor cooking space is kitted out for some seriously heavy-duty cooking and entertaining! 
15 – Curved Natural Stone Outdoor Kitchen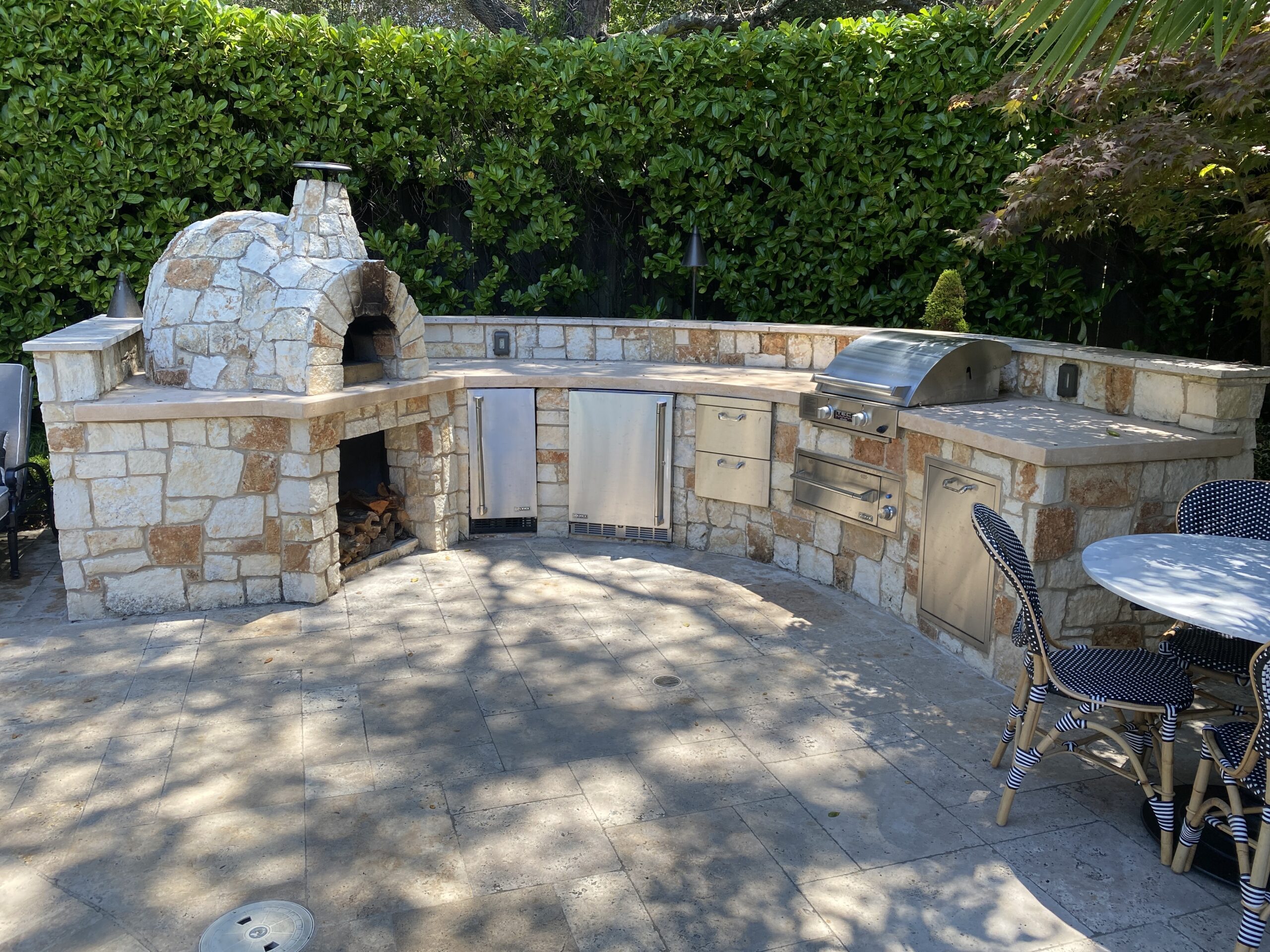 Switching it up from straight or L-shaped counters, this beautiful, curvaceous worktop looks great with a natural stone Forno Bravo oven. The light stonerally pops, but fits nicely with the sand-colored tiling of the counters and floor. 
16 – Patio Pizza Oven and Fire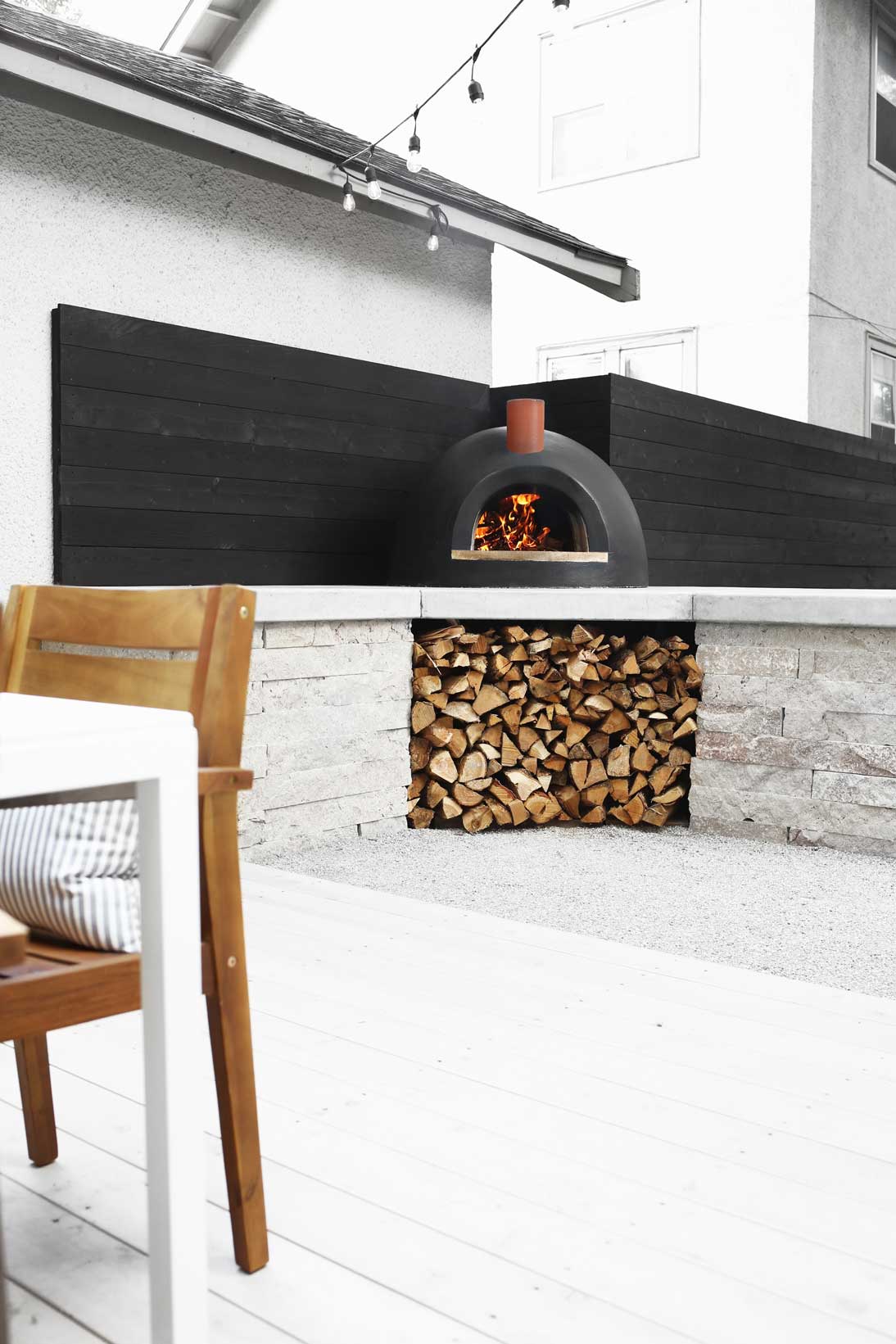 This Smoke Black Primavera on a white countertop with a dark backing hits all of the modern notes. The oven's smooth lines and finish are inviting, while the sharp edges around it provide snappy contrast and style.
17 – Pizza Oven and Bar Space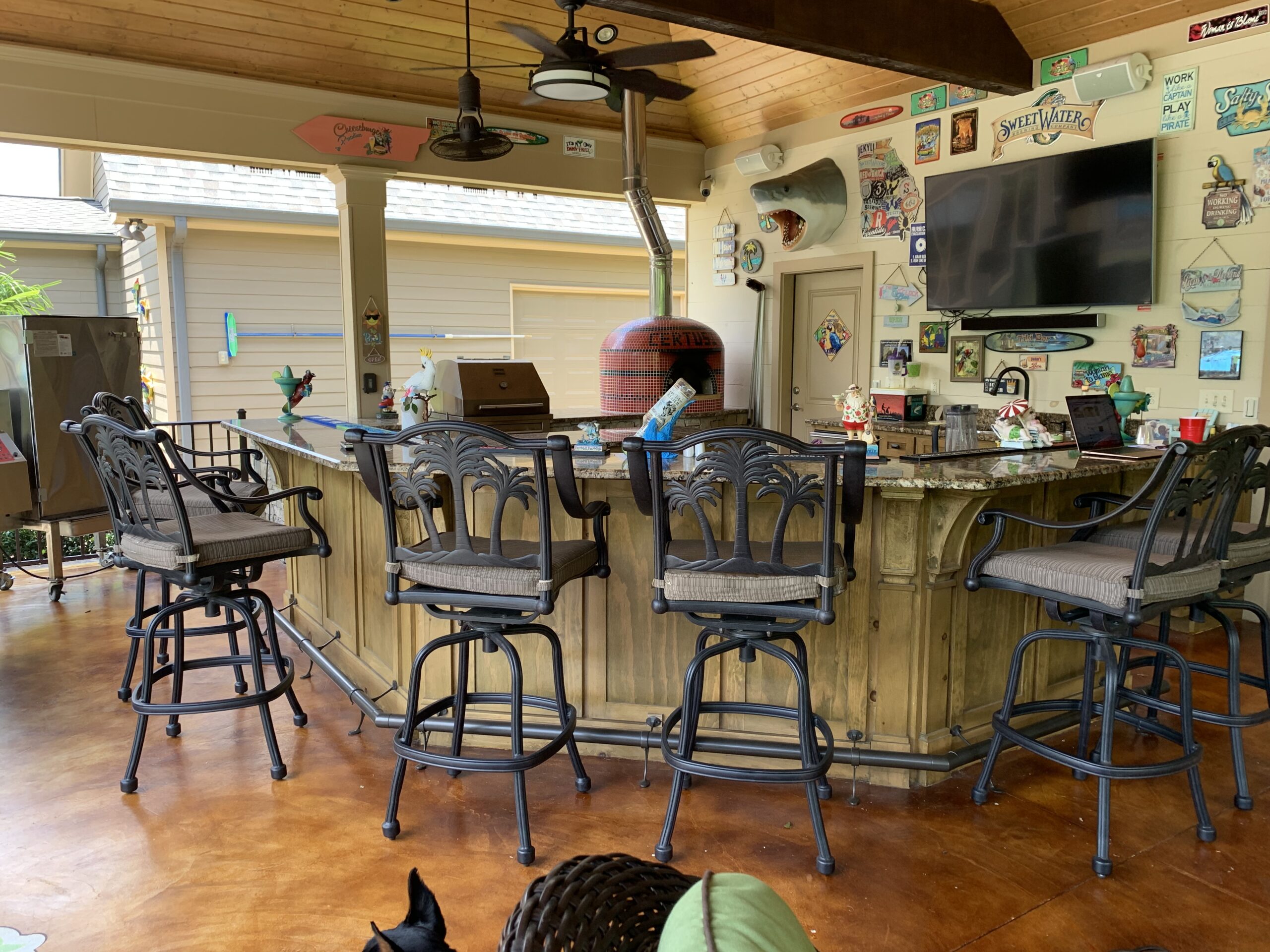 This highly-personalized bar and workspace are fitted out with a hand-tiled Forno Bravo Napolino oven. A pizza oven is a surefire way of kicking your outdoor bar space up a notch. Bring on the beer and pizza!
18 – Compact Worktop and Oven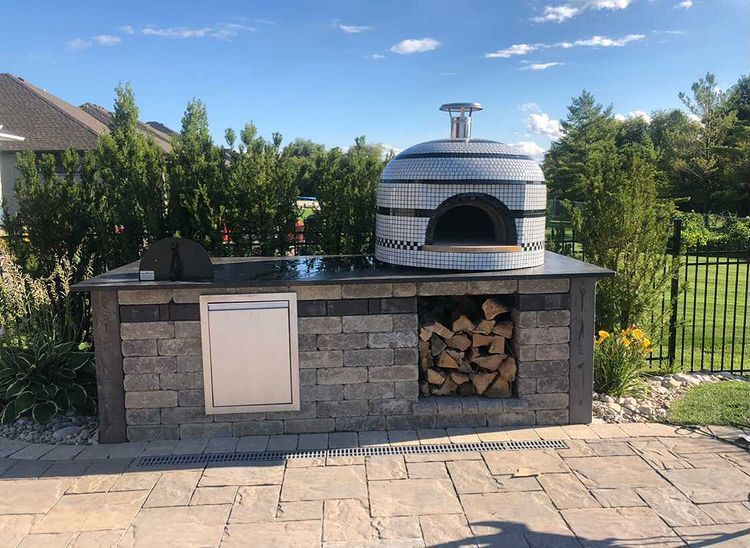 We commend this customer on their stunning photography (and beautiful Napolino!) This looks like a glorious spot for watching the sunset; just add a little slice of wood fired cooking. 
19 – L-Shaped Outdoor Kitchen Space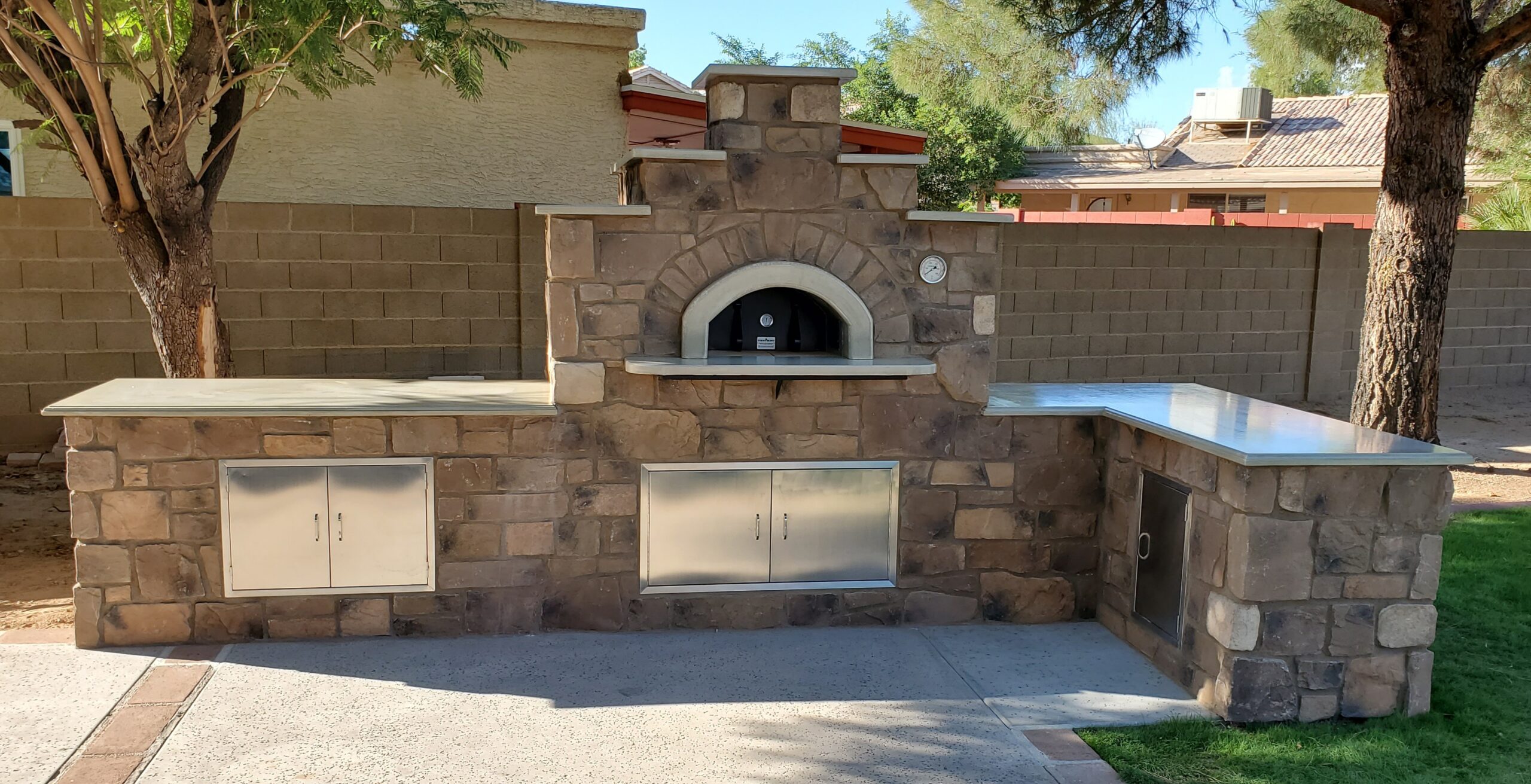 Another rock-solid example of an L-shaped outdoor kitchen space. This one looks great with its blocky stone finish, smooth, stainless steel cabinents, delicate stone arch, and complementary countertops. 
20 – Large Patio Oven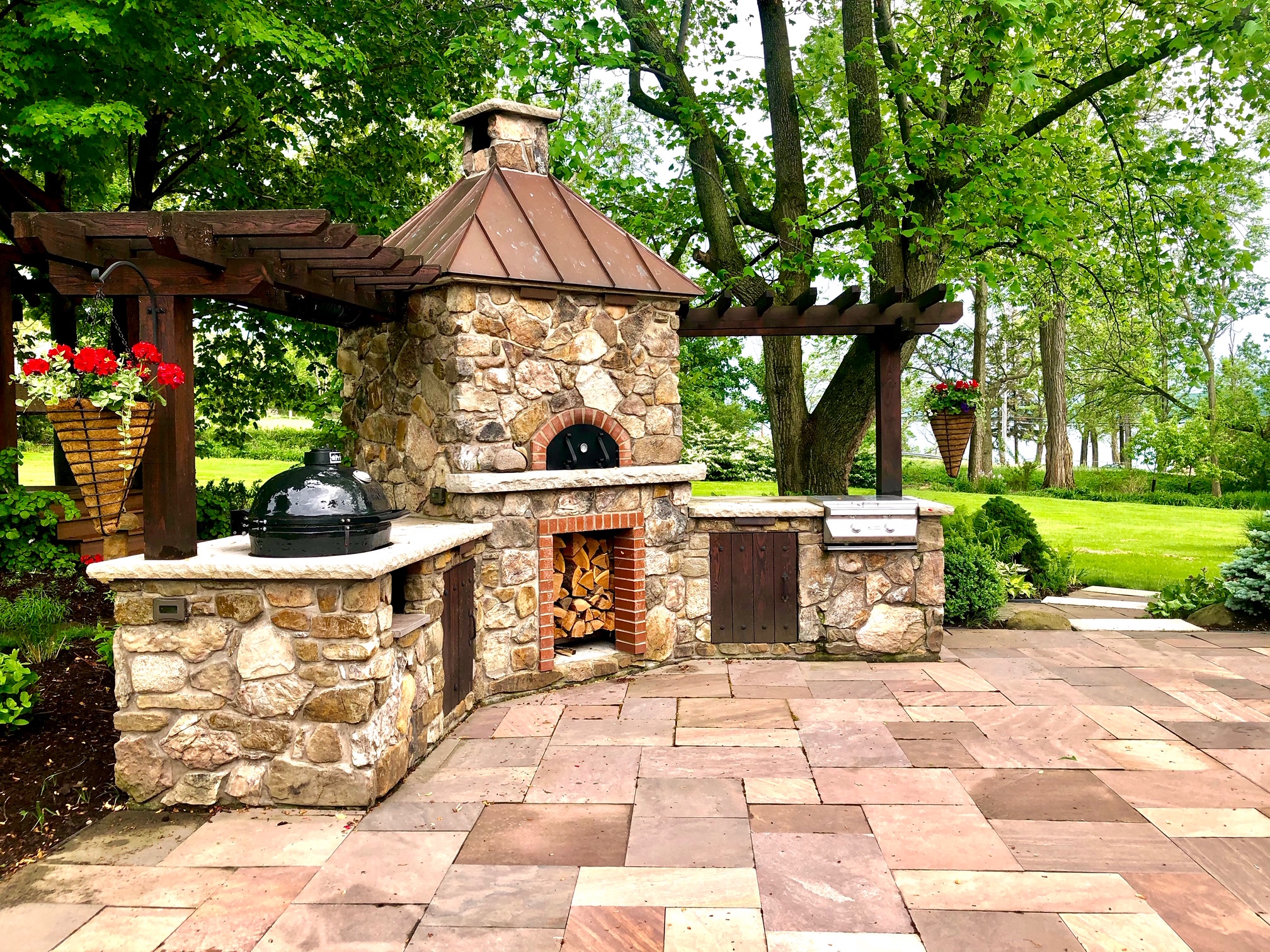 A gorgeous, rustic-style outdoor pizza oven with its own copper roof. It's a fine-looking, and functional outdoor kitchen with plenty of space and all of the cooking toys. 
21 – Off-Center Pizza Oven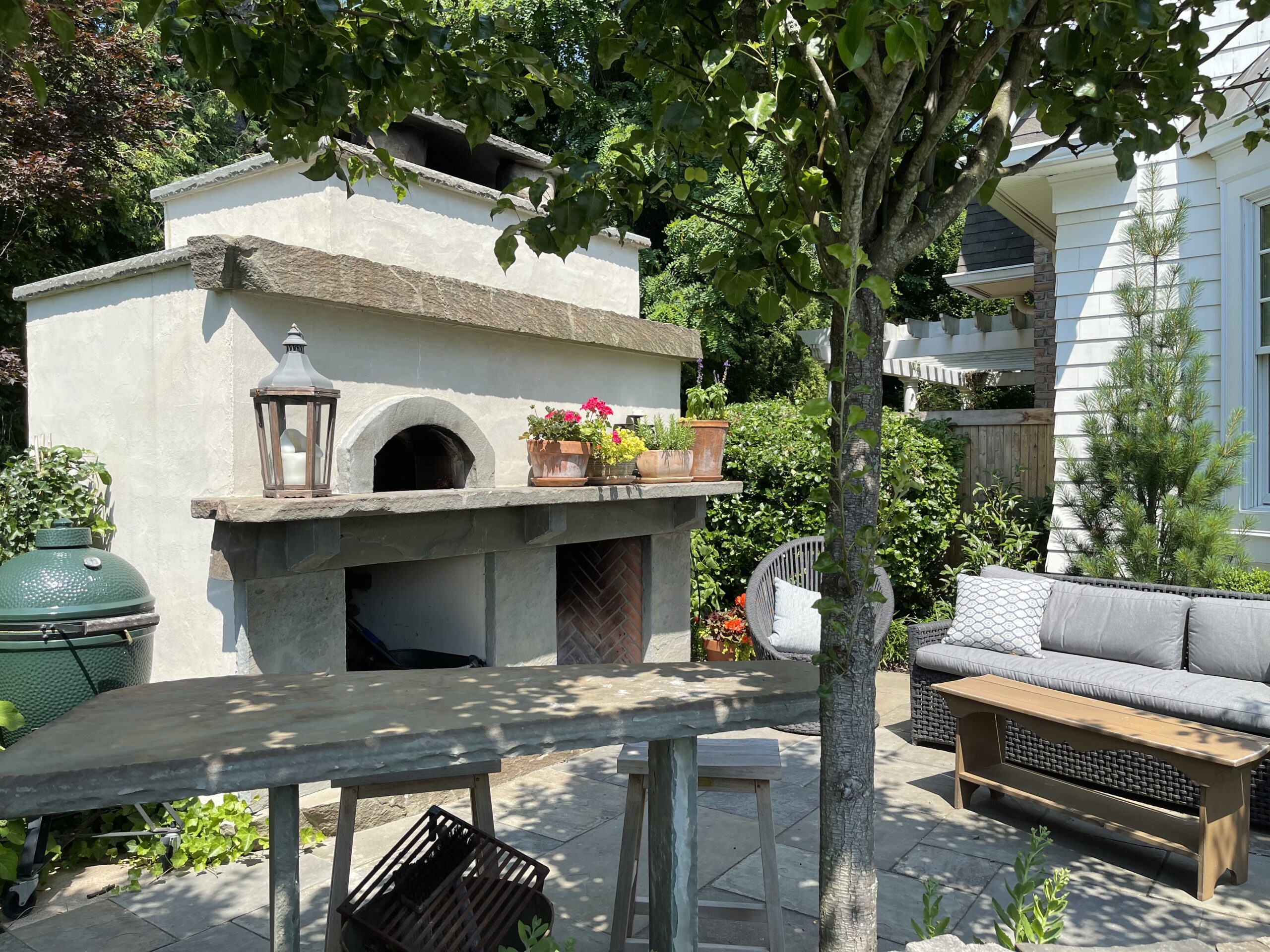 This design is unique, courtesy of its off-center oven. The thick slate countertops look great too and contrast with the smooth stucco finish. A stand-out, original design that works well in this cozy garden space. 
22 – Tall Architectural Oven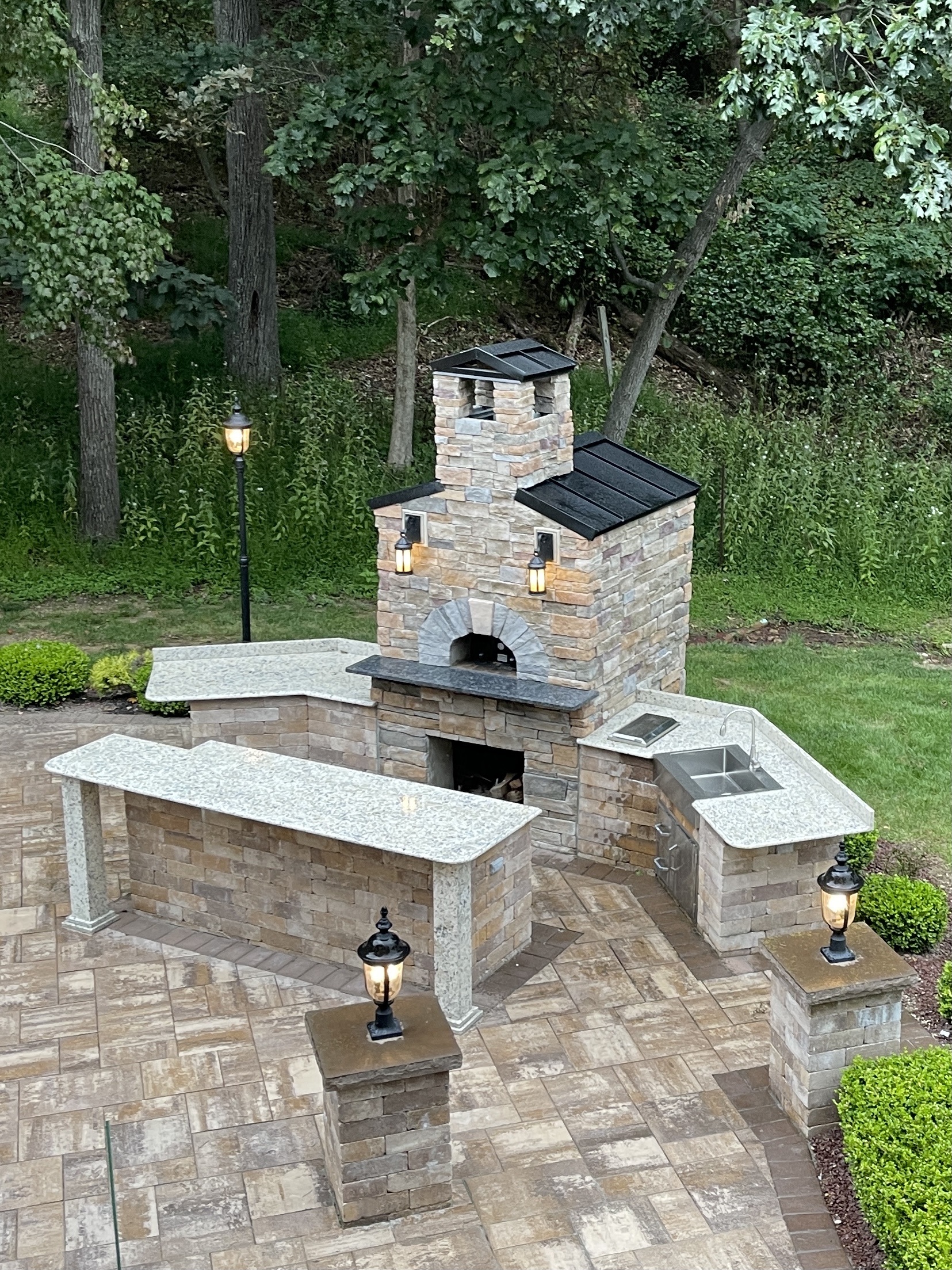 We love these taller, more architectural designs, which almost turn the oven into its own sculpture. The roof and chimney are exquisitely well-made and resemble a stone castle or chapel with small exterior lanterns. The pillared countertop is a nice touch as well. 
23 – Traditional Wood Fired Oven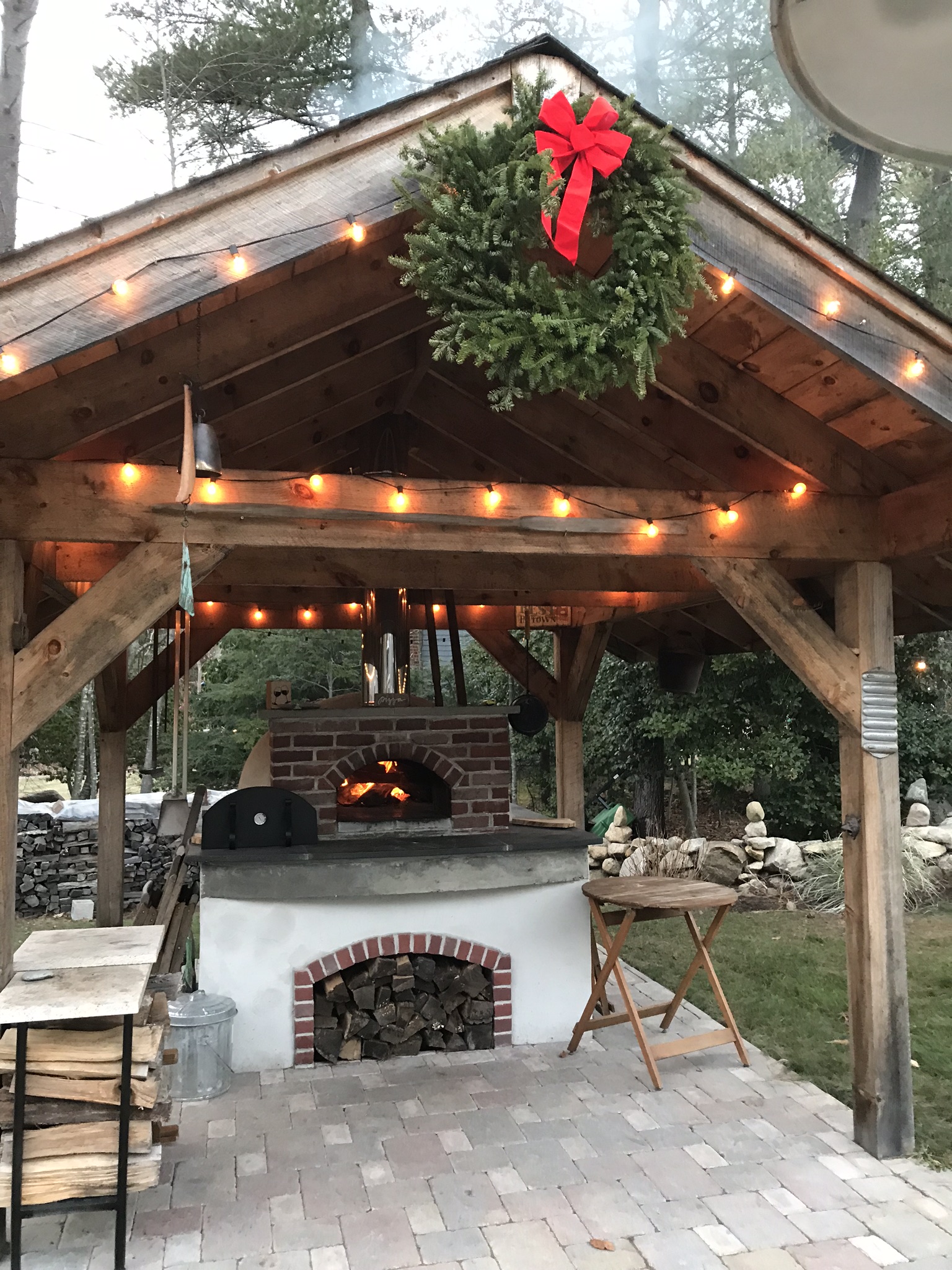 This traditional wood-fired oven ticks all the boxes and building materials with its red brick accents, stucco finish, and a concrete and stone landing. It's built well in a sheltered space with the correct chimney and has generous wood storage to boot.
24 – Compact Modern Entertaining Space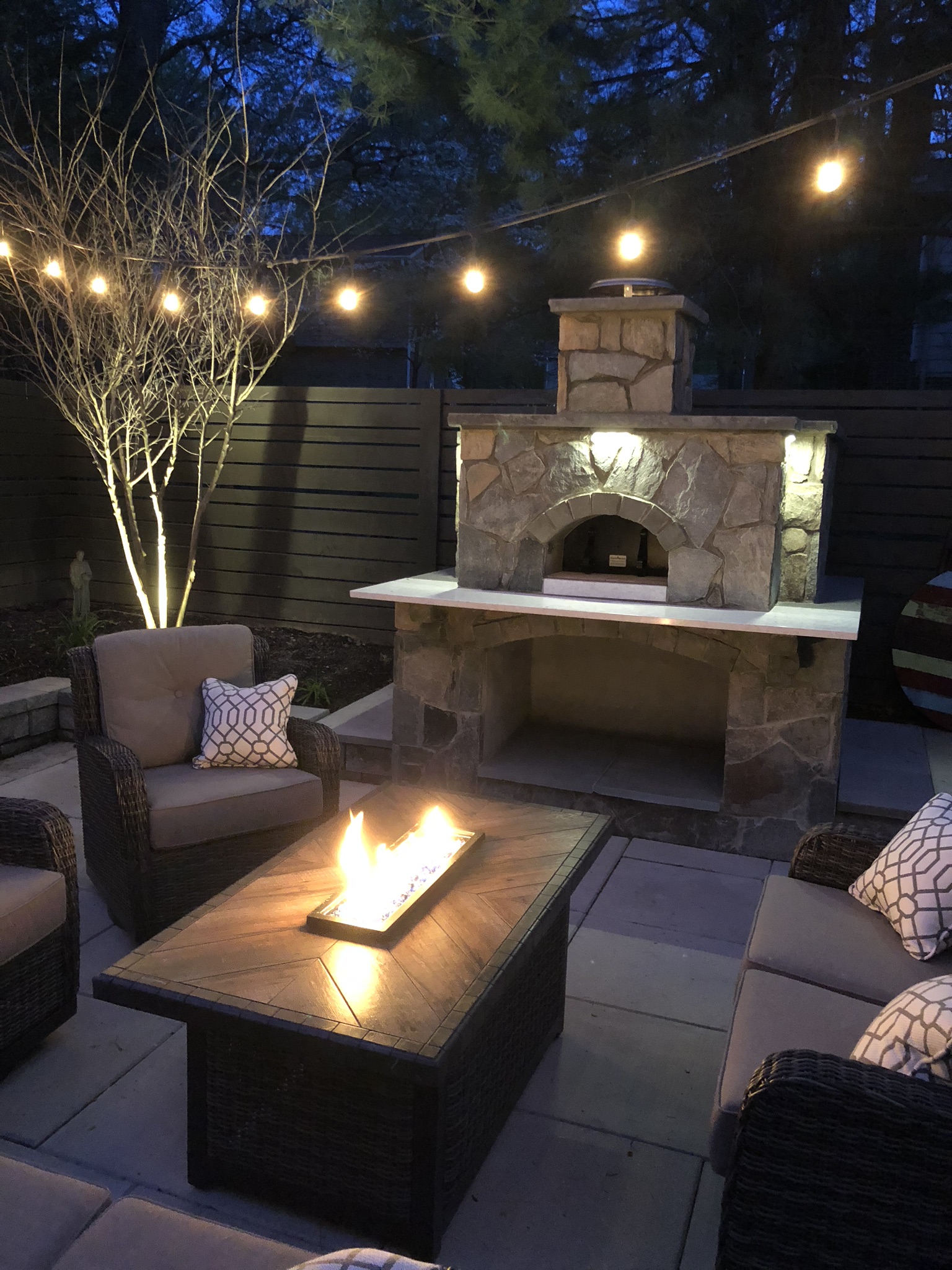 This gorgeous modern space looks great with a compact Forno Bravo modular oven. The tiered design and natural stones complement this outdoor kitchen and sitting space. 
25 – Outdoor Bar Space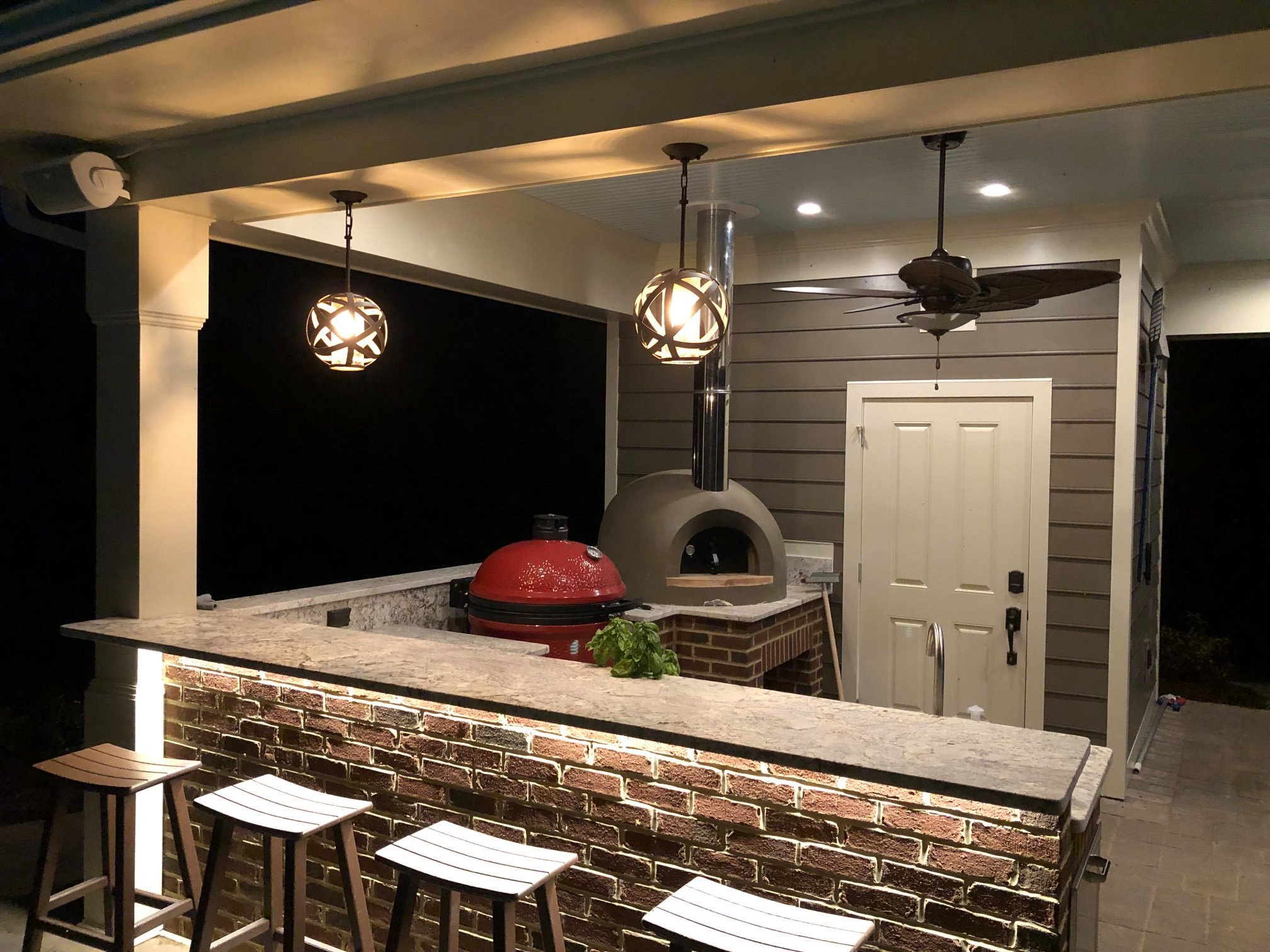 We love these bar spaces, as they just make sense on so many levels for conversation and serving. This one looks modern and compact, with seating for four and an overhead fan for cooking on hot nights! The Primavera oven is custom painted to match the house's exterior color for an integrated look.
26 – Standalone Oven On Metal Stand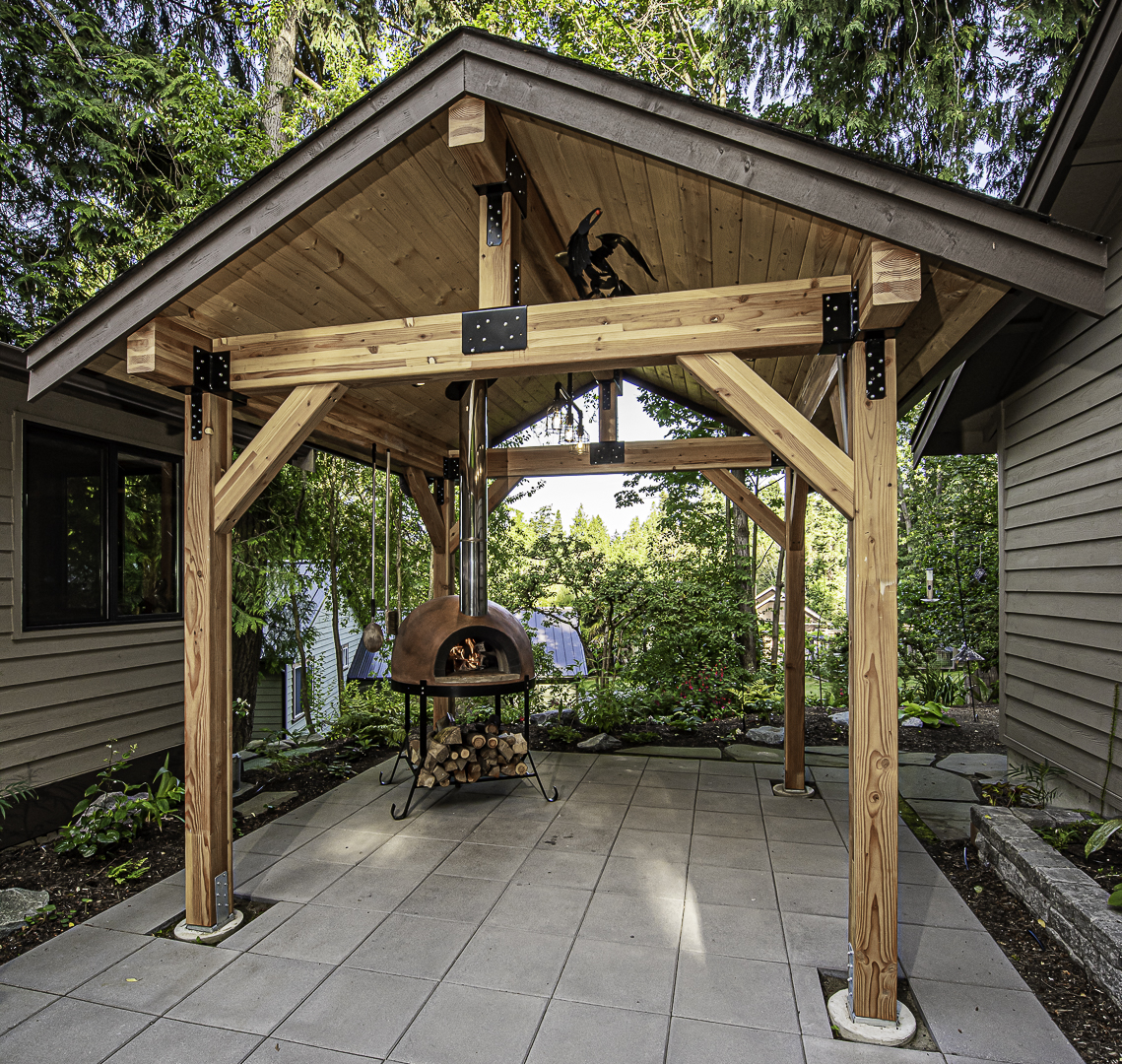 This compact design proves that you don't need to build a whole counter topped outdoor kitchen space to enjoy a wood fired oven. Sitting on a freestanding base, this Primavera70 pizza oven slots right into this gorgeous covered outdoor space. 
27 – Sculpted Modern Outdoor Kitchen Space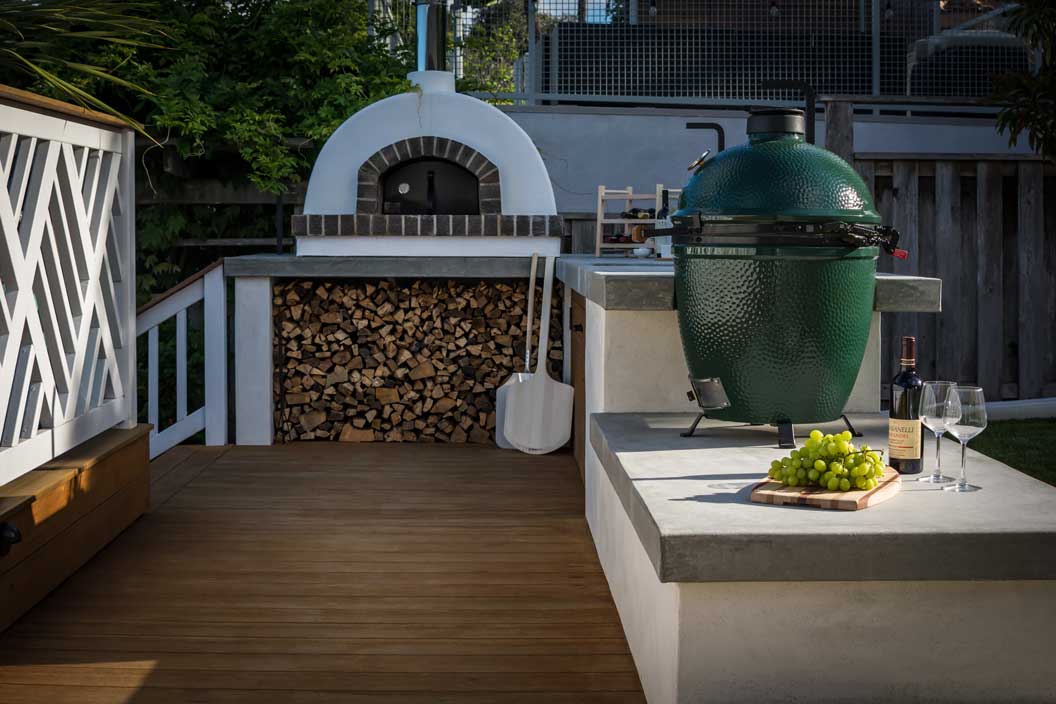 This customer has opted for a sleek, modern design, and it works exceptionally well. This is a great-looking, functional space, from the sculpted sink and worktop to the modern faucet, fittings, and smooth white pizza oven. That's a massive wood storage space too!
28 – Outdoor Vesuvio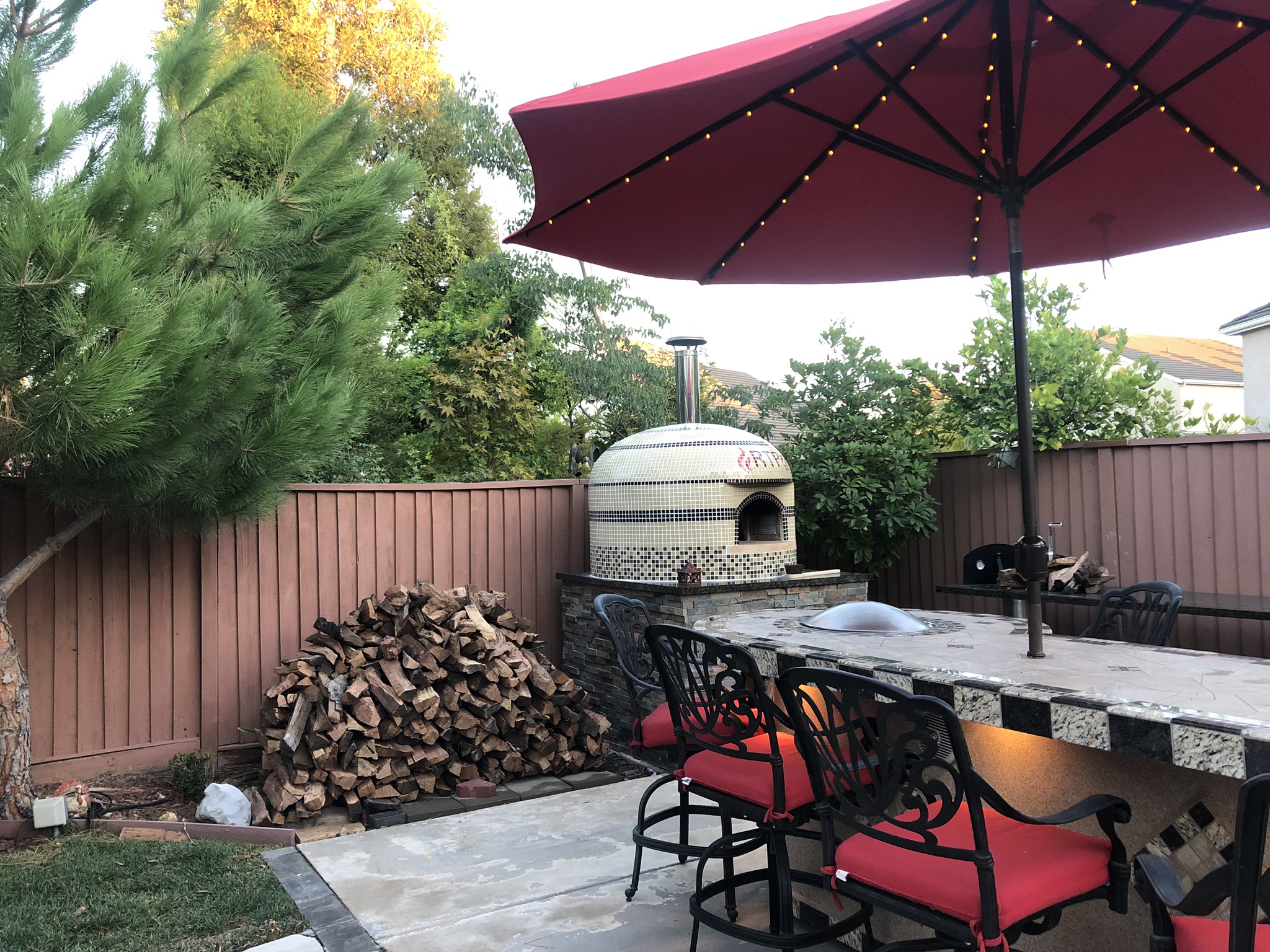 This glorious Forno Bravo Vesuvio tops off this awesome-looking, super practical outdoor dining space. This customer also took advantage of our custom tiling options. We can accommodate practically any tile design that you can think of.
29 – Poolside Vesuvio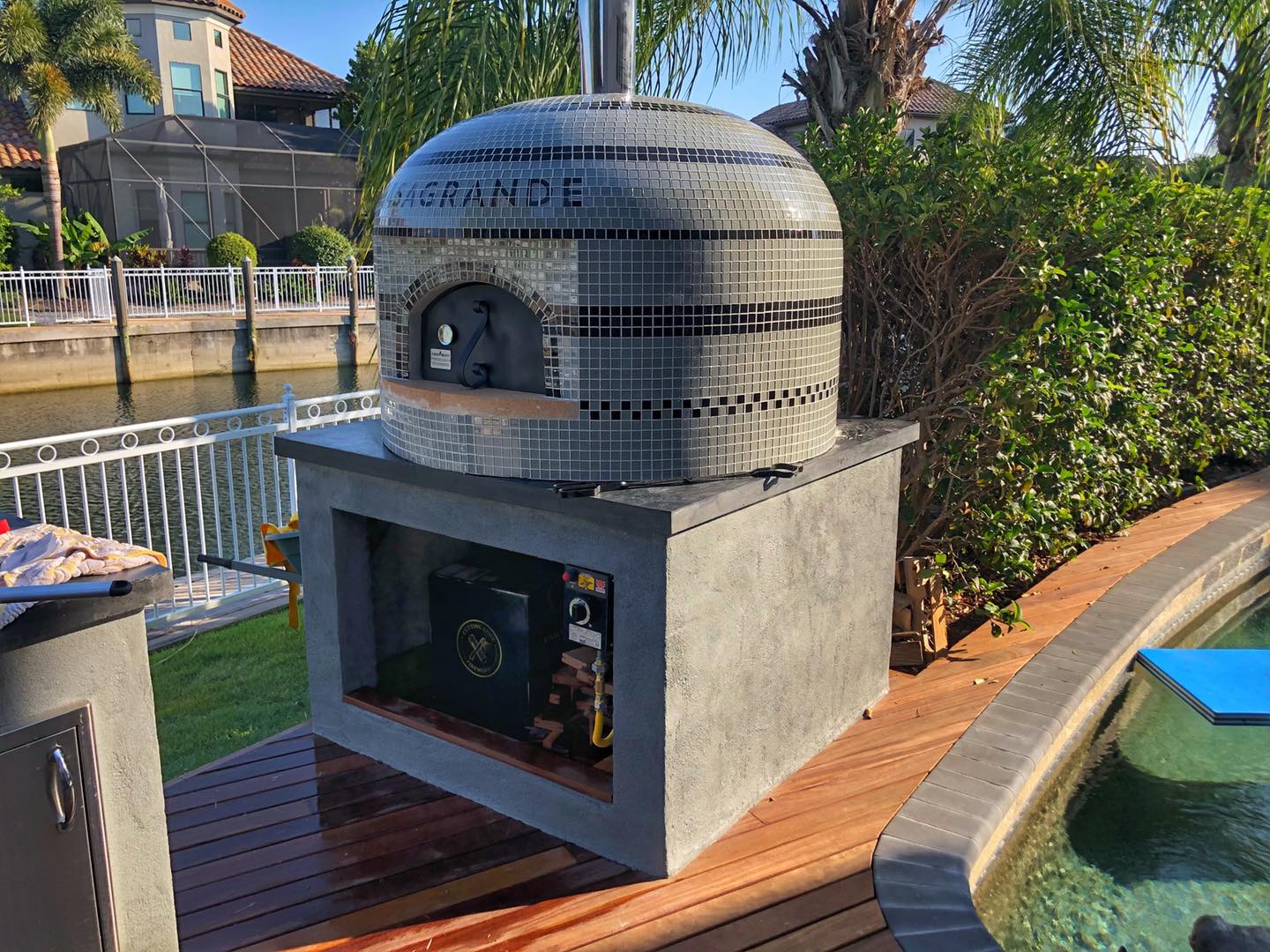 Another Forno Bravo Gas Fired Vesuvio, this time set beside a pool in a communal area. This customer also took advantage of our custom tiling options to reflect the name of the complex. 
30 – Vesuvio on Marble Countertop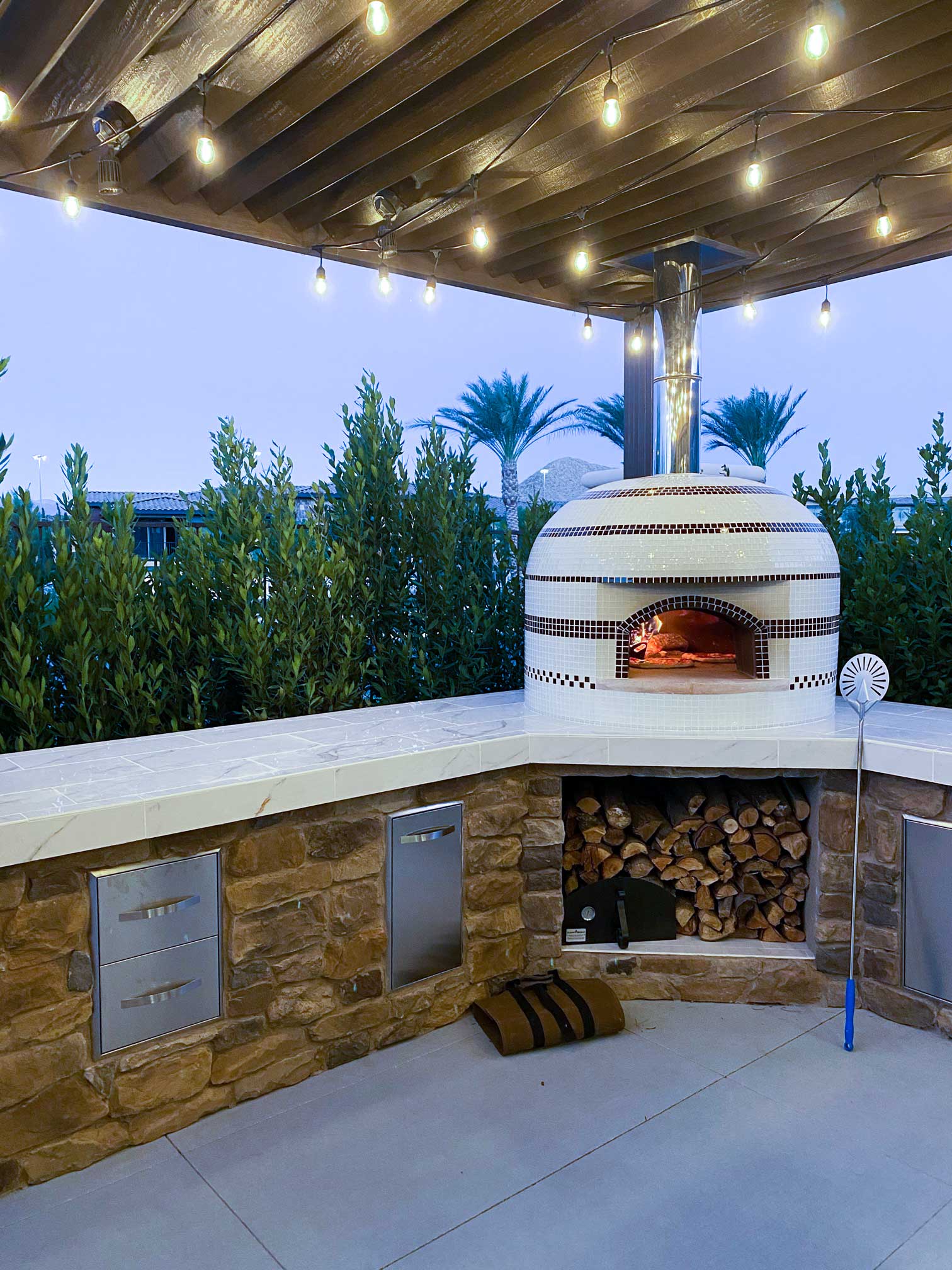 This sleek and chic-looking outdoor space looks exceptionally well-made. The cream and black Forno Bravo Vesuvio oven looks superb upon this matching cream countertop. A classy setup! 
31 – Iridescent Tile In-Wall Design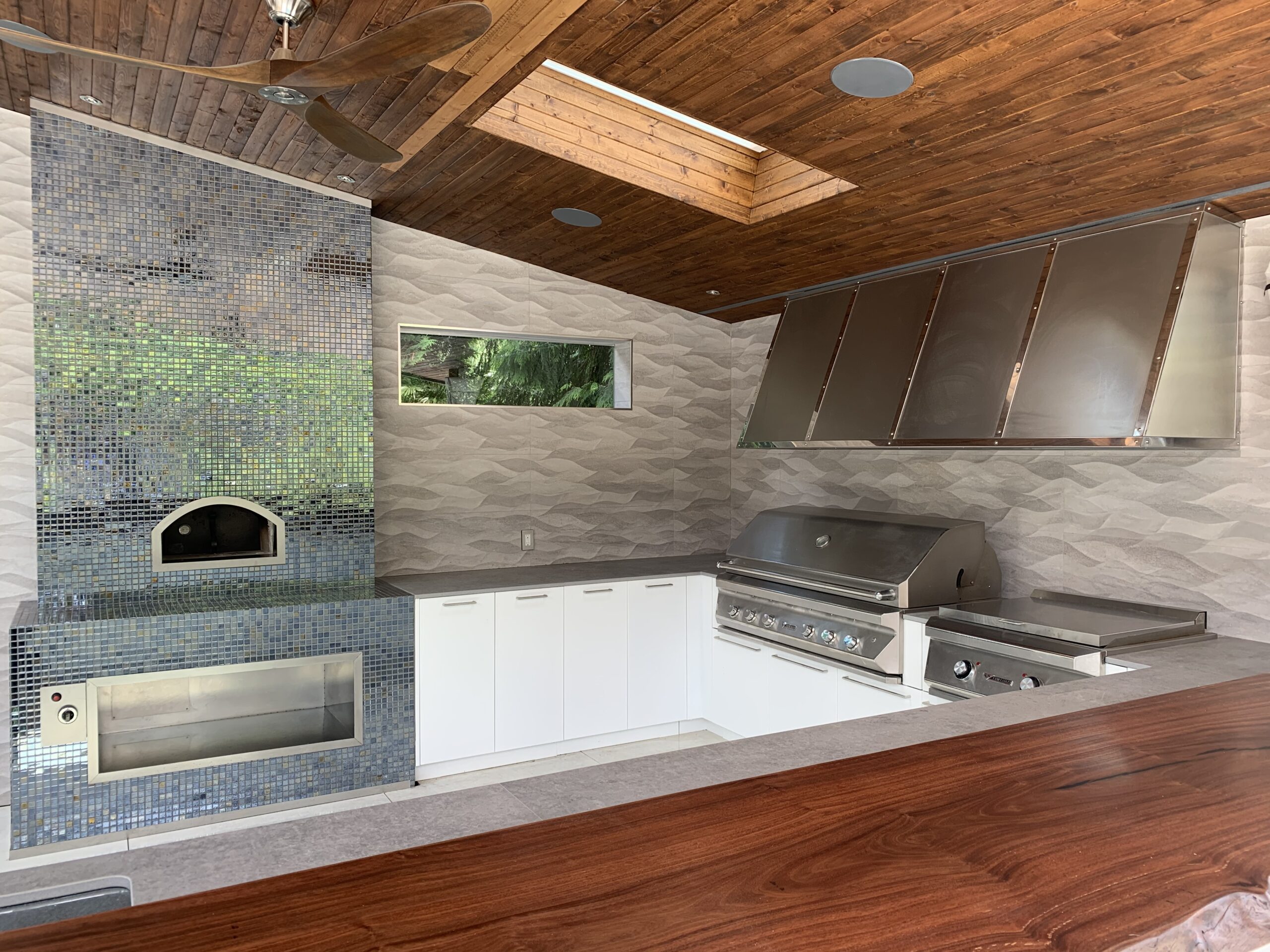 A really cool example of a Forno Bravo oven integrated into a comprehensive semi-outdoor kitchen setup. The iridescent tiles here add something unique to the overall design and look amazing with the wall treatment and brushed steel hoods and appliances. 
32 – Vesuvio On Stand
We love some of these no-frills, minimalist setups. For example, if you don't want to integrate one of our ovens into a countertop or build it in to an outdoor kitchen, you can simply use a sturdy metal stand designed just for this oven model from the factory. 
33 – Outdoor Vesuvio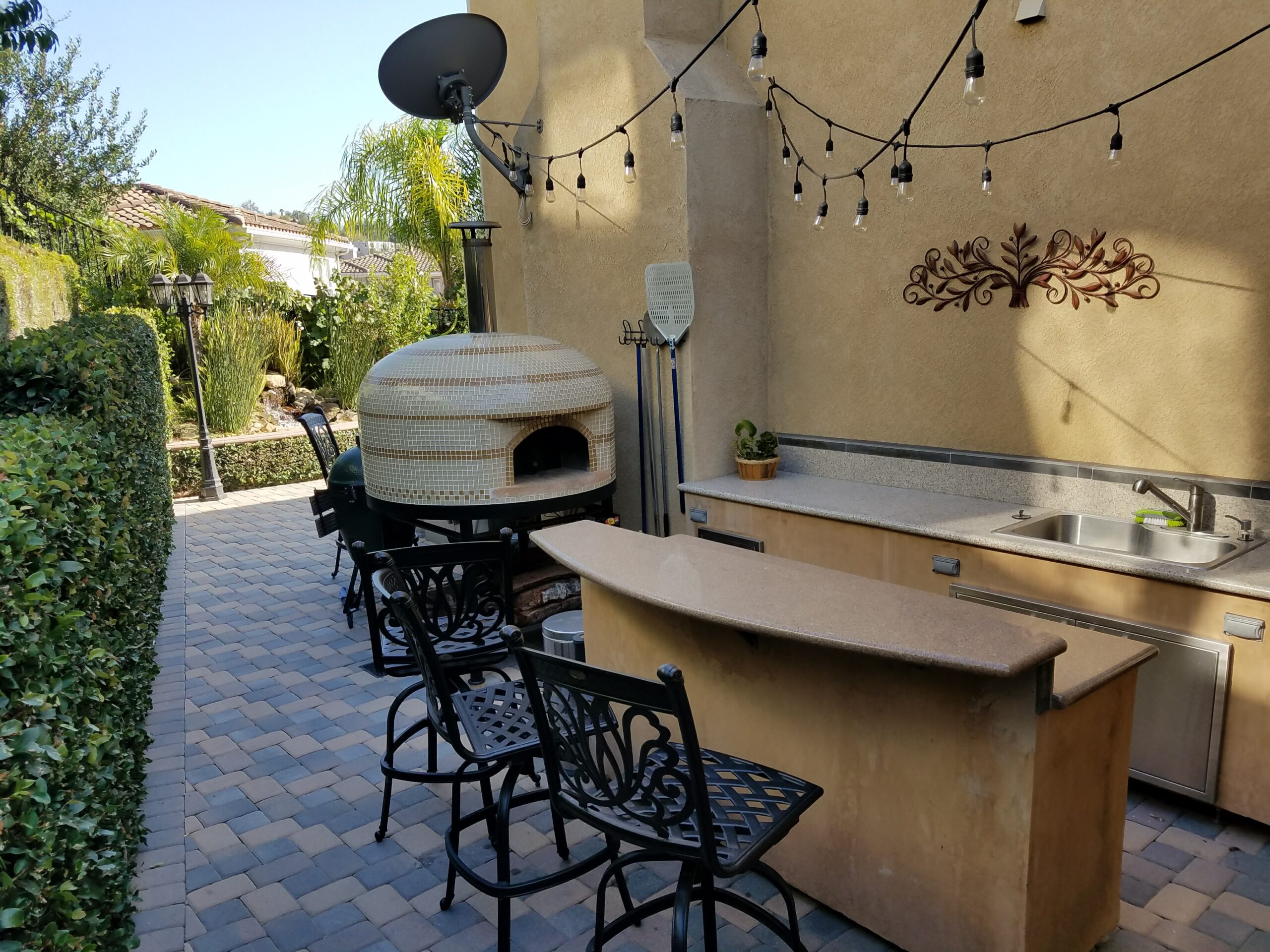 An excellent example of a space-saving outdoor kitchen. This time, much of the countertop workspace is built into the house's external wall (and fun fact– they were partially built using repurposed wood from the oven's shipping crate!) 
34 – Large Kitchen and Dining Area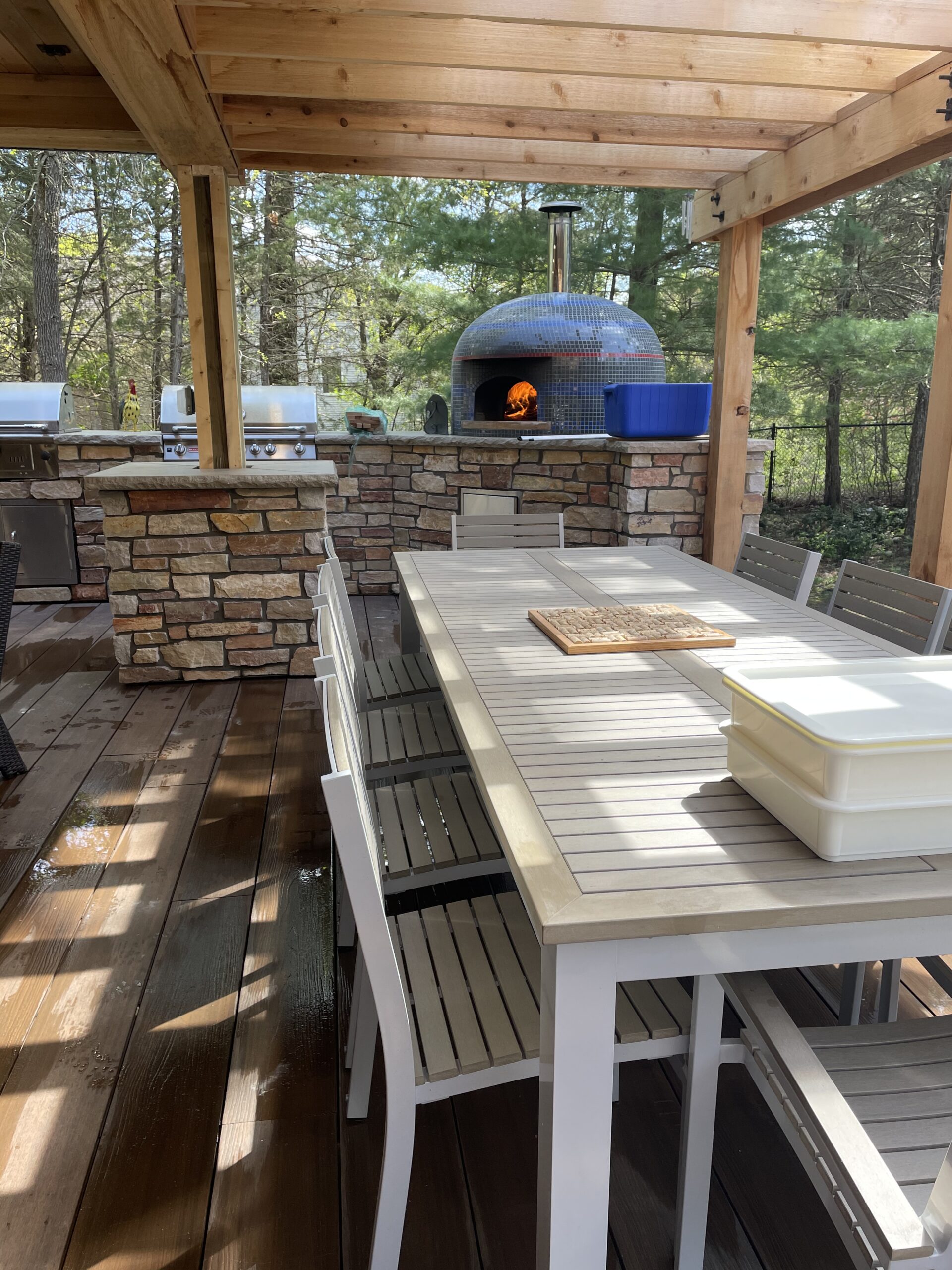 This spectacular large kitchen diner setup looks perfect for bigger dinner parties and family gatherings. The large Vesuvio can certainly pump out enough pizza for everyone! 
35 – Standalone Modern Vesuvio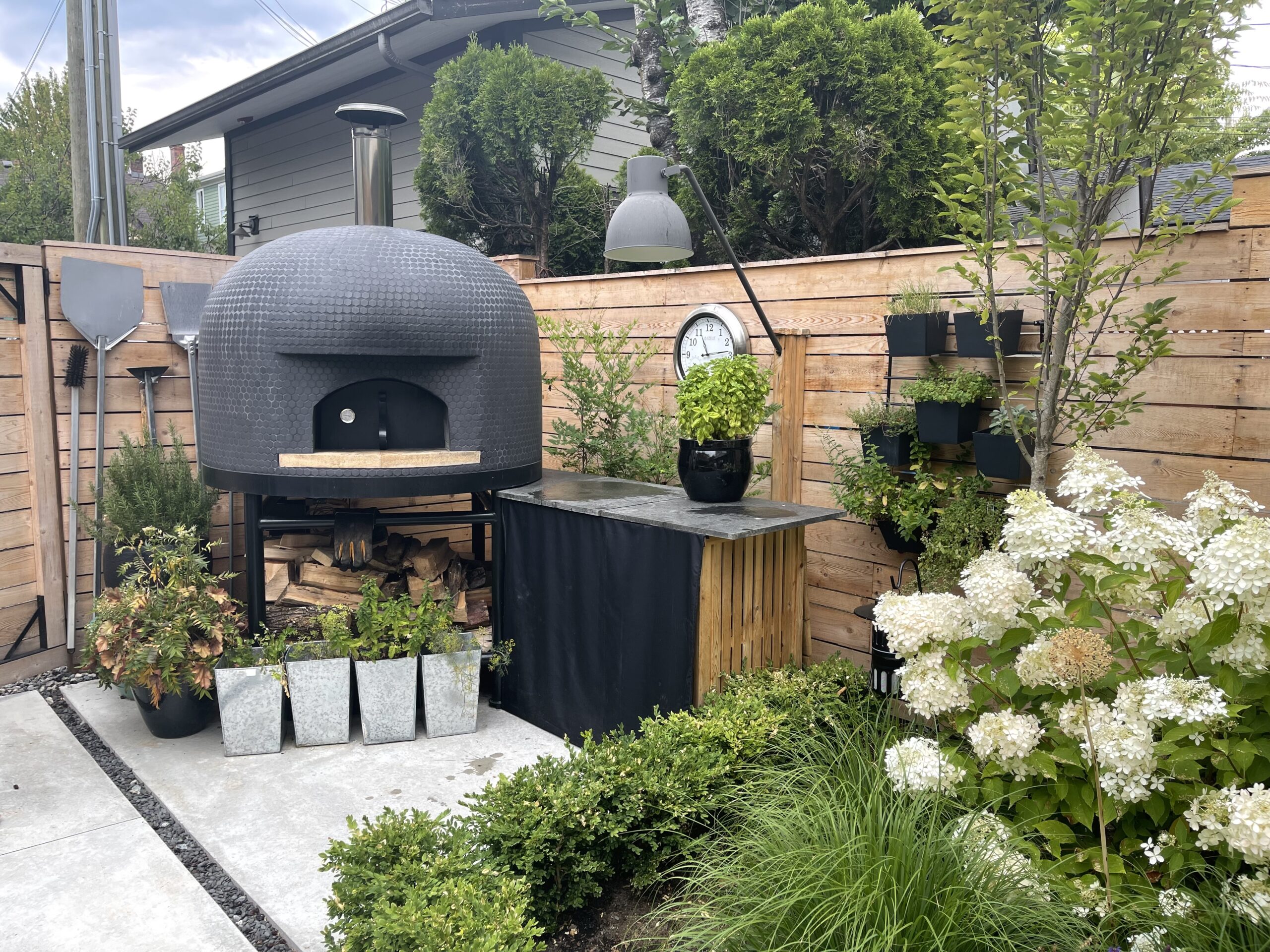 This striking, matte black, tiled Vesuvio looks fantastic in this compact backyard space. Sometimes, a small countertop is all you need to prep your pies and serve pizza to your guests in style.
36 – Black Vesuvio

Another black Vesuvio oven, but with glossy glass tile this time. This oven is well-provided by adjoining countertop space and is positioned to take advantage of the spectacular views. 
37 – Large Outdoor Dining Space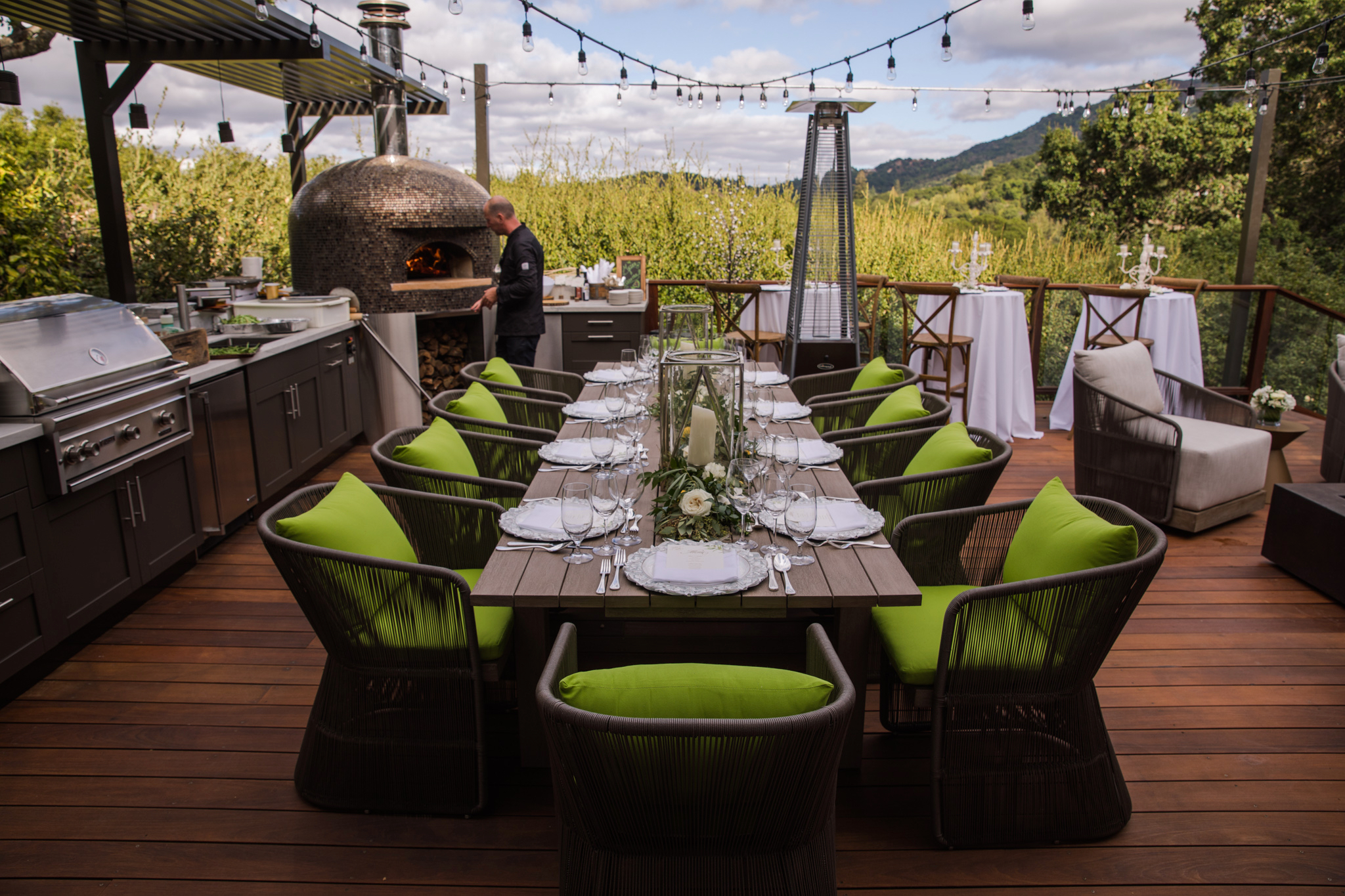 This one design really has the wow factor. We're proud to have our oven take pride of place within this stunning outdoor kitchen-dining space. The rustic bronze and tarnished gold tiles look sublime too. This customer has terrific taste (and we're sure the pizzas match!) Let the dining experience commence – it is sure to create many lasting memories.
38 – Cream-Colored Oven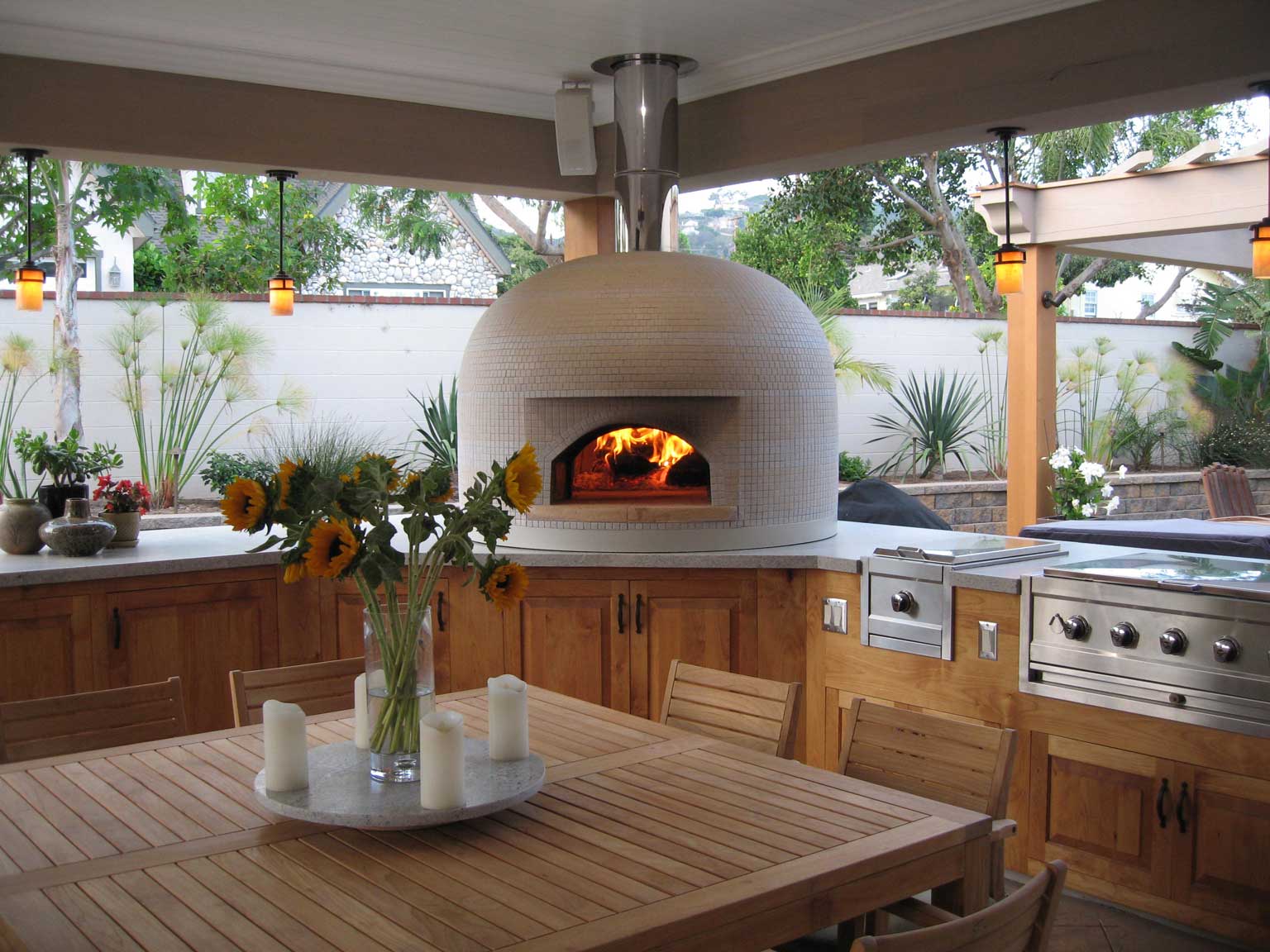 This simple, cream-colored Vesuvio looks amazing amongst this exceptionally well-designed modern kitchen diner. The natural wood countertop fittings here add a sophisticated touch to what is already a stunning outdoor kitchen space. 
39 – Red-Tiled Vesuvio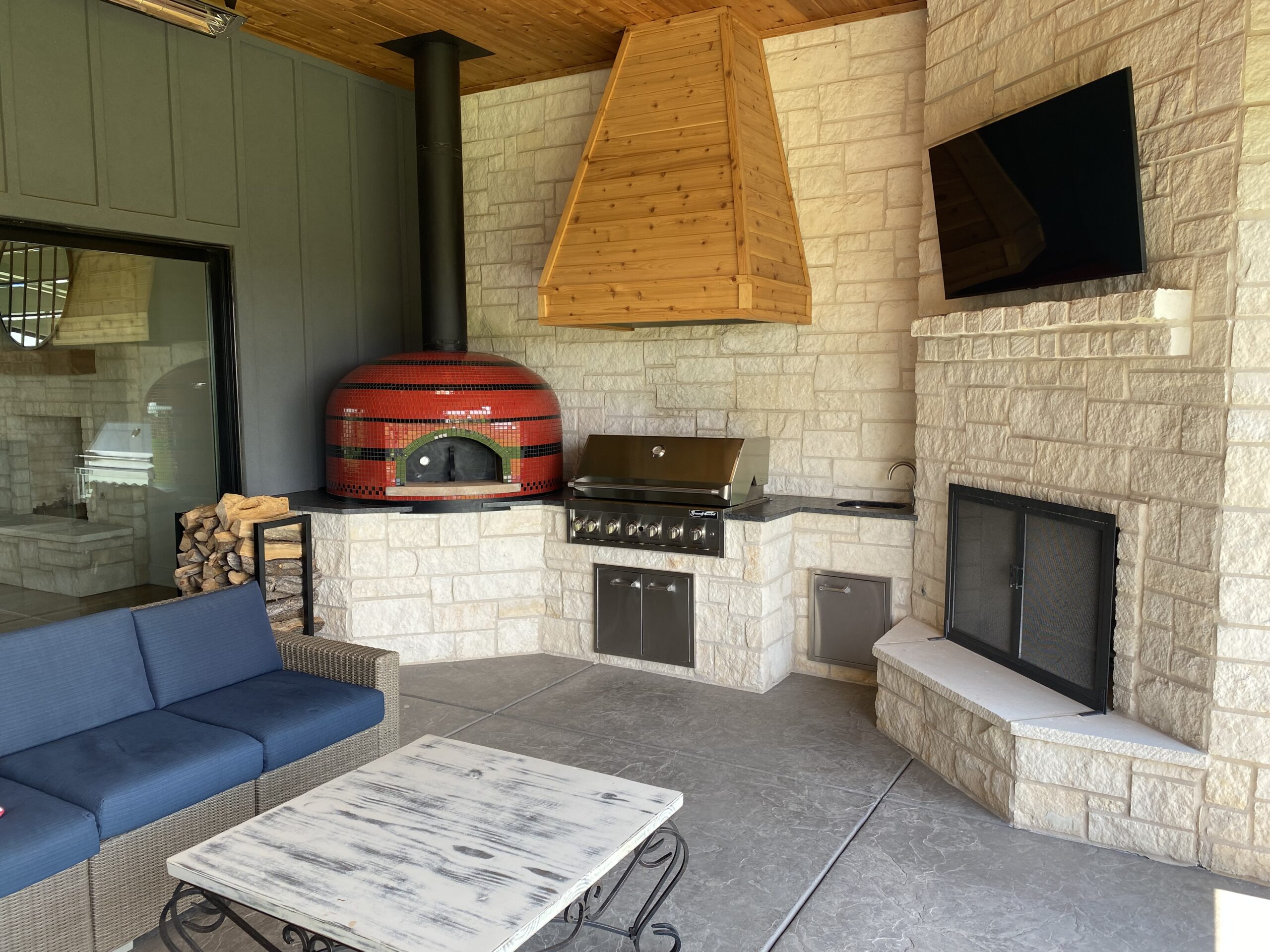 A pizza oven, sofa, and TV – it doesn't get much better. This is a great-looking practical semi-enclosed outdoor kitchen space. The red oven really pops against the white stone walls, fireplace, and base.
40 – Rustic Gray Stone and Tile Oven Space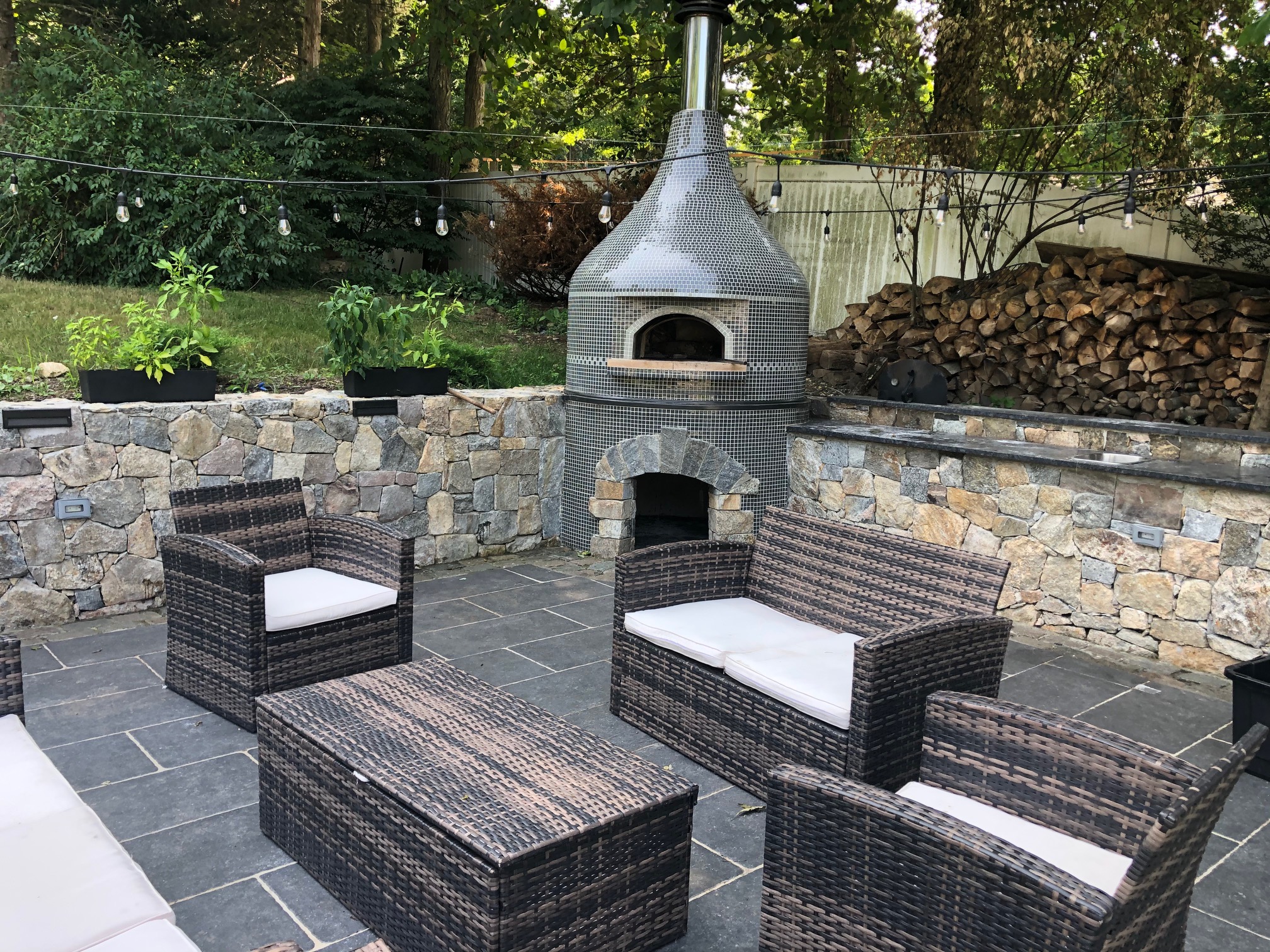 This rustic, natural stone retaining walls and counter base is fitted out with a modular Forno Bravo oven in the "volcano" build-style. The grey glass tiles fuse well with the natural gray-stone design. The tiled oven base with stone accents is a great touch that helps blend the two looks. 
41 – Semi-Enclosed Kitchen and Entertaining Space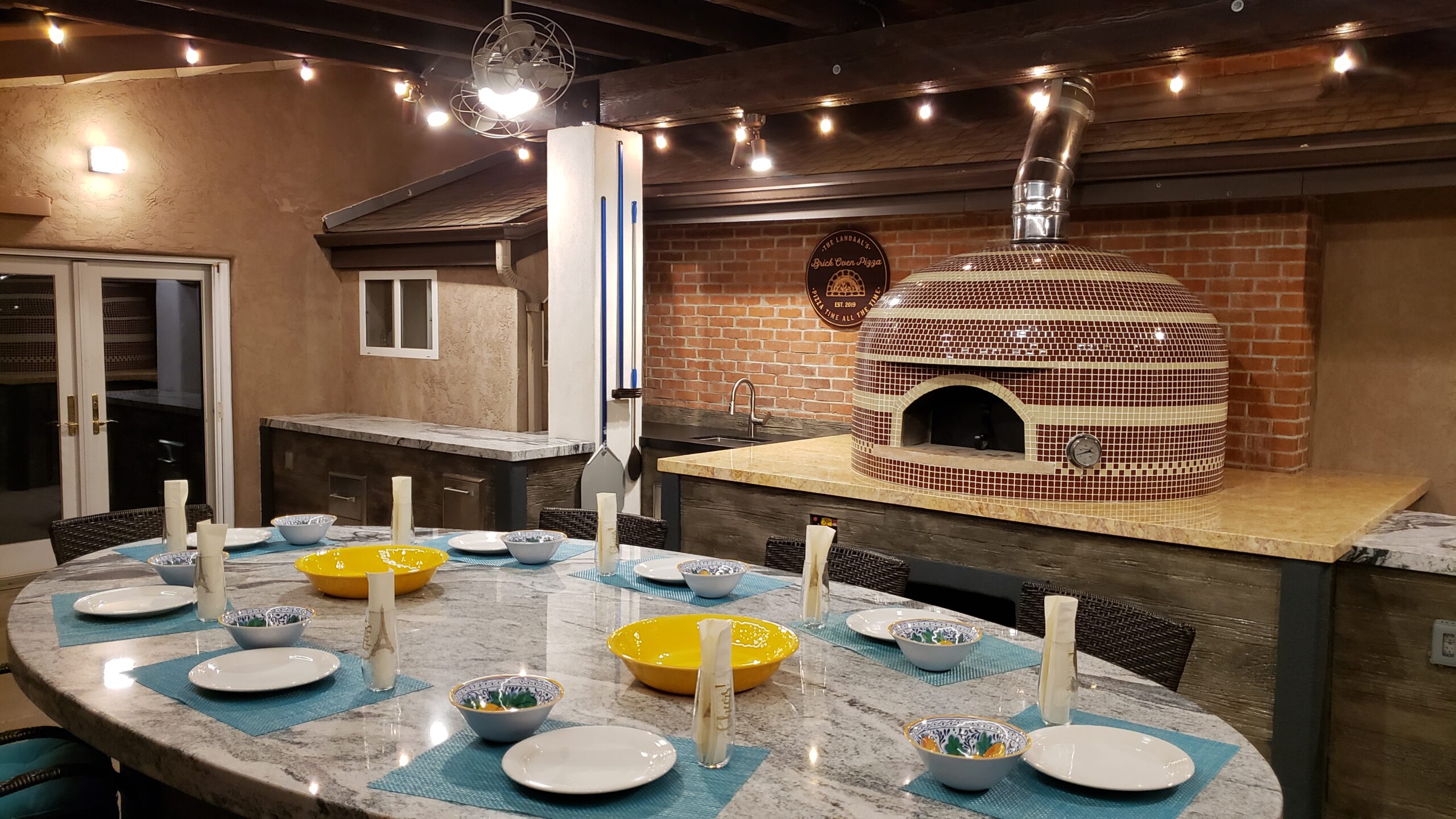 Another amazing kitchen-dining space perfect for big parties and al fresco entertaining in any weather. This custom-tiled Vesuvio sits behind a stunning marble table and looks great against the red-brick background and custom tiled oven. The owners designed the counters so service can happen from either side of the oven for a better flow. This is yet another outdoor space that we're proud to have feature a Forno Bravo oven. 
42 – Modern Bar Space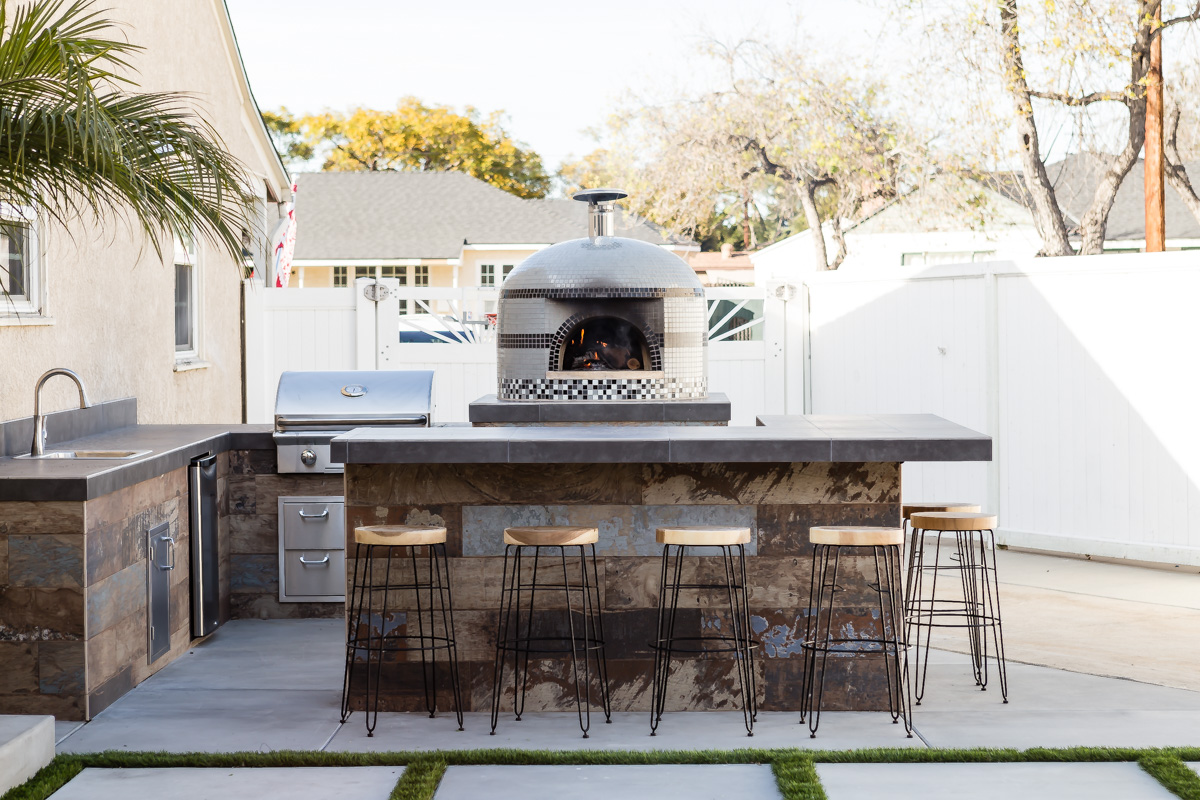 Another awesome outdoor bar space. This is an excellent example of a modern space complete with a custom-tiled Napolino pizza oven to match the industrial-style paneling, minimalist stools, and dark countertops. 
43 – White Outdoor Kitchen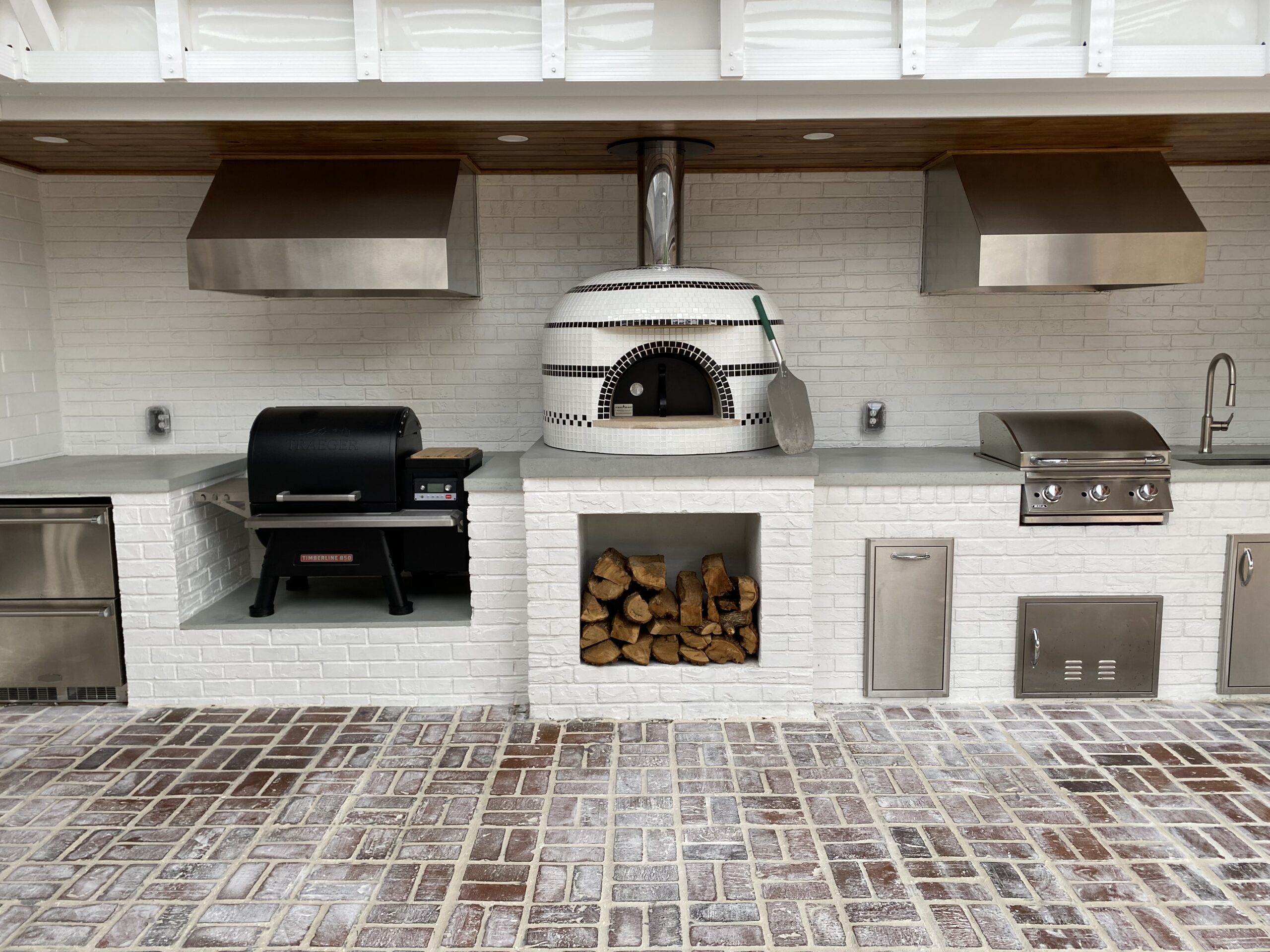 Another superb, open outdoor space. This white/cream color-palette setup looks bright and airy, and the countertops are neat and well-integrated. 
Summary: 43 Outdoor Kitchen Ideas With a Wood Fired Pizza Oven
And there we have it…43 outdoor kitchen designs with wood-fired ovens. The Forno Bravo ovens featured range from our fully assembled / pre-built pizza ovens to our modular home oven kits.
Forno Bravo is proud to home our wood and gas fired ovens in these fantastic outdoor kitchens. We are sure that they're serving their owners well (and their owners' guests!)
If you have any queries about what you've seen or would like to discuss your own home kitchen plans and visions, then do not hesitate to contact us here.
---
Download Our Catalog To Learn About Our Oven Line Up