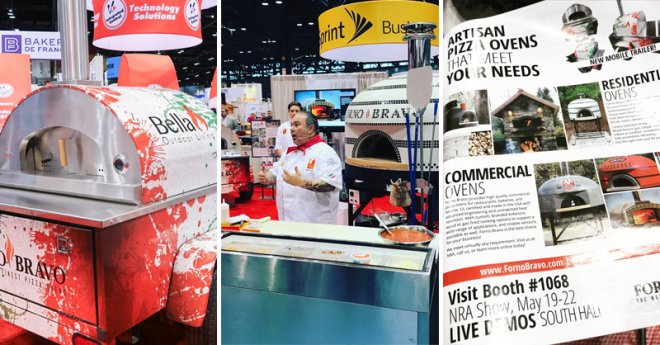 2018 National Restaurant Association Show is a Wrap
Jun 06, 2018
Posted by Forno Bravo
Booth #1068 in the South Hall of Chicago's McCormick Place, the largest exhibit hall in the country, was our home for 4 days in May. Placed right near the escalators whisking people up from the registration area, it was a prime location to introduce thousands of attendees of the National Restaurant Association Show to Forno Bravo Pizza Ovens! People stopped to take pictures of our custom tiled Napoli120. When they came closer, they couldn't believe that it could be 800°F at the dome, and yet barely warm to the touch on the outside!
Since Fire Marshalls are finicky about wood smoke in their hall, we did all of our cooking that week using natural gas, and the Napoli performed beautifully! The first day, we shut off the oven about 3:00 pm after the last demo, put on the door, and at 8:00 am the next morning, the oven had only dropped 20 degrees! This is a testament to the quality craftsmanship, high-tech refractory material, and industrial insulation Forno Bravo uses. …Can you say, "Breakfast pizza anyone?" Chef Leo's apprentice, Ryan Mulcahy, was able to do much of his prep work for the day's demos before the oven was even fired up!

Forno Bravo's Vast Options a Huge Hit at the Show
As a helpful resource, we created Product Board Posters to show our whole oven line. People were always in front of them checking out the wide range of oven choices and asking questions. Folks were excited how many styles we offered, for both Commercial and Residential ovens. The combination of high-quality ovens at reasonable prices generated a lot of interest. As a restaurant and food show, it was fun to hear many people talking about they would like to try out and perfect new ideas and recipes in a home wood fired oven with small groups of friends before adding them to their menus for the public.
Attendees also loved the versatility of our ovens. Forno Bravo ovens fit a unique niche. With a small enough mouth, classic dome dimensions, and the refractory materials needed to reach the high temps used for Nepalese-style pizzas, but large enough to cook roasts, bread, desserts, vegetables, and even to grill, our proportions strike the balance required to do several types of cooking well.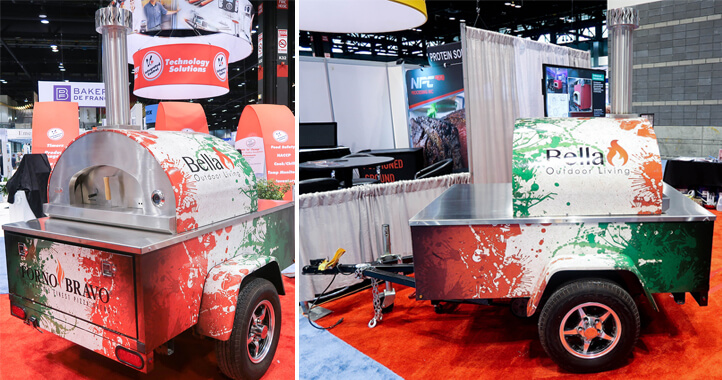 Bella Mobile Pizza Oven Trailer Draws a Crowd
Our booth was located at the end of a row, so folks found us from all sides. Regardless of which side they approached from, everyone had to come over to see our flashy new Bella Mobile Pizza Oven Trailer. 3M wrapped in a pattern that was a nod to the colors of the Italian flag, this stainless steel rig was a real attention getter. Lightweight and portable, but sturdy and able to haul 1,000 lbs of gear, food, and wood in locking compartments, the trailer was developed/produced in Canada by our dealer partner. The Bella Ultra40 wood fired oven on top is made in the USA in our Colorado factory. Most common question? "How many pizzas can I make in it at a time?" Answer: "4 – 5 or about 100 per hour." Response: "Wow! Really? Perfect!"
Starting at $9,500 US, the price point keeps it well within the reach of businesses looking to expand, or mobile caters just launching, but also golf courses, resorts, and even tailgaters who want to bring wood fired pizza to where the action is! We loved listening to the ideas flying around of how they would use it, what style they would pick for their wrap, and what their favorite pizzas and food are to make. The Bella Mobile Pizza Oven Trailer was certainly a conversation starter!
Continuing the Conversation
If you would like to be a part of the conversation or learn more about our extensive pizza oven selection, check out our Selection Wizard to help find the perfect oven for your home or business. Hundreds of people at the show asked for more information, and our team is excited to reach out to them. But we would love to answer any questions for you too! Just shoot us an email or give us a call at 1 (800) 407-5119 and we'll be happy to help.
Finally, want to get a first-hand taste of the show? You can also view Chef Leo's Cooking Demos from the week to learn more about the Napoli120, how to make a better pizza dough from a Master Instructor, along with tips on wood fired cooking in general. We'll also be heading back to Chicago in 2019. If you are there too, be sure to look us up! It is an experience for the record books.