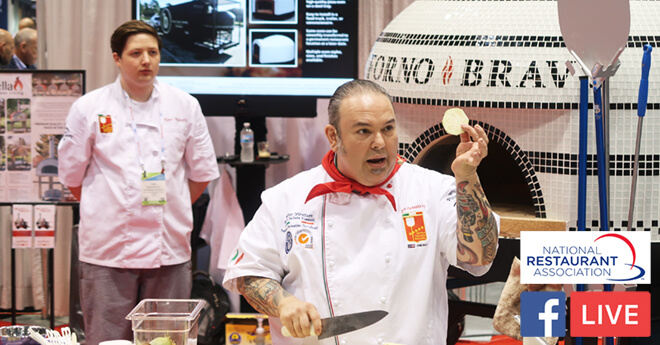 Maestro Istruttore Chef Leo Spizzirri Shows How It's Done!
Jun 05, 2018
Posted by Forno Bravo
Master Instructor Chef Leo Spizzirri wowed the crowds at the National Restaurant Association Show with his cooking demonstrations again this year.   We were pleased to have him back at the Trade Show for a second time to show off our Napoli120 Wood and Gas Fired Pizza Oven, and the general possibilities of wood fired cooking in commercial settings, as well as home kitchens.
Menus
His menus were diverse, but two staple elements that emerged were the frequently requested Margherita Pizza with tomato sauce, fresh mozzarella, and basil, and a delicious baked dessert made with pizza dough, strawberries, Fabbri Amarena Cherries, mascarpone cheese and powdered sugar, and dark chocolate syrup. Chef Leo also discussed the principles of his pizza dough style, and the impact of different regions on the characteristics of tomatoes. As a commercial trade show, Chef Leo stressed that "Customers eat first with their eyes," and then discussed ways to use that dynamic in your restaurant or business for a competitive edge.
Freshly-Baked Italian Sandwich Recipe
Another item Chef Leo made for us was a traditional Italian hinged sandwich, sometimes called a Vuoto, meaning "empty" bread.
Starting with a dough ball dipped in flour, he gently dimpled and stretched the dough into a rectangular piece of bread. Using a bit of flour dashed onto the metal peel — just the amount he could hold between two fingers, he slid the dough on the peel and popped it in the oven. The steam releasing inside the bread from the water, gases, and the oven's high temperature caused the bread to puff up like a pita. When it was finished parbaking (which happened very quickly), he removed it from the oven and cut around 3 sides with scissors, leaving a hinge. Next, he opened the bread flat and then finished it with a little shredded mozzarella and Parmigiano Reggiano cheese, freshly roasted mushrooms, pre-baked sausage, and some semi-roasted tomatoes from an Italian company named Greci. The sandwich went back on the peel, and into the oven again, open-faced, to melt the cheese and bring the flavors together. When it emerged the second time, he folded it closed, cut it into sections for serving, and topped it off with a swirl of olive oil and a sprinkling of cheese. Delicious! The samples were gone in a heartbeat! (Watch the Demo below for a great close up example of this recipe!)
Watch Live Demo
It's the final day at the National Restaurant Association Show in Chicago, IL! We had such a great show and want to give a huge thank you to Leo Spizzirri! Be sure to learn more about Leo's new school at https://pizzaculinaryacademy.com/. Thanks for joining us! 🔥🔥👋

Posted by Forno Bravo on Tuesday, May 22, 2018
View More
If you missed any of the demos, they are available live-streamed on Facebook, visit our page.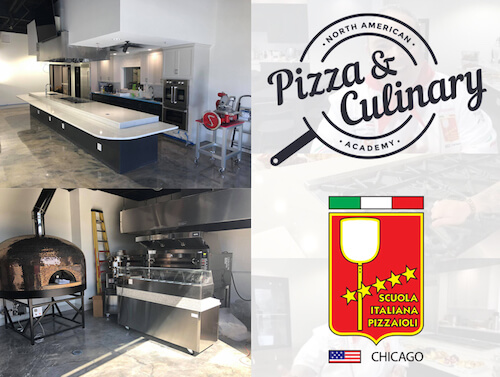 Open House at the New Pizza and Culinary Academy
Chef Leo is also the co-founder of the new North American Pizza and Culinary Academy in Lisle, IL, outside of Chicago. This premier cooking school has just opened and the staff hosted tours and gatherings two of the evenings during the Show. We are excited that Chef Leo chose to feature five Forno Bravo ovens at his school for students and guests to cook with and experience first-hand. As folks who grew up in kitchens and restaurants, Chef Leo and his partner put their heads together and thought about all of the things they wished they had in those kitchens. Many of those ideas from the trenches were incorporated into the new school to improve the experience for the students and guests alike.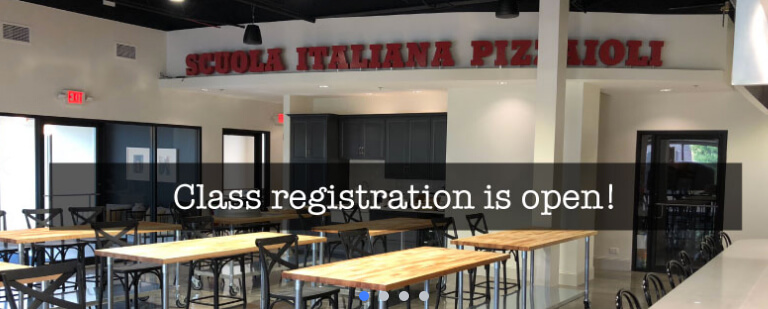 A sampling of some of the key spaces within the school include:
A Dough Room that can be regulated for temperature and humidity in real time to replicate locations around the world (used to teach different styles of pizza);
An Oven Room that features 6 working ovens, including a custom copper tiled Napoli140 and one oven dedicated just to gluten-free cooking;
A full Commercial Kitchen and walk-in refrigerator;
A front of the house Demo Area, classroom space, store, and showroom with high tables and beautifully treated colored-concrete floors;
Lockers and other amenities for the students and guests;
High-tech hood and fire suppression systems for safety.
If you are ever in the Chicago area, be sure to swing by to check out the school or sign up for a demo or class! You are guaranteed to enjoy the experience.