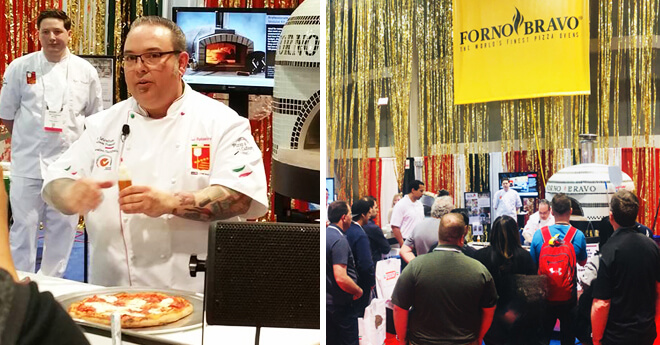 2018 International Pizza Expo Demo Wrap-up
Mar 28, 2018
Posted by Forno Bravo
The Forno Bravo Booth was buzzing at the 2018 International Pizza Expo as Maestro Instruttore and World Pizza Champion, Chef Leo Spizzirri kept us fed, educated, and entertained for 3 days! We created quite the traffic jam in the aisles as 60 – 100 people stopped by to watch each live cooking demonstration. All of the dishes were cooked in a Forno Bravo Napoli120, custom tiled for the show.  Thanks to the wonderful world of technology and our Marketing Director/trusty cameraman, Alex, we were able to live-stream these demos on Facebook for the rest of the world to see, with thousands more joining in to watch and learn!
Special Guest
In an exciting addition to the schedule, Peter Reinhart, a two-time James Beard Award winner, chef, and educator, as well as the host of Pizza Quest with Peter Reinhart, joined us for a special Pita Bread baking and dough-making demonstration, book signing, and Q&A session on Day 2. Culinary TV was on hand to help film and live-stream his demo. Peter also partnered with Chef Leo at the afternoon demo on Day 1 for an interactive conversation about wood fired cooking techniques that was well received by the attendees.
New Trailer Launched
Something that brought lots of attention to the booth and repeated "I Want That!" exclamations was our launch of the new Bella Mobile Pizza Oven Trailer. A quality-built, single axle trailer with lockable storage, paired with the Bella Ultra40 Steel Pizza Oven, and a splashy custom 3M wrap made it a bona fide hit! In a great team effort, the trailer is manufactured by our Canadian distributor, Outdoor Pizza Ovens CAN, and the oven is made in Colorado. You can learn more about this beauty on its new product series page.
Busy, Busy
With  500+ exhibitors at 1,400+ booths, 80+ seminars and competitions, and 8,000+ people in attendance over the 3 days, the Pizza Expo was crazy, busy, exhausting,  and extremely fun. While it was impossible to see and taste everything, many people tried! Below is a copy of the demos we recorded in case you missed one or would like to go back and watch them again to study a new technique or recipe.
For the curious, yes, we used the gas option exclusively to heat this commercial-grade oven. (Fire marshalls get a bit finicky about smoke in convention halls for some reason.) However, at 600°F on the deck and 850°F at the dome, the cooking methods used for both wood and gas fired ovens remain the same. Chef Leo demonstrated how to make not only flavorful pizzas, but also how to do a whole range of menu items in the oven based on different themes, ranging from brunch to south of the border.
You can click on any of the videos below to enjoy the show! And until next year, happy cooking!
Day 1 Demo with Chef Leo Spizzirri – Pizza Tour of Italy
Day 1 – Demo 2 with Chef Leo and Guest Peter Reinhart – Wood Fired Cooking Techniques
Day 2 Demo with Peter Reinhart of Pizza Quest – Pita Bread Demonstration
Day 2 Demo with Chef Leo – South of the Border
Day 3 Demo with Chef Leo – Welcome to the Chef's Table