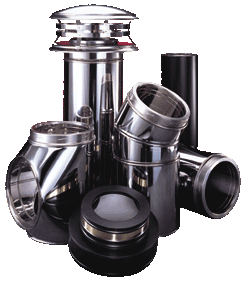 Pizza oven venting a Forno Bravo wood fired oven is very straightforward.  There are four basic applications that need to be considered.
Outdoor installation with no overhead obstructions – single wall stove pipe
Outdoor installation with overhead obstructions – UL103HT double wall chimney pipe
Indoor installation – direct vent approved – UL103HT double wall chimney pipe
Indoor installation – Type 1 Hood required
Direct Vent, Single Wall Stove Pipe:
In most cases, where outdoor pizza oven vents are installed away from any structures in a free-standing outdoor kitchen, a single wall stove pipe will be sufficient. Forno Bravo ships a standard single wall stove pipe kit in our residential modular pizza oven kit. We use a product called  Durablack which is readily available in the US and Canada through distributors of M&G Duravent.  Don't let the name fool you, the stove pipe is stainless steel and a high-quality product.
You can extend these stove pipe chimney systems vertically to assist draw or your install design.  Forno Bravo doesn't offer these items in our online store at this time, but we can assist you in sourcing or purchasing if you would like to call and speak with a customer service representative.
DuraBlack must be installed with a minimum of 18″ clearance to combustible materials.  If you have concerns about single wall wood stove chimney pipe kits, you can always upgrade to double wall chimney pipe.
WARNING:  A major cause of vent related fires is failure to maintain required clearances (air spaces) to combustible materials.  It is of the utmost importance that DuraBlack be installed only in accordance with the manufacturer instructions.
Direct Vent, Double Wall Chimney Pipe (UL103HT):
Direct vent chimney system allows your pizza oven venting to draw naturally and perform at the highest level thermally.  For indoor pizza oven venting installations, or outdoor installations where your wood fired oven will be under a roof structure such as a pergola, Forno Bravo recommends using a UL103HT listed double wall stainless steel chimney system.  We use a product called DuraTech, which is readily available in the US and Canada through distributors of M&G Duravent.  Our Casa, Premio, Professionale and Modena ovens have all been UL tested and certified for indoor installation using the DuraTech UL103HT listed chimney system.
DuraTech can be installed up to sixty (60) feet vertically and must be a minimum of three (3) feet above the roof it is penetrating.  If you would like to use an offset to change the flue direction to avoid an obstruction, you can use up to two (2) offsets, no greater than 30 degrees each.  This means you can do a 30-degree elbow, zero to 48-inch horizontal chimney pipe and then a 30-degree elbow correction back to the vertical.  If you need a second correction, you can do another 30-degree elbow with a horizontal pipe and then a 30-degree correction back to the vertical.  For a guide on how using an elbow kit will affect your vertical height, refer to page 12 of the DuraTech manual.
WARNING:  Do not use two (2) 30-degree elbows to create a 60-degree angle, as this voids all warranties and presents a fire hazard within the chimney system.
Forno Bravo sells DuraTech UL103HT listed products in our online store.  If you let us know at the time your purchase our pizza oven, we can include DuraTech pizza oven venting items in the unit price and save you shipping costs.  Also, if you purchase a fully assembled oven, like our Toscana, we can modify it to use the DuraTech chimney system if you plan on putting it under a patio cover.
Type 1 Hood:
Type 1 Hoods for commercial pizza oven venting will be required about 50% of the time.  This is determined by the local code enforcement.  Pizza oven hoods should not be confused with Grease Ducts, which are a different application.  Our commercial pizza ovens have all been tested and UL certified for use with a Type 1 Hood.
Common reasons a Type 1 Hood might be required, instead of a direct vent are:
Your pizza oven venting installation can't meet the "no more than two (2) 30-degree bends" in the direct chimney vent application;
Local interpretation of mechanical code by municipality requires a Type 1 Hood;
Locale is prone to fires and extra precautions need to be taken;
Locale doesn't lend itself to natural draw due to obstructions, natural air pressure, etc., necessitating assisted airflow to compensate.
Will a Type 1 Hood effect oven performance?  Only slightly, a Type 1 Hood will introduce some draw on the oven, pulling heat out, but your fuel cost should only be slightly impacted. This same extra draw will also help reduce the smoke that comes out of the front of our oven when it is initially fired, channeling it into the hood instead.
You can now purchase our Type 1 Hood, which is compatible with all Forno Bravo commercial ovens, by contacting Customer Service. This product will soon be available through our online store as well.
Always contact your local Building Official or Fire Official regarding permits, restrictions and installation inspections in your area.
General Guidelines for Pizza Oven Venting:
Clearances:  
Allow 18″ of clearance around DuraBlack single wall stove pipe;
Allow 2″ of clearance around DuraTech double wall pipe;
Chimneys must extend at least three (3) feet above the highest point where it passes through a roof, and at least two (2) feet higher than any portion of a building within ten (10) feet;
Never fill any required clearance with any insulation or other materials;
Interior chimneys shall be enclosed where they extend through closets, storage areas, occupied spaces, or anyplace where the surface of the chimney can be contacted by persons or combustible materials.  The distance between the outer wall of the chimney and the enclosure shall be at least two (2) inches.
Offset Elbow Installation:
The DuraTech Chimney system may have a maximum of two (2) offsets (four elbows total) of 30-degrees from vertical;
Elbows are manufactured in 15-degree and 30-degree angles, measured from the vertical;
Forno Bravo only offers 30-degree elbows for sale.  If you need 15-degree elbows, you can buy them directly from a M&G Duravent distributor;
Avoid elbows if possible, as a vertical chimney is the most efficient;
Do not combine elbows to create steeper angles and never exceed two (2) elbows in one chimney system.  A single elbow is defined as a 30-degree bend and then a 30-degree correction (one set);
Refer to the "Elbow Offset Chart" on Page 12 of the DuraTech manual.
Do not use with forced-draft, positive-pressure appliances.  
If your installation requirement can't meet these standards, be sure to consult a professional and obtain necessary permits in advance. Feel free to email or contact us directly at 800-407-5119 for general and technical assistance.
Additional Reading:
Thank you for your interest in Forno Bravo!