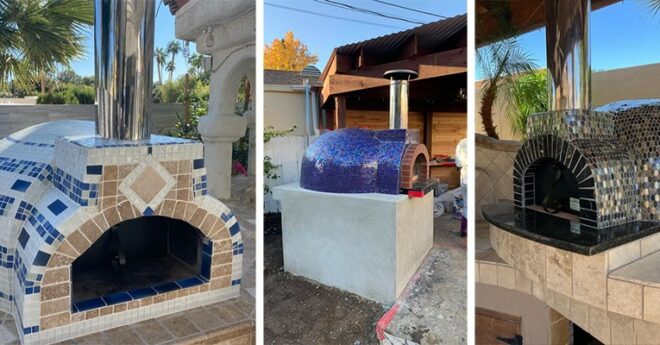 Tile Oven Samples for the DIY Crew
Dec 05, 2022
Posted by Forno Bravo
While stucco is the easiest and most common finish option for a wood fired pizza oven, tile finishes are also very popular. These designs can range from formal and classy, to artistic or rustic. While glass tile is the most frequently chosen material for its combination of beauty and durability, mosaics, mixed materials, stone, river rock, and mat colors are also common picks.
Here are a few helpful tips from our master tilers for the DIY finisher:
Free-form designs are usually more forgiving to make than exacting patterns for novice tilers.
Square builds are also easier to work on than rounded dome shapes (fewer small cuts required.)
Be sure to finish your oven with a tile/grout sealant for the best outdoor durability.
Enjoy the collection below of unique ovens that were all hand-finished on-site by their owners, installers, or contracted artists. They have all earned high marks from the owner's families and guests.
Be sure to let us know if we can help you find a pizza oven kit to match your project!
David Richman – Casa2G100 – White, Blue, and Cream Glass Tiles with Travertine Accents
David's Story:
"I wanted to build a wood-fired oven and found your Casa2G100 kit to be a perfect fit. We entertain a lot and I needed something that could handle multiple items without being overbearing.
Once constructed in our newly remodeled backyard, I set out to make a unique design that would be representative of both our desert locale and our Mediterranean-style backyard. I used several different glass tiles and also travertine, and came up with a design that I felt would both complement our surroundings and stand out as a centerpiece of the backyard.
I'm super excited that it's finally finished and I look forward to many, many days of entertaining and cooking all types of wood-fired pizzas, breads, and endless meat and vegetable dishes in the years to come."
Ralf Tomandl – Casa2G100 – Blue Iridescent Glass Tiles
For his second home pizza oven project, Ralf Tomandl of California had a very specific final look in mind.
First, he went a size up to the Casa2G100 for more cooking flexibility. Then, since domes can be tricky shapes to work with, and the single color allowed for no mistakes, he hired a professional tiler, "who worked on this for three days. He cut dozens of pieces individually to make it all fit."
Finally, he whitewashed the brick to accent the color of the tile. The project turned out magnificent!
Tim Salmon – Casa2G90 – Hexigonal Glass Tiles
Baseball's Tim Salmon knocked it out of the park with his tiled Casa2G 90 Pizza Oven Kit build. The Anaheim Angel's former star player can now add home oven builder and tiler to his impressive resume. What started as a dream for more family time together, and a challenging sunken outdoor dining space became a creative labor of love that thrills everyone who sees it.
(Fun fact – Tim had planned to hire a tiler for the project, but they were booking 6 weeks out and he didn't want to wait that long, so he learned how to do it himself! He admits that the hexagon pattern of the tiles added an extra degree of difficulty, but made it look amazing, so it was worth it. Great job!)
We'll include a few photos here, but click on the short video below to get the whole story!
Multiple Mosaic-Style Finishes
Finally, tile mosaic finishes can be made with any non-flammable material. Their designs are as unique and creative as their artistic owners can make them. Here are a few samples to spark your imagination.
CLICK HERE to see more mosaic oven samples