Mosaic Tile Ovens – Art in Action
Feb 25, 2021
Posted by Forno Bravo
One of the joys of choosing a modular oven kit is the ability to completely customize the finish to be anything you want it to be. While stone can be stately or rustic, and stucco draws on the traditions of both Italy and the southwest, there is something about finishing an oven with a tile  mosaic that just screams "ART!" Mosaic tile art can be found all the way back to the 3rd century BC. This technique has been used across many cultures and the ages for creating patterns, pictures, and portraits, as well as adorning cathedrals, mosques, façades, modern sculptures, and now, pizza ovens.
Enjoy these diverse oven samples below that show off a variety of mosaic styles. Both novices and professionals applied their hands to the craft. Each one is truly one of a kind and beautiful in its own way.
Scott D & Amiee C – San Diego, CA – Casa2G Pizza Oven
This gorgeous oven and counter mosaic are the work of California artist, Rachel Skelly of Smashing Mosaics. (CLICK HERE to see closeups of Rachel's art on this project.) The tile work includes sculptures of the local wildlife and botany. Scott said, "I gave Rachel the freedom to do what she wanted and it turned out amazing!"
The counter also supports a prep area and a grill, and though not refrigerated, it has a tap and room underneath for a tub of ice. Perfect for future parties.
This summer, Scott and Amiee took on the personal challenge of getting comfortable baking neapolitan-style pizzas in their oven. The trickiest skill to master has been getting the pizza off the peel and into the oven smoothly. Though not always the prettiest, it is (almost always) yummy, and they are game to keep working on it. 🙂
Rosemary H – California – Casa2G90
Building an oven is a very personal journey and we love hearing the stories. Here is Rosemary's story of her creative build. (edited for length)
"My son loves to cook. One day, he showed me videos on YouTube DIY pizza ovens. I'm always doing projects, we always have friends over for parties, and we all love pizza, so the idea crept up in my head that I had to build my own pizza oven. After calling Forno Bravo many times to ask clarifying questions about size, dimensions, and kit models, I finally decided I would get a Casa series. I went with a dear friend to Salinas CA (4 hour drive) and asked even more questions. Decided on the Casa90 and took it home the same day. BEST 9 hours all summer!
Building it was a lot of work, but well worth it. If we could do it, anyone can!
I knew I wanted a mosaic tile finish. My mosaics include one of my favorite Picasso drawings, wine bottle with our last name initial / favorite winery, Wonder Woman, and our 65 Mustang driving past the Los Angeles skyline with a Batman signal coming from the top of an LA building.
My son (college student/ soccer player), his girlfriend (educator), my dear friend (retired), and myself (counselor) built this together (Quarantine Project). None of us have any experience in building pizza ovens. We think it turned out great! I love that we built this together and it is so unique to our family. We love entertaining, and once this pandemic is over, we will be having MANY pizza parties, and our Forno Bravo oven will be the main attraction."
John Cangemi – Maryland – Custom Brick Oven
This gorgeous oven finish was done as a tile mosaic in the classic style that is found throughout churches and civic buildings across Europe. The level of detail of these murals is incredible! The exterior houses an Alan Scott Design pizza oven, which is a close cousin to a Forno Bravo Pompeii.
"I was inspired first by the wood oven in Rome at a cousin's house. I've also gotten inspiration from Tony Gemignani and Ron Garofalo in Palermo, Sicily."
FRESH Wood Fired Pizza – West Ashville, NC – Modena120
FRESH focuses on providing quality meals made from locally-grown, seasonal, organic produce and meats, whenever possible. They use farmers and farm cooperatives or family-run operations as their primary suppliers, and maintain a large garden out back for fresh basil, flowers, and produce. Their dough is handmade daily. They think that beautiful food deserves a beautiful oven, and we heartily agree!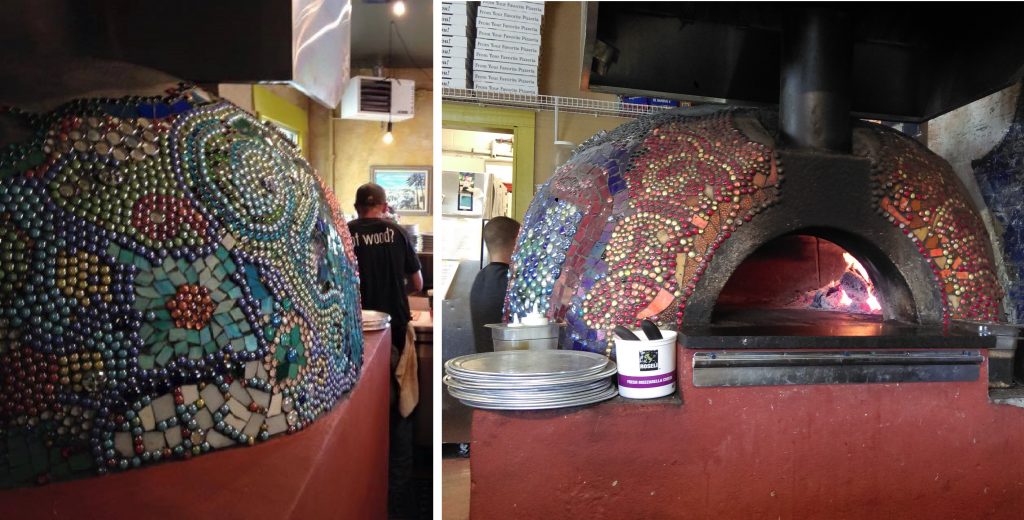 FRESH Wood Fired Pizza loves their artistic oven!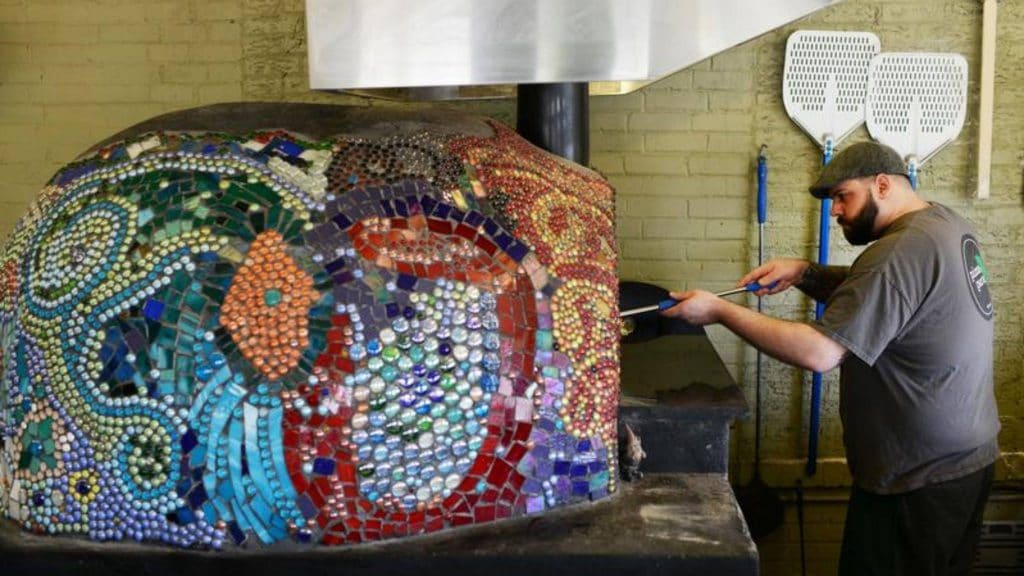 Lorey B – Halifax, Canada – Custom Pizza Oven Kit
Lorey B submitted her design to one of our photo contests. When asked for her inspiration, she said,
"I love cooking in my wood fired brick oven because the way the heat cooks the food is truly amazing and there's nothing else like it; your food just tastes better!"
She continued, "The whole process of firing up the wood, getting to temp, and deciding on what you're cooking that day is all a wonderful experience, plus it cooks the best bread ever! I will always have a brick oven to cook in. I enjoyed the process of everything in making this oven. It was a great learning experience and a fun art project at the same time. Love mine!"