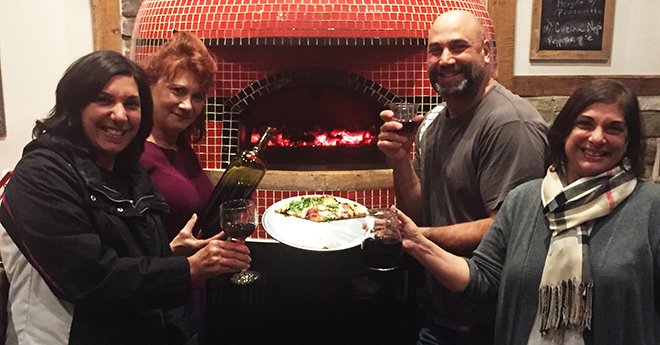 Pizza Party Primer
Dec 20, 2019
Posted by Forno Bravo
One of the perks of owning a wood fired oven is hosting great gatherings. There is something primal in our spirits that draws people together around the heat and motion of the flames. Add in the delicious smells of the pizza, and the interactive nature of the preparation, and you have a guaranteed hit on your hands.
…All that is a fancy way of saying, "IT'S PARTY TIME!"
Keep reading to a fun overview of tips and tricks on how to throw a fabulous pizza party for your friends and family!
Recipe for a Pizza Party by Chef Bart Hosmer
Chef Bart Hosmer currently serves as Marriott's senior director of culinary for the Americas (so he knows food, and parties!) A while back, he gathered a bunch of friends and co-workers together and held a fun pizza party at his home. The resulting "recipe" is a hoot to read and its topping-shopping list is a great starting place for your meal. From pre-dinner munchies, to wine and Manhattans, to an entertaining, inter-guest topping showdown, this party was one for the books. Check it out here!
Practice First
First party principal: When the host is comfortable, guests are comfortable! No one is expecting Martha Stewart or Emeril Lagasse to greet them at the door, but it is important to be organized with your ingredients and generally at ease with your oven. That means, get some practice in before inviting a horde of folks over for dinner!
KEY SKILLS:
Learn to start your fire and heat your oven until the inside of the dome has changed from black to white/clear. Note how long that takes with different types of fires and different types of wood. Be prepared to give it time to cool a bit before the party starts.
Decided what temperature you like for cooking pizza. (The oven floor can easily get to 700-900°F, but some chefs prefer to work with it closer to 600 or 650°F; their pizza may take a smidge longer to bake, but they maintain better control and have less burning.)
If you will be the primary chef, work with your peels until that you are fairly confident that you can get the pizza from the peel to the deck and back out again without a catastrophe! 🙂 Learn more about choosing and using pizza peels here.
And finally, be patient with yourself! If you need (or just want) to take a class to improve your skills, there are several available around the country. We highly recommend the North American Pizza and Culinary Academy outside of Chicago. Their facility and instructors are excellent!
Dough, not "Doh!"
Learning to make your own signature dough is a big part of the wood fired cooking experience. Our website has several pizza dough recipes that you can try. (Visit our eBooks, Community Cookbook, and Pizza Quest pages to get started.) However, it is also perfectly ok to skip that step for now and to purchase dough balls from a local Italian restaurant or market, or even Trader Joes! Reducing your major variables by one is a quick and easy way to reduce stress at the beginning of your artisan pizza journey, and your guests will still have a great time. NOTE: Which ever kind of dough you use, do bring it up to room temperature before using it. The yeast needs time to wake up. It wants to be part of the party too!)
Make the Appetizer Part of the Show
Pita bread can be made with extra pizza dough, or from its own recipe. Its quick puff up is fun to watch, and it makes a great base for dipping sauces or with a cheese tray. A hearty appetizer and some drinks before dinner will help everyone relax, and you can visit with them instead of messing with your fire right away.
Pizza as an Interactive Activity
While some people just love to eat and watch you work, many others like to get involved. Have extra peels on hand so your guests can make their own pizzas, customized with their favorite toppings. (Mod Pizza is popular for a reason!)
PRO TIPS:
Encourage guests to not overload their pizza — reminding them that "Less is best!" (Heavy pizzas tend to stick to the peel.)
Be sure that the dough is moving freely on the peel before you insert it into the oven to avoid mishaps. If it seems sticky, feel free to add a pinch more flour under the dough so it moves easier.
Don't let the topped pizzas sit on their peels for a long time before cooking them. The sauce can make the dough very moist and harder to get into the oven.
If you will be making a lot of pizzas in an evening, some chefs prefer to prep the dough and par bake the crusts for 30 seconds or so, and then refrigerate or freeze them to make working with them easier during the rush.
Have lots of topping choice in an easy to reach arrangement. For meats, try: Pepperoni, Capicola, Soppressata, Prosciutto, Andouille Sausage, Sweet Italian Sausage, Chorizo, and pre-cooked chicken. You can also offer different cheeses, herbs, thinly sliced vegetables, olive oil, balsamic glaze, or anything else you want!
Do remember food safety principals, and keep toppings covered or chilled, if appropriate.
Spice Up the Night – Party Themes and Prizes
While pizza is a theme unto itself, it can't hurt to have some extra zip at your party. For example, Kevin Tracy wrote to tell us how he and his wife redecorate their stucco Pompeii oven and backyard annually. The theme changes each spring, and then they structure their parties and signature pizzas around that theme all summer long. (South of the Border, Greece, and Contemporary Pacific NW were recent examples.) Everyone wants to be on the VIP list for their big reveals!
Another couple decided to keep a "Pizza Log" when they purchased their Primavera70. After recording who was served, the number and type of pizza, weather, date, etc., they host special parties for the milestone pizza numbers. At the party, they write the big number on the bottom of a plate, and give a prize to the person who has the 500th or 1,000th pie. (They have now made over 2,000 pizzas, and still counting!)
Some families use their oven to host backyard birthday parties. Others offer pizza parties as auction items for their favorite charities or as fundraisers. Then there's Oktoberfest, wine or craft beer pairings, "Chopped" parties with a mystery ingredient, farm-to-table with local foods, or just general celebrations for celebrating's sake! All are good and the options are endless!
After Party Wrap Up
Have a bunch of left over toppings? After the pizza course, use them to make up a batch of Brigit Binns' Cal-Ital Wood-Roasted Chicken Thighs. (They're great for later too.) Extra toppings can also be used in a breakfast omelette or scramble.
Finally, at the end of the night, let your fire burn down, and place the door on the oven to keep the heat in. Forno Bravo refractory ovens are so efficient that they will still be at least 300°F in the morning without any additional fuel. Just pop in a tray of cinnamon rolls or Butterscotch Sticky Buns to bake, enjoy your coffee, and let the morning recovery begin! …Now, that's the way to end a party!
Let us know if we can help you choose a wood fired oven for your home. Our team is ready to assist. It's time to get your party started!