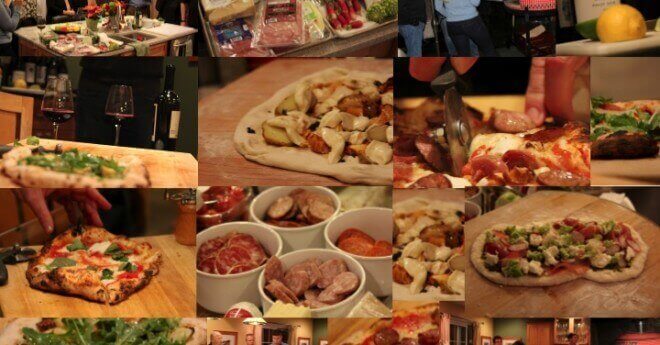 A pizza party … a recipe
Dec 06, 2014
Posted by Chef Bart
Print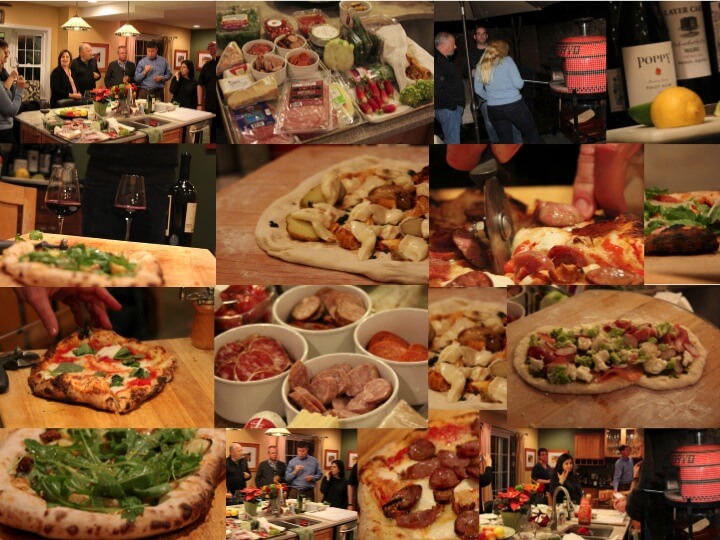 A few nights ago, I had the F&B team over for pizza after a long day of strategic planning. Being all foodies, we were excited to all throw our hats into the cooking ring with the Forno Bravo Wood Fired Oven. Unfortunately, it was a cold, wintery mix kind of night in the mid-Atlantic, but nothing a large market umbrella couldn't handle. The evening was wonderful, full of laughter, stories, camaraderie, and coming together around a table of great food and drink.
Until next week…Feast Well!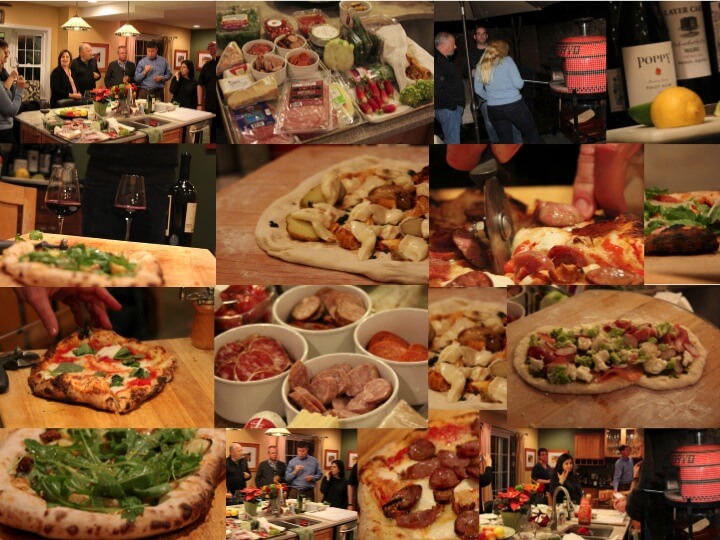 A pizza party … a recipe
Ingredients
Munchies
1 wheel Cow Girl Creamery's Red Hawk cheese
1 wedge Cabot's Clothbound Cheddar Cheese
1 cup Oil Cuted Olives
1 package Sea Salt Crackers
3 bottles red wine - Pizza friendly, The Prisoner from TPWC for us
2 bottles white wine - Ridge Chardonnay was our choice
Manhattan drinkers
1 bottle Angel's Envy Bourbon
1 bottle Nolly Prat Sweet Vermouth
1 bottle Cherry Bitters
1 jar Luxardo Cherries
Pizza
12 each pizza dough - Your favorite or see my earlier posts
1 bowl Tomato Sauce - San Marzano Tomatoes, crushed with sea salt and evoo
6-8 varieties Cured Meats - Mortadella, Capicola, Soppressata, Prosciutto, Pepperoni, Andouille Sausage, Sweet Italian Sausage, and Chorizo
3-4 Cheeses - Fresh Mozzarella, Burrata, Taleggios, Cave Aged Gruyere, Parmigiano-reggiano, and Provolone
1 bowl Tapenade - Kalamata Olives, Olive Oil, Basil, and Pepper blended into a smooth paste
1 handful Golden Chanterelles
1 bulb Fennel
1 bunch thyme
2 bunch basil
1 bunch oregano
1 bottle extra virgin olive oil
1 bunch Radish
1 bunch Arugula
2-3 lemons
1 jar Local Honey
2-3 favorite toppings not listed here
Instructions
To begin, gather … 8 each food & beverage executives, substitute friends if f&b execs are not available. Welcome them with a bar and munchies. Throw in a handful of sparkling and tonic waters, lemons, limes, and oranges to accompany the wine or Manhattan's (ingredients listed). Show your guest the bar and let them enjoy.

In a large kitchen, set up platters of cheese, crackers, and olives. Tip – do your best to have this set up before your guests arrive. They try and be polite, but they're hungry. Avoid the temptation to bust into the cheese before they arrive. As your oven is warming up and your guests are indulging in snacks and beverages, assemble your toppings.

Pour yourself a beverage, take a few sips, and begin to set out all the toppings. Make sure the presentation is arranged enough that your guest can see and reach everything. Once you say go, it's on! Enjoy the pizza building and friendly competition of out doing each other. Our favorite combinations of the evening were Andouille with cave aged gruyere, and golden chanterelles, taleggio, thyme, honey, and arugula. Enjoy … can't wait to hear about your favorites.