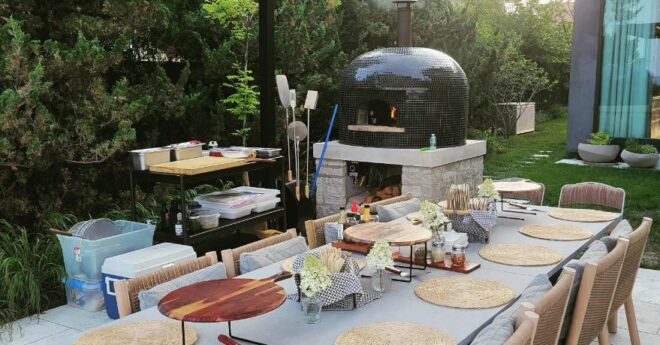 Labor Day Gathering Guide
Aug 31, 2023
Posted by Forno Bravo
On the first Monday in September, the United States celebrates Labor Day. It is a federal holiday established in 1894 by President Grover Cleveland to provide a day of rest for workers, and to honor their many contributions. The holiday is also a perfect time to gather with friends and family at the end of summer for a last hurrah as kids are going back to school and the weather is still beautiful. 
Check out this helpful gathering guide below for ideas to make your Labor Day Pizza Party fun for the whole family.
Getting Fired Up for Labor Day Fun
Hosting a wood-fired pizza party on Labor Day doesn't have to be a ton of work. In fact, that is kind of the point of an informal Labor Day gathering – it is a day off that even the hosts should be able to enjoy with friends and family!
Make it Interactive – Because of the hands-on nature of the gathering, part of the fun for guests is getting to make and/or bake their own pizzas. While some hosts like to run the oven themselves, others enjoy making the "working the peel" a teaching moment for their guests.
Keep the Fun Outdoors – You can reduce your house cleaning duties, and make use of the nice weather while it lasts by holding the party outdoors. Use paper plates and disposable cups to reduce cleanup. Lawn chairs make for flexible seating arrangements and conversation groupings.
Invite People You Want to Catch Up With – Lots of adventures have happened over the summer. Labor Day is a great time to hear the stories of road trips or vacations, new fall plans and projects, or just get caught up with folks you haven't seen for a while. Labor Day is also a low-stress holiday where it is fine to cross-pollinate your friend groups and invite people that you would like to see, and who you think would enjoy meeting each other!
Preparing the Perfect Pizza Playground
Set the Mood – Throw some background music on the Bluetooth speaker to set the fun tone. Add some lighting if you are going to go into the evening. Maybe color-coordinate the tablecloths and dishes to go together, but large-scale decorating is not expected or required.
Leave Room for the Kids to Run – If you are going to have young people at the party, set out some soccer balls or hula hoops, or maybe a corn hole game or two, and let the little ones run! For safety's sake, make sure the game area is set up away from the pizza oven and food tables.
Relaxed and Casual – Since pizza is not a time-sensitive dish to coordinate, and Forno Bravo wood fired pizza ovens can stay hot for hours, you can make your party an "open-house" style event. Just give your guests a time range for food and activities, and let folks drift in and out as their schedules permit.
Crafting Delicious Memories: Dough, Toppings, and More
Dough Tips – Make your dough a few days ahead of time for a slow, cold ferment in the refrigerator for the best flavor. You can store it in these convenient, residential-sized dough boxes for an airtight seal until you are ready to make the pizza. Make sure to bring the dough up to room temperature before stretching it (which can take about an hour.) Do keep the dough out of the sun so that it doesn't over-proof. One last tip, some chefs like to stretch and parbake their dough in advance to make the topping and cooking processes easier in a group setting.
Topping Options – Feel free to go mild to wild with your sauce and topping options for your guests. Red sauce, pesto, BBQ, and olive oil with fresh garlic are all fan favorites. You can keep it simple and offer just classic mozzarella and parmesan cheese, or up the ante with burrata and blue cheese for a twist. Reminder, to keep any perishable toppings (especially meats) covered, and the container on a bowl of ice to keep them cool. No food poisoning is allowed at this party!
Make It a Competition – While you should encourage your guests to use creative combinations of toppings, remind them not to overload the dough. It will cook and taste better if they keep things simple. However, making a competition out of the best combos can be fun too. The winner gets a pizza named after them that is featured at the next party!
Complementing the Feast: Sides, Drinks, and Desserts
Choose Interesting Side Dishes – Side dishes can almost be a meal in themselves if handled right, since everything goes well with pizza! One choice is to make the party a potluck and ask your guests to contribute a side item or bring a favorite flavored olive oil for dipping with pita or flatbread for variety (and to spread the labor on Labor Day.) Roasted veggies, Peach Caprese salad, twice baked wings in the woodfired oven are all hits for easy and unique sides.
Provide a Selection of Beverages – Provide both alcoholic and non-alcoholic drink options for your guests to help keep a family-friendly event family friendly. There are tons of mock-cocktail options on the internet these days that will tantalize the tastebuds.
End with a Sweet Treat – Keeping with the DIY or buffet theme, you can close out the meal on a sweet note with a delectable wood-fired dessert option, like the Ooey Gooey S'Mores Dippers Dessert. Cobblers and fruit crumb dishes also can be whipped up in the oven as the temperature comes down. Pair it with hand-churned ice cream for a memory the kids will never forget!
Beyond Pizzas: Games, Sweets, and Cherished Moments
Offer Activities Besides Just Eating and Talking – One way to boost a party that folks won't expect is to literally, "up your game" with things like oversized Jenga blocks or giant Connect 4 racks, "horseball" ladders, a kiddie pool-sized bubble maker, buckets of chalk for sidewalk drawing (it really is fun for all ages), hold a Silent Dance Party, or set up a badminton net on the yard. If there will be lots of families, you can even bring in a bounce house, or coordinate a 4-square or pickleball tournament in the driveway.
Set Up a Group Photo Album or Hashtag – Capturing precious moments and memories together is a gift that you can share with each other. As host, set up a group Google photo album online so everyone can add their pictures. Many different perspectives mean no one person is left to try and catch all of the fun. Also, don't forget to take a group photo!
Send Your Guests Home with a Gift – Lastly, party favors aren't just for kids' birthday parties. You can provide your guests with a mini-herb plant (like basil or other pizza-friendly flavors), or maybe a personalized pizza cutter to remember the day. You can get personalized boxes and encourage your guests to take home leftover pizza for a delicious reminder of the party.
If you follow these simple guidelines, you will have Labor Day gathering your friends will not forget. Who knows? It may even become an annual tradition!