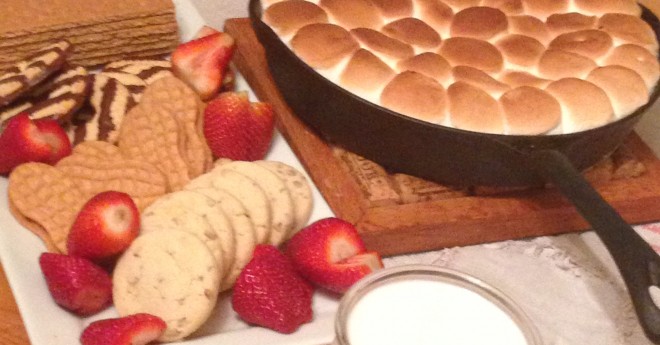 Oohey Gooey S'mores Dippers
May 09, 2016
Posted by Chef Todd Fisher
Print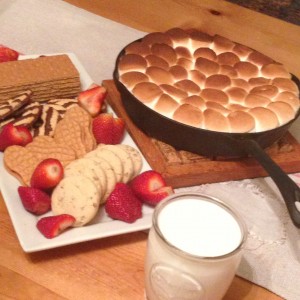 Who doesn't love S'mores?? But crowding around the front of your wood burning oven, while everyone is trying to stuff their arm into the oven to toast a marshmallow over the remaining embers after dinner is a bit of a buzz kill. Out comes the cast iron skillet and in goes all the yum yum' needed to finish of any wood fired evening… Load a plate with Graham Crackers, or any of your other favorite cookies ( I love Nutter Butters,) and everyone can scoop to their heart's content.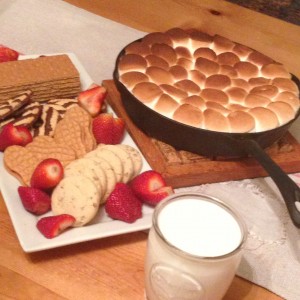 Oohey Gooey S'mores
Enjoy some S'mores fondue goodness! Grab your Graham Crackers or cookies and start dipping into this twist on a summer dessert classic.
Ingredients
1 Can Sweetened Condensed Milk
12 Ounces Semi-Sweet Chocolate chips
1 Bag Jet Puffed Marshmallows
1 Sleeve graham crackers
8 Each Nutter Butters Cookies
8 Each Shortbread Cookies
8 Each Fresh Strawberries Cut in half
Instructions
Pour the sweetened condensed milk into the bottom of the cast iron skillet. Sprinkle the semi-sweet chocolate chips on top. Standing the marshmallows up on end, tuck them into the pan atop the chocolate chips. Note: This goes quick once you put it in the oven and it is best to eat when it's molten hot.

Before you put the pan in the oven, get your cookies and strawberries displayed, so you're ready to roll. Hint: You might want to split your dippers between two plates, one for each side of the table, to facilitate the fun.

Place the loaded skillet directly in the middle of the oven for approximately 6 minutes or until the marshmallows puff up and get golden brown.

Once finished, place the skillet on a heat-safe trivet in the center of the table and start scooping. It's community sugar-indulgence at its best!