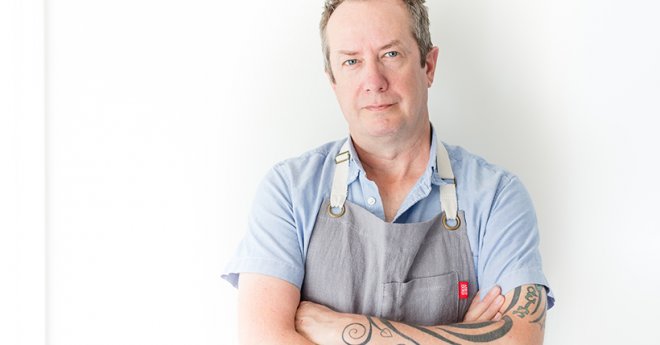 Forno Bravo Welcomes Guest Food Blogger, Gerry Speirs of Foodness Gracious
Apr 11, 2018
Posted by Forno Bravo
Gerry Speirs of Long Beach, CA and author of Foodness Gracious is one of the newest members of our Community Cookbook, a Featured Guest Blogger, and a proud owner of a custom Napolino70 Forno Bravo wood fired pizza oven! Originally from Scotland, Gary is a blogger, photographer, cook, husband, and stay-at-home dad. His specialties are desserts and pastries, but his recipes range far and wide across the food spectrum. He shares his creations and passion on his website, Instagram/Facebook pages, and now in the Forno Bravo Community Cookbook and Wood Fired Blog!
Why Wood Fired?
With all of the other styles of cooking out there, we asked Gerry why he was interested in trying his hand at wood fired cooking.
GS: "There are a couple of reasons why cooking with wood and natural flame excites me. To cook with fire requires lots of patience. I've been smoking meats for many years so I've developed a certain eye for cooking outside of my home kitchen. As much patience as wood-fired cooking requires, the satisfaction at the end is definitely worth it, and that comes in the form of flavor! There is no way you can replicate the flavor from a wood-fired pizza in a regular kitchen oven. And did I mention that it's so much fun?"
Click here for Gerry's recipe for Wood Fired Basil Shrimp!
Why Forno Bravo?
We know why we like Foodness Gracious! Gerry brings a fun sense of humor, delicious and creative recipes, accessible ingredients, and exquisite photos to his work. We asked him why he chose a Forno Bravo Napolino 70 oven for his outdoor kitchen.
GS: "For a long time, I researched ways to build my own wood-fired pizza oven and that's how I found Forno Bravo. I love the Forno Bravo forum and all the ideas and helpful tips that you can find available. It's certainly made my wood-fired cooking a lot easier! Once I started looking at the range of Forno Bravo ovens for sale, my mind was made up. You can tell the passion that's gone into each oven as they're being built.
It's fun to see everyone's reactions when they visit my backyard, usually, they're speechless at first and then comment how beautiful my oven is. I think they expect to see some sort of brick structure and not a perfectly tiled Napolino."
Thanks, Gerry! We're looking forward seeing all of the excellent pizzas and other dishes you will make in your new Forno Bravo oven this season!