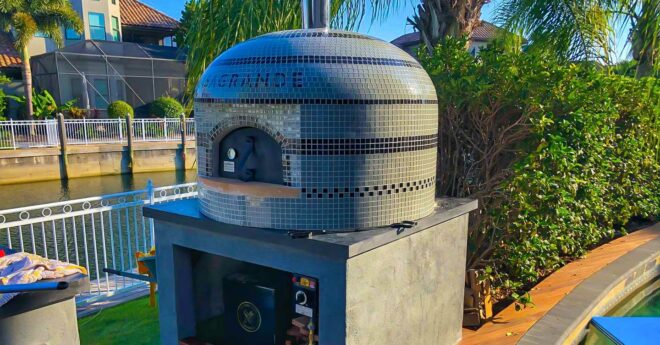 4 Forno Bravo Residential Ovens with Gas Fuel Option
Feb 17, 2022
Posted by Forno Bravo
The purists love to use their wood fired ovens strictly with wood, but there are advantages to using gas especially for large pizza parties: 
It brings the oven up to temperature quicker.
Easier regulation of heat. 
Quicker floor temperature recovery.
That said, here are 4 Forno Bravo residential ovens that can be fueled with gas: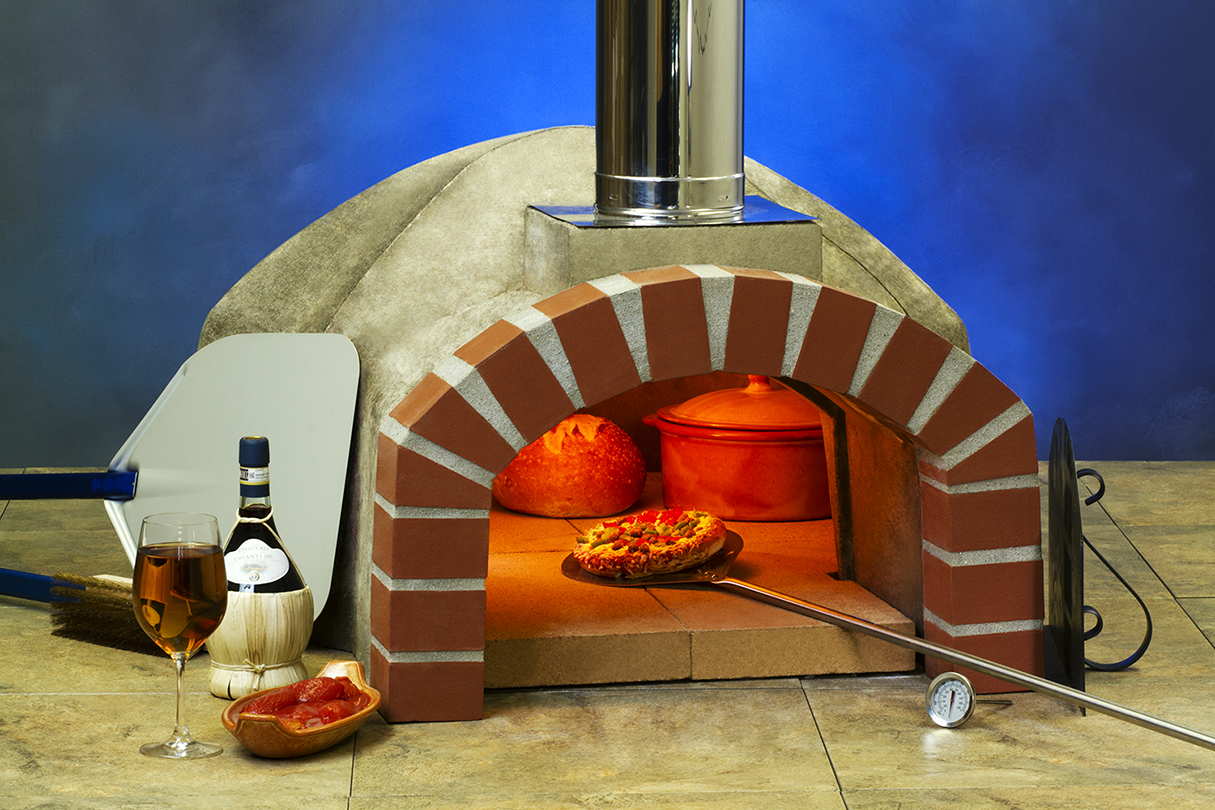 This is a mid-sized pizza oven kit that offers easy installation. It's made of the highest-quality insulating and refractory materials in the industry and offers fast heat-up times, plus sufficient cooking space for making plenty of pizza for large parties. It's safe, reliable, and ETL certified to UL standards. The Casa is capable of heating up in as little as 30 minutes, ranges in size from 32 to 44 inches of cooking surface, and all sizes come with a convenient, eight-inch oven landing.
The Casa pizza oven kit is available in four convenient sizes:
– Casa80: 32-inches
– Casa90: 36-inches
– Casa100: 40-inches
– Casa110: 44-inches
You can find all of these brick pizza ovens with gas right here: CASA Kit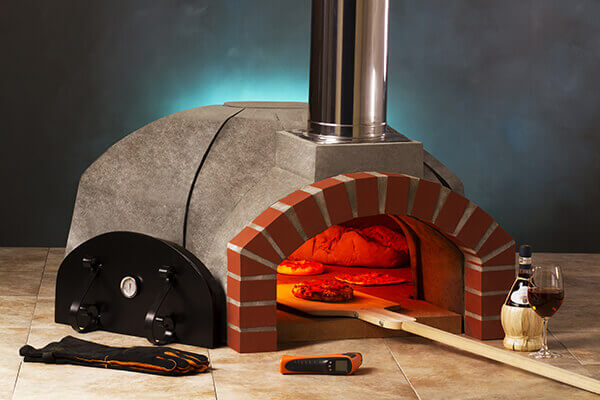 This is one of our larger-sized oven kits. Featuring a thick, high-density, three-inch cast refractory dome, an insulated steel door, and extra-premium insulation, this pizza oven is absolutely perfect for not only roasting, but also for retained heat baking. It offers the same density and thickness as a commercial pizza oven, but is designed for the home. It heats up in just 45 minutes, and can bake as many as seven pizzas at a time, or 140 pizzas per hour!
The Premio pizza oven kit from Forno Bravo is available in three sizes:
– Premio100: 40-inches
–  Premio Premio110:  44-inches
– Premio120: 48-inches
Learn more about these versatile pizza gas ovens here: Premio Kit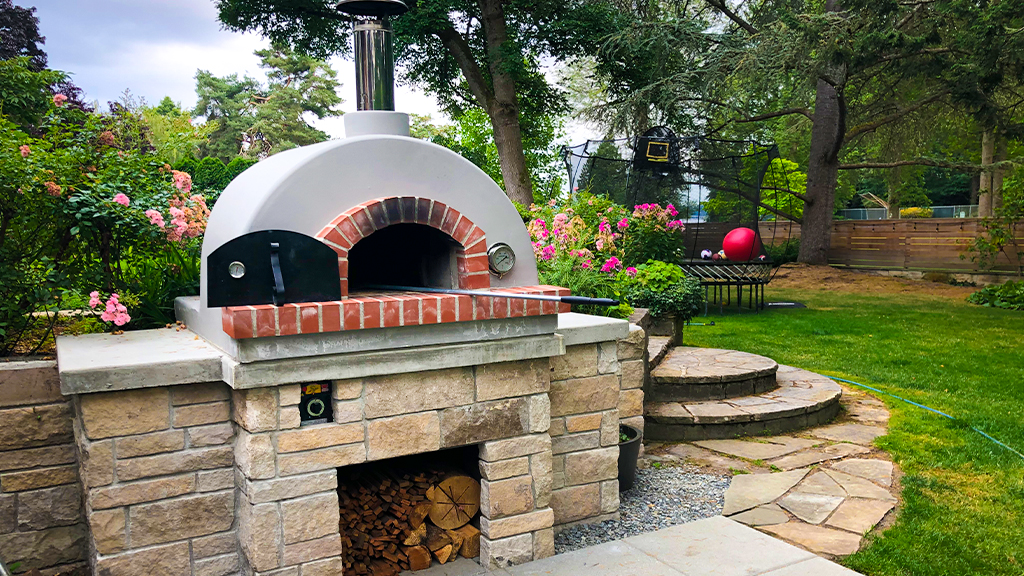 This pizza oven is mid to large-sized and available in two very distinctive decorative styles, both of which feature an oven landing and a true brick arch. The designs are the Mediterranean Igloo (aka dome,) and a Gabled Roof. They come complete with beautiful painted stucco finishes that are available in seven gorgeous colors, plus custom options. The Toscano pizza oven from Forno Bravo is available in four sizes:
 – Toscana80: 32-inches
–  Toscana90: 36-inches
– Toscana100: 40-inches
–  Toscana110: 44-inches
And, you can find them here: Toscana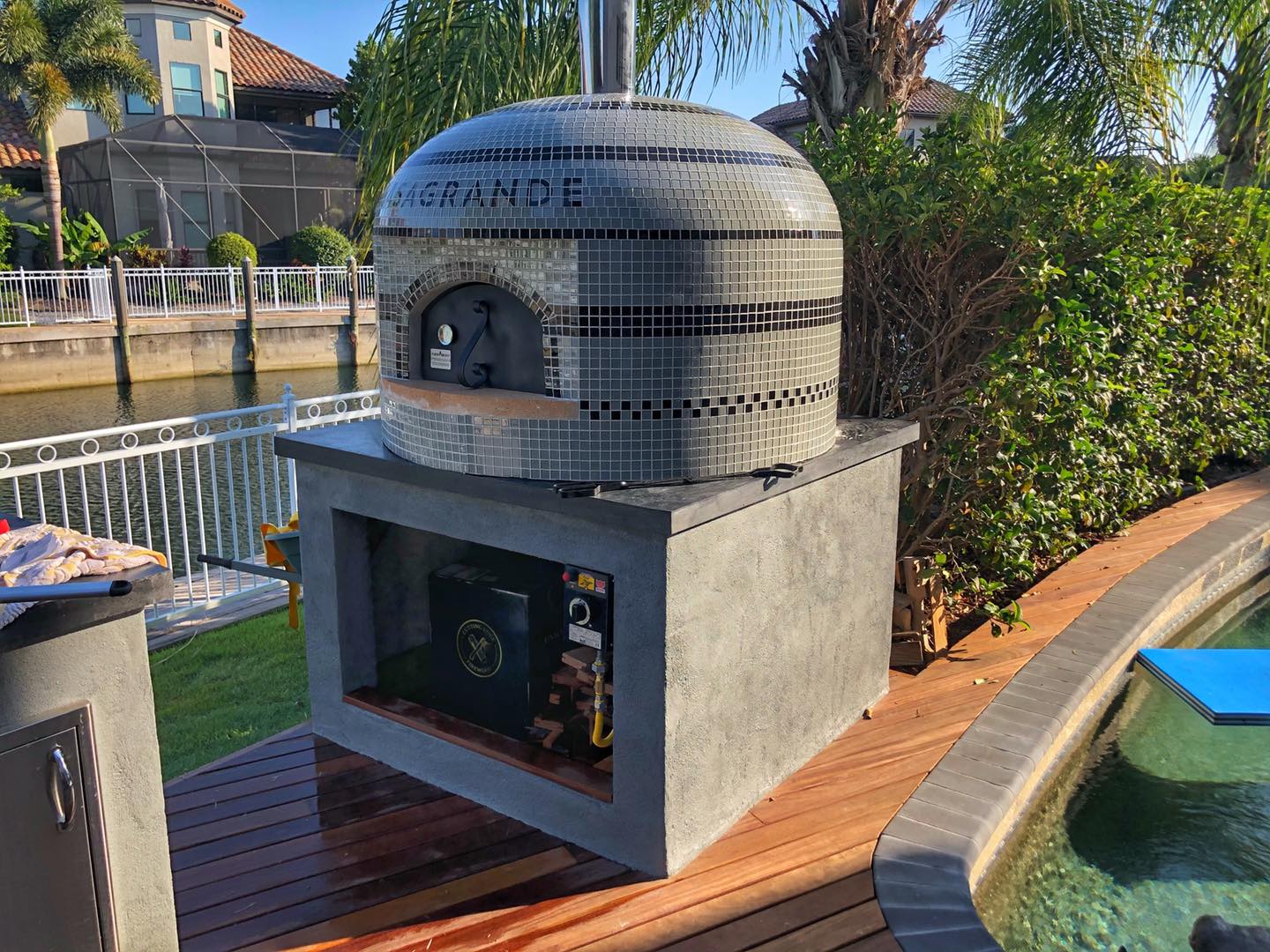 This is a true Naples-style pizza oven that features an exterior hand finished in beautiful, traditional glass tiles. This exquisitely decorative oven also offer super-fast heat-up times, plus the absolute best heat retention in the industry for creating not just pizza, but perfect bread, desserts, and grilled or roasted meats. With its trademark center vent, smoke stays away from the chef for comfort and style. Plus, when you own this pizza oven, you'll be able to bake up to five pizzas at one time, or as many as 100 per hour!
The Vesuvio pizza oven from Forno Bravo is available in four sizes:
 -Vesuvio80: 32-inches
 -Vesuvio90: 36-inches
– Vesuvio100: 40-inches
 -Vesuvio110: 44-inches
So, find them here: Vesuvio
Final Thoughts
Top chefs have found that the very best pizza in the world is baked in the super high temperatures of wood fired ovens. Adding a pizza oven from Forno Bravo to your outdoor space will not only bring more joy into your life, but make those family pizza nights a lot more exciting! In addition, these ovens are well-made, high-quality, cooking appliances that will last for many years to come. 
And, if you're at all concerned about having to locate and manage a wood supply, or deal with local building codes that may not allow wood fires, then you'll find that one of the Forno Bravo gas ovens are easy to manage and never subject to wood-burning codes. They bake at the same high temperatures as wood, and will give you almost the exact same flavor with either fuel sources, but with less hassle and minimal effort. Wood fired or with the gas upgrade, they are the best of both worlds. 
---
Download our 10 THINGS TO KNOW BEFORE BUYING A OVEN Guide