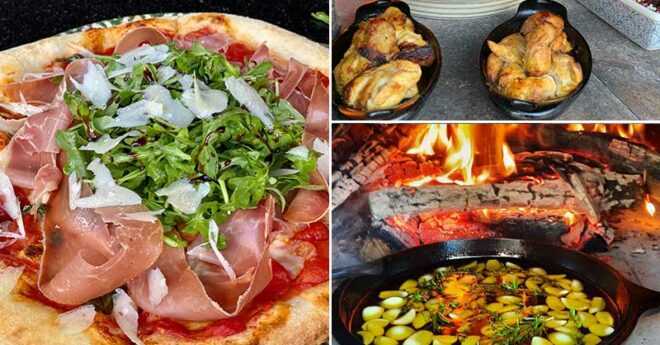 2021 Summer Photo Contest Honorable Mentions – Fantastic Food Photos
Oct 29, 2021
Posted by Forno Bravo
Pizza, pizza, and more pizza! There were so many great shots of our favorite food to choose from in this year's contest that we decided to make a special honorable mention category for just food photos. It covered pizza (of course,) but there were beautiful shots of other types of foods too, like lamb chops, chicken, and even an octopus dish! Enjoy these photos. They will make you yearn to go eat some great wood fired food right now!!! 
Thomas Gaertner – Door County, WI – Toscana80
Terrific outdoor entertainment venue
Michael Carrara – Newton, NJ – Casa2G110
My Great Grandfather who came over from Italy had a Pizza oven and I can remember cooking and making wine him…The pizza oven has been the center attraction in my backyard every weekend since it was completed. I use it all year long to cook not only Pizza, but Bread, Roasts, Soups, you name it! If you can cook it in an oven, you can cook it over fire.
David Skabar – Okanagan, BC, Canada – Vesuvio100
Nothing quite like lakeside wood fired pizza and bread!!
Patrick Waylon – Southern California – Casa2G100
After finding out through DNA results that I'm 60% Italian, and having used one of your ovens at a friend's house many years ago. I promised myself that I would someday have a wood burning oven. I researched many options and all recommendations kept coming back to Forno Bravo. I love the oven I chose and am particularly proud to have built it myself. I would highly recommend Forno Bravo for anyone looking for a quality wood burning oven.
Daniel Baker – Nashville, TN – Casa2G80
Inspiration is big family gatherings, eating amazing food that you know was made well. We wanted to have an outdoor oven where we could pick the herbs we're growing as we cook, be surrounded by our garden, and be surrounded by family. The Forno Bravo oven is perfect for that.
Alesio Cicchelli – Bolton, Ontario, Canada – Giardino
I love my oven as it is a central part of my outdoor kitchen and brings our family and friends together. Every time I fire it up, it becomes a special event. I have used it for pizzas, bread, fish, steak, basically everything. I don't know of anything I currently own that brings me so much joy!
David Huff – Silver Spring, MD – Giardino70
My wife and I made our oven with our parents last fall and we have loved every minute. My wife has been cooking bread, pizzas, stews, corn, roasted veggies (many types), berry crisps and more…. The best part is the fact we spend more time as a family relaxing outside and inviting friends over than we ever have in the past. It truly was the best DIY project to date!
Nick & Laurie Barbin – Santa Cruz, CA – Casa2G90
I had always envisioned having a wood fired pizza oven in my backyard since my wife Laurie and I love to entertain friends and family. Based on a lot of research, I decided on the Casa 90G kit and within a few weeks the pallet was sitting on my driveway.  I'm very happy at how well it turned out and especially pleased at how well it cooks pizzas.
Gerard Pozzi – Connecticut – Medio28
Aside from being a gorgeous piece of equipment, my pizza oven turns out some of the best pizza I (and my friends and family) have ever had. The build quality is amazing and there is absolutely no better feeling on earth than firing up the oven, watching it heat up, and bringing people you love over and cooking for them.
Tim Ritter – Bend, OR – Casa2G90
Our oven is the centerpiece of our outdoor space. It's the oven and its enchanting flames that friends and neighbors gravitate to whenever they come over. It's around the oven that the family sits, giddy for the next pizza to come out. It's to the oven we go the next morning to watch grandma bake her bread or check on dad's frittata. The joy of wood-fired cooking has made cooking together and eating together central to our family's life, and we couldn't be happier about it.
Marco Coppola – Colleyville, TX – Vesuvio90
My parents were from Naples, Italy, and every summer, we'd visit family. My earliest memory of pizza Napoletana was at a small pizzeria on Via Salvatore Rosa. I watched in awe and studied the pizzaiolo as he made perfection. So, for the past 10 years, I have been on a quest to make Vera Pizza Napoletana…Behold,"Partenope."
Want more? CLICK HERE to see the top three winners of this year's photo contest or HERE for our Honorable Mentions in the Oven Catagory.