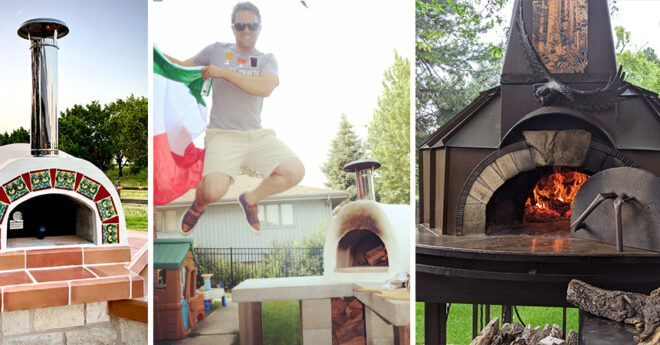 2021 Summer Photo Contest Winners
Aug 31, 2021
Posted by Forno Bravo
At Forno Bravo, we love wood fired ovens, and families, and food, and feasting, and frolicking in the summer-time sun, and photos of all this frivolity! …and really, who wouldn't?! So when we launched our photo contest this year, we hoped to see a broad cross-section of subjects from our wood fired community, and intentionally kept the criteria open-ended. The images we received met that goal perfectly. Below are the 3 winning photos from this year's contest, along with a sampling of their other submissions that help to tell the story of their pizza journey.
A special thank you to all of our participants, and congratulations to all of our winners!
Grand Prize
Tim Schroeder – Centennial, CO – Pompeii Brick Oven – 32" Floor (A striking, copper enclosed brick oven customized from Forno Bravo designs and plans)
Tim's build brought us back to something you might find in the world of Game of Thrones more than in the 21st century. The solidness of the construction contracts with his playful nature (as seen in his other photo submissions.) Congratulations on your craftsmanship Tim. We love your oven!
Tim's Inspiration: "After visiting Italy, seeing and experiencing great pizza and other dishes, I decided to build my own. I enjoy learning all I can from master pizzaiolos around the world. This oven is 32 inches, fire brick, Pompei style, on a steel rack covered in copper."
2nd Place
Ty Woodruff – Austin, TX – Casa2G90 Modular Oven – 36" Floor (Exquisitely classy countertop model finished in cream-colored stucco with custom accent tiles)
Ty's build caught our attention early on in the contest and our eye kept being drawn back to its clean lines and elegant accents. Very nice job. It fits into the landscape and colors of its new home perfectly!
Ty's Inspiration: "My inspiration to even take on a project such as a wood fired oven has mainly come from Clive Baillie (The Wood Fired Oven Chef). He has been a wealth of information, both through his videos as well as email we have exchanged. He is actually how I first learned of Forno Bravo, and is the source of several of the dishes I'm looking forward to cooking in the oven (Dijon chicken, wood fired clams, porterhouse steak, etc). The other dish I'm really looking forward to trying comes from Carve, our favorite restaurant here in Austin (part of the Perry's Steakhouse family). They currently have wood fired oysters on their specials menu, and they are OUTSTANDING. I'm excited to try and recreate it at home! And then there are all the pizzas I'm looking forward to!
The other inspiration that came into play is our love of Santa Fe, NM. We wanted to create a Santa Fe feel with the cooking island, thus our use of earth tones and the Saltillo and talavera tiles.
We just finished the build, so I am still in the curing process and haven't cooked in the oven yet. When I do, I'm sure what I love about the oven will change on a daily basis. Right now, I just get giddy even looking out the window at it. Thank everyone at Forno Bravo for all your help through the purchase and build process. You've made something I basically knew nothing about a pretty easy experience!"
3rd Place
Russ Pleskunas – Chicago, Illinois – Giardino70  Modular Oven Kit – 28" Floor (A simple white stucco exterior that channels the joy of baking from this family to the world)
Russ has a joy and zeal for life (and pizza!) His oven setup is simple, but practical. The Giardino core is king and is what makes his pizza turn out so wonderful. Thanks for bringing the fun to the contest this year.
Russ' Inspiration: "My wife and I went on a dream vacation to Florence Italy for one month several years ago. We happened upon a piazza where we saw many people sitting on the church steps with pizza boxes. We immediately went out to investigate where this pizza was coming from and found a small off-the-beaten-path pizza shop with a line out the door and knew we had found the spot. We have dreamed about this pizza ever since and knew we needed to one day get our own pizza oven!!!
We installed our Forno Bravo pizza oven this Summer and are loving it! We have finally been able to properly replicate the pizza we had in Florence and share it with our family and friends!"
Thank you for joining us in honoring this year's winners! More honorable mentions will be announced in the September 2021 Newsletter!