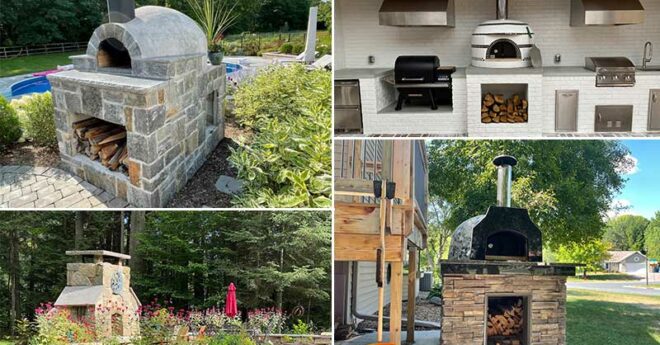 More 2021 Summer Photo Contest Winners – Honorable Mentions
Sep 30, 2021
Posted by Forno Bravo
We loved the diversity of this year's photo contest entries, so we've decided to highlight some of the honorable mentions and their stories. With so many great choices, we know you'll be as impressed and pleased as we are. From Heather Leiggi's fancy red tile styling to Michael Peruffo's smooth DIY vibe; Patrick Mokeris' Napolino with its modern flair and the back to the middles ages stone structure of Michael Shipe's Giardino – check out all of these and more to enjoy the beauty of these builds and get inspired by pizza ovens from around the country. Congratulations to our winners and thank you again to all of our participants for sharing your oven and a slice of your life with us!
Napolino70 – Heather Leiggi of Delaware
Our oven has inspired us to get together with friends and be creative with cooking. Everyone loves pizza and our pizza oven makes our parties that much more fun. We love creating different types of pizza and having our friends over to help us eat them all. We've also had lots of fun experimenting with different bread and pasta recipes.
36″ Pompeii DIY Oven – Michael Peruffo of Malta, NY
We have traveled throughout Italy and enjoyed the fine brick oven cooking there and at some excellent local establishments, so when we decided to install a pool, this brick oven was the perfect compliment to our outdoor area. We enjoy having friends and family together to share our latest brick oven creations or let them create their own.
Napolino70 – Patrick Mokris of Winter Park, FL
We remodeled the outside and used to have a French door from the hallway out to the patio. The space was about 20' long and it just seemed to be the perfect spot for an outdoor kitchen. So naturally, we chose the pizza oven to be the centerpiece. It was only after we decided on the oven could we then build the kitchen and supply the appliances accordingly. But the oven serves as much as a focal piece of art as it does a cooking appliance. We love it best as an accessory oven when smoking meat as it not only makes pizzas but turns out amazing bread and can put the final touch on any piece of meat.
Giardino Kit – Michael Shipe of Conway, New Hampshire
We decided to add an outdoor 'great room' for entertaining. It includes a large stone fireplace and a Forno Bravo pizza oven.
It took some practice to get the hang of the oven. Then the magic happened. Once mastered, you won't want to eat food prepared any other way. Guests love our pizza parties. We often get a variety of fresh toppings then guests go wild creating unique pizzas. Since the pizzas cook quickly, everyone can make their own.
Of course, calling it a pizza oven is a bit misleading. We cook everything in it; hors d'oeuvres, bread, steak, even desserts. Our guests are amazed at the things we line up to bake. Once it's hot, you might as well take advantage of it. Thanks Forno Bravo, you made life better.
Casa2G110 – Joseph Dziubinski of Ramona, CA
The inspirations for my outdoor oven include reading about the art of wood fired cooking, countless fond memories of trips to Italy, and of course my favorite food group, PIZZA! My wife and I love the Italian countryside so I designed and created a backyard cooking area that evokes memories of a modern Mediterranean Tuscan garden with outdoor family-style dining. I designed and built the Casa110 44 inch wood fired oven myself over several months with the goal to create something personal, artistic, and unique.

The oven contains a mixture of natural and modern elements and was incorporated into a covered cedar pergola which serves as a protected prep and cooking area, as well as a wonderful serving station and bar. I created a California Gold slate ledger facade around the oven with a slanted tin roof that matches the one over the adjacent pergola. I added a dark-stained cedar wood overlay to the concrete and block oven base to tie into the front of the pergola and surrounding fencing, as well as to offset and soften the stonework. The build also included dual front and back openings in the base to facilitate the loading, storage, and use of firewood without having to always enter the front enclosed cooking area. My personal "pièce de résistance" is the hand-cut superimposed Montauk black slate voussoir arch that matches the chimney, landing area, and base accents.

We are blessed year-round with Mediterranean-style weather in Southern California, and our Tuscan-inspired outdoor wood fired oven pavilion gives us the perfect excuse to entertain friends and family daily!
Toscana80 – Mark Galantowicz of Wilmington, VT
When my son, Nick, decided to have his bachelor party weekend at our home in Vermont – he knew that letting the guys make their own pizzas with beer and lawn games would kick-off the festivities perfectly!!
Bella Medio28 – Joan Williams of Arlington, SD
These are the 3rd and 4th ovens we've purchased from you, and the best suited for our mobile business. Mounted over the bed of our '51 Chevy pickup, they definitely catch people's attention. This is our 12th year (9th using the truck). We've put on thousands of miles, most of them bumpy rides, traveling to backyard parties and public events, and the ovens are holding up amazingly well. (bella-lunatics.com)
Vesuvio100 – Travis Stickle of Amarillo, TX
This oven is an instant conversation starter. Everyone loves to ask about it and how it works!
Casa2G90 – Mike Brenden of Eagan, MN
The love of pizza inspired us to build not just one, but two pizza ovens. This is the first at our home. The second will be much larger but is not finished. We love experimenting with new and unique toppings and flavor combinations. It has been the talk of our neighborhood as we built it slowly, step by step. It has become the social gathering place for pizza lovers. We love our Forno Bravo! The base is ledger stone. The oven is wrapped in sliced, tumbled river stone and trimmed in granite, all sitting on a concrete slab poured into a custom 4" aluminum pan.
Casa2G100 – Patrick Walyon of California
After finding out through DNA results that I'm 60% Italian, and having used one of your ovens at a friend's house many years ago. I promised myself that I would someday have a wood burning oven. I researched many options and all recommendations kept coming back to Forno Bravo. I love the oven I chose and am particularly proud to have built it myself. I would highly recommend Forno Bravo for anyone looking for a quality wood burning oven.
Want more? CLICK HERE to see the top three winners of this year's photo contest.