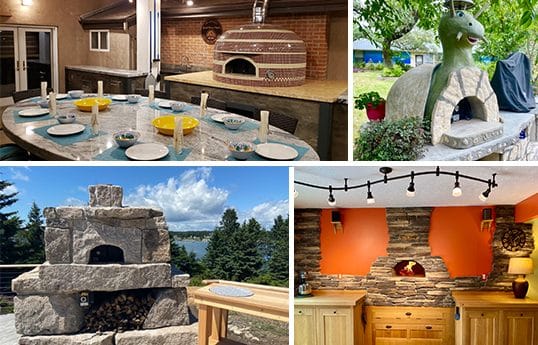 2020 Summer Photo Contest Honorable Mentions (Part 2)
Sep 23, 2020
Posted by Forno Bravo
This summer, Forno Bravo hosted a photo contest for its customers and the results were wonderful! In August, we awarded prizes for the Top Winners, and then chose an additional set of photos to honor as well (Honorable Mentions Part 1). However, there were so many super photos, we've decided to feature a second set of honorable mentions, some that are pro-level, and others that are a bit more DIY, but all capture the fun and enthusiasm of the wood fired oven community. Thank you to all of our participants and readers! We hope you like these selections as much as we do!
(Note: Some stories have been edited for length.)
Joe Testa – Casa2G Modular Oven Kit – Wallingford, CT
"We've enjoyed using it 2-3 times a week and have mastered pizza (for example: pear, pesto, pine nuts, mozzarella, and arugula), muffins, bread, lasagna, steak, chicken supreme, cheesy potatoes, risotto, berry crisp, and much more! We have expanded beyond pizza. Spiced pork roast and roasted elephant garlic are now a friend's fav. In the days of Covid, outdoor eating has been our saving grace to enjoy our family and friends, and of course, we stand a pizza peel apart. Lol!"
Meet Joe T. in this video describing his project!
Jon Stabler – Giardino70 – Boerne, TX
"We love whimsy are blessed with a gifted rock artist, Miguel Cardona, who creates it. He uses his magic to fill our yard with fun rock and concrete bridges, animal planters, gazebos, and now a giant happy snail! Inspired by the shape of your oven and one of 100 million year old fossils found near by, he created our new fun addition, Sunny "Smokin" Snail.

Lining the front landing to the oven are a lot of those fossils found on local hikes — if you look closely, in some of the pics you will see that big snail that served as the model for Sunny Snail's shell sitting by him. When not cooking up a great pizza and bread, Sunny Snail keeps our backyard happy with his great big smile. Thank you for your great product and service, and the joy you have brought to our backyard!"
William Whitman, Jr. – Casa2G90 with Gas – Stonington, Maine
"I have built a wonderful retreat on a five acre island off Stonington, Maine. There are views in every direction into town and out through an archipelago of 70 islands. The Forno Bravo Casa90 oven is the centerpiece of the deck and sits adjacent to a fire pit looking west to the sunsets. Sensational! All the granite stone used in the project came from rough blocks left over from when the Island was quarried in the last part of the 19th and early part of the 20th centuries."
Scott Baar – Primavera60 – Michigan
"Inspiration came from local eateries, a trip to Italy, and a love for pizza! The most satisfying part of the oven is entertaining others enjoying great conversation and pizza."
Rachael and Anthony Cappuccino – Napolino70 – Thousand Oaks, CA
"We took some maternity photos in our backyard and the best photos we took were next to our Wood Burning oven! We are both Italian, so sharing food with family is very important to us. We love our oven because we can make authentic Neapolitan pizza to share with them. …And we thought the maternity photos next to the oven were appropriate, since we have our own little 'Bun in the Oven!'"
Isabella Blue of Rise Outdoor Design – Vesuvio90 (Gas) – Vancouver, Canada
"We were inspired by two things: size and beauty. Our clients wanted the biggest and best wood-burning pizza oven in their outdoor kitchen. As an outdoor designer, we wanted to make it look like it incorporates flawlessly into the overall design. The pizza oven became the focal point of the kitchen and it's become more popular than the grill."

We love this creative installation of a center-vent Vesuvio.
Tom Lawrence – Casa2G90 – Oakland, CA
"The oven is fantastic for large parties or small gatherings. Everyone loves making their own pizzas and watching them cook. The following morning the oven is perfect for frittatas, followed by freshly baked bread."
Michael Johnson – Premio2G100 – Naples, NY
"When I was a little boy, I had Italian neighbors that lived across the street from me, named Vicky and Dominic Comãneci. They had a small pizza restaurant in the town I lived in. I don't remember much about them, but they were very nice and made amazing pizza. They are one of my inspirations.

My wife endured a lot of bad pies in the early days. But, I would say in the past 10 to 15 years, I have really perfected my pizza dough, working with 00 flour, using DOP San Marzano tomatoes, fresh mozzarella, and basil. My friend, Tim Moore and I, both loved wood fired, authentic Neapolitan pizza. We always talked about building an oven at his winery, and I've always wanted one at my house. In 2018, I started the plans of building one in what was our dining room.

Then we had some major setbacks. Tim was diagnosed with aggressive brain cancer in February, 2019 and died that June at age 51. It was so hard to lose my best friend. I finally ordered my pizza oven in September, 2019. Then, I had to change contractors, and with other delays, the project pushed until February, 2020. Construction began, and then COVID-19 slowed things down even further. However, we now have the oven done, plus a custom 70″ utensil slot and 40″ firewood drawer. My current contractor also built the two cabinets on the other side of the oven, which have drawers that each hold 2, 50 pound bags of flour!

It's been a long journey since I was a little boy loving Vicky & Dominic's pizza. But now, my wife and I are loving this Forno Bravo Pizza oven, and our friend's beautiful, imaginative design. Tim will never be able to have pie from the oven, but his name will pass over every pie on the piece of an 1880 railroad tressel bridge that a local artist painted for me. I raise my glass to making many pies in his honor. There is nothing like baking a 10 ounce pie for 90 seconds, pulling it out, cutting it up, and eating it right away. There is nothing better than a crust from a wood fired oven. Except maybe a pint with the pie."

Close-ups of a creative solution for a 2nd story built-in oven, the sign honoring Timothy, and an honorary pizza as well!
Dennis Landaal – Vesuvio 110 – La Mesa, CA
"We love to entertain and wanted a pizza oven to be the center of the entertainment area. We have theme parties such as pizzas (of course) where guests bring random ingredients and make unique pizzas which are judged. Nothing better than seeing smiles when baking at over 900°f and the pizza is done in less than a minute. True Neapolitan pizza fanatics also bring their own home made dough to the party. Mac and cheese parties are also a big hit. We make the "base" mac and cheese, and people bring toppings and special cheeses. We have 6″ cast iron skillets where guests make their unique M&C. The oven bakes it to a crust on top, sides, and bottom for a dish that rivals the amazing pizzas. Other fantastic uses include making the next day breakfast and dinner with the residual heat (these ovens are well insulated and retain baking heat well into the next day.) We have also used the oven to bake an entire Thanksgiving Dinner featuring a 23 pound Turkey!

We visited many different pizza restaurants to witness how they made and served pizzas. We took what we learned and modified our patio design a few times before we finalized. One of the most beneficial design features that we added was "wings" on both sides of the oven. These 2′ wide wings allow for staging of the pizzas to go into the oven and for cutting and serving the finished pizzas. The other design feature was an extra wide pizza making area (about 40″) that can be accessed from two sides – this allows for up to 4 pizzas to be made at one time. We and our friends and neighbors are anxiously waiting the time when we can throw large parties again!

My son-in-law and I did a lot of the kitchen build and yard transformation ourselves. We purchased the fully assembled residential oven, and installation was easy, even though we were a bit nervous when the crane had to lift the oven over our house. The Vesuvio110 is just a wonderful oven that can bake almost anything- let your imagination go wild!"
Jenefer and Eric Davies of Heliotope Brewery – Professionale110 – Lexington, VA
"Our brewery is co-owned by a wife and husband. Because breweries can have a typically masculine feel, we wanted to create an atmosphere that was welcoming to families and we reflected this philosophy in our interior design. We created a cool, Scandinavian vibe with feminine overtones. My husband, Erik, found these marble flowers and I fell in love with them immediately. I love that our oven looks like a 1950s bathing cap! I named her "Esther" after Esther Williams, the actress/swimmer who starred in some of the highest grossing Hollywood 'aqua-movies' of the 40s & 50s which included synchronized swimming and diving."