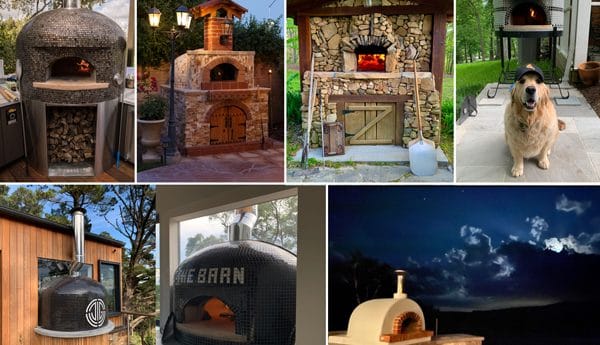 2020 Summer Photo Contest Honorable Mentions
Aug 28, 2020
Posted by Forno Bravo
With so many choices in our 2020 Summer Photo Contest, it was hard to pick our favorites. (i.e. our judges were asked to pick their top ten photos, and one sent back a list of 46! Yes, we made them go back and narrow down their list, but it just goes to show how good the images were.) So, to honor the effort that went into these entries and builds, we have decided to create a selection of Honorable Mentions, in addition to the top winners. We appreciate everyone who participated in the contest, who send us photos year-round, and who do so much to enhance our wood fired community.
*The honorees will be receiving a small, Forno Bravo-themed gift within the next month as a thank you for their work. And who knows? We may have another set of honorable mentions to award in September as well, so stay tuned! 🙂
So, with no further adieu, let us introduce you to our eight August Honorable Mentions, their stories, and some of their beautiful photo submissions! Enjoy!
John Katsoudas – Vesuvio100 – Los Gatos, CA
"We absolutely love entertaining with our Forno Bravo Vesuvio100. Summer "friends and family" pizza nights are always a great time, and the oven is the focal point of our outdoor entertaining space."
Boni Caine of Red Truck Pizza – Viaggio110 Mobile Drop-In – Minneapolis, MN
"We bought the oven to put on a 1952 Dodge Farm grain truck. We turned the old farm truck into a wood burning pizza oven food truck. We love to go to car shows, graduation parties, and wedding venues and sell pizza! We love how perfectly the oven cooks the pizzas. And we love hearing the reviews from our customers."
Juan Fernando Ojeda – Premio2G100 – Fresno, CA
"What I really like about my Forno Bravo are the family reunions, the moments when my wife and son see the delicious dishes we prepare on it, as well as the delicious taste of the wood fire oven. Now, our garden looks beautiful. We really love our Forno Bravo."
Nathalie & Michael Byrne – Napolino 60 – Nashville, TN
"We are loving our Forno Bravo pizza oven here in Nashville, TN. Our inspiration is the pizza we ate on our honeymoon in Italy- it took some practice, but we think we have finally been able to replicate the taste. The thing we love the most about our oven is our Saturday night ritual of lighting the oven and making a delicious pizza together – it fosters togetherness and is quickly becoming one of our favorite activities to do as a family. As you can see, our Golden Retriever, Lou, has joined in on the fun and is an eager receiver of any and all table scraps. Many thanks to Forno Bravo for their creation of our beautiful oven."
Mark and Barbara Galantowicz – Tuscana80 Dome – Wilmington, VT
"We built a new house around the pizza oven. The house is not done yet, but we have used the pizza oven multiple times already! Mark had his first wood-fired pizza in Tuscany with a friend about 15 years ago. He was hooked and this has been a dream ever since. It is now a reality and becoming a family tradition. We have an Italian theme going with an Italian chef's hat, Italian music, and of course, Chianti. We have several people in the family with Celiac disease and we have used your Gluten free recipe. Others did not notice …. "
Mike Pollock – Custom/Pompeii – Rising Fawn, GA
"Sorry to say it's not one of your ovens. We built this oven over the course of about 1 year. We used many images from your site as inspiration, and still use some of your recipes to this day. We were inspired by wood fired ovens seen in the mountains of Argentina and throughout Italy. My brother is interested in building an oven and I've pointed him towards Forno Bravo for ideas, inspiration, and the possibility of using one of your modular designs."
Andy Martin of ovenmasters.com.au – Casa2G100 – Sydney, AUS
This submission came from Oven Masters, Forno Bravo's Australian dealer.
"Our customer wanted an oven that could feature both indoors and outdoors visibility with the look of a commercial Napoli oven. This was the creative result."
Joe Criscuolo – Vesuvio100 with a custom finish – Darien, Connecticut  (Volcano)
"My inspiration came from my trips to Italy, where an outdoor Pizza oven is often the center attraction of any backyard. Nothing is better than a group circling the oven and waiting to taste the outcome of all the hard work."
Please let us know if we can help you find the oven of your dreams!
You can contact the sales team HERE.