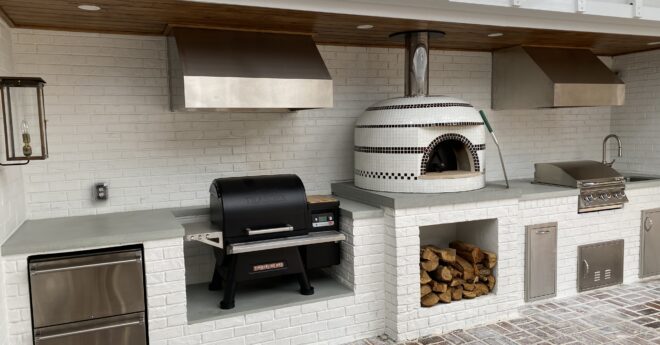 10 Countertop Ideas for Your Wood Fired Oven
Feb 10, 2022
Posted by Forno Bravo
Countertops serve multiple purposes when coupled up with a Forno Bravo Pizza Oven Kit.
First of all, you need somewhere to craft your homemade pizzas. Though don't forget that there are loads of dishes you can cook in a Forno Bravo oven as well – check out our community cookbook for heaps of ideas there!
Countertops also dictate whether or not you're creating a more comprehensive dining space or just a place to house your pizza oven. There's no problem either way – the decision is yours!
Attention: We highly recommend all countertop structures are made from non-combustible materials for safety. 
Let's take a look at 12 countertop ideas for your wood-fired oven, all courtesy of our customers. 
1: L-Shaped Outdoor Bar Style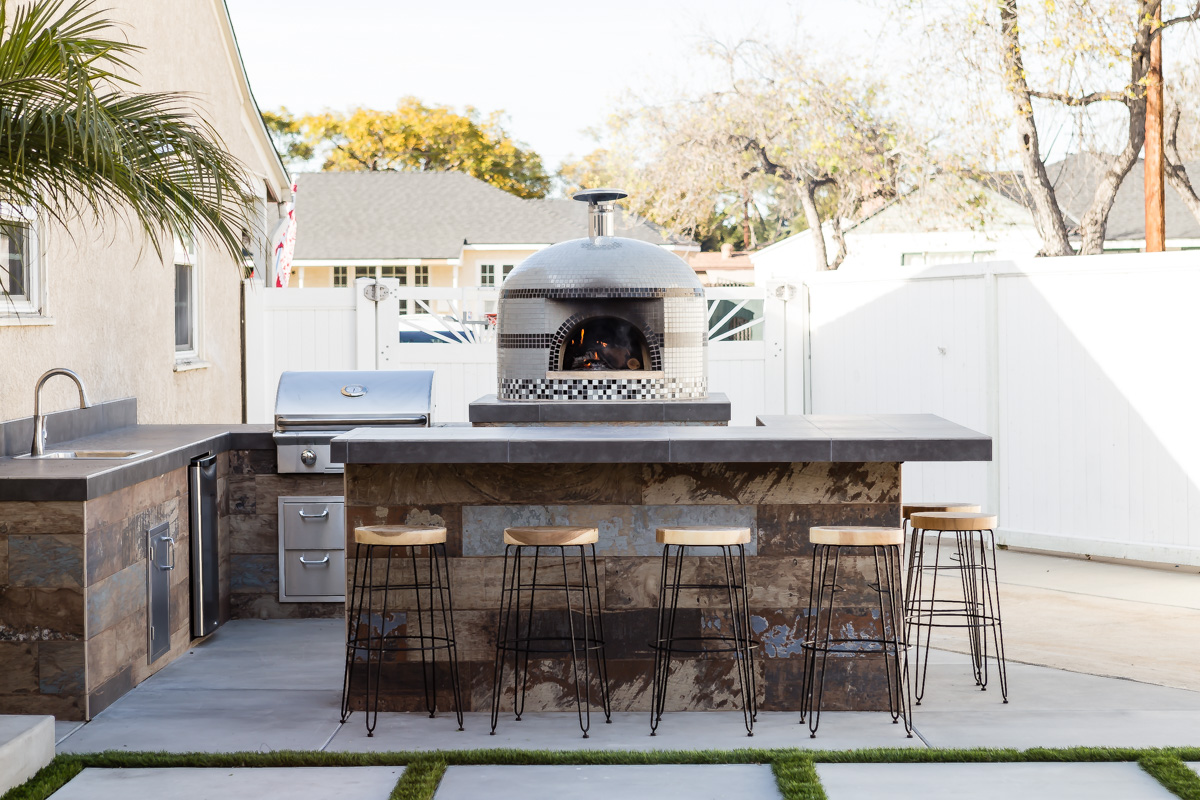 This bar-style countertop and pizza oven design showcases al-fresco dining in all its glory. 
The pizza oven makes a gorgeous centerpiece, allowing hosts to serve up authentic wood-fired meals directly onto the countertop. The perfect setup for garden parties that everyone in the neighborhood hopes they're invited to!
2: Brick and Marble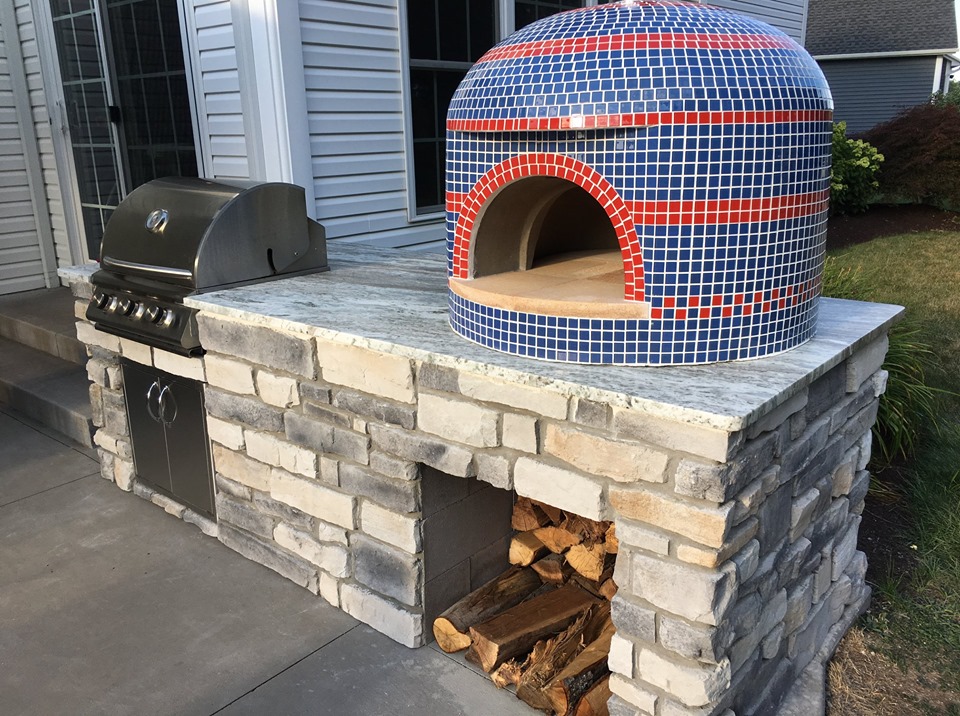 This gorgeous red and blue pizza oven is set up nicely on a simple marble countertop. The natural brick base is sturdy and strong, which is pretty much all you need to get cracking. 
The log store below is all you need to get this wood-fired oven going. A compact and neat countertop that does the job well with the minimum of fuss, and those blue and red tiles still give that Napolino pizza oven the wow factor 
3: Comprehensive Outdoor Kitchen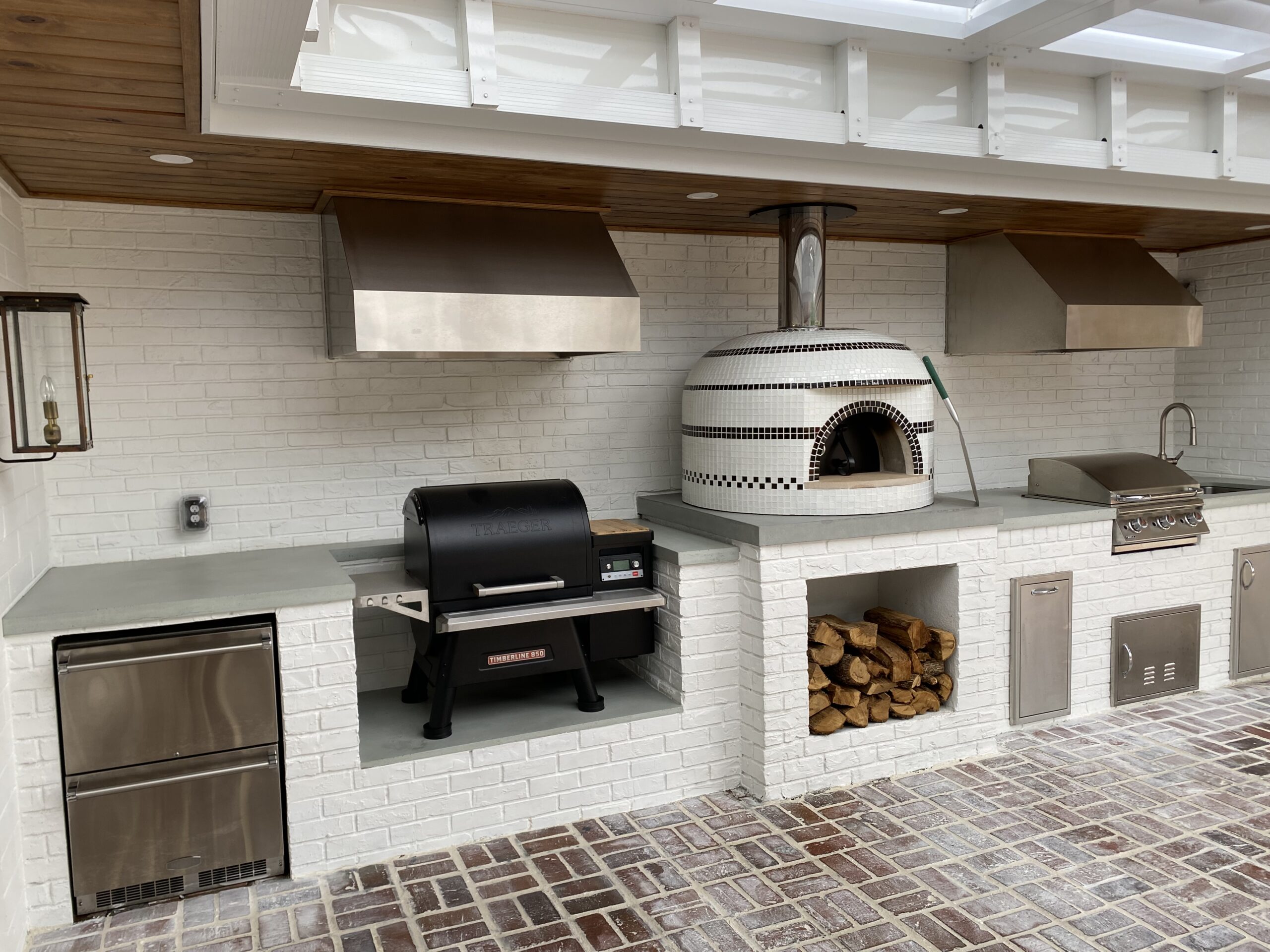 This is how you do it! This outdoor kitchen clearly has everything you need to host parties of any type, at any size. The eye is drawn to the magnificent sleek white and black Forno Bravo oven at the center, which is outside-vented for safe use in this undercover space. 
Storage here is ample too, with a generous log store and plenty of prep room.
The countertop itself provides all the room anyone needs to cook for pretty much any number of guests. We imagine that it's all hands on deck when this kitchen is in full swing!
4: Brick and Granite Countertop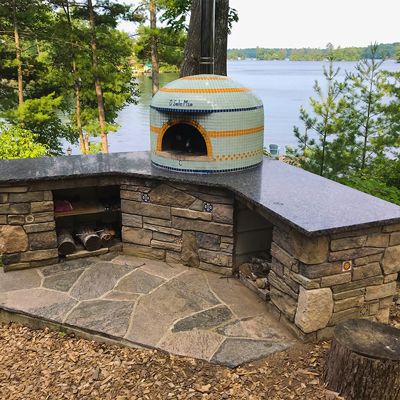 This rustic pizza oven setup has plenty of room for prep, serving, and cooking, all with a stunning lakeside view. The stone angled countertop maximizes space with the pizza oven placed perfectly in the middle, creating a great centerpiece that combines practicality and aesthetics. 
We love these rustic, authentic outdoor designs which use natural stones to complement the pizza oven. The countertop itself is made from black granite which is extremely durable, weather-resistant, and very easy to clean. 
Not one but two log stores ensure that this Napolino oven is ready to burn all day and night. 
5: Granite Topped Countertop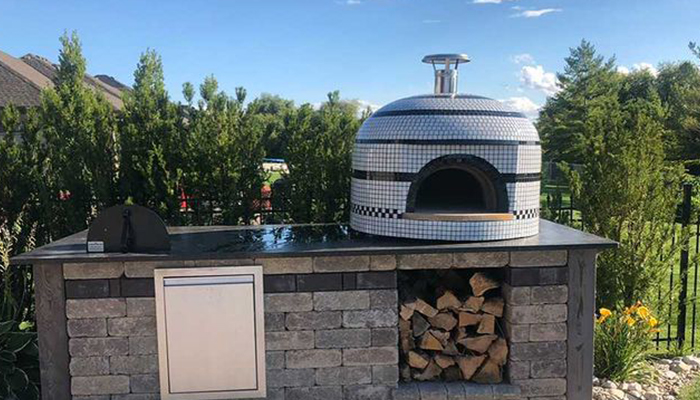 This compact and no-fuss countertop is all you need to prepare home wood-fired meals in the glorious great outdoors. 
The black granite countertop is a wise choice – granite is a top-class countertop material that is stain and mold-resistant, extremely durable, hygienic, and easy to clean. 
6: Metal Base and Marble Countertops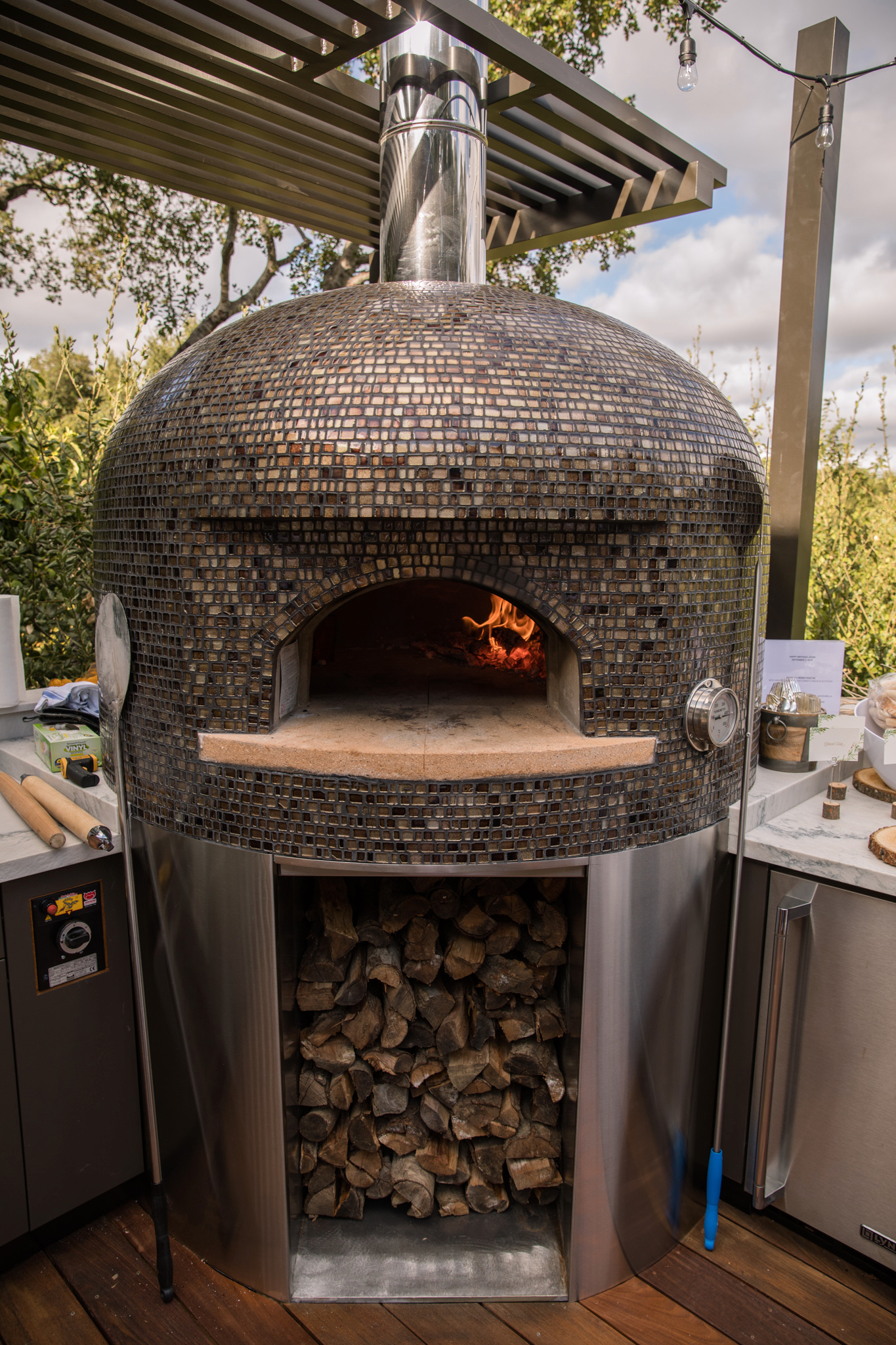 This colossal Vesuvio pizza oven is built to last and built to graft! 
Naturally, such a heavy-duty pizza oven needs a heavy-duty base, which is why this customer is using a metal base with a generously sized log store underneath. The surrounding units are topped with a lovely white marble and the oven itself looks superb with its traditional rustic mixed brown tiles. 
This is a top-class setup for serious wood-fired enthusiasts and those who are looking to enjoy the very best pizzas and wood-fired cuisine.
7: Simple Black Countertop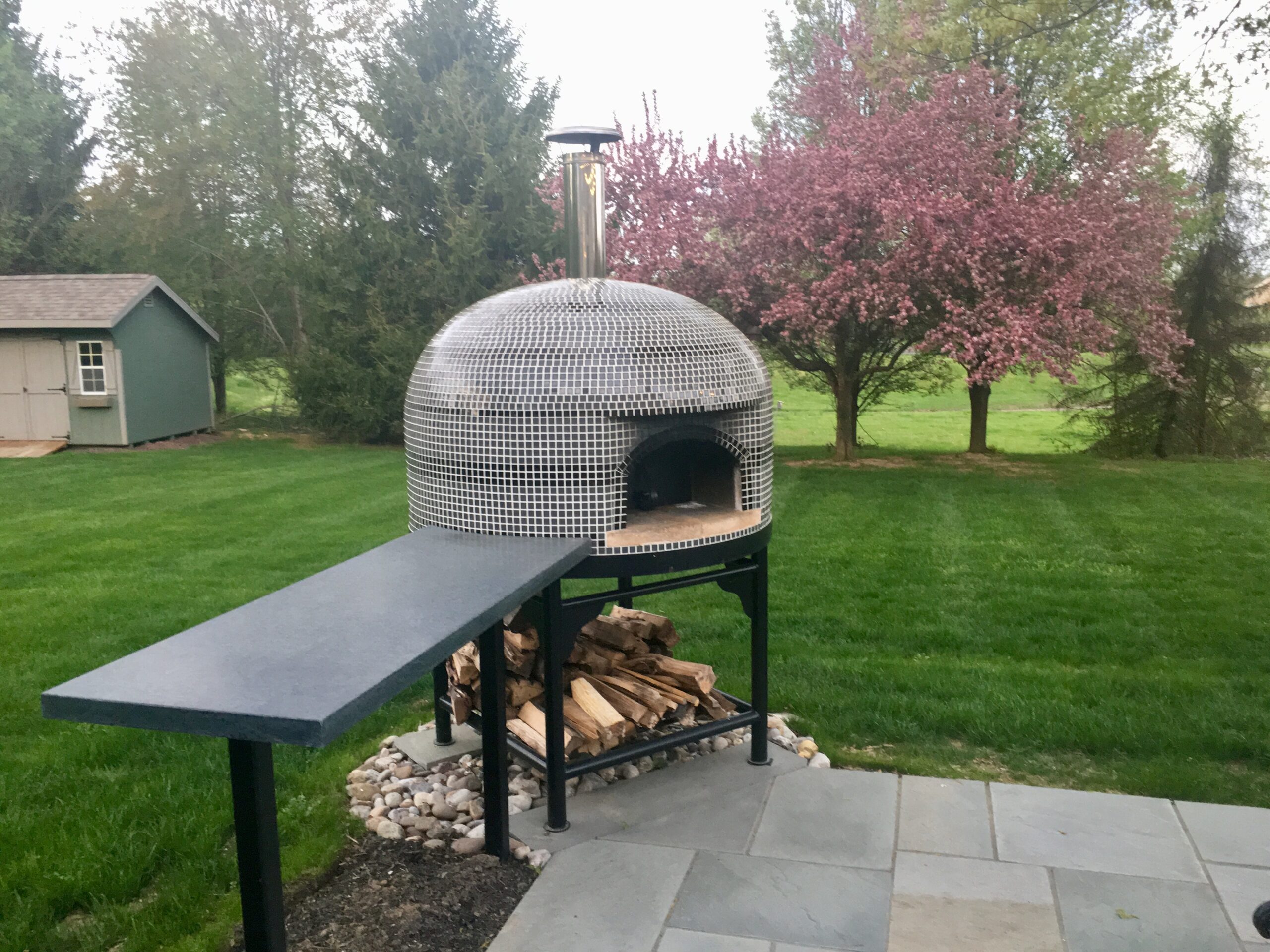 Sometimes straightforward functionality is all you need from a countertop. This Forno Bravo Vesuvio oven is paired with a side-mounted table/counter that provides ample room to serve drinks and craft delicious pizzas and wood-fired dishes. 
The wide-open log store is convenient and easy to access too. 
8: Just a Tray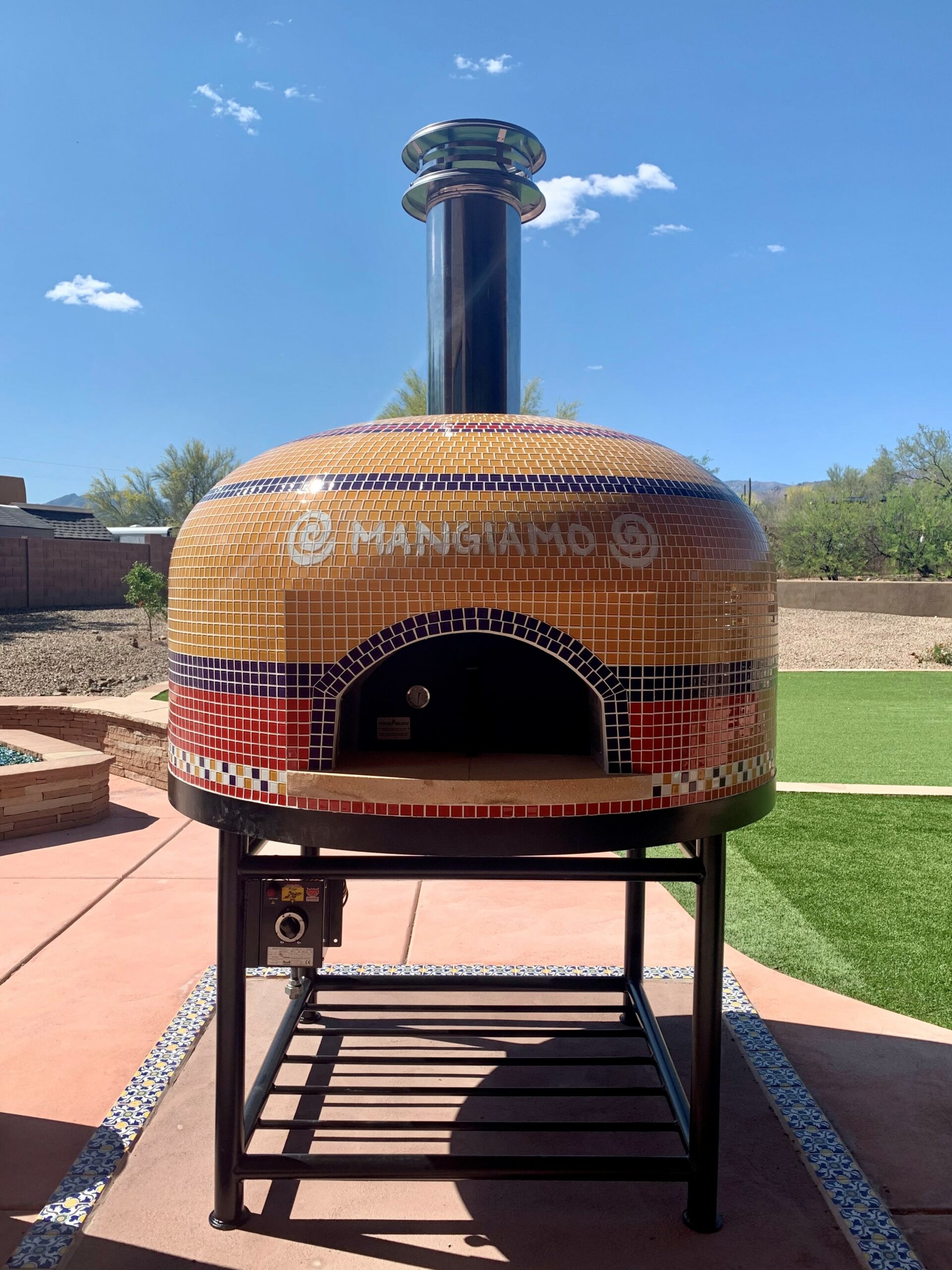 Keeping it super-simple and minimalist with just a heavy-duty stand and tray is absolutely fine. This setup does what it needs to do – safely and securely hold a behemoth Vesuvio Forno Bravo pizza oven. 
9: Pewter Grey Square Countertop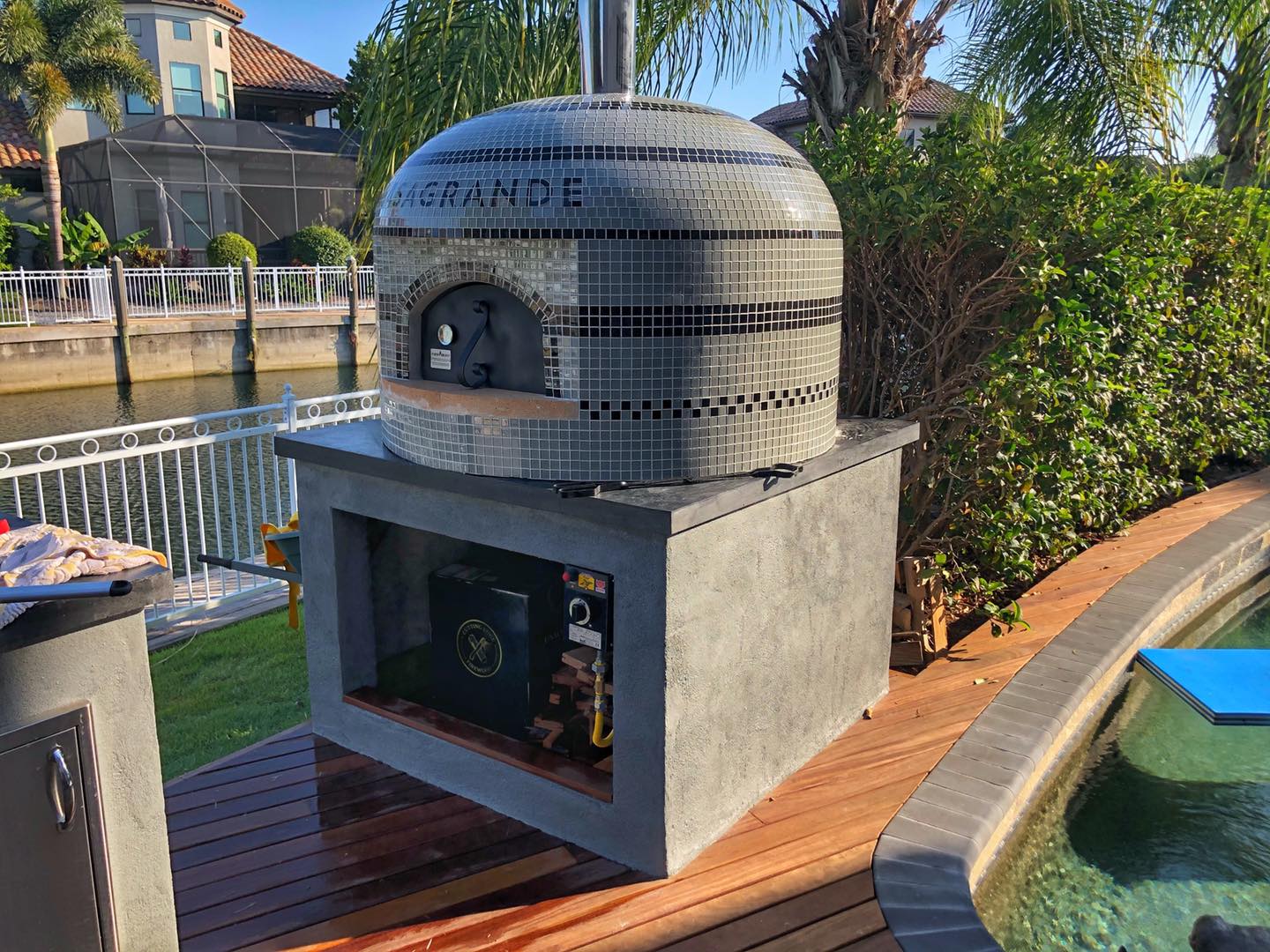 Another functional and simple setup – this poolside Vesuvio is spicing up our customer's sunny days! 
The countertop here is a simple solid pewter upon a durable concrete base. This gas Vesuvio requires no log store, so the underside simply houses the gas equipment required to fire it up. 
10: Roofed Wood-Fired Oven with Cream Countertop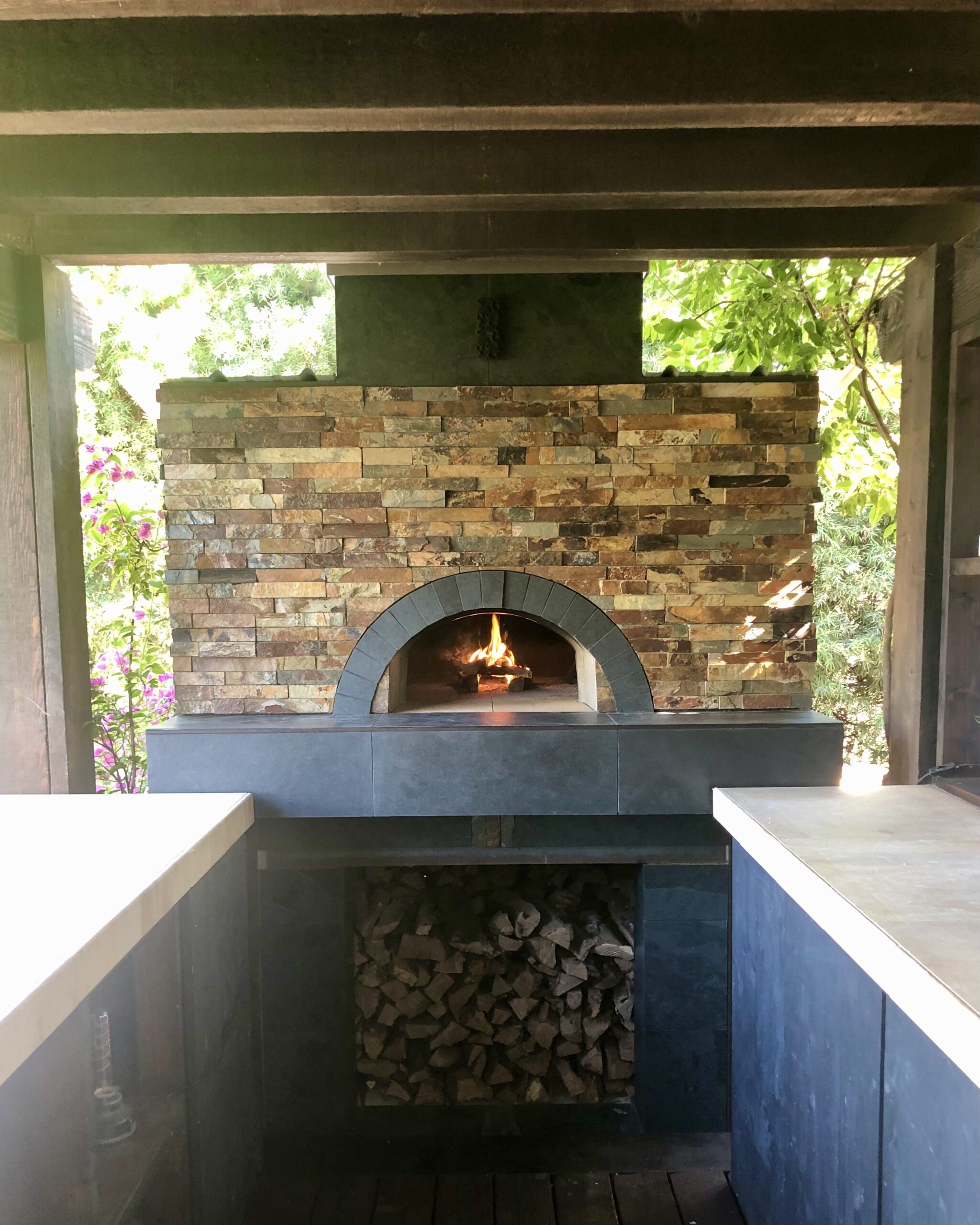 This interior roofed setup is very well proportioned with the dual work surface countertops flanking the pizza oven. 
It's a beautiful-looking setup courtesy of a cream stone countertop, and the natural brick oven fascia brings about a warm, authentic, and charming overall aesthetic. 
Your Very Own Pizza Oven
We love seeing the many ways in which our customers incorporate Forno Bravo pizza ovens into their setups. From compact and minimalist designs to fully-fledged, full-scale outdoor kitchens, anything is possible! Forno Bravo modular residential kits can be fitted indoors or outdoors, and we always have a selection of fully-assembled pizza ovens ready to go if you're not looking for a more custom modular setup.