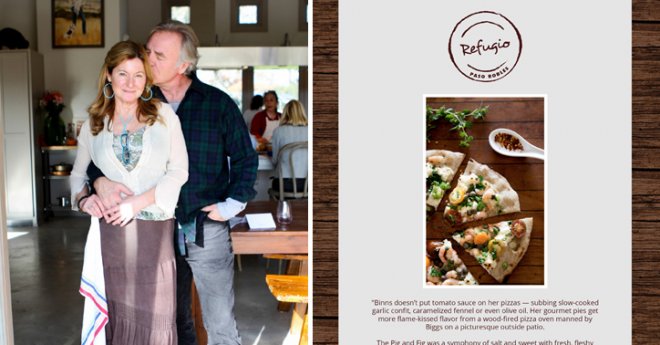 A Visit with Brigit Binns
Mar 14, 2018
Posted by Forno Bravo
The Forno Bravo Team caught up with Brigit Binns recently in her kitchen at Refugio Paso Robles, a culinary learning center, and vacation rental retreat. She was busy preparing for her upcoming sold-out class, "Pizza and Beyond: Wood Fired Oven Weekend Master Class", and of course, cooking. Brigit was excited to share her Bella Ultra 40 Stainless Steel Pizza Oven with the group during the demonstration part of the class. She especially loves its extra interior space. Her style of cooking is very California Wine Country centric– earthy, fresh, and definitely original. For example, she told us that she never uses red sauce on her pizzas. One of her go-to ingredients is Meyer Lemons, and another specialty pizza she has perfected is whimsically called "The Pig and the Fig!" (Click here to find the recipe in our Community Cookbook.)
Follow along below with some excerpts from our conversation. Enjoy!
Oven Tips
FB: Brigit, you often talk with people about the differences between steel ovens and masonry (refractory) pizza ovens, since you regularly cook in both. What are some of the key things you tell them?
BB: If you are spending the entire day playing with your oven, fire up the masonry. If you are looking for a very quick heat up time (30 min) for a weekend dinner with friends, the steel Bella is perfect. They use a quarter the amount of firewood compared to a masonry oven.
Masonry ovens work well if you also have secondary items you would like cook (like bread or roasts). They handle low and slow cooking very well, versus a steel oven that heats up quickly, but cools down pretty quickly too. You can cook things other than pizzas in your Bella, but you have to watch your temperatures and continue to feed the fire if the temps start to wane.
FB: Any tips for keeping the cooking floor ready to go?
BB: I call my husband, Casey Biggs, "Cinderfella" since he is good with working the fire. When we are hosting a larger group, his trick is to build the fire on the side of the oven.  He rakes the coals forward to the center of the floor until the next pizza is ready to launch, and then shoves them back again while the pizza cooks.  It helps supercharge the landing zone where you are going to be dropping the next pizza.
New Chicken Thighs Recipe
Brigit has a lively personality and a wealth of knowledge. During our conversation, she casually threw out a great recipe for using up Pizza Party ingredients when everyone has had their fill.
BB: When you get a group together to make pizzas, it is almost humanly impossible to calculate the exact amount of ingredients to provide. Virtually everything that is left over, except the cheese, can be dumped into a large, cast iron pan with a bunch of cut-up chicken thighs. Ingredients like diced salami, olives, mushrooms, artichoke hearts, onions, fennel, and fig jam go well with the chicken thighs. Put the pan back into the oven for 10-15 mins, and you have the perfect protein for the people who have been complaining that you've been giving them too many carbs!
Kissed by Fire eBook
In 2107, Brigit and Forno Bravo released a 39-recipe eBook called Kissed by Fire: Wood Oven Recipes from Wine Country. Brigit said that she will be using several of the recipes in her class. We asked her about her experience doing the book, now with a newly redesigned front and back cover and available on www.fornobravo.com, or in a Kindle version.
FB: What was the process of doing the eBook like for you?
BB: It was an amazing collaboration! It was a lot of fun to work on. We were able to do the professional photo shoot and styling out here in California. I wanted to be sure it was up to the professional standards of my other projects, and I'm proud of how it turned out. (Brigit has authored or co-authored 29 cookbooks to date and edited several more.)
FB: What was one of your favorite recipes from the collection?
BB: That's tough! I'd have to say that one of my favorites was the Smoked Duck and Fire-Roasted Mushrooms Frisée Salad. It really typifies the earthy flavors I like to use in my cooking. I'm also very proud of my 48 Hour Cold-Fermented Dough recipe. By using a very small amount of commercial yeast, and then letting it ferment in the refrigerator for two days, it develops a lovely, slightly tangy, sourdough taste, but with good balance and texture. It has received very positive marks from some top chefs in the industry and is ideal for home cooks.
FB: You are using the eBook in your class this weekend. What are some of the other classes you have coming up this year at Refugio Paso Robles?
BB: We do Artisan Pizza Classes about four times a year that are always very popular. We also have a "Mastering Meat" series going on. We've done several segments on beef and the next one in April will be focused on pork ('Simultaneous Porkasm'). We'll be covering some cutting-edge techniques like a souvite, reverse searing, and a red wine brine. To find out about what's coming next, you can send an email to info@refugiopasorobles.com and put "Mailing List" in the subject to be added, or watch the schedule on our website.
Thank you, Brigit, for your time and tips. It is always a pleasure to catch up with a member of the Forno Bravo Chef's Panel! Be sure to check out several of Brigit's delicious recipes in our Community Cookbook, or download the eBook. You won't be disappointed.