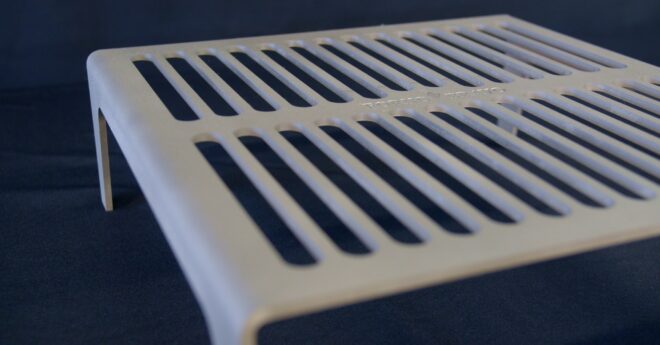 Tuscan Grill Expands Wood Fired Cooking Options
May 31, 2022
Posted by Forno Bravo
A Tuscan Grill is a premium steel accessory that you place in your hot, wood fired oven over a bed of coals for cooking sizzling steaks, burgers, or chops, grilling chicken, roasting vegetables, or baking fish. You can even use it in combination with a cast-iron skillet or sizzle pan for smaller items or for preparing pizza ingredients like mushrooms, onions, peppers, or eggplant. Forno Bravo's version of this quality grill is made at our factory in Colorado and shipped all over the world.
This fun tool opens up a whole new world of cooking options. The smoking hot dome and heated steel grate add an amazing sear, while the coals underneath catch any drips, and radiate heat into the food for an even bake. Taken together, you can make pizza, then grill to your heart's content in the same heat-up cycle, saving both fuel and time.  
What is a Tuscan Grill
Watch this short promo video to see an overview of the new, sleek Forno Bravo Tuscan Grill.
Interested? You can purchase your own 14″ Tuscan Grill HERE!
How to Cook Steaks on the Tuscan Grill
Members of the Forno Bravo Forum are never shy with their helpful wood fired oven advice. Here is an excerpt of a discussion that will help you make a great steak!
Starting Tips from "Christo":
I was hankering for a wood fire-grilled steak, so we made steaks in the oven. Was feeling a bit lazy and seasoned the steaks with Lawry's seasoned salt, and a bit of pepper, and coated them with olive oil.

Put in a few sticks of wood, fired it up, and had nice coals 30 mins later. I pulled one bigger stick to the side, as it kept wanting to burn, and slid the Tuscan Grill over the flat pile of coals to heat up.

I used the tongs to pull the grill back, wiped it with oil, threw the steaks on it, and pushed it right back over the coals. (Sliding the grill in and out of the opening was very easy and kept my hands from getting too hot by reaching far into the oven.)

Cook Time: Two minutes, turn 90 degrees, two minutes flip, two minutes turn 90 degrees, two minutes remove. Beautiful sear marks on Med Rare Steaks that were really tasty.
Jay @"TexasSourdough" added his thoughts to the conversation:
Fire Prep: I like to build essentially a normal pizza fire, and fully clear the dome so it is REALLY hot. I like to keep a pile of burning logs on the side so I have flames going well up the wall. Rearrange the coals to about 1 to 1 and 1/2 inches deep well into the oven. Pop the grill on top using fireplace tongs.

Cooking Tips: Best I can tell, I am getting temps near 1000 at the steak on both sides. I rotate and/or turn about every minute and they cook FAST! This works especially well with thinner steaks (say 3/4 inch). Too thick and they will be burned on the outside and raw on the inside so there is definitely a place for a smaller fire/cooler oven when you have thick steaks!

Do try a good dry rub instead of Lawry's – something with some paprika and dried garlic for sure.
Then Ken @"Ken524″ added his 2 cents:
We broke in our Tuscan grill for the first time tonight. I bought 5 fresh-cut NY Strips (3/4″ thick) from Whole Foods market. I rubbed them with olive oil, kosher salt, pepper, paprika and garlic powder.

The oven was fired to a clear dome. Tuscan grill preheated for about 5 minutes. Steaks cooked a bit under 3 min/side. I put the finished meat in a cast-iron pan that I had heating in the oven at the same time to transfer them up to the kitchen (kinda like Ruth's Chris).
Finally "scwino95" jumped in:
A real Tuscan steak or Biftek Florintina is a 2 1/2 inch porterhouse cooked very rare and then topped with just a little evoo. We did one on the tuscan grill in the wood fired oven and it was the best steak we had ever tasted! It was a certified angus steak from the grocery store not one of the really expensive ones.

(*For a steak this thick, you will need to warm it to room temperature for 1-2 hours before cooking, and you will probably need to bring the oven temp down a bit for a lower/slower grill time.)
* …and the conversation continued on. 🙂 However, all the participants agreed that they will never order steak at a restaurant again when they could make it better at home on their Tuscan Grill.
You can share your favorite recipe and tips with us at www.Forno Bravo.com/contact-us/.
Simple Pork Tenderloin Medallions for Sliders
Take a section of wrapped pork tenderloin and bring it to room temperature while you heat your oven and grill.
With a sharp knife, trim off any fat or silver-skin, then cut the loin into 1″ – 2″ slices (slicing across the grain.)
Place the slices in a bowl and toss with a few tablespoons of grapeseed oil or another oil with a high smoke point. Add seasonings and toss. (Ex. Salt, black pepper, toasted onion powder, garlic powder, smoked paprika, dried mustard, basil, oregano, etc.)
Place on the hot Tuscan Grill using tongs. (Use a grill surface temperature of 450°F to a maximum of 500°F.) Flip after 4 – 5 minutes. Total cook time is apx. 10-12 min. Note: They will cook VERY quickly, and cook time will vary based on the thickness and oven temp. The internal temperature should be 140-145˚F when finished.
Remove to a plate, tent with foil, and let rest. (Internal temperature may continue to climb while resting.)
You can heat your slider rolls by wrapping them in foil and heating them in the oven away from the heat.
Chop or slice the medallions even thinner, and place a portion on the bun with spicy mustard, arugula, thin sliced tomato, grilled onions, a little grated sharp cheese, or any other topping you wish. Serve!
Steak and Stuffed Portobello Mushrooms Recipe
Finally, here's another great recipe that uses an earlier version of the Tuscan Grill  by Chef Anthony Iannone of NAPCA (the North American Pizza and Culinary Academy in Lisle, IL.)
What would you like to use your Tuscan Grill today?