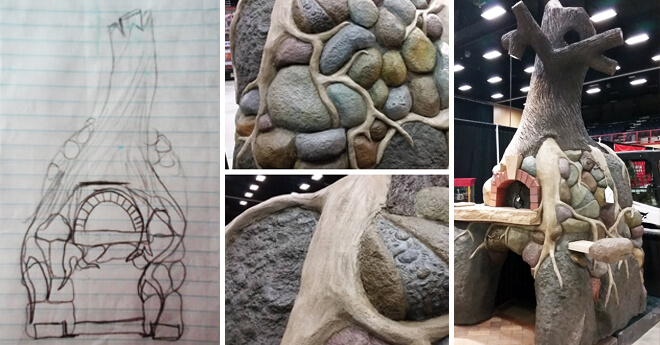 A Tree Grows in Wyoming
Jun 05, 2018
Posted by Forno Bravo
What do you get when you combine a master craftsman from Wyoming and a Forno Bravo Casa2G90 Pizza Oven Kit? Magic! …and trees.
Luke Bennett is with Accent Masonry, a family-owned business out of Gillette, Wyoming that has been in business 23 years. A lot of thought, planning, long hours, and an artist's vision went into this build. He dreamed of completing a pizza oven sculptured piece that showed a fire-touched tree, with sunbleached roots, clinging to vibrant colored stones. We think he succeeded and are excited to share his creation with you!
The Process – Bottom Up Building
Luke started by building a sturdy steel base and tray to support the oven and sculpted concrete work to come. The leg shapes were molded with lightweight tubing and angle irons were added for strength. Friend and teammate, Mike Jerney was instrumental in the welding and engineering of the frame.
One part of the plan was to make this sculpture and oven as mobile as possible. Luke and his team designed the base so that it could be moved with a forklift even after it was finished. By placing the slots for the forks directly under the oven, it helped balance the weight of the whole piece, making moving it much simpler, as it could also be easily strapped to a trailer using the slots. (He later sculpted concrete rock inserts to cap the slots and a sliding stone shelf to hold the oven door when the slots were not in use.)
Luke covered the base frame in a metal skin and mesh grid for strength and to give the finishing concrete something to attach to.
Time to Add the Oven
Assembly of the Forno Bravo Casa2G90 modular pizza oven kit came next. This UL-Certified oven comes in interlocking sections, which are put together over the firebrick cooking floor and a 2″ thick ceramic insulation board. A high-temperature mortar was used to seal the seams. Next, layers of industrial ceramic blanket insulation were added to the oven and then covered by a mesh grid. This oven will bake pizza, bread, roasts, and desserts at over 800-900°F!
The Team installed a custom, 5″-thick sandstone hearth for working pizzas on later. The hearth was made of Arkins Park Stone that was quarried near Loveland, CO and hand chiseled to fit the piece.
Luke did a month of research prior to choosing his oven. His friend Mike turned him onto Forno Bravo, telling him, "You won't find anything better!" Luke and his dad Scott Bennett, the owner of the company and financer of the project had to agree. With over 100 hours about to go into the build, they wanted an oven they could trust to perform when they were done, and the Casa fit the bill. "The oven installed really well, and I would love to do one again," Luke told us afterward.
Let the Sculpting Begin
At this point in the process, the oven was done and the artistry began! First, Luke and his son, Mason, constructed the main tree trunk and major root structures. They installed a masonry chimney with a clay flue ending in a T at the top of the tree for the smoke to vent out both sides. Metal branches were welded together and added to the structure, along with the wiring for strategic LED lighting to be added to a smaller branch later to shine down on the oven hearth.
Some gross shaping was done, and the whole structure was skinned in an expanded metal lath mesh. The oven and inlets were protected with covers and plastic and the whole piece was sprayed with a T1000® Primer and T1000® Strong Overlay from Butterfield® Color with a sheetrock hopper gun.
A second layer of primer was added and then a layer of Cantera® Vertical Wall Mix texturizing material. Next, the rock outlines and other large interest pieces are applied, stamped, and shaped. The details and textures began to emerge.
More priming, spraying, carving, and smoothing continued. The addition of a face, two cute metal Gekkos, and other surprise elements were added and a masterpiece was really taking coming together! Luke's coworker, Lucas Studdle, was instrumental in helping with the texturing, staining, and artistic work on the project.
Color is Key
Luke chose Butterfield® Color Elements® Transparent Stain to color his piece. This water-based stain can be layered, much like watercolors on paper, to achieve different hues and depths of color. Luke used every external color the company had available on this piece in some capacity!
Each rock and section had to be taped off before coloring. If an area was texture stamped as well, several more steps were required prior to the multiple layers of staining. Since everyone involved also had a day job, all of this was done with the help of many hands over 6 weeks of weekends, nights, and then even later nights in order to finish on time. The texture and stain work was left to cure for 7 days, and then the team did a final seal coat prior to delivering it to the home show.
Setting the Scene and Show Time
Luke added a custom metal oven door, matching textured side tables, and a corresponding tree fireplace that he had created the year before to tie the whole booth together and make the Forno Bravo pizza oven pop! (All of these pieces, including the Pizza Oven Tree, are available for sale. Contact Accent Masonry directly for information.) Thank you Accent Masonry for choosing a Forno Bravo oven to be the heart of this amazing project and for walking us through your creative process! We can't wait to see what you come up with next.
Interested in having a Forno Bravo Modular Pizza Oven Kit in your backyard? Check out our Residential Kits page or Photo Gallery for more options and inspiration.