The Napoli — Pizza Napoletana Made Simple
May 01, 2012
Posted by Forno Bravo
I've thinking about simplicity recently. When done right, a simple product can make your life easier, maybe a little better; it can solve problems; and it can free you up to think about what you want to do—not the device you use to do it. A simple product can be relaxing to look at and a joy to use. A simple product makes innovative design, craftsmanship and sophisticated technology feel effortless.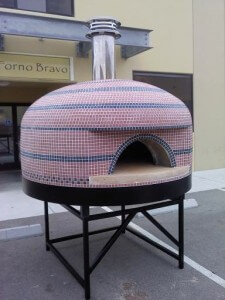 With that in mind, we have been manufacturing the Napoli oven for some time, and I think it is time to bring some attention to this wonderful oven. The Napoli represents a combination of massive high-tech refractory and insulating materials, innovative design and really nice hand-crafted tile work. One of the aspects of the Napoli that I like the most is how all of these elements come flawlessly together—into great looking and wonderfully performing whole.
If you are a restaurant owner, you can think of the Forno Bravo Primavera as the Napoli's mini-me; or if you are a homeowner, you can think about the Napoli as a Primavera on steroids (lots and lots of steroids). The production crew affectionately calls the Napoli "the beast".
Despite their obvious difference in size, the Primavera and the Napoli do have a number of characteristics in common. They are both fully-assembled (set it in place, hook up the chimney and light the fire), they both make Pizza Napoletana easy, and they are both available with, or without, a black powder coated stand. I think they are both successful at being a simple product done right.
Underneath the great-looking tile finish of the Napoli are serious technology, a very well executed vent design (be sure to ask for the true center vent that some of the other guys haven't figured out yet), massive thermal mass and insulating layers, and perfect oven proportions for Pizza Napoletana (don't get me started, but if you are interested, you should read our FB Compare analysis of competitive ovens).
But you don't have to worry about all of that.
And you don't have to worry about finding a qualified oven installer or a great tile guy. We do that for you.
What you get is an oven that looks great—and it rewards you with perfect Pizza Napoletana. And your customers will love you.
Over the coming months, we are going to be giving the Napoli some additional marketing support and working to get the word out to a broader audience of restaurant owners. Simple can be good.