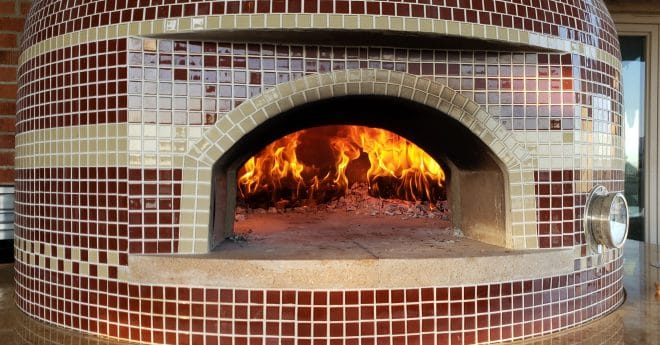 The Landaal's Beautiful Backyard Transformation
Dec 29, 2020
Posted by Forno Bravo
Dennis Landaal and his family had an unfinished backyard with an incredible view. They also have a deep love of pizza, family, friends, and fun. Add in a lot of research and planning, a whole bunch of elbow grease, some cooperation, some time, (a really big crane,) and a custom-tiled, Vesuvio110 wood and gas fired oven from Forno Bravo, and WOW! The finished transformation of their space is so incredible, it's hard to believe. Below, you can hear about their project in their own words and meet them in the video interview as well.
The Landaal's Story:
"We love to entertain and wanted a pizza oven to be the center of the entertainment area. We visited many different pizza restaurants to witness how they made and served pizzas. We took what we learned and modified our patio design a few times before we finalized. One of the most beneficial design features that we added was "wings" on both sides of the oven. These 2′ wide wings allow for staging of the pizzas to go into the oven and for cutting and serving the finished pizzas. The other design feature was an extra-wide pizza making area (about 40″) that can be accessed from two sides – this allows for up to 4 pizzas being made at one time (important for large parties of hungry people).
We purchased the fully assembled residential oven and installation was easy. We had a lot of fun with the installation. It was definitely a transformation of the area. I do a lot of the work myself, and with my son-in-law, so my projects do take time to finish. The crane lifting the oven over the house was the most stressful part of the project. My wife had to leave so she would not see and worry. 🙂
Fun Food and Party Ideas:
The Vesuvio 110 is just a wonderful oven that can bake almost anything- let your imagination go wild! We enjoy having theme parties, such as pizzas (of course,) where guests bring random ingredients and make unique pizzas that are judged. There's nothing better than seeing the smiles when baking at over 900°F and the pizza is done in less than a minute. True Neapolitan pizza fanatics also bring their own homemade dough to the party.
Mac and cheese parties are also a big hit. We make the "base" mac and cheese and people bring toppings and special cheeses – we have 6″ cast iron skillets where guests make their unique M&C – the oven bakes to a crust on top, sides, and bottom for a dish that rivals the true Neapolitan Pizzas. Other fantastic uses include making the next day breakfast and dinner with the residual heat (these ovens are well insulated and retain baking heat well into the next day.) We have also used the oven to bake an entire Thanksgiving Dinner featuring a 23 pound Turkey!
We, and our friends and neighbors, are anxiously waiting for the time when we can throw large parties again."
Click above to see the before and after transformation, along with the Landaal's fantastic oven and entertaining space!
Want to learn more about getting a Vesuvio Pizza Oven for your home? CLICK HERE